If you're looking for the best web hosting plans for this year, you've come to the right website.
I'm running multiple online businesses and quality web hosting is a crucial component when it comes to successful website.
Trying to find the best, yet affordable hosting plan for your blog can be quite a challenge, though, because there are so many hosting companies these days, and they use different marketing techniques to sell you their services.
I want to help you with this time-consuming task with my own experience and that's why I've created this ultimate comparison of the best affordable web hosting plans currently available.
I only focus on services that are reliable, has been around for some time, offer speed, security and are affordable with good price/quality ratio.
To give you a true comparison, I also ignore any special deals and use a regular prices based on monthly payments.
10 Best Web Hosting Plans for Bloggers in 2022
Disclosure: Please note that some of the links in this post are affiliate links for products I use and love. This means if you click on such a link and take action (like subscribe, or make a purchase), I may receive some coffee money at no extra cost to you. This helps me creating more content free of charge to you. And, as an Amazon Associate, I earn from qualifying purchases. Thanks for your support!
Shared hosting versus Managed hosting
Before we'll dive into individual plans currently offered, it's important that you understand one crucial aspect of web hosting. There are two main categories of web hosting. Shared hosting and managed hosting.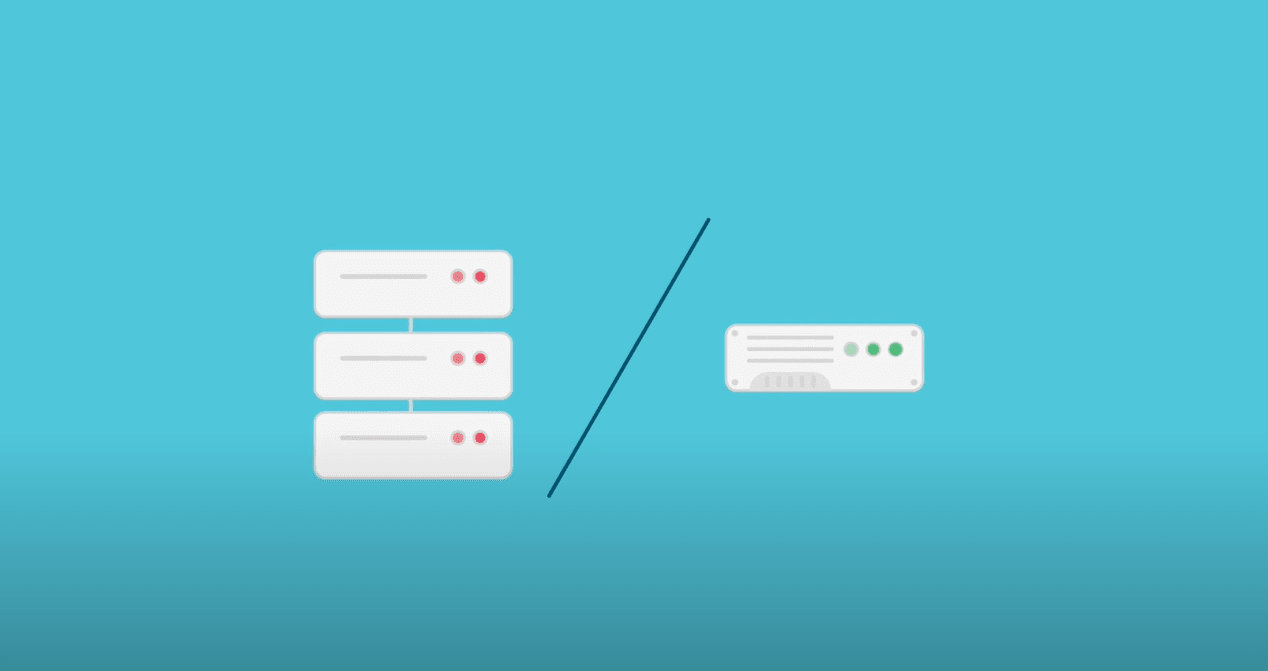 Generally speaking, with shared hosting you share resources with other websites running on the same server while managed hosting usually offers dedicated computing power just for your website.
Shared hosting is something like a condominium in the house of flats where you share the roof, the elevator and the flights of stairs with others. Managed hosting is like your own house with your own parking spot.
With shared hosting, there are many websites living on the same server while sharing the available resources.
Now, it's possible that your website lives next to the very famous blog which uses all available resources and your website ends up very slow even though you have only few posts and a dozen of monthly visitors.
Managed hosting tends to be more expensive but for good reason. It's like having your personal assistant who takes care of the maintenance tasks so you can focus on what matters most – creating quality content.
If you want to learn more about the advantages of managed hosting, read 10 Reasons Why Managed WordPress Hosting Is the Best Choice For Your Blog.
So, it's important to decide what's more important for you and what you can and can not do by yourself.
If you're tech-savvy and you don't mind sharing resources with potentially hungrier websites, taking care of regular backups and frequently update your WordPress along with themes and plugins, you can save considerable amount of money by opting for shared hosting.
If you prefer ease of mind and want to have dedicated resources for your blog, it's probably a good idea to consider some managed hosting instead.
Apples to oranges
Some reviews and comparisons lumps together shared hosting with managed hosting plans, but I don't think it's fair.
It's like comparing sports cars with family cars and trying to find the winner. As you probably agree, these two different kinds of cars are meant for different use and lifestyles.
Similarly, shared hosting differs from managed hosting plans as they are for different audience. As I already pointed out, it all depends on what you find more important, either it's the immediate cost or overall cost.
Some people can manage their WordPress on their own and can do it in a short time. That's fine, but others would prefer to have their WordPress managed by hosting provider, so they can focus on their content instead.
That's why I will compare hosting plans and managed plans separately. In both cases, I will compare several factors that will help you choose the right hosting plan for your needs.
In the list below, I will show you both shared and managed hosting plans so you can pick the one you like the most.
Best managed hosting plans
Best shared hosting plans
There are some crucial factors that defines what the best web hosting plan should provide:
reliability (uptime)
performance (loading speed)
security (backups and updates)
support (response time and skills)
I will always look at these factors and confront their quality with the price. Unlike many other reviews, price won't be the most important aspect here because you need the best web hosting plan to support your publishing platform and content. Focusing solely on price can lead to bad choices and using the wrong web hosting plan will make it harder for your blog to grow and gain new visitors.
Let's dive into the list of the best affordable web hosting plans for bloggers.
1. Kinsta Managed WordPress Hosting: $30.00/mo
Kinsta ranked on the top this year for very good reason. Their plans are the best combination of reliability, performance and support. Even though Kinsta is quite new in web hosting business as it was founded in 2013. This company was able to take the managed hosting world by storm and proved that "creating the best WordPress hosting platform in the world" as they state on their website, is not only possible, but also quite affordable.
Yes, at first, $30.00/mo can look pretty steep, but that's only after you learn what you get for that price.
Reliability
Kinsta uses Google Cloud Platform for all their servers. This alone means that they should be super fast. Let's speak the numbers.
Kinsta's uptime is always around 99.98% which means that over the course of a year, it might be down for less than 2 hours, which is almost nothing.
Kinsta is one of those companies that will actually refund you if the expectations are not met when it comes to uptime guarantee. This is something only the very best hosting companies offer.
Performance
Kinsta is obsessed with performance and you won't find more fine-tuned servers that delivers maximum speeds. For five years in a row through 2014-2019, Kinsta has been one of only two companies that earned Top Tier status on every plan, in performance benchmarks performed by Review Signal. This independent web hosting review site is well-known for its attention to detail and in-depth analysis. When it comes to benchmarking WordPress hosting providers, Review Signal has become one of the leading authorities.
As you can see from the Load Impact test, Kinsta delivers incredible load times up to 120 milliseconds as the number of visitors increases over time to almost 50. This is truly amazing and far better than its competitors as you'll see later in this article.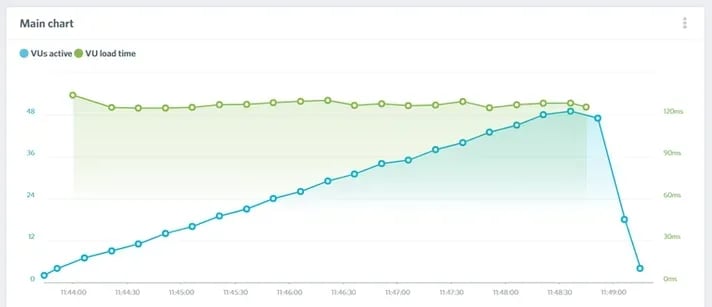 Resource: themeisle.com
The chart above demonstrates that as the number of active visitors increases (blue line), the page load times for the site are rock solid around 120 ms (green line). This means that Kinsta loads your website fast in a real-world, high-traffic situation.
On cheaper shared hosts, you'll often see the page load times become erratic as the number of visitors increases.
When it comes to load times, it's important to keep in mind that there's a variety of factors that can influence these numbers like local network speed, server traffic and the web browser as well.
Nevertheless, Kinsta delivers load times at 120 milliseconds while anything below 2.000 milliseconds is considered to be high performance. So regarding the performance, Kinsta truly delivers a premium performance.
Security
The popularity of WordPress means that it's a favorite targets of malicious attacks, so the security aspect is very important.
There are different ways to secure your WordPress website on your own. You can use plugins like Jetpack or take some manual approach if you're tech-savvy, but the best web hosting providers have security management baked in their plans.
Kinsta offers highly secure network with active and passive security protocols, firewalls, uptime checks and continuous monitoring. You'll also get daily backups of your website.
Support
Kinsta was created by WordPress developers and you'll know immediately that you're in the good company when you need help with something beyond the basics. If you're sick and tired of being redirected from junior to senior to technical to manager support, Kinsta will feel like heaven. Their customer service is top-notch and it's immediately obvious that these people know WordPress like few others.
Pricing
When it comes to pricing, Kinsta is quite unique among other web hosting providers because it offers the same perks regardless of the plan you choose. Some companies try to lure you in with attractive discounts and once you're in, they ruthlessly ask for additional payments.
Kinsta is different. No matter what plan you choose, you always get your web hosting on one of the 23 Google Cloud Platform data centers which you can choose based on your preference. You'll also get a superb expert support by their WordPress developers, people who know ins and outs of WordPress platform.
What I like about Kinsta is their honest approach with features. They don't offer nonsense like unlimited websites or storage. They respect you and don't try to fool you.
Kinsta offers many plans ranging from $30/mo for STARTER plan up to $1500/mo for Enterprise 4 plan.
Their best-value web hosting plan, STARTER, includes:
1 WordPress install
20.000 monthly visits
10 GB of SSD storage
50 GB of Free CDN
This is plenty for start, but as your blog grows and starts generating a meaningful amount of traffic, you might wonder if the plan will be enough. Kinsta claims that you'll stay always online, and they won't punish you for your growth like others sometime do. They want to treat you as a partner, not as a disposable record in the database.
That's why they offer a pretty nice deal based on the character of your overage. If you reach your plan's visits limit, but you'll well withing your storage limit, there's no reason to upgrade the plan. You can just keep your Starter plan and pay $1 per additional 1.000 visits. This sound fair, right?
Similarly, if you reach your disk space or CDN limit for some reason, they'll keep your site running but charge you $2 after each additional GB of used storage or $0.1 per GB of CDN overage.
Hosting administration
Unlike regular shared web hosting plans with notorious cPanel, Kinsta built their own administration system from the ground up. It's very intuitive and easy to use and you have access to the most important settings of your website including backups.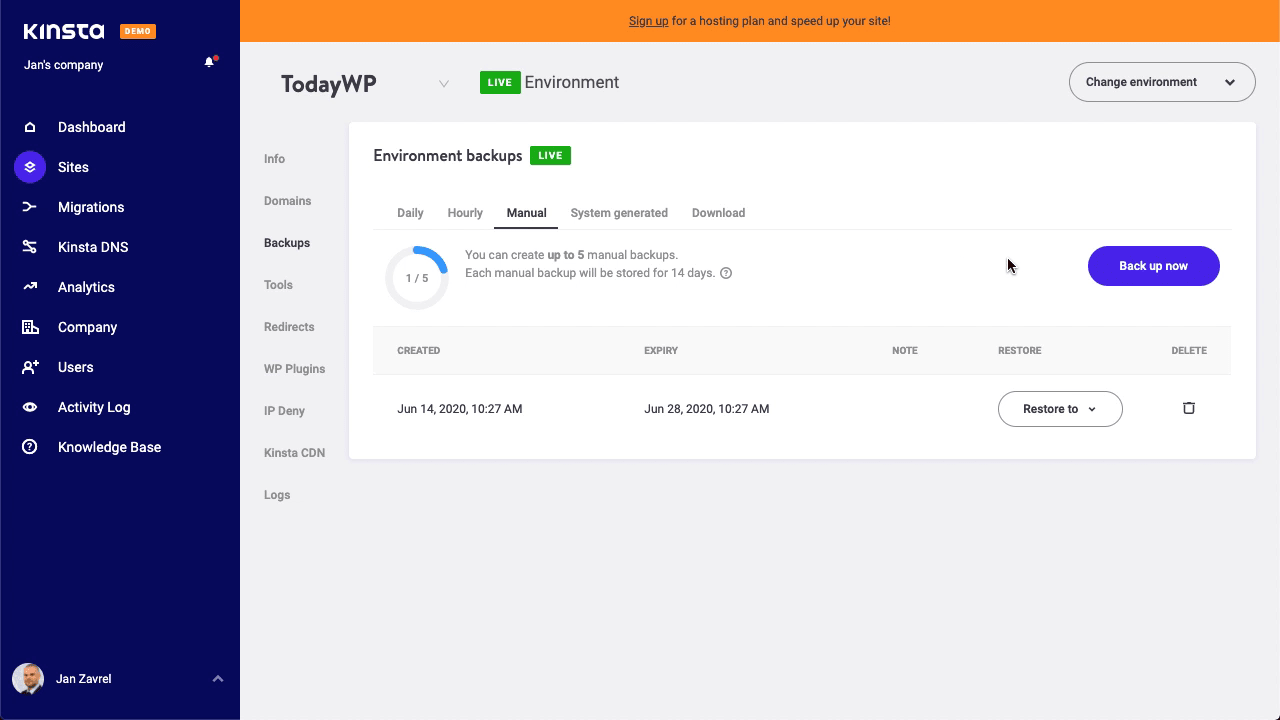 If you're curious how it looks and feels, you can create the free MyKinsta demo account and test it for 60 days.
Conclusion
If you're just starting your blogging career and can't afford the headaches that usually come with manually setting up and maintaining a blogging platform on your own, then Kinsta is my #1 recommendation for the best web hosting plan. It's definitely the pricier option, but with that price comes unparalleled suite of services and as they say, nobody is so wealthy to be able to afford cheap things.
2. Flywheel Managed WordPress Hosting: $15.00/mo
Flywheel is my second-best choice this year because they offer truly affordable premium managed WordPress hosting with some nice additional perks like premium StudioPress themes or Local by Flywheel. Even though Flywheel is not as performant as Kinsta, it's still a viable choice for people who want to primarily focus on content creation and leave the management of their WordPress to professionals.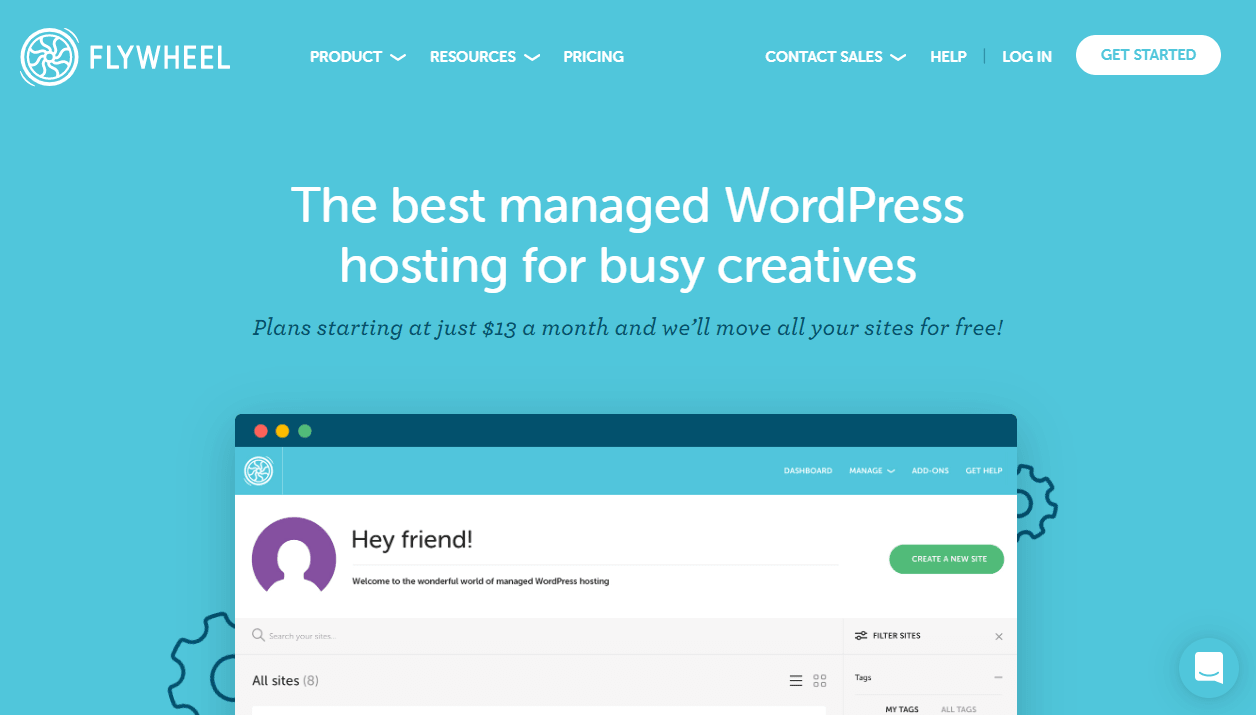 Flywheel has been around since 2012 and in 2019, it was acquired by WP Engine, another premium managed hosting provider with a great track record of exceptional WordPress hosting services. Flywheel serves over 30.000 customers globally.
Reliability
Flywheel uses Google Cloud Platform as well as Kinsta. This means a lightning-fast and reliable site performance. Flywheel's container technology enables them to ramp up instantly to meet traffic spikes and surges.
Flywheel manage to maintain 99.9% uptime, but unlike Kinsta, it does not offer an SLA (Service Level Agreement) so you won't get any free credit if your site goes down.
Performance
When it comes to speed, Flywheel is proud to use offer FlyCache, their proprietary caching engine, specifically designed for WordPress websites. It works side-by-side with their CDN to serve up cached content. This means that your visitors receive your pages the server that is geographically closest to them, which decreases load time and improves performance.
Let's compare Flywheel with Kinsta at the Load Impact test. Flywheel delivers load times around 450 milliseconds as the number of visitors increases over time to 50.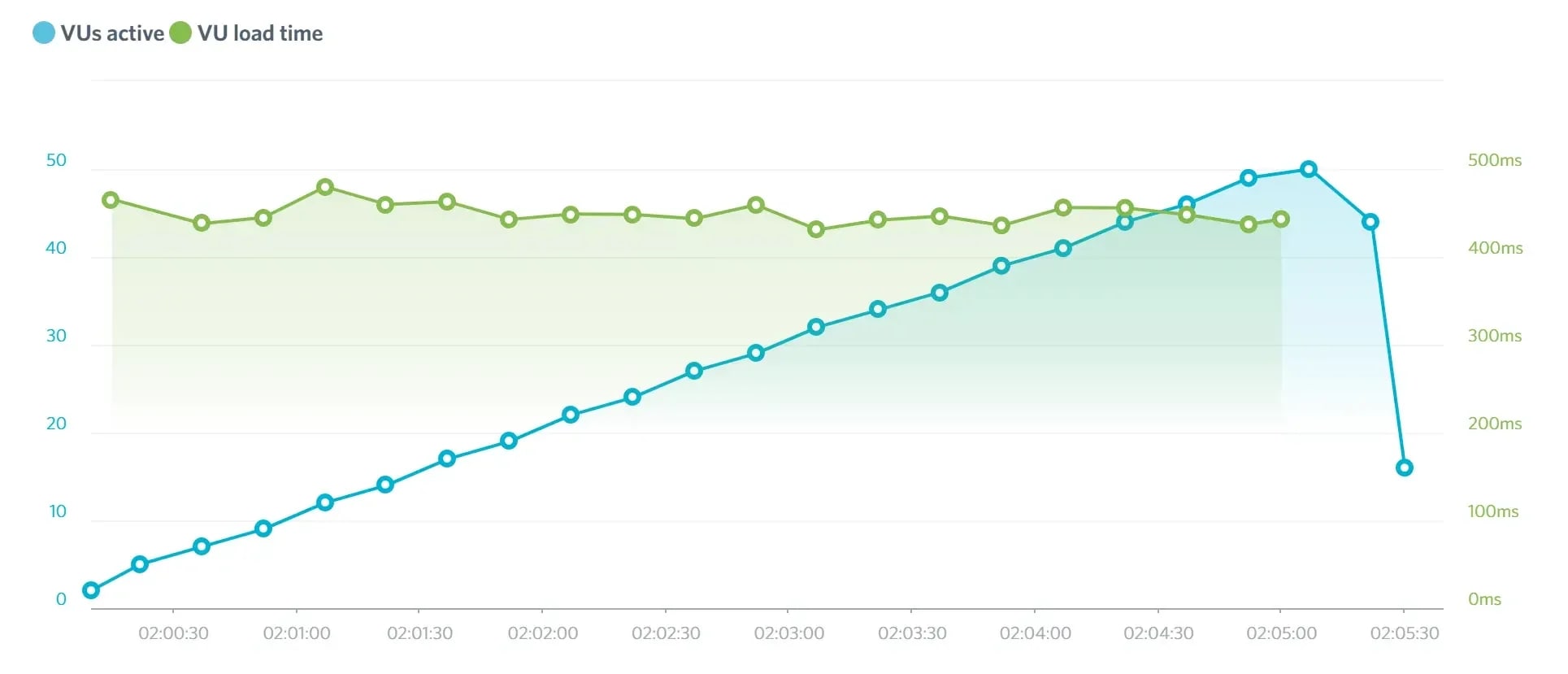 Resource: themeisle.com
This means that Flywheel is considerably slower than Kinsta, but the results are still very good, unheard of in a regular shared hosting environment. On cheaper shared hosts, you'll often see the page load times become erratic as the number of visitors increases.
Security
With Flywheel, you don't have to stress over security plugins. You'll get free malware cleanup if hackers do get hold of your site. Flywheel also keeps your site safe by taking care of all major and minor WordPress updates. You will also get automatic nightly backups that are stored on a separate server and you can rollback with one-click restore any of the backups from last 30 days.
Support
Flywheel is well-known for its real support from real experts which is available 24/7. Most of the problems you might have can be solved thanks to their comprehensive Help Docs and WordPress guides, but I can't recommend enough their supports team.
Pricing
Flywheel offers very affordable and competitive plans and when you add the StudioPress themes in the mix, it's simply irresistible to grab one of them.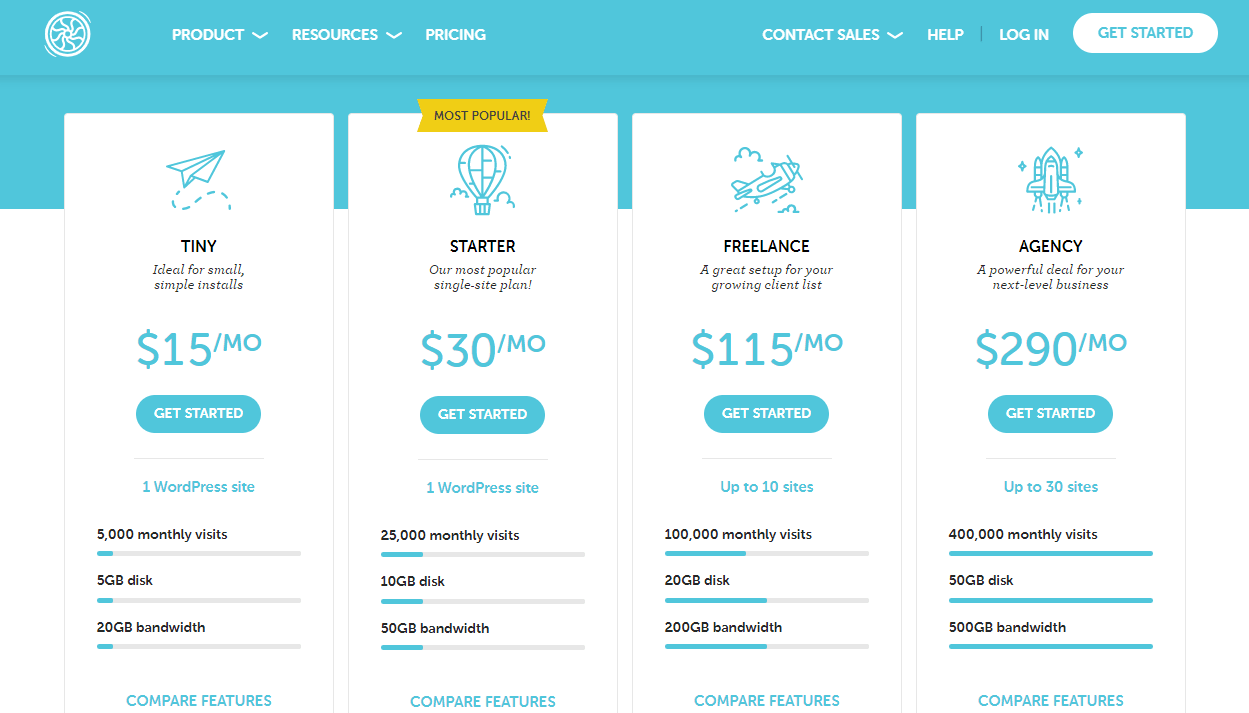 Similar to Kinsta, Flywheel doesn't sell unlimited websites or storage like some desperate shared hosting companies do. They offer easy-to-understand plans.
Flywheel offers four hosting plans ranging from $15/mo for TINY plan up to $290/mo for AGENCY plan. These prices apply for monthly payments, but if you opt for annual payments, you'll get two months for free. This means that the TINY plan would cost you only $13/mo which is extremely competitive price for managed web hosting. This is also the reason why Flywheel got the second place instead of WP Engine which ended up third this year.
The TINY plan includes:
1 WordPress install
5.000 monthly visits
5 GB of SSD storage
20 GB of bandwidth
This is more than enough when you start, but if you later decide to upgrade, the STARTER plan for $30/mo gets to the same pricing range as Kinsta's STARTER plan and WP Engine's STARTUP plan.
As you can see, for $30/mo, Kinsta offers only 20.000 monthly visits, everything else is the same for all three managed hosting providers. However, if you're all about performance, Kinsta is still the premium choice.
For $15/mo, you won't find any better deal, though, than Flywheel's STARTER plan which includes two important perks:
Hosting administration
Say goodbye to cPanel. Flywheel sports custom dashboard designed to give you all the features in one easy-to-use environment that's pleasant to work with. You'll find everything in one place, domain management, backups, performance setting and much more.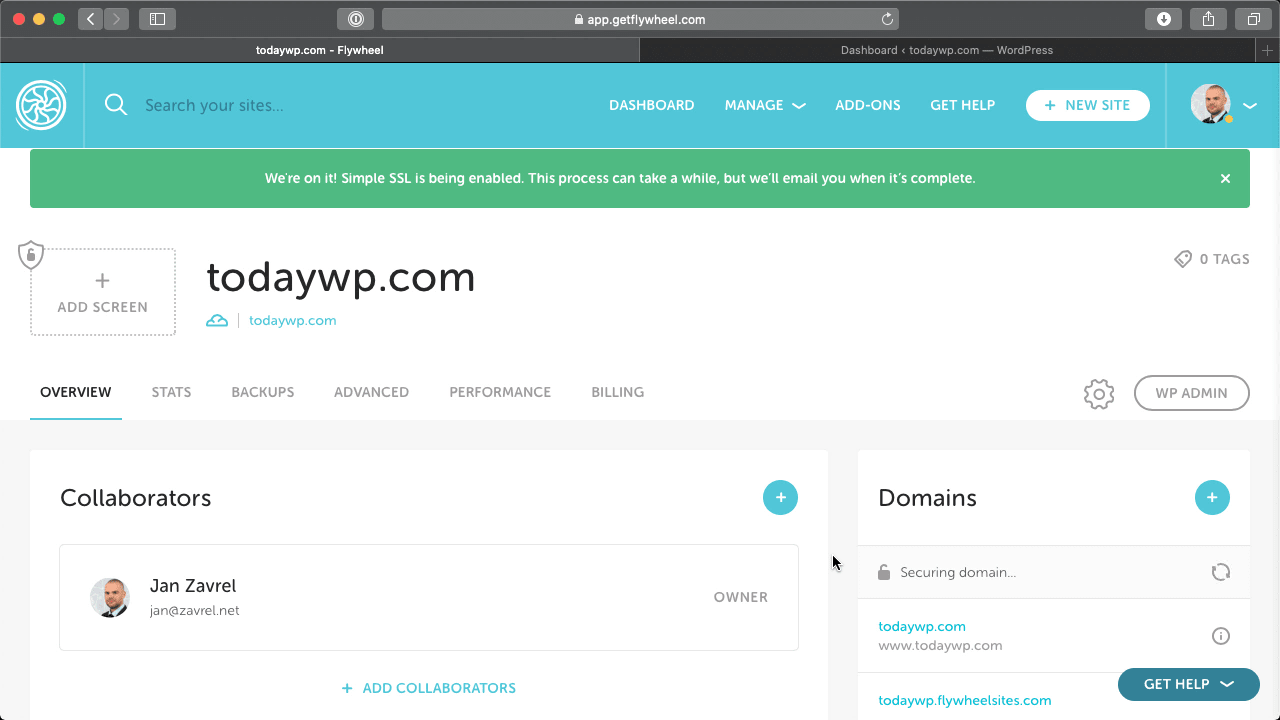 Conclusion
If it weren't for Kinsta's massive performance, Flywheel would surely be the winner this year thanks to its aggressive pricing, top-notch service and incredible selection of premium these that comes with every plan. If you're sick and tired of shared hosting and want to test managed web hosting, Flywheel's TINY plan is the way to go.
Detailed review
Check Managed WordPress by Flywheel Reviewed for even more information about this web hosting provider.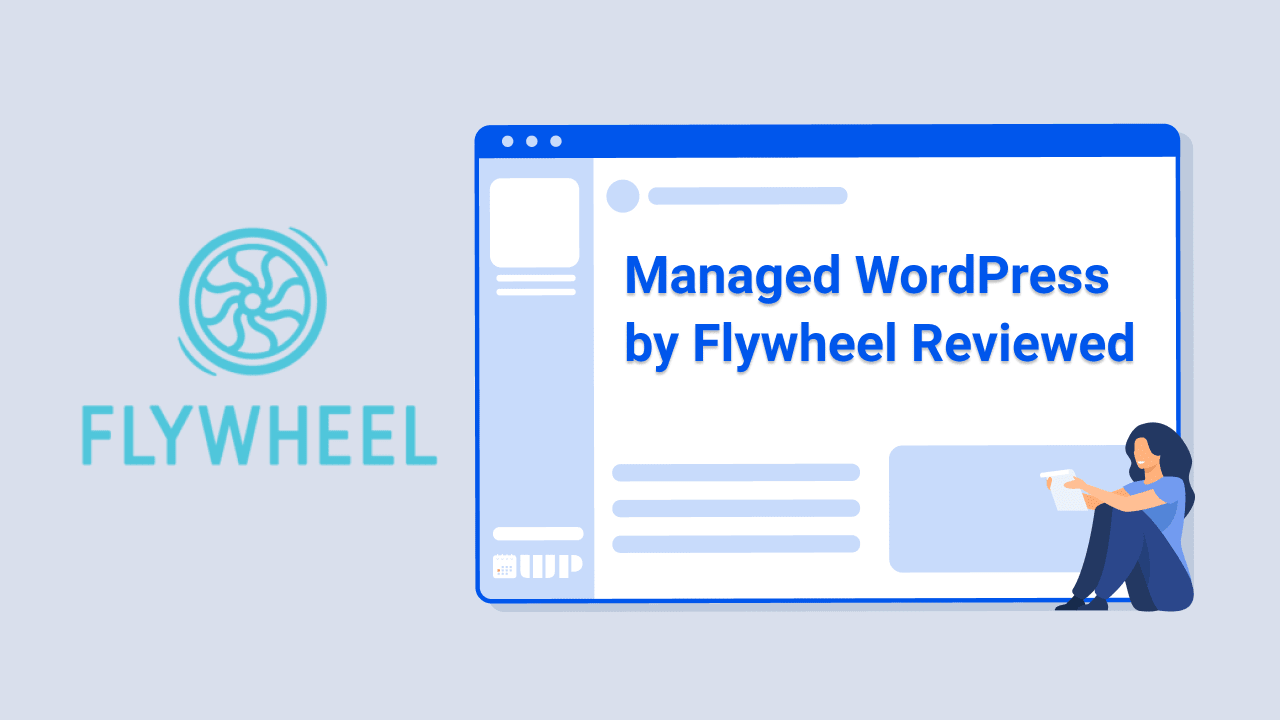 3. WP Engine Managed WordPress Hosting: $30.00/mo
WP Engine is my third choice this year because they are not as performant as Kinsta and not as affordable as Flywheel, but they still offer premium web hosting experience. WP Engine was founded in 2013 and currently, it serves more than 120,000 customers across 150 countries.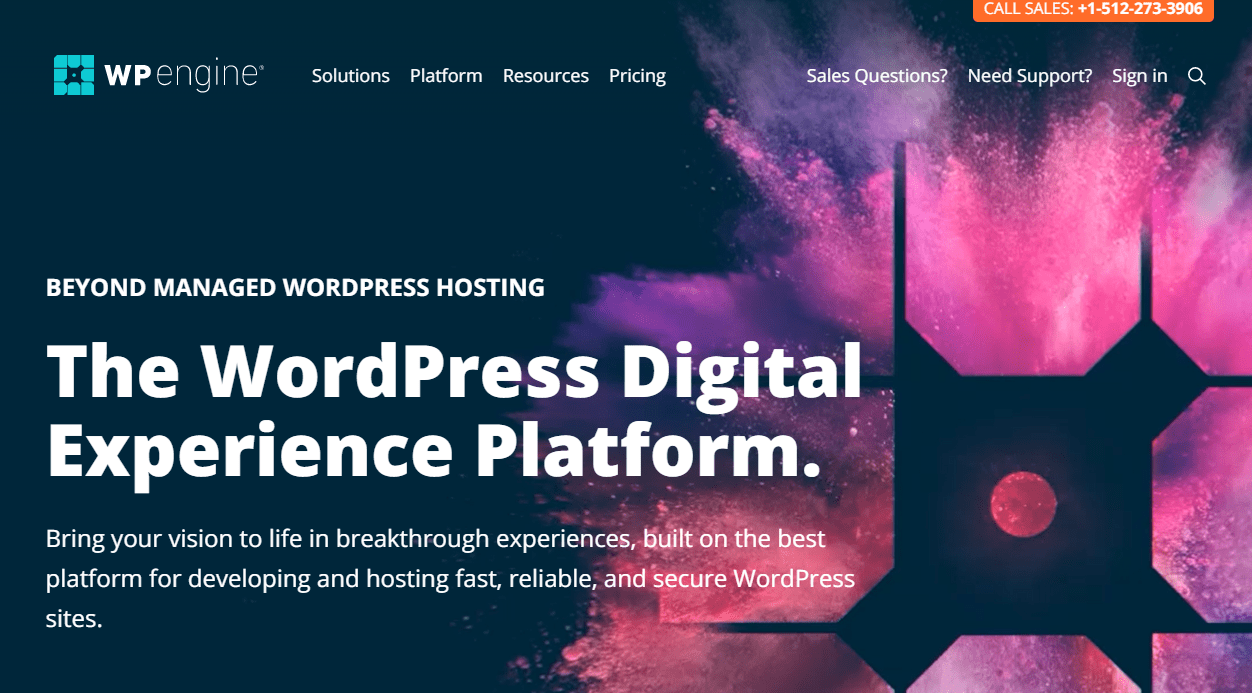 Reliability
WP Engine's uptime is guaranteed to be 99.95% as is stated in their SLA. Customers are entitled to a credit of 5% of the applicable monthly fees for each full hour of downtime.
Performance
WP Engine has been one of the first managed hosting providers to offer new 40% faster instances from Google Cloud Platform in select data centers.
WP Engine offers plenty of performance-enhancing features like CDN, EverCache, a custom-made caching system, and GeoTarget that optimizes your site for specific regions.
The Load Impact test shows that WP Engine delivers load times up to 600 milliseconds as the number of users grow. This is very good result, even though slightly worse than what we've seen at Flywheel (450 ms) and much worse than Kinsta (120 ms).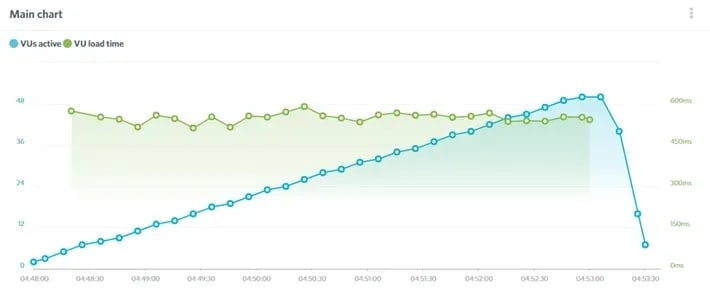 Resource: themeisle.com
Simply said, Kinsta just crushed both Flywheel and WP Engine in this test and this is one of the reasons why it's the top managed web hosting for this year.
Security
When it comes to security, WP Engine offers a wide variety of tools. They can dynamically detect and block malicious behavior and in the unlikely event your website is hacked, they can quickly bounce back with their disaster recovery system.
As you might expect from managed hosting, WP Engine will regularly and automatically update your WordPress and before they recommend any major update, they thoroughly vet it. As a part of increased security, you'll get multi-factor authentication for accessing your WP Engine User Portal and WordPress dashboard.
Support
WP Engine has an entire team of WordPress experts, including 14 subject-specific experts, and they train support team members for eight weeks. Their support is available internationally, 24/7/365 via chat day or night. Their team has earned a world-class Net Promoter Score of 86, so you can be sure that when it comes to problems, your website is in the best hands. On top of that, WP Engine offers two award-winning publications, Torque and Velocitize.
Pricing
WP Engine offers the same pricing for its entry plan as Kinsta. When compared features, you'll get 5.000 visits per month more, though.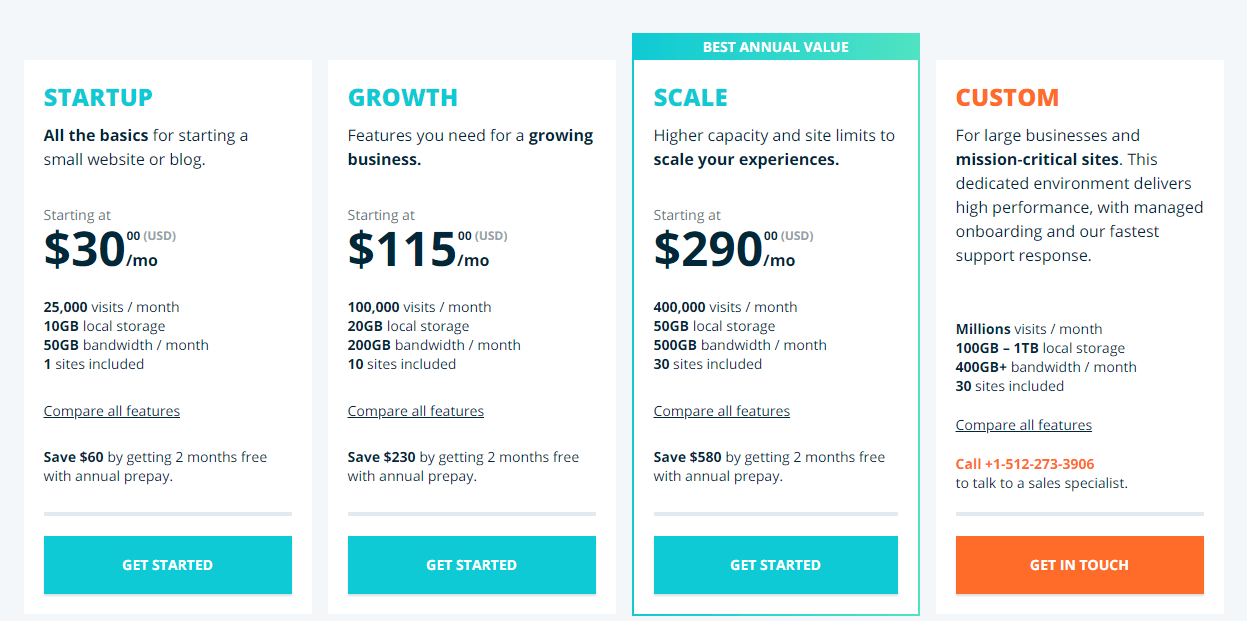 Their best-value web hosting plan, STARTUP, includes:
1 WordPress install
25.000 monthly visits
10 GB of local storage
50 GB of monthly bandwidth
It's important to point out, that all plans include for free 35+ premium StudioPress themes and Genesis Framework. This makes the whole package very attractive.
Hosting administration
As all premium managed hosting plans, even WP Engine comes with its custom-made and easy to use administration dashboard.
Resource: winningwp.com
Conclusion
WP Engine is a great premium managed hosting service, however, it ended up third this year because it's simply not as performant as Kinsta, and doesn't offer as cheap plan as Flywheel. That's why there's probably no real reason to pick this web hosting provider over those two mentioned above.
Since WP Engine starts at exactly the same price as Kinsta, if you don't care about paying $30/mo, Kinsta is far better choice when it comes to performance. On the other hand, if you're on budget but still want to have all the benefits of managed hosting, there's the TINY plan from Flywheel which includes StudioPress themes as well.
4. WPMUDEV Managed WordPress Hosting: $49.00/mo
WPMUDEV is my fourth choice this year because of the price. Their pricing model is somewhat strange and their performance is not as great as I would expect for $49/mo. WPMUDEV started offering managed WordPress hosting only recently and for a long time, their primary focus were premium WordPress plugins like Smush Pro, Defender Pro or Hummingbird Pro.
WPMUDEV doesn't offer managed hosting plans per se, they offer a membership for a fixed price of $49/mo and managed hosting is only one of many benefits of this membership. To make it even more complicated, WPMUDEV actually offers four hosting plans and you'll get three Bronze plans with membership, but more on that later.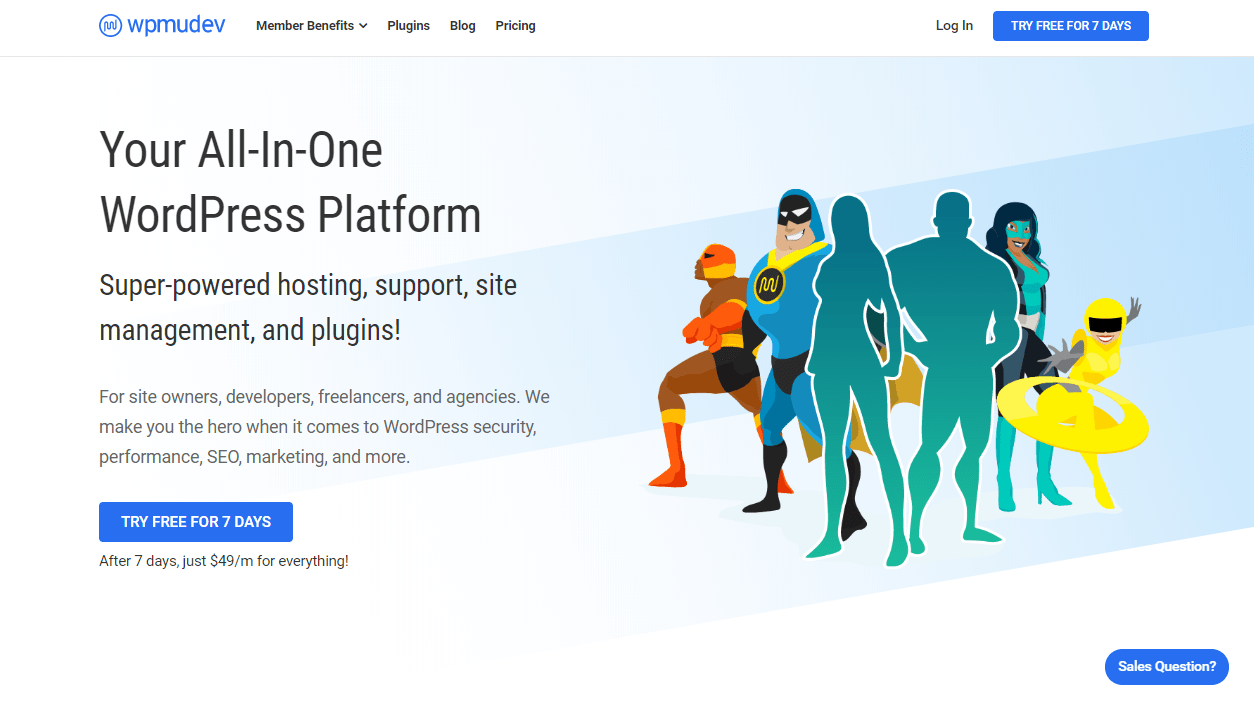 Reliability
WPMUDEV has 99.95% uptime guarantee and if they don't meet this promise, they'll pay you back. That's a good start.
Performance
WPMUDEV comes with isolated and compartmentalized instance using dedicated resources like memory, CPU and SSD storage. This ensures blazing fast website.
WPMUDEV offers CDN via their Smush and Hummingbird plugins and object cache to improve performance.
The Load Impact test shows that WPMUDEV delivers load times around 350 milliseconds with 24 virtual users. This is better than both Flywheel (450 ms) and WP Engine (600 ms), but it can't beat Kinsta with incredible 120 ms.

Resource: themeisle.com
Again, Kinsta is the performance king, crushing every competitor by wide margin.
Security
When it comes to security, WPMUDEV provides file scanning, firewall, two-factor authentication and much more.
They also offer automate incremental nightly backups with 30-day worth of instant restores. On top of that, their self-healing architecture allows them automated monitoring and rebuilding of server resources.
Support
WPMUDEV comes with 24/7 live chat support. They even offer Dashboard plugin so you can give their support team access to help you diagnose and fix problems directly on your site. That sound fairly neat. In LiveChat ranking, they have 97% satisfaction based on 14882 ratings. That's pretty good.
Pricing
Here comes the fun part because WPMUDEV works differently than other providers. Instead of paying for a specific hosting plan, you pay for a membership that includes all their premium plugins, technical support for any WordPress-related issue and it also comes with 3 Bronze plans.
That means that if you're not interested in hosting, you can keep your provider and you'll pay just for plugins and support. For $49/mo, it's pretty steep and I'm not sure whether 6 premium plugins are worth it. However, when you add 3 separate Bronze hosting plans in the mix, $10/mo each, it suddenly starts to make more sense.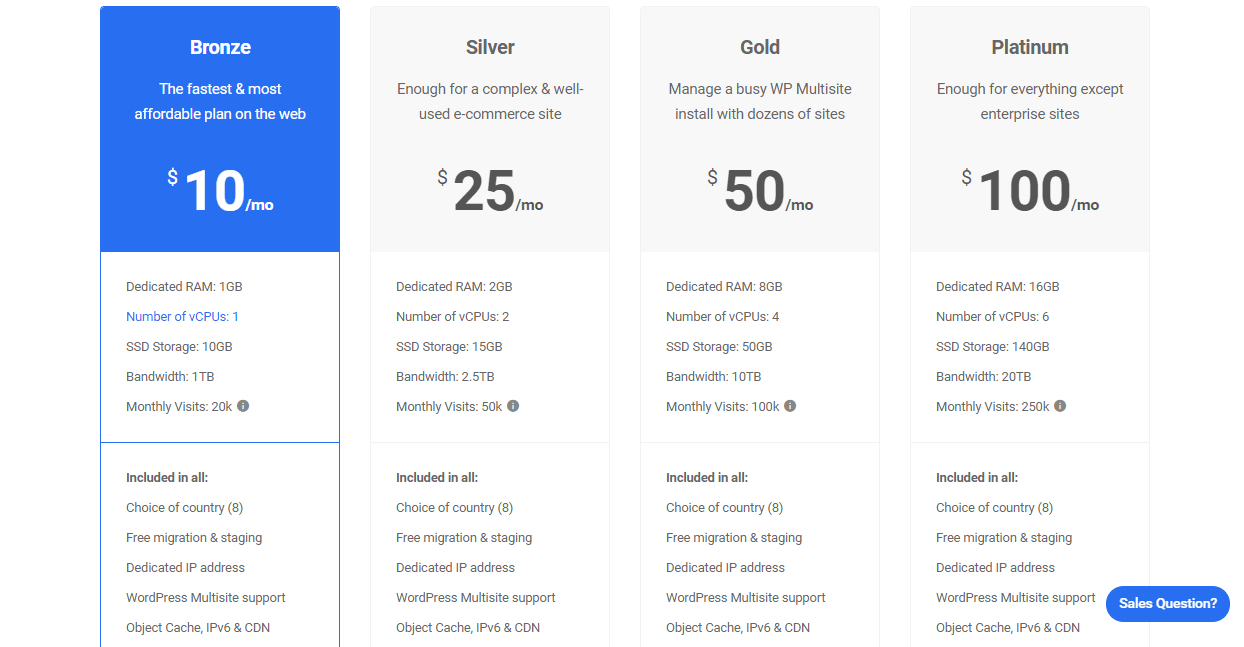 The truth is that Bronze plan is actually very good, but again, if you'd be happy with just this plan for $10/mo without plugins and premium support, you're out of luck. It can't be sold separately which is the biggest issue I have with this hosting provider.
On the other hand, if you do have 3 websites, it might actually be pretty good deal for you.
BRONZE includes:
1 WordPress install
20.000 monthly visits
10 GB of local storage
1 TB of monthly bandwidth
WPMUDEV states that they will never cap your site at any amount of visits. They just give you these monthly estimates of what a typical site can support on each plan, but it depends heavily on theme, plugins and traffic what your site can actually handle. So there's no overage fees. That's a fair approach.
Hosting administration
WPMUDEV comes with a custom-made Hub where you can manage all your websites, domains, backups and much more. It's simple, intuitive and easy to use.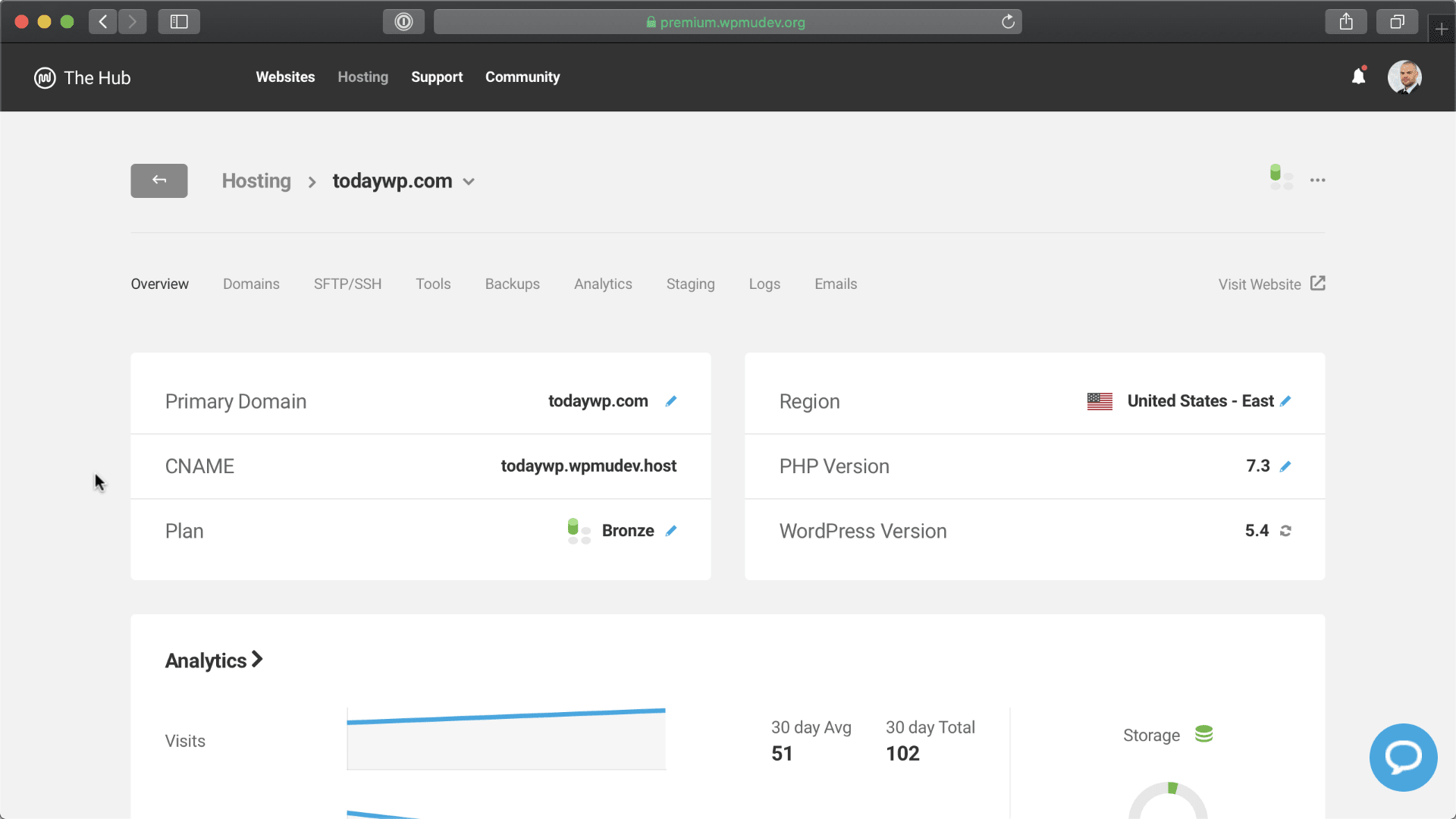 Conclusion
WPMUDEV could be an absolute winner if it decided to offer its BRONZE plan as a standalone service. For $10/mo and with 350 ms load time, their hosting is actually amazing. Unfortunately, you can't get your hands on this amazing deal, unless you pay for premium plugins and support a hefty $49.00/mo. Granted, in such case, you would get three BRONZE plans, but if you have only one website, it's useless.
5. DreamPress Managed WordPress Hosting: $19.95/mo
DreamPress is not a hosting company, it's actually just the name of one product offered by DreamHost. DreamHost is one of three companies endorsed by WordPress.org itself as a recommended WordPress web hosting provider, but they apparently identified an opportunity in growing popularity of managed hosting plans. So beside their regular shared hosting, they offer DreamPress as a managed hosting alternative.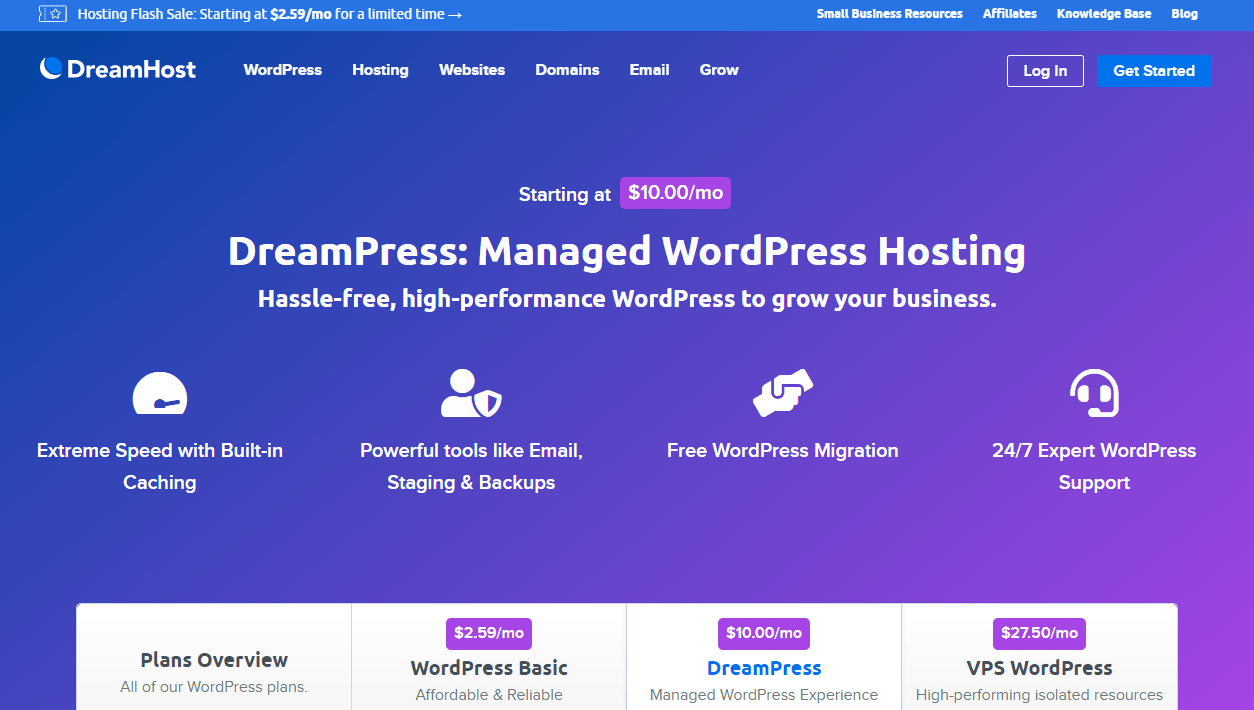 Reliability
In its Terms of Service, DreamHost guarantees 100% uptime. This is quite strange because non of the above mentioned hosting providers dare to say that their services are always running without single failure. However, DreamHost admits possible downtime and in such case, the customer is compensated with credit equal to his current hosting cost for 1 day for each hour (or its fraction) of service interruption. This is valid though only up to 10% of the next pre-paid renewal fee.
Ok, what does it mean? Well, let's say you pay $19.95 each month. If the service is down that month, you'll get around $2 for the service interruption. I know, very unlikely scenario, but still. This explains why DreamHost can claim such incredible uptime. It's a good marketing move and it won't cost them fortune if they won't honor it.
Performance
DreamPress deliver quite impressive load times around 300 milliseconds, which is better than both WP Engine (600 ms) and Flywheel (450 ms).
As you can see from the Load Impact test, DreamPress is able to keep the load times at the same level with growing number of visitors, except for one occurrence.

Resource: themeisle.com
Security
DreamPress offers a set of features you would expect from any managed hosting provider, like automatic WordPress updates and daily backups. On top of that, starting from DreamPress Plus plan ($24.95/mo), you'll get free access to Jetpack Premium (worth $299/yr) which includes additional defense against hacks, malware and spam.
Support
With DreamPress you get 24/7 help from highly-trained WordPress team. You can use ticket system, Live Chat and even Phone Callback support.
Pricing
When it comes to pricing, DreamPress comes in three versions. The most affordable plan is for $16.95/mo, DreamPress Plus is for $24.95/mo and the most expensive is DreamPress Pro for $71.95/mo.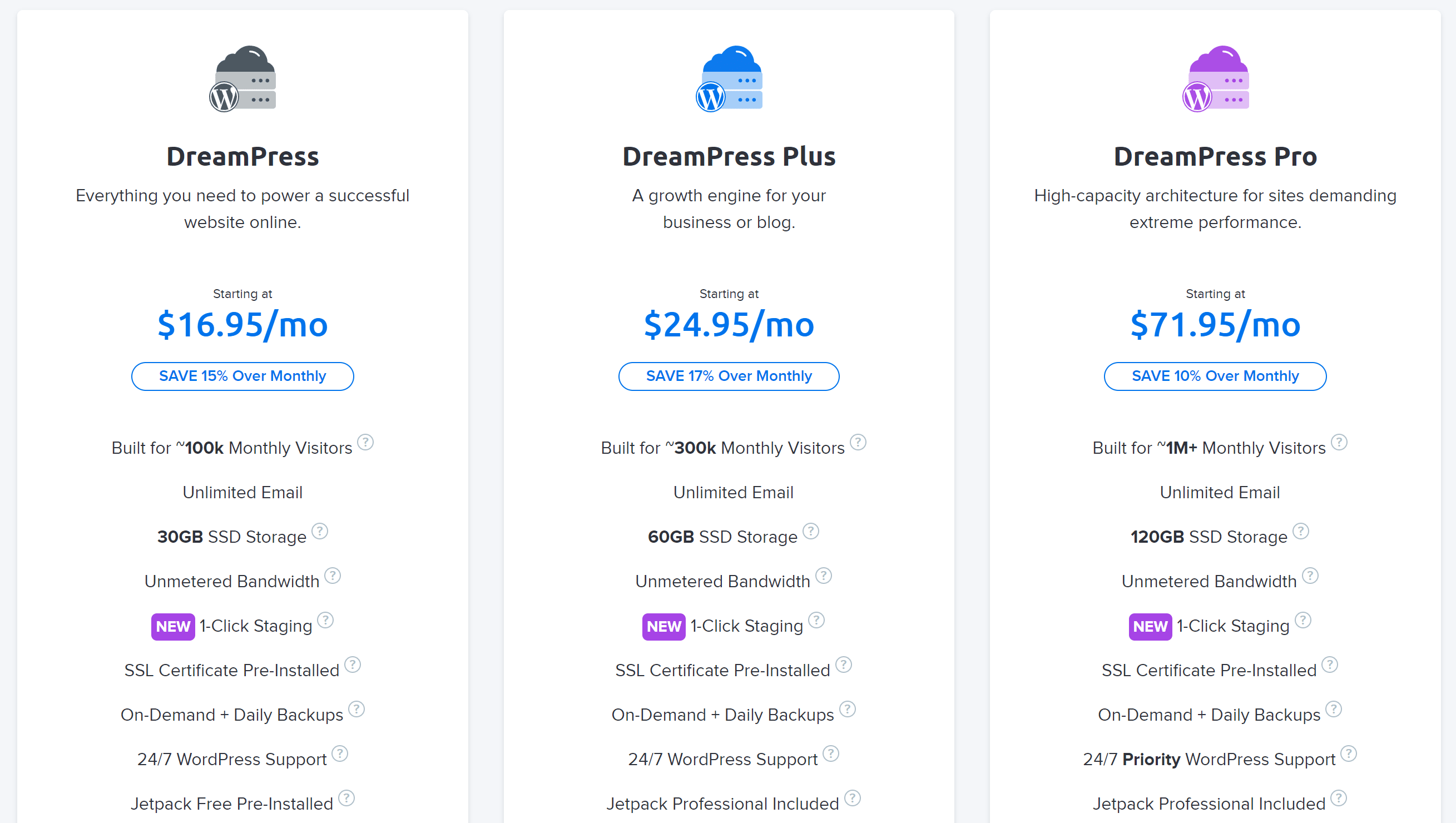 All plans come with unlimited bandwidth, one-click staging, daily backups and pre-installed SSL certificate.
Their best-value plan includes:
1 WordPress install
100.000 monthly visits
30 GB of SSD storage
Unmetered bandwidth
DreamPress promises that monthly visits are only rough estimates for typical WordPress website that can be supported by this plan. It's a soft limit, and they won't shut down your website, but performance can vary by how well your website is optimized.
If you find out that you need more resources, DreamPress can add them on demand or you can always upgrade to a more powerful plan.
Hosting administration
DreamPress is another managed web hosting that comes with its own administration system built from the ground up. It's very intuitive and easy to use and you have access to the most important settings of your website including backups and staging.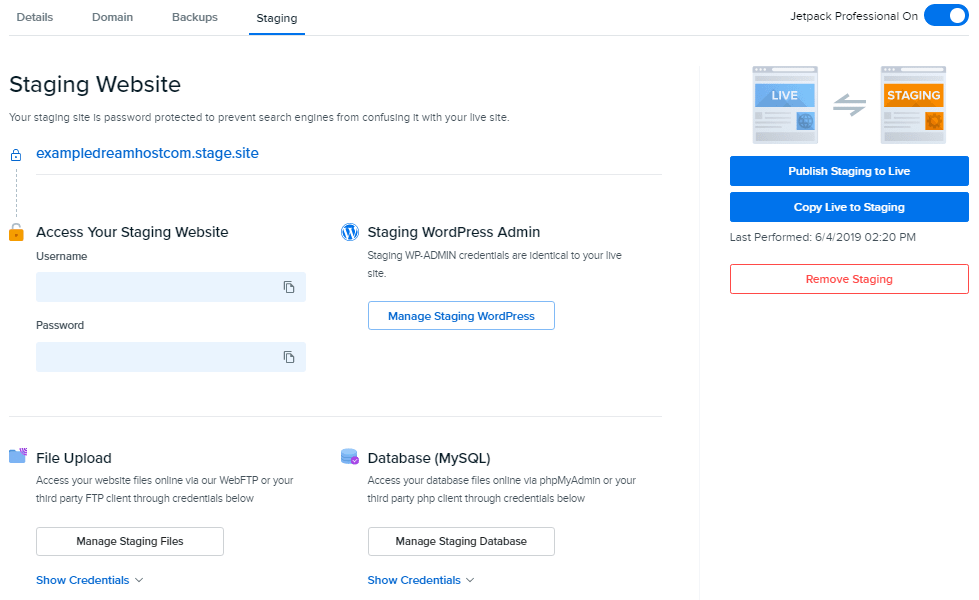 Conclusion
DreamPress offers an interesting package, but for $19.95/mo, I would expect either better performance or some more perks. It's unfortunate that this plan does not come with Jetpack Premium which would make a big impact on the overall rankings.
6. EasyWP Managed WordPress Hosting: $3.88/mo
EasyWP is another specialized service, not a web hosting company. EasyWP is offered by Namecheap, a popular domain registrar. Namecheap has been around since 2001 and it started offering EasyWP as a truly managed WordPress hosting in 2019.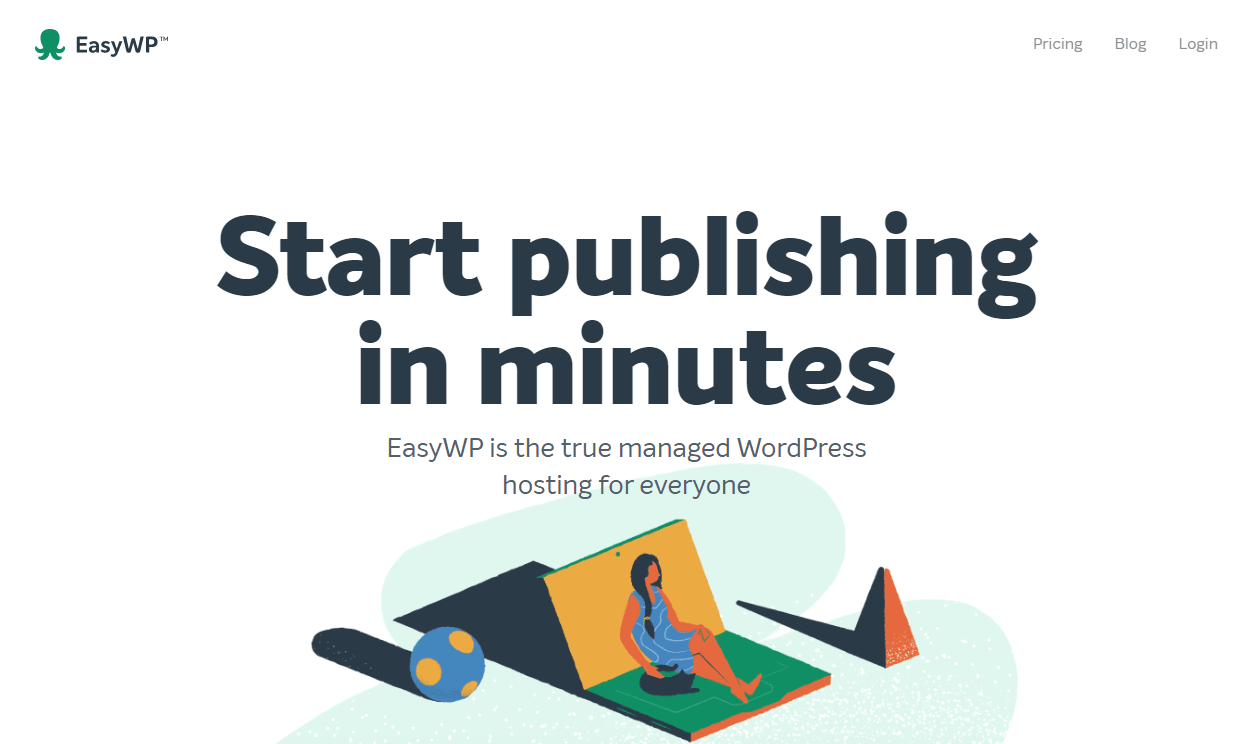 Reliability
EasyWP offers fully containerized solution with 99.9% uptime. That's what you would expect from managed hosting, but with this price range, it's quite impressive.
Performance
When it comes to performance, EasyWP is backed by Namecheap's in-house cloud. Unfortunately, they don't disclose anything more specific and since there's no reliable review available, it's hard to believe that they have 192 milliseconds load time in real use as they claim.
When I personally tested the performance with vanilla WordPress installation, I got a nice snappy response, but that's expected.
Security
EasyWP doesn't offer automatic backups, but their manual solution is quite straightforward.
Support
EasyWP claims to have 24/7 chat with live person. That alone sound strange as I would expect live person automatically, but I guess for the price of $3.88/mo, that's probably considered a premium feature.
Pricing
When it comes to pricing, EasyWP offers three plans, and frankly, all of them seem too cheap for managed hosting:
Start plan starts for unbelievable $0.01 for the first month and then you pay only $3.88/mo for 10 GB of storage and 50.000 visitors per month.
Turbo plan is for $7.88 and adds Free CDN and SSL on top of 50 GB storage and 200.000 monthly visitors.
Supersonic, their top plan for a mere $11.88/mo comes with 100 GB and 500.000 monthly visitors, and for a good measure, it adds 99.99% uptime guarantee.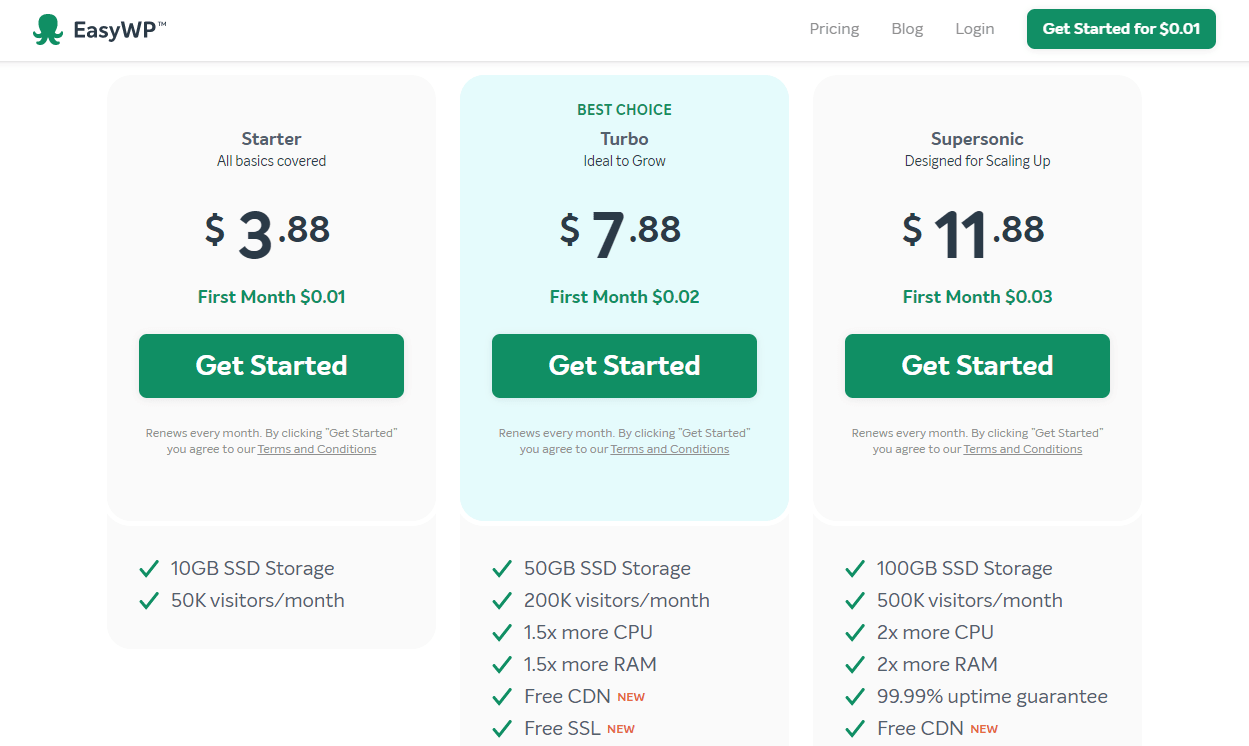 This is simply too good to be true and I can't wait for some real-world test that will prove these claims because, economically, this sound almost ridiculous.
On the other hand, there's no better way to try it for yourself, especially if you're just starting because you'll hardly find anything cheaper when it comes to managed WordPress hosting – provided it's not just a marketing tactics.
Hosting administration
EasyWP comes with its own and very simple administration dashboard. You can't do much here, but that's probably the point. It can't get any simpler than this.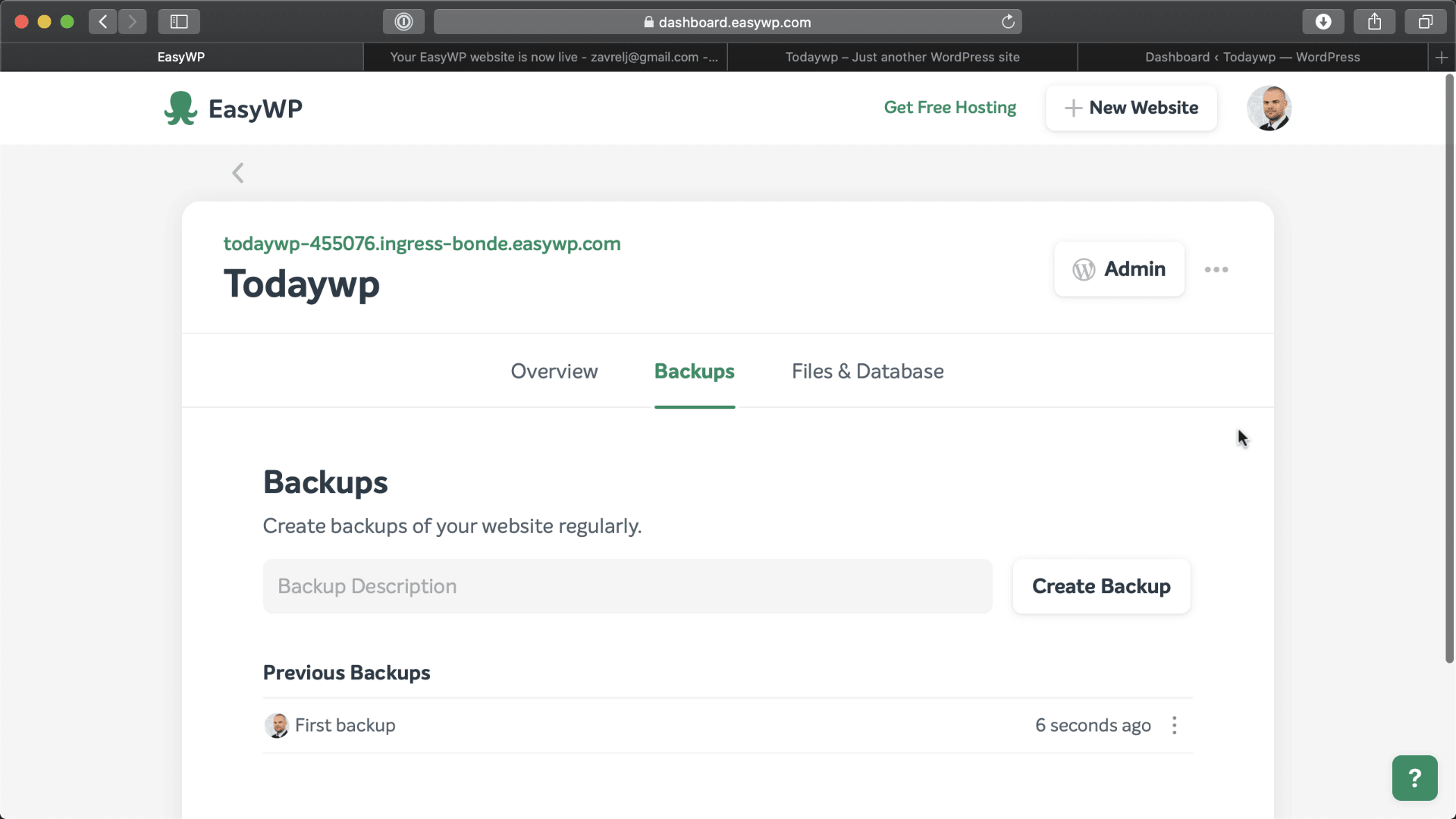 Conclusion
EasyWP is strange. It's marketed as managed WordPress hosting, but the pricing suggests that it's actually just a simplified version of regular shared hosting. On the other hand, my personal test results were pretty impressive, but I lack any long-term real-world tests.
I would say that Namecheap just tried to package its regular shared hosting in a nice box and wants to compete with true premium WordPress managed hosting providers like Kinsta, Flywheel or WP Engine.
Frankly, anyone can write on their website that they are truly managed hosting, but what it actually means is something different. Truly managed hosting is first and foremost about reliability, performance and security. On top of that, you should expect a top-notch tech support. Whether EasyWP is able to deliver all of this for such ridiculous prices remains to be seen, but I quite doubt it.
Can I recommend it? Sure, you can't get wrong with such a low price, but I wouldn't use it for any strategic or critical websites just yet until they prove what they claim.
7. SiteGround Shared WordPress Hosting: $12.99/mo
SiteGround is one of those hosting providers that offer a regular shared hosting but use the "managed" keyword for marketing purposes. I don't personally like this approach because I find it confusing, but once you look at what SiteGround has to offer, you realize, that their "managed" hosting is actually shared hosting with some additional features.
SiteGround is one of three web hosting providers endorsed by WordPress.org along with Bluehost and DreamHost which I will talk about later.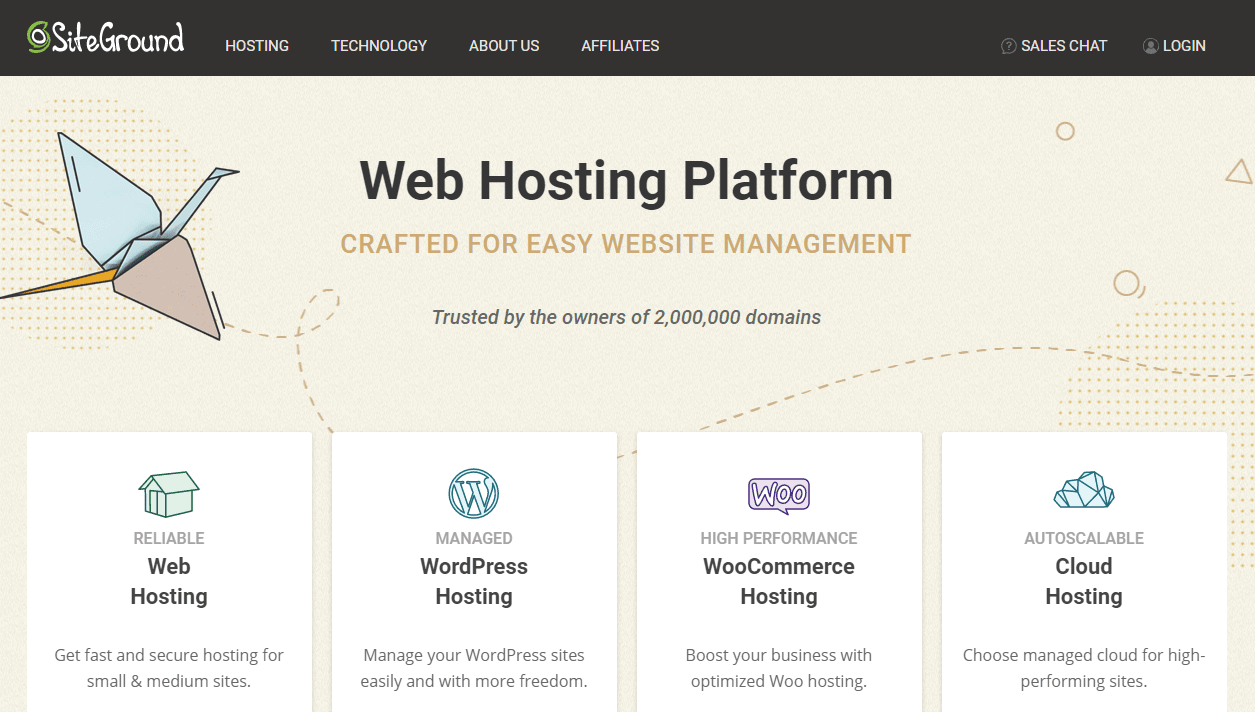 Reliability
SiteGround's hosting solution is built on top of the Google Cloud Platform, which is a good start, but I wasn't able to find anything about their uptime except for the link to almost 14 years old article. I take this as a signal, that they don't want to disclose or guarantee this important metrics.
Performance
SiteGround delivers average load times around 750 milliseconds. That's what you would expect from top-tier shared hosting provider. But as you can see from the Load Impact test, with the increasing number of concurrent visitors, there are peaks at 1500 milliseconds. Not too bad, but not extremely performant results either. Especially if you consider the price which is in the same range as Flywheel (450 ms).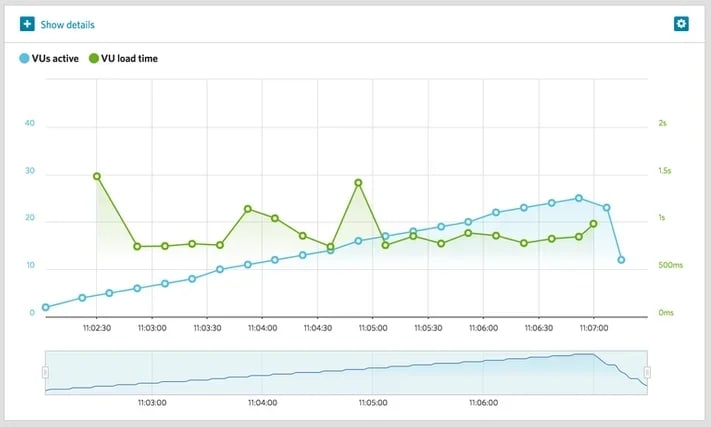 Resource: themeisle.com
Security
When it comes to security, SiteGround offers everything you would expect, including automatic WordPress updates, firewall rules, automatic daily backups with last 30 copies kept on your account for quick restores. You'll also get free SSL, but that' something I consider a must these days, so I don't understand why some providers still treat this as a special feature.
Support
SiteGround offers customer support, but unfortunately, you'll get only regular 24/7 chat. Don't expect anything beyond common problem-solving.
Pricing
When it comes to pricing, SiteGround offers three plans, and they aren't very cheap for a shared web hosting:
StartUp plan is regularly for $12.99/mo which is dangerously similar to Flywheel's cheapest plan
GrowBig plan is for $22.99/mo
GoGeek is for whopping $34.99/mo.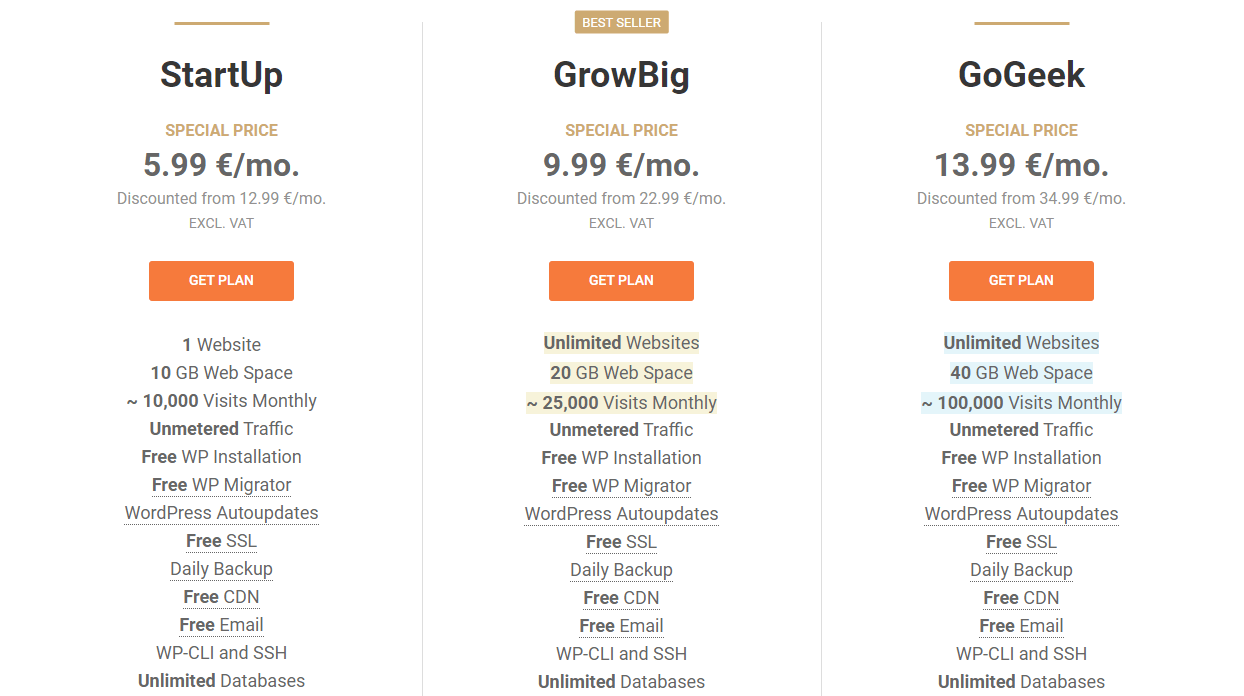 All plans come with unmetered traffic, SSL, daily backups and CDN which sounds good.
Their best-value plan includes:
1 WordPress install
10.000 monthly visits
10 GB of SSD storage
Hosting administration
SiteGround recently updated their old administration panel based on cPanel solution and now they offer their own custom-made dashboard. However, I find it quite confusing and hard to navigate, but that's just my personal opinion.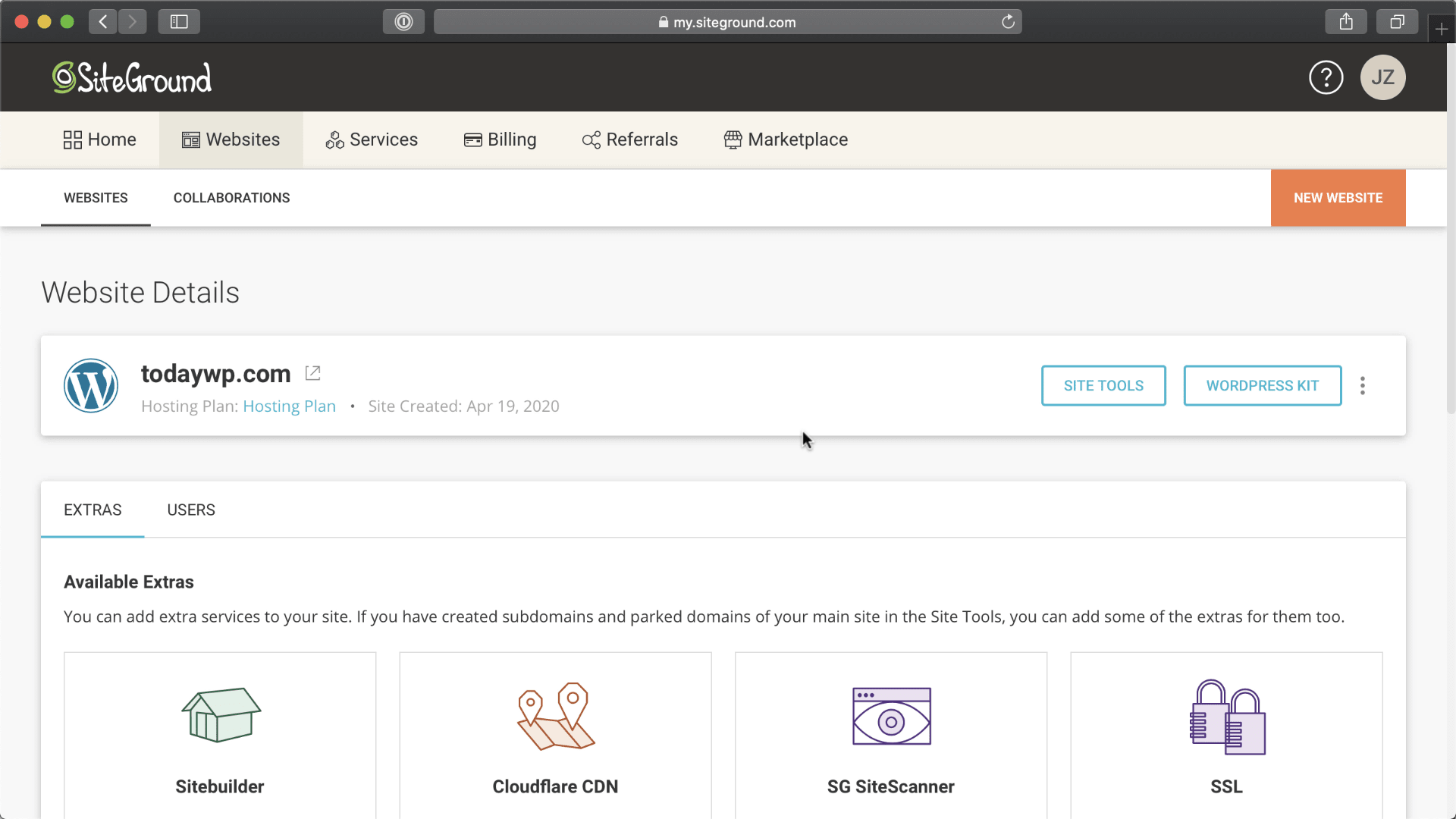 Conclusion
SiteGround is strange. It offers managed web hosting, yet everything suggest that it's actually a regular shared hosting with some additional feature for premium price.
If you're on budget, SiteGround is definitely expensive for a shared web hosting, so in such case, you might want to look elsewhere.
If you're in for truly managed web hosting, and money is not an issue, you might want to check Flywheel for similar price or even Kinsta, if performance is your top priority. And then, there's still EasyWP which is way easier to manage for a fraction of price.
Check SiteGround Managed WordPress Reviewed for even more information about this web hosting provider.
8. Bluehost Shared WordPress Hosting: $8.99/mo
Bluehost is one of the three companies recommended by WordPress.org as I already mentioned above. This alone should indicate that you're in a pretty good company (pun intended), but let's not give them any advantage over others just because they're on some list.
Bluehost offers a regular shared WordPress hosting and I like that they don't try to hide this fact behind some shady marketing like SiteGround does with their so-called "Managed WordPress hosting". Recently, Bluehost started offering their own take on managed hosting which they call WP Pro, but that's not what I want to focus on here.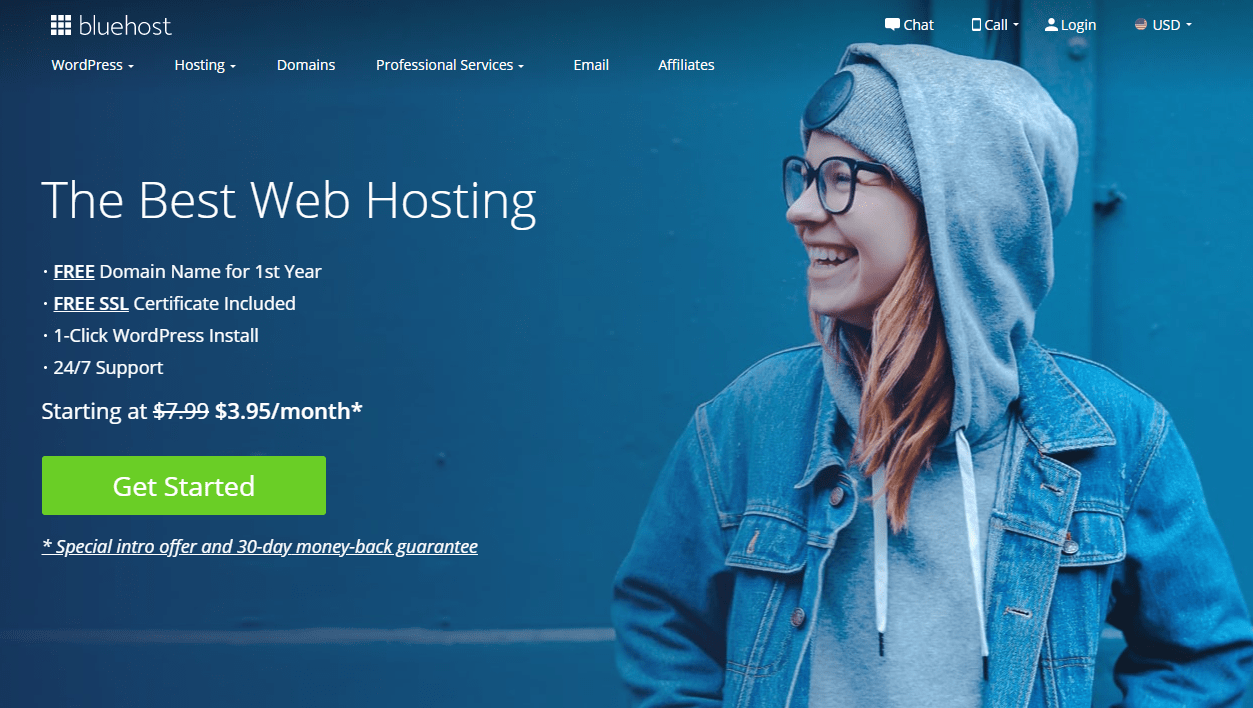 Reliability
Even though Bluehost doesn't explicitly disclose any uptime guarantee, they declare in their Network Server Uptime Agreement that they experience downtime from time to time and that most issues are resolved in approximately 15 minutes. That's fine if this doesn't happen every week, but with shared hosting overall, you just get what you pay for and $8.99/mo plan just won't give you the same benefits as $30.00/mo plan.
Performance
Bluehost load times nicely demonstrates the biggest issue of shared hosting. They tend to get higher with the growing number of visitors. The chart below shows how you can easily get to over 6 seconds with 30 visitors, which is not acceptable. Nobody will wait 6 seconds for your website to load unless you're Apple or CNN. Unfortunately, this is not all that uncommon for a shared hosting plans. With small site receiving few simultaneous visitors, Bluehost perform just fine, but as your traffic grows, you're going to need a more robust solution.
Resource: themeisle.com
Security
Bluehost doesn't offer automatic updates for its shared plans, so it's up to you to install some backup plugins and perform regular backups on your own. They provide automatic WordPress updates, and they force secure login credentials instead of a standard admin/password, which is a step to the right direction. If you want to learn how to make your WordPress more secure for free, read How to Secure Your WordPress Website with Cloudflare & Jetpack.
Support
As many shared hosting providers, Bluehost offers 24/7 chat support, but they won't solve anything beyond the basic getting started issues. Don't expect WordPress experts with hands-on guidance, that's not what you pay for here.
Pricing
Regardless special deals and multi-years lock-ins, Bluehost offers three plans. The Basic plan is regularly for $8.99/mo, the Plus plan is for $12.99/mo and Choice Plus is for $16.99/mo.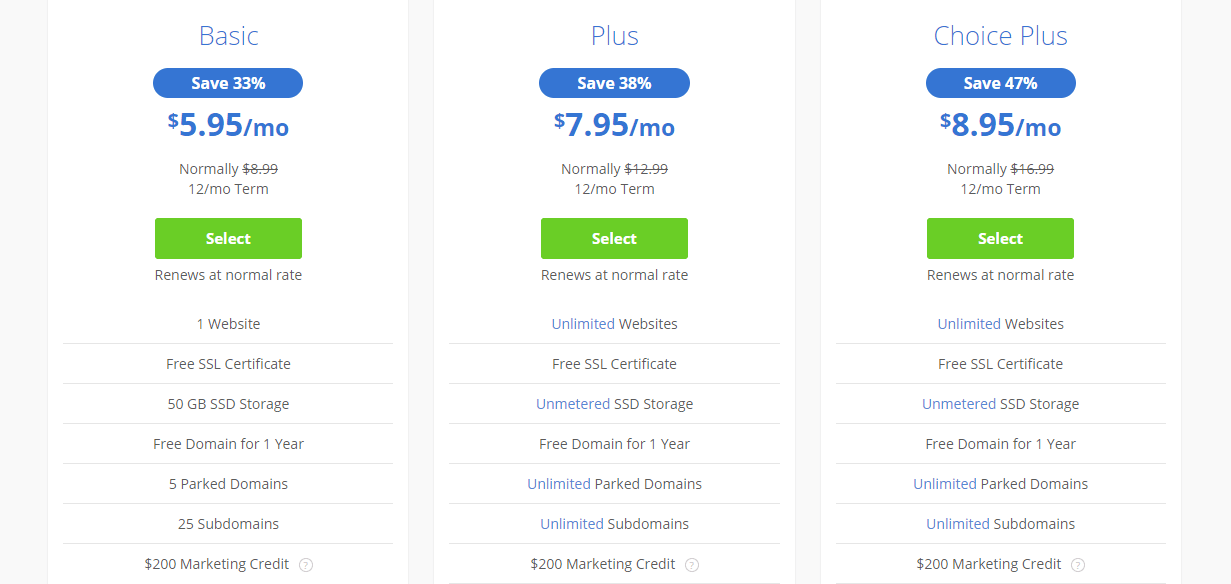 All plans come with free SSL certificate and free domain name for 1 year. Except for the Basic plan, you'll also get unlimited websites and unmetered SSD storage, but you probably already understand that this is just a marketing gibberish. Nobody would probably expect running more than few sites on a shared hosting plan with 6 seconds loading times, so they can easily offer you unlimited number knowing too well, that it's a suicide, but it looks good on pricing page, or does it?
Their best-value plan includes:
1 WordPress install
50 GB of SSD storage
Free Domain for 1 Year
Free SSL Certificate
It's quite telling that they don't disclose monthly visits as an indicator of how much traffic the plan can actually cope with. It seems that they just know that this shared hosting isn't for traffic-heavy websites.
Hosting administration
Bluehost follows the trend of custom administration which offers a unique branded solution unlike uniform cPanel. Whether you like it or not is solely up to your preferences. I find it quite easy to navigate and use.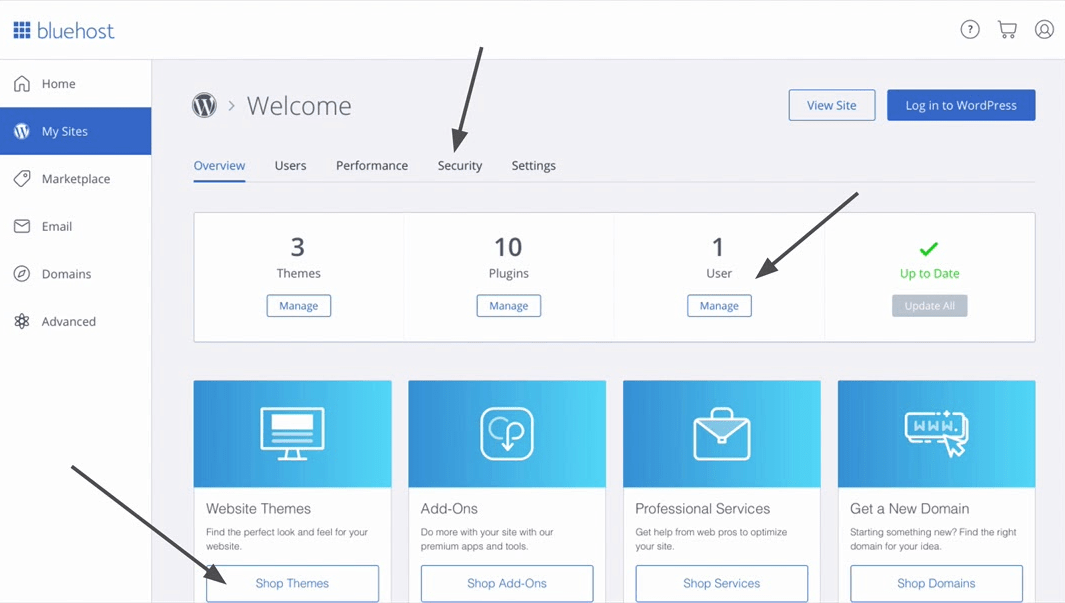 Conclusion
For $8.99/mo, Bluehost offers a pretty affordable web hosting for small websites, but its disastrous loading times can't serve big traffic, so I suggest you take that into consideration and choose this web hosting only if you plan to have few mostly static pages. In such case, though, you might as well find a better and cheaper solution.
I wonder how they ended up as WordPress.org official recommendation and why so many bloggers suggest this provider. Maybe there's some financial incentive in form of affiliate fee, but that was never my primary motive here at TodayWP.
9. DreamHost Shared WordPress Hosting: $6.99/mo
DreamHost is the last of the trio providers prominently displayed at WordPress.org and recommended as a trustworthy web hosting provider.
DreamHost as a company offers three different flavors of web hosting. We already covered DreamPress as their managed WordPress hosting solution, here, we'll take a look at WordPress Basic and finally they offer even specialized solution for online stores called WooCommerce Hosting.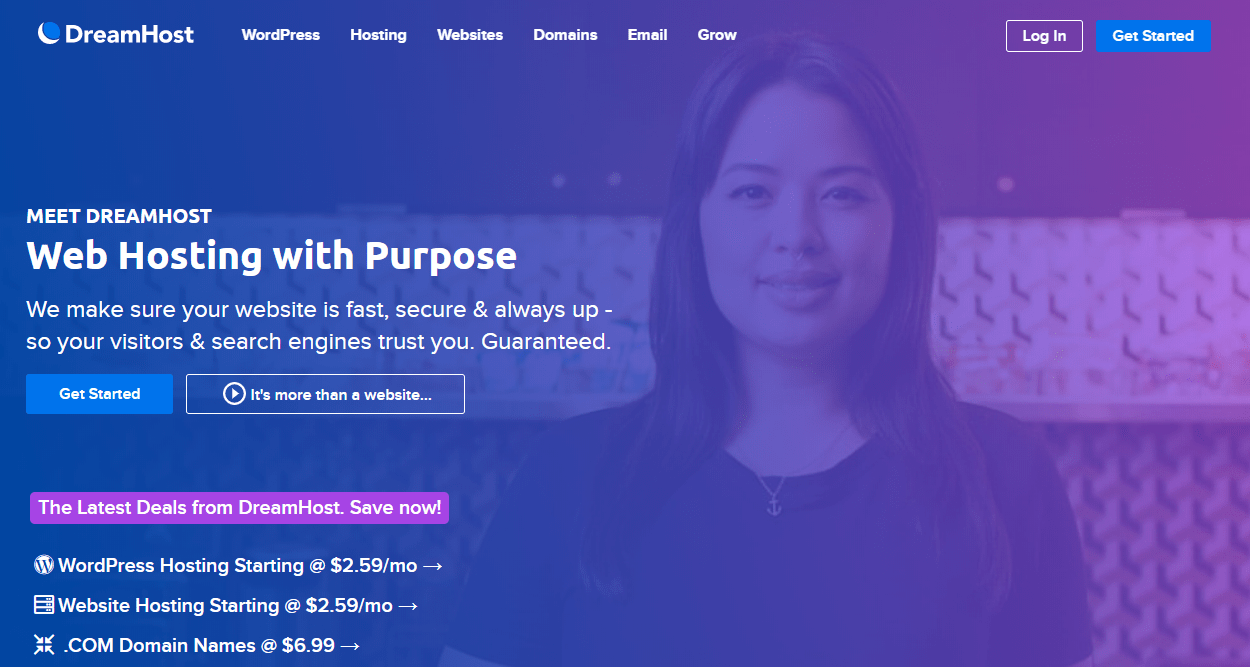 Reliability
DreamHost has a guaranteed uptime as a part of their General Terms of Service. They guarantee 100% uptime, which is very bold statement which actually means that they will compensate you up to maximum of 10% of your next pre-paid hosting renewal fee. Wow. This was mouthful.
What does it mean? Simply said, it doesn't matter how many times their 100% uptime service is actually down, because you won't get more than $0.699 if you're paying monthly.
That's ridiculous and in stark contrast of serious web hosting providers that claim 99,9% uptime and fight for every single digital above that. For what its worth, DreamHost can claim 150% uptime and it would hold the same value for you. Another marketing gibberish I don't like at all.
Performance
DreamHost is another proof that shared hosting is something worse than managed hosting when it comes to performance. Loading times are steady as the number of visitors grow, but it's still around 1,5 seconds or 1.500 milliseconds, which is not that impressive, especially when compare with Kinsta which is more than 10x faster (120 ms).
There's no way around it. You simply get what you pay for and $7/mo plan gives you 10x worse performance than $30/mo plan even though it's only 4x cheaper.
There's no way around it. You simply get what you pay for and $7/mo plan gives you 10x worse performance than $30/mo plan even though it's only 4x cheaper.
Click To Tweet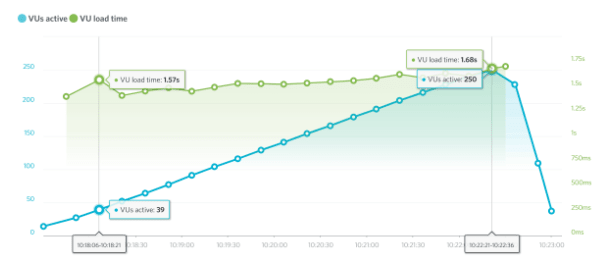 Resource: themeisle.com
Security
Free SSL, WHOIS privacy protection and automatic WordPress security updates, but most importantly, DreamHost offers daily automated backups of your website. You can't really expect more here for the price, but daily backups are pleasant feature not all shared hosting plans offer, yes, I'm talking about you, Bluehost.
Support
DreamHost claims that it offers 24/7 US-based expert support to help you anytime. For such a low price, it's quite hard to believe that, but DreamHost is owned by employees, and they have in-house team members, so hopefully, they can make you feel like a part of their family as they claim on their website.
Pricing
It's very important to click the tiny almost invisible gray question mark icon next to the promotional price to learn, that the big blue price is actually valid for only three months. After that you'll pay $6.99/mo for WordPress Starter plan and $11.99/mo for WordPress Unlimited plan.
I just wonder why the most of shared hosting providers use this shady tactics and won't reveal the real price like managed hosting providers do. Take Kinsta as an example. They don't play these games with customer. You'll pay exactly $30/mo, and they're not ashamed to tell you directly.
Maybe shared hosting providers don't have the guts to tell you how much their plans actually cost because they're afraid you start comparing the real value? I don't know, but I like straight communication and I don't find these tactics appealing.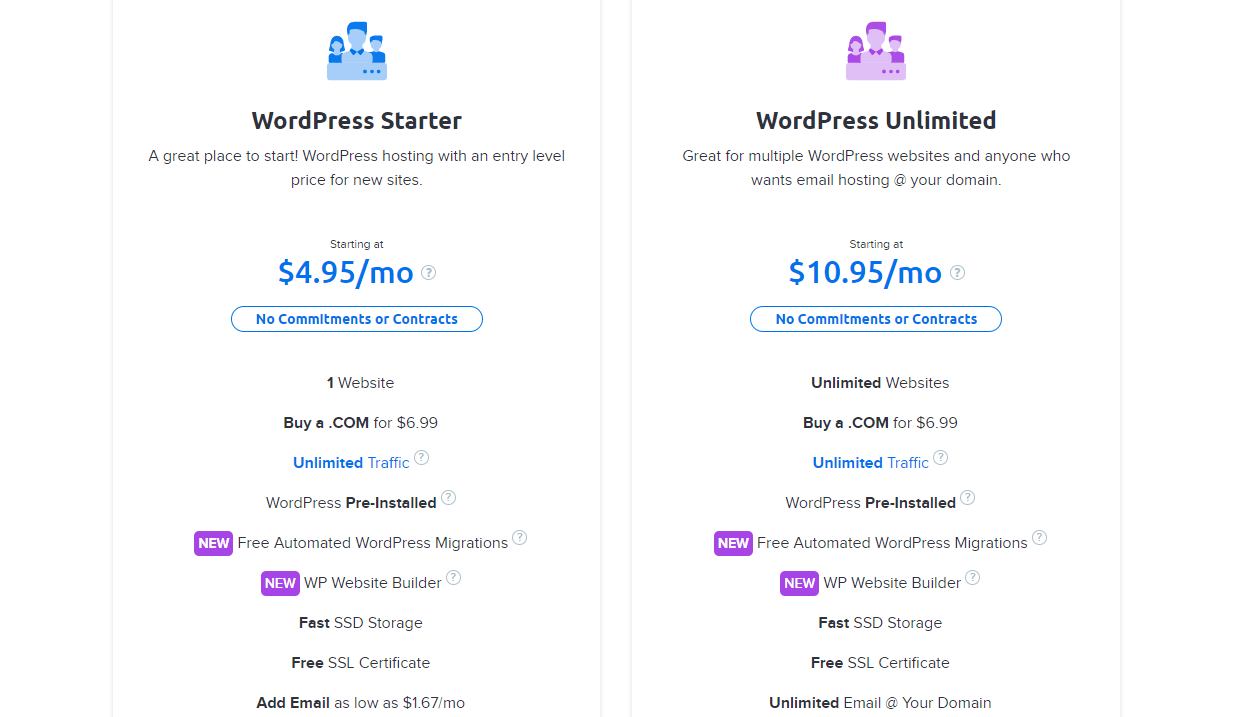 All plans come with free SSL certificate and unlimited traffic.
Their best-value plan includes:
1 WordPress install
50 GB of SSD storage
Free Domain for 1 Year (only with an annual plan)
Free SSL Certificate
Hosting administration
DreamHost offers very nice custom-made dashboard with clean and simple layout. I really like how everything is easily accessible. This is one of the most professional dashboard offered by shared hosting plan.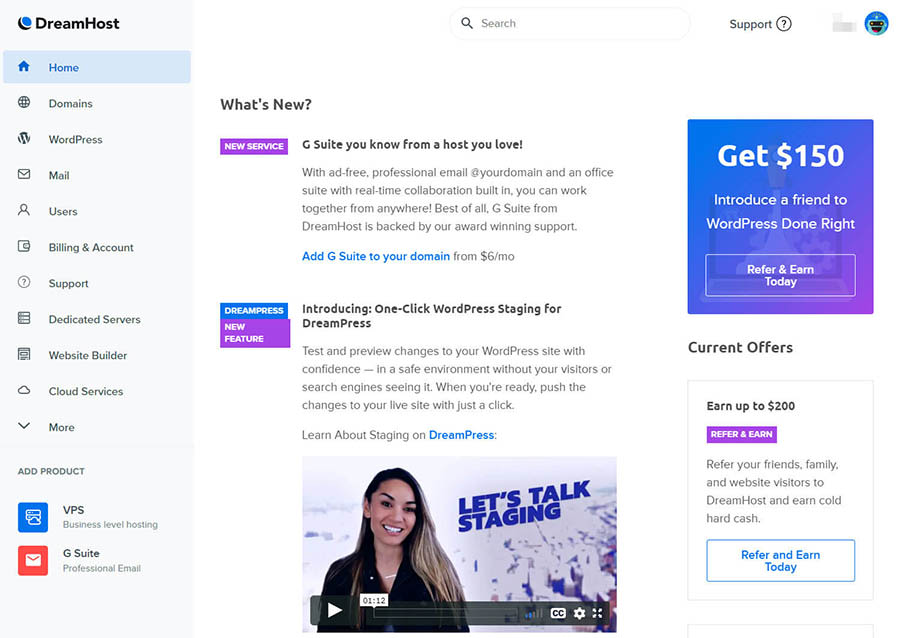 Conclusion
For $6.99/mo, you'll get a decent performance, but overall it's just a shared hosting plan with exceptionally attractive administration dashboard. If you want to start with DreamHost and decide to upgrade later, you can stick with the company and just use their managed solution, DreamPress.
10. Hostinger Shared WordPress Hosting: $9.99/mo
Hostinger offers plenty of products, but I want to talk about the most affordable shared web hosting plans.
Hostinger is a big company serving 29 million people in 178 countries. Hostinger was founded in 2004 and in 2007 it started with their free web hosting as 000webhost.com. Later, they were rebranded as Hosting24.com and in 2011, they were rebranded again as Hostinger.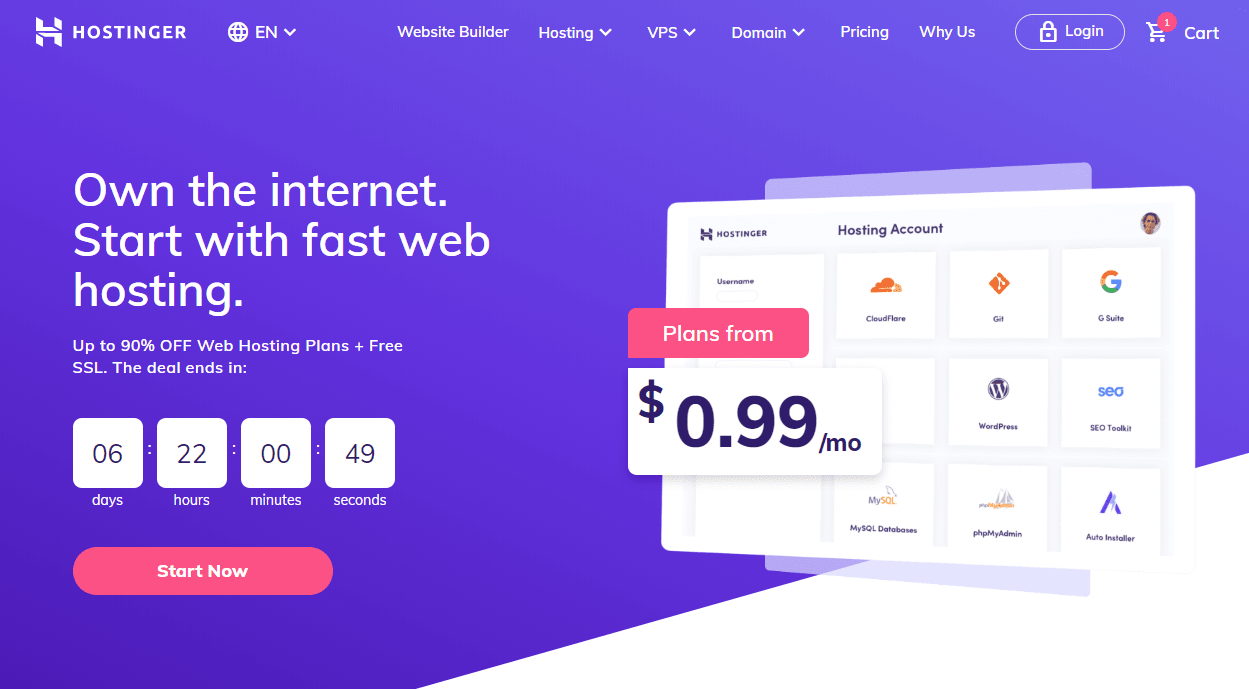 Reliability
Hostinger claims that they guarantee 99,9% uptime, and in their Terms Of Service, they actually claim that if they fail to maintain it, they will give you 5% of your monthly fee back. Ok, for a $9.99/mo hosting plan, that's a whopping half a buck – what a compensation! 🙂 – regardless of the uptime. For what it's worth, your site could be down for half a month and you'll still get $0.5.
Performance
I must say that I was very impressed with performance of Hostinger. Not even some managed hosting providers can offer such low loading times and even though the response time gets a little choppy as the number of requests increases, the overall average of 200ms is simply impressive.

Resource: themeisle.com
Security
Security comes in the form of free SSL certificate and Cloudflare protected nameservers, but I don't expect anything from shared hosting, which is pretty disappointing, because $9.99/mo is not the cheapest plan. You can buy daily backups as an additional service, though.
Support
Hostinger claims that they will respond in 50 seconds on average to your call for help. I have a different experience but that's why they say it is on average. They have 24/7/365 chat support, but as always, don't expect any experts on the other side of the chat window. You simply don't pay enough for senior WordPress developers.
Pricing
Pricing is a big issue for me. I don't like how Hostinger gets you on $0.99/mo deal only to sell you everything later for preposterous price. They offer three plans. Single Shared Hosting is for $9.99, Premium Shared Hosting is for $19.99 and Business Shared Hosting is for $15.99.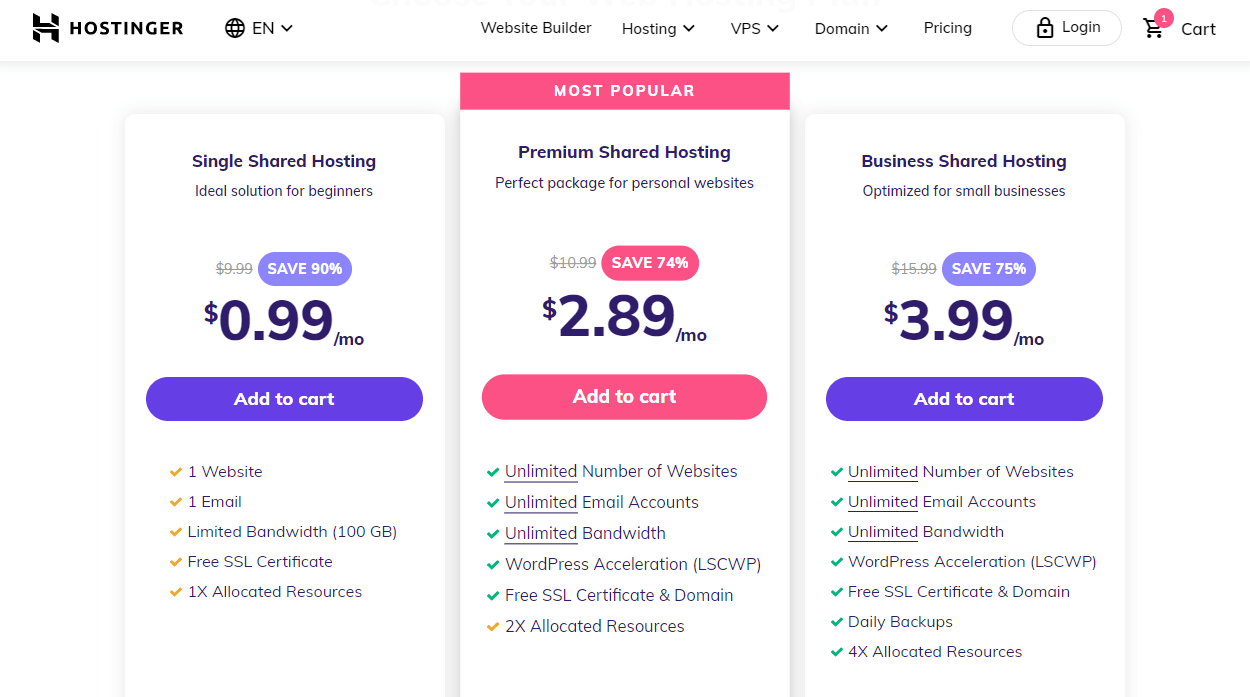 The problem is that if you choose a monthly payment, you'll need to pay additional $4.99 for setup. That's simply crazy. I understand that they want to lock you in, but I find this misleading at best. The $0.99/mo price is valid only if you pay for a whopping 48 months upfront and you'll learn this only after you add the selected plan to cart.
Their best-value plan includes:
1 WordPress install
10 GB of SSD storage
100 GB of bandwidth
Free SSL Certificate
Hosting administration
Hostinger comes with a custom-made administration dashboard. It's clean design is very intuitive and easy to use and I find it very appealing.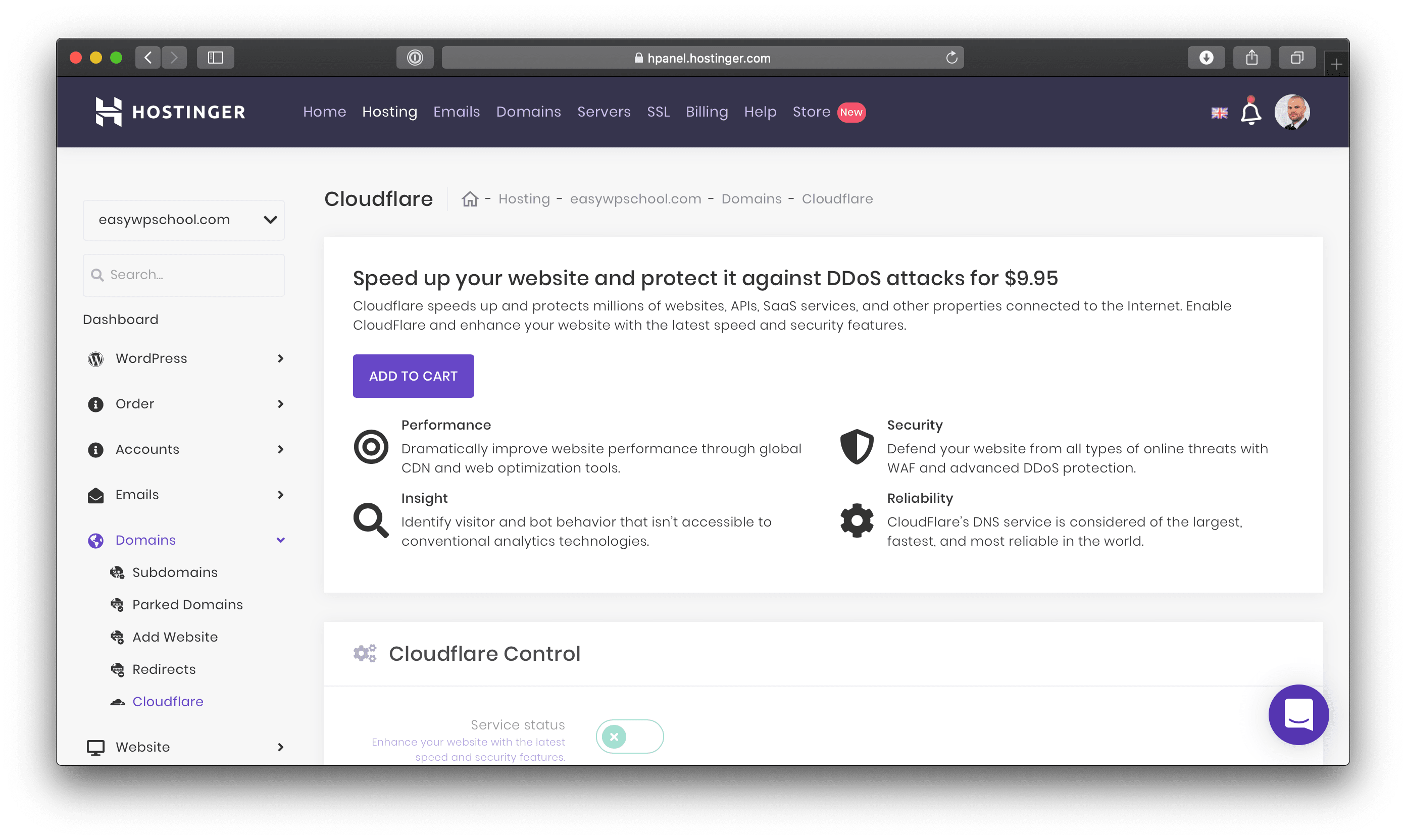 Conclusion
Hostinger offers some exceptional performance, but the overall experience is not that good because of their shady marketing tactics. I would appreciate an honest approach far more. If you're interested in cheap hosting, Hostinger is actually not for you, because for a shared hosting plan, it asks actually quite a hefty price. On the other hand, if you don't mind paying for 48 months upfront, you'll get a pretty amazing deal.
Check How to Set Up WordPress with Hostinger for even more information about this web hosting provider.