Here's my easy-to-follow, step-by-step, ultimate guide to help you start your own blogging career and make online money.
I've been blogging for many years and in this article, I'll show you everything you need to know to get started right now.
This article is comprehensive and thus quite long. To make it easier for you to navigate different topics, I divided it into seven easy steps.
You can read the whole thing from the beginning to the last words, but if you're familiar with some aspects, feel free to skip to the topic you're interested in.
Disclosure: Please note that some of the links in this post are affiliate links for products I use and love. This means if you click on such a link and take action (like subscribe, or make a purchase), I may receive some coffee money at no extra cost to you. This helps me creating more content free of charge to you. And, as an Amazon Associate, I earn from qualifying purchases. Thanks for your support!
How to Start a WordPress Blog in 7 Easy Steps
Start a WordPress blog with these simple steps:
What is WordPress?

WordPress is the most famous content management system, software for writing, and publishing articles. WordPress is available in two flavors. It can be used as a service available at WordPress.com or it can be downloaded as a software package available at WordPress.org and installed on a web server. If you want to learn more about the differences between those two flavors, check this article
What is a blog?

A blog is a list of posts and it's usually the most important part of content-focused websites where new content is frequently published. Some companies use a blog as a way to further introduce their products and services.

For example, GitHub has a blog on a separate domain. Sometimes, running a blog is the whole purpose of the website and the list of posts has a prominent place right on the landing page. Smart Profit School is a blog-based website focused on passive income. TodayWP is also primarily focused on delivering frequently up-to-date content about WordPress-related topics.
Why you should start a WordPress blog?

Having a website is the best way to establish your online presence. You don't want to be at the mercy of social networks which can delete your account anytime they decide you didn't follow their community rules. You want to have your own digital home where your readers and followers can always find you.

On top of that, starting your own blog is the easiest way to establish your online business and earn some income by selling digital products or by recommending the products and services of others via affiliate partnership.
What if I'm not a programmer or designer?

Don't worry. There are different ways to start your blog, granted, some of them are pretty technical, but you can definitely start blogging even if you're not tech-savvy, as it becomes easier each year. That's why this guide is focused on WordPress, the easiest publishing platforms to learn and use. I'll walk you through every step so you can start publishing today.
Am I not too late? Is it still possible to make money online?

Of course, it's still possible! People are increasingly starting to realize that working from home is a viable alternative to a traditional 9-to-5 job and with the recent pandemic development, this trend will only continue.

There are new audiences coming up each year, people who want to learn new skills online. With ever-improving Internet availability and speed, they can now take online courses and even university lectures on their notebooks while sitting on their couch. Udemy and Skillshare are only two examples of huge online libraries of content delivered to millions of students every day.

The best part about blogging is that it can be the most profitable online business yet there's very little upfront cost. All you need is a domain name and a decent web hosting service.
What if I still need to keep my job?

That's perfectly fine! I still keep my regular job as well. It's a nice safety-net and you don't need to become a full-time blogger. Even as a part-time blogger who publishes just a few new articles each month, you can earn some serious money over time and eventually quit your regular job later, or keep it if you like it.

Ok, I hope I was able to help you decide whether blogging is for you with the answers above and if you're ready to take a leap and learn how to start a WordPress blog that can eventually become your primary source of online income, let's get started!
1. Choose your niche
Your niche is the topic or area of interest you want to cover. This means that it's something you want to focus your content around. It's been shown that unless you're a famous star, it's not a good idea to have a broad approach and write about everything.
You should always try to niche-down and make your blog focused sharply on specific problems or issues. Choose the topic like technology, travel, lifestyle, food, or fashion and try to get into a more specific topic in that category. For technology, choose web development and inside it, focus on CSS for example. For food, focus on meat-related topics like steaks. The broader your focus is, the hard it will be for you to fight with competition.
On the other hand, you should get too specific or you'll attract a very small group of people, but most of the time, bloggers suffer from the exact opposite problem, their blogs are too broad.
I made the mistake of being too broad when I started my zavrel.net website. I'm interested in productivity, programming, fitness, passive income, and many other fields and I thought that putting everything on a single blog was a good idea.
Unfortunately, it turned out that people were very confused. Those interested in a weight-loss couldn't care less about articles focused on regular expressions or databases, those interested in productivity didn't appreciate much my detailed course about web development.
Later, I realized that I needed to create niche-specific websites for these areas, so I started different blogs for programming (codewithjan.com), passive income (smartprofitschool.com), fitness (thenewfitness.net), and this website about everything related to WordPress. I kept my zavrel.net website only for stuff related to personal development and productivity and I also create two micro sites for specific products (thesystem2.com and twdc.online).
So, there's nothing wrong with having multiple hobbies or projects, but you shouldn't put them all on one website.
Sometimes, it can be very helpful to incorporate a word that clearly signals what your content is about right withing the name of your blog, or even better to the name of the domain itself. See my domains smartprofitschool.com, codewithjan.com and thenewfitness.net? I guess you can tell what they are about even before you actually check them out, right?What if I can't decide on a niche?
2. Pick your domain name
You should consider your domain name as your digital address and your website as your digital home. A good address is very important and picking the right one isn't simple. Take your time and have a domain registrar search field ready to immediately check whether your favorite domain name is available. I can recommend the Porkbun registrar, which is quite affordable and also very easy to use.
When it comes to the domain itself, you have basically two options. You can choose the domain based on your real name, like zavrel.net in my case, or you can try to find a suitable name based on keywords, like smartprofitschool.com.
Domains based on your real name should be available, especially if your name is quite unique, while keyword-based domains are very popular and it's getting increasingly harder to find domain names that are not already registered.
I dedicated the whole article to this issue, so check How to Pick the Best Domain Name for Your Blog for more detailed information and some tips.What if the domain name is already registered?What if I want to change the domain name later?
3. Select the right web hosting
This is my favorite topic because I personally vetted many hosting providers and unlike many affiliate websites out there, I am proud to deliver an honest opinion on services I personally tested.Why do I need web hosting?How much should I pay for web hosting?What's the best web hosting plan for beginners?
Web hosting reviews
If you want to learn more about different web hosting plans I recently reviewed, make sure to check these articles:
However, I swear by Flywheel for beginners and Kinsta for advanced bloggers and that's why I can wholeheartedly recommend both of these.
Ready to set up your web hosting account?
I made these quick tutorials to walk you step-by-step through the entire process in just a few minutes:
4. Design your WordPress blog with a theme
Default WordPress installation comes with a few basic themes, but I recommend three themes for their ease of use, speed and SEO capabilities. These are GeneratePress, Elementor and Astra.
GeneratePress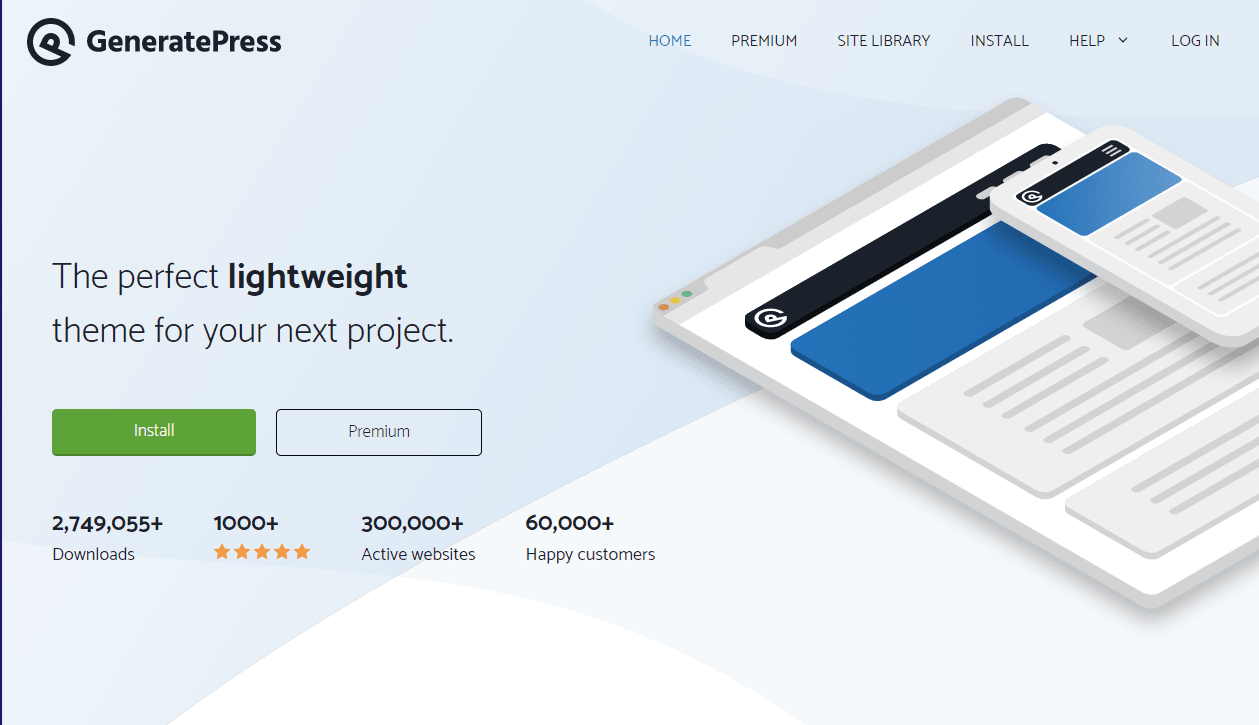 GeneratePress is a free WordPress theme that focuses on speed and SEO. It's created and maintained by Tom Usborne from British Columbia who's been working with WordPress for over 10 years. GeneratePress also offers a premium plugin that extends the free theme by adding more options for customization. This plugin is called GP Premium and it's available at generatepress.com/premium for one-time payment of $49.95. This price includes 1 year of updates. After that, you can renew your license with a 40% discount or keep using your license as is without future updates.
Installing GeneratePress is extremely easy as it's available right from the WordPress Dashboard. You just need to log in to your WordPress administration panel, go to Appearance -> Themes, click the Add New button, and search for GeneratePress. Finally, you click the Install and then the Activate buttons.
GeneratePress can be customized via the built-in WordPress customizer. The free theme offers some basic layout, font, and color customizations which should be enough for most use cases. However, if you really want to tailor your website specifically to your unique needs, consider the GP Premium which offers over 60 color options, a site library with ready-to-use site demos, over 70 typography options, advanced blog, and navigation options, and much more.
You can learn more about GeneratePress in my article How to Install GeneratePress Theme or in my Mastering WordPress course.
Elementor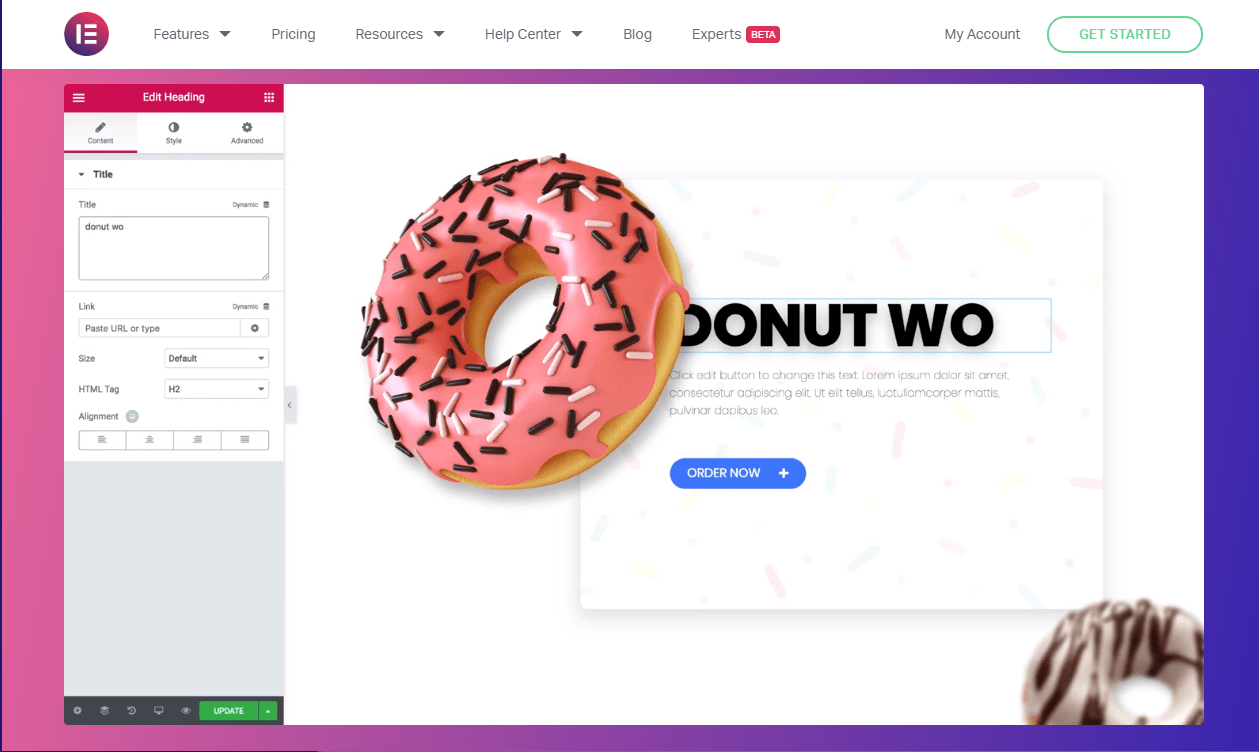 Elementor is an open-source website builder platform for developers, designers, and marketers and allows anyone without programming skills to quickly create a professional-looking website. Elementor offers a free version that includes drag & drop editor with more than 30 basic templates and 40 basic widgets. For advanced widgets, theme builder, and other premium features, you need to buy either a Personal plan which is available for $49 per year for 1 site, Plus plan for $99 per year for 3 sites, or an Expert plan for 1.000 sites which is available for $199 per year. If you decide to cancel your subscription to Pro features, your existing project will remain intact, however, you won't have access to support, updates, and premium templates.
Installing GeneratePress is very straightforward as it's also accessible right from the WordPress Dashboard. Just search for Elementor in the Themes section under Appearance and select the Hello Elementor theme.
Elementor offers huge customization and it would take a whole article to describe all options. That's why I have created an online course called How to Create WordPress Layout with Elementor Pro where I explain everything step by step.
Astra
Astra is a popular theme from Brainstorm Force company that builds a range of WordPress products. Astra offers a free version which can be later extended with Astra Pro add-on for $47 per year. This package includes more than 20 starter templates and can be used on an unlimited number of websites. Astra also offers a lifetime plan for $249 which means that if you're ok with using Astra for more than 5 years, you'll pay this price once and you'll get every future update for free without annual payments.
Installing Astra is also very easy since it's available from the WordPress Dashboard so all you need to do is search for the Astra theme and click Install and Activate button.
Astra offers an insane amount of options and features when it comes to customization of your website including sticky and transparent header, custom layouts, spacing control, and even integrations with learning management systems like LifterLMS and LearnPress.
5. Create essential blog pages
Every blog should have at least four pages:
Home page
Blog page
About page
Contact page
Home page
The home page is the default page which is displayed whenever people visit your website's main URL. The home page can be a static page or it can be a list of posts, but it's very popular to have a combination of both.
In general, the home page should introduce your website to your visitors. It can have some welcome block at the top (sometimes called a hero) followed by the list of recent posts. It's also quite popular to include a sidebar on the left or right which contains the most important information you want to be accessible all the time.
Here's an example of the Smart Profit School home page which has the main menu at the top including the logo. Below, there's a hero section with my photo, slogan, and a subscription form. This section is followed by a featured article that stays always at the top of the list of all other posts. Finally, there's a sidebar on the right with some basic information about me and a link to my personal website at jan.zavrel.net.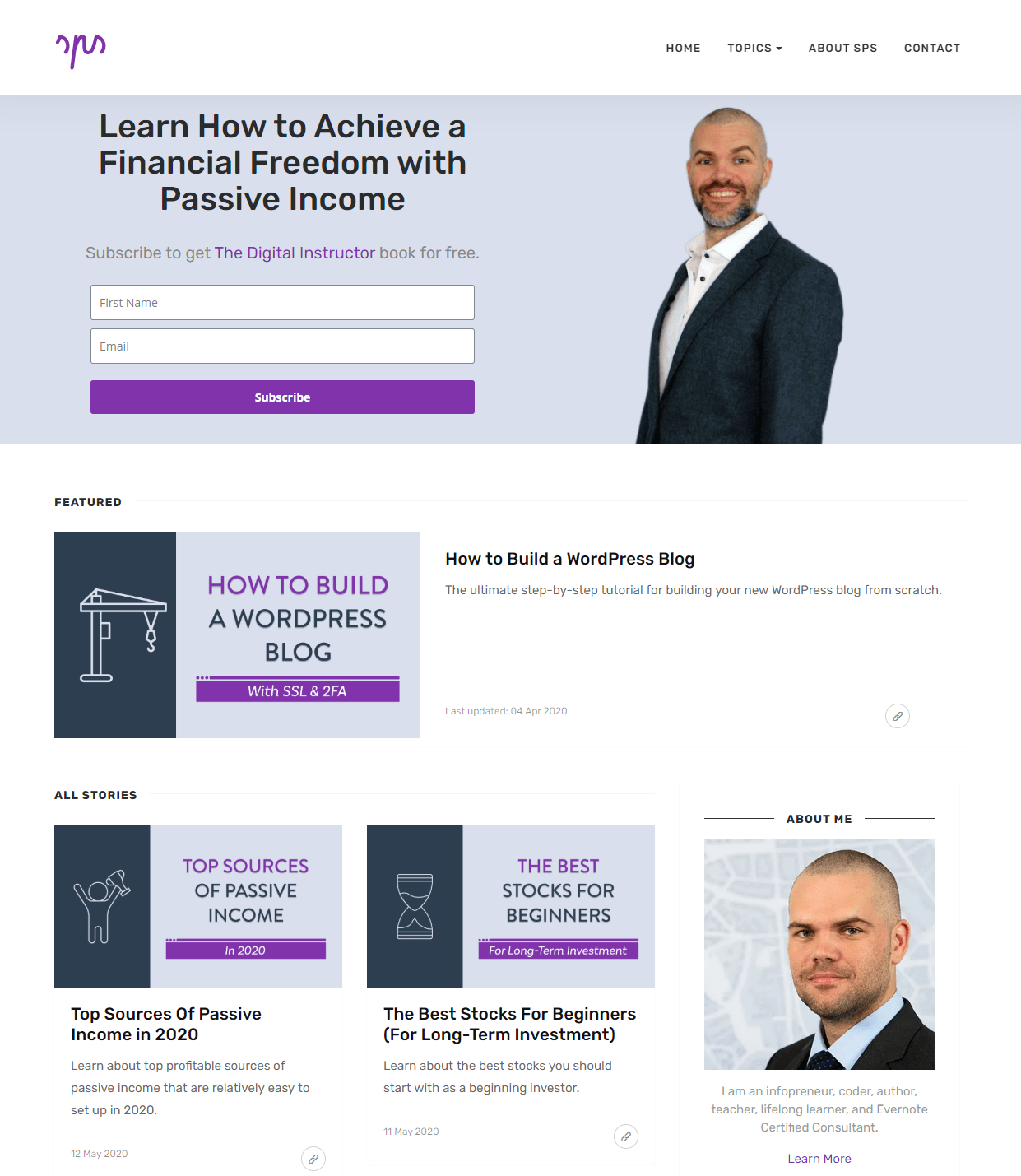 Blog page
The blog page is basically a list of all published posts sorted chronologically with the latest posts at the top of the list. Sometimes, there's only this list and nothing more on the website, but it's quite popular to have a separate blog page which is accessible from the main menu.
Here's an example of a blog page I have on the todaywp.com website. As you can see, there's a list of all posts and this page is accessible via the Blog link in the top menu.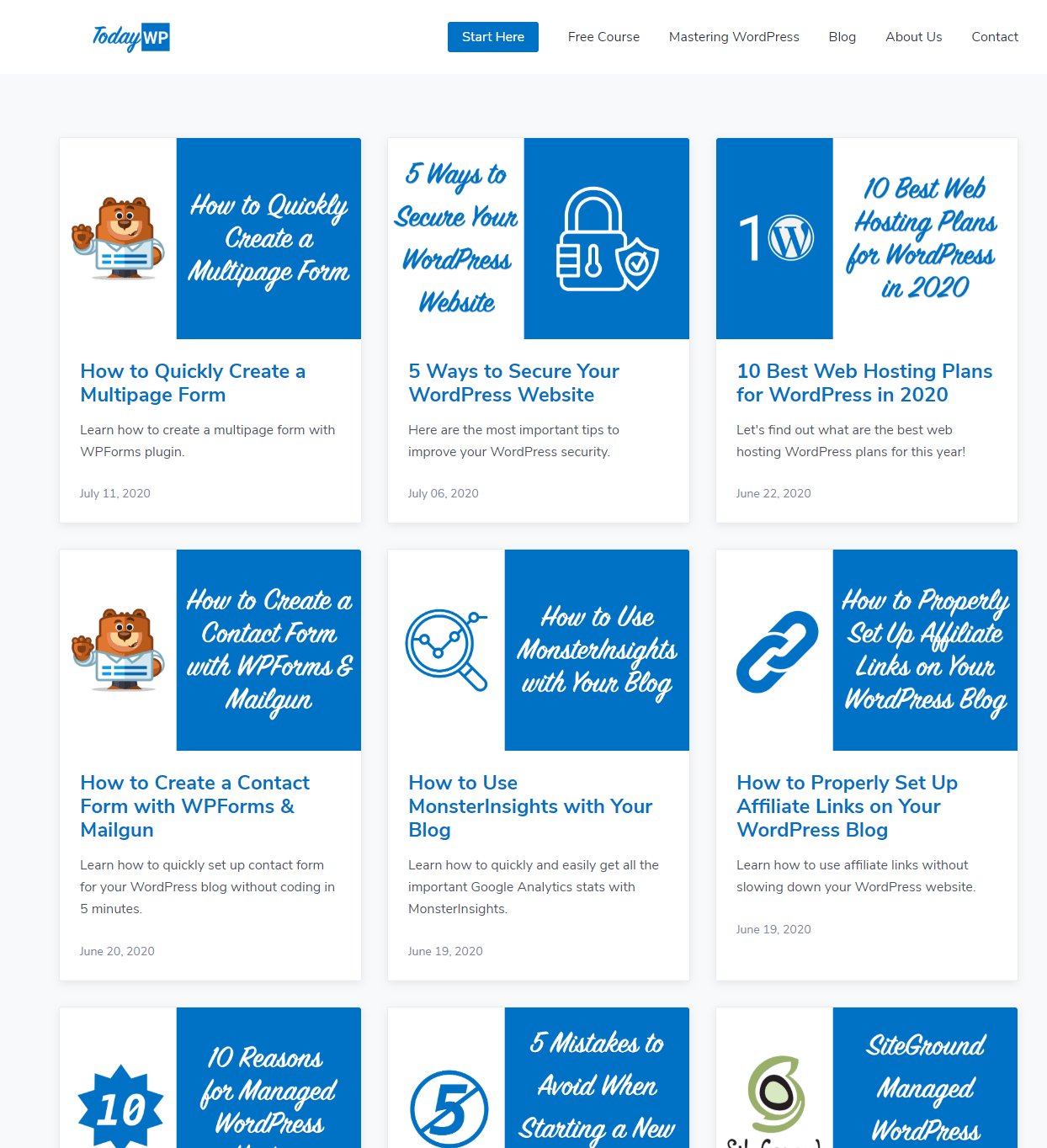 About page
The About page should contain basic information about you and your website. For example, why people should read your blog and how they will benefit from the information you publish there. You should also write a few lines about your professional achievements so people will feel comfortable with you as an authority. If you're on social networks, this is a great place to tell your readers about how they can reach you on Facebook, Twitter, Instagram, and other networks.
If you're comfortable with it, you might even add something from your personal life and always finish with a call to action section where you suggest what your visitors should do next.
Want to learn how to write a perfect About page? I got you covered in this article.
Contact page
The contact page is a great way to help your visitors contact you in case they want to ask for some additional information or just thank you for your content. Unfortunately, WordPress doesn't have a simple contact form available by default, but with WPForms plugin, you can create an elegant contact form in just 5 minutes as I explain in this video:
6. Write and publish your first blog post
Now that you have your essential pages ready, it's time to write your first blog post.
WordPress makes it very easy to write and publish posts. In your WordPress Dashboard, just go to Posts → Add New and you'll be immediately taken to a brand-new post canvas.
Here, you'll start with a title of the post and then you'll write content. If you're not familiar with Gutenberg editor, make sure to watch this short video where I explain the most important features so you can start writing your post right away:
7. Make money with your blog
Now that you have your blog up and running, let's discuss how to make money with your blog.
You can have the best-looking and fast blog with amazing content, but if people don't know about it, it's useless.
Blog promotion
The first step in making money with your blog is to promote it. This will help you to drive traffic to your blog. The obvious choice is social media where you can promote your content for free. Anytime you publish a new article, post a link with a short description to Facebook and Twitter.
Another strategy is to publish your content on sites like Medium or Quora. Medium is a very interesting publishing platform with huge traffic where you can even create your own publication. Check my Medium publication dev.zavrel.net and make sure to read How to Start Writing on Medium and Earn Money.
Finally, you should also start building your mailing list. This will help you deliver updates and new content directly to the inbox of your readers. Usually, you need to offer some free product, also known as a lead magnet, to motivate readers to subscribe to your mailing list.
When I started, I offered my new subscribers a free handbook 7 Rules for Success of Online Instructors. To manage your subscribers, you need a mailing service such as MailerLite or Moosend. If you want to learn more about this topic, make sure to read How to Build Your Own Mailing List with Free Online Tools.
Affiliate marketing
There are several ways to make money with your blog and one of the most popular is affiliate marketing, so let's take a look at it now.
Depending on your niche and content, you might probably recommend products or services you personally use and write honest reviews. If you opt for this, it's a good idea to start with affiliate marketing. Affiliate marketing is a form of promoting products and services where an affiliate sells on behalf of a merchant for a specific rate or percentage, also known as an affiliate fee.
To become an affiliate for a specific product or company, you need to find out if it offers an affiliate program, sometimes called a partner program. Usually, such a company has a link on some prominent place like in the footer as you can see below.

Some companies use their own affiliate systems, but most use affiliate networks that easily connect merchants with promoters. Joining the affiliate network is usually free. Once you're in, you can easily find the types of products or services you would like to promote.
The most famous affiliate networks are:
It's only fair to point out that you should always promote only those products and services you personally tried, used, and liked. You must also disclose the fact that your post might include affiliate links and explain what it means for your readers.
If you want to learn more about different ways to make money online, not necessarily with just your blog, make sure to read my article about top sources of passive income.