Even though Google Analytics is the most widely used web analytics service on the web, it's no very user-friendly. That's why I want to show you today the MonsterInsights plugin that will make your WordPress web analysis much easier and more powerful.
Disclosure: Please note that some of the links in this post are affiliate links for products I use and love. This means if you click on such a link and take action (like subscribe, or make a purchase), I may receive some coffee money at no extra cost to you. This helps me creating more content free of charge to you. And, as an Amazon Associate, I earn from qualifying purchases. Thanks for your support!
What is MonsterInsights?
MonsterInsights is a WordPress plugin that helps you quickly and easily get the most relevant information about your website collected by Google Analytics.
MonsterInsights started as Google Analytics for WordPress by Yoast, but in 2016, it was acquired by Syed Balkhi, the founder of WPBeginner, to make website analysis easy for beginner.
Today, MonsterInsights is used by more than 2 millions bloggers and online business to grow their online presence.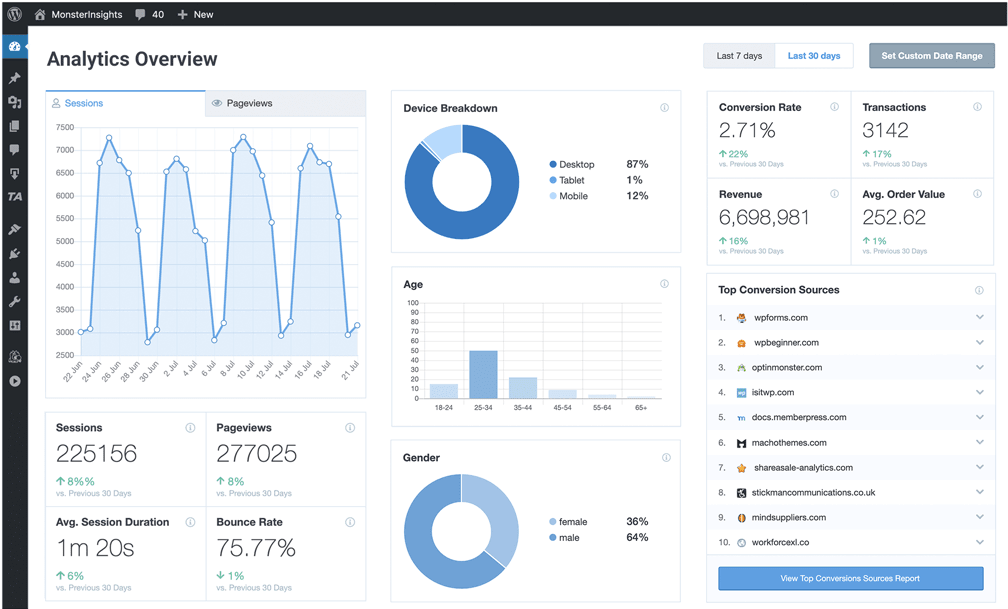 Why should I use MonsterInsights?
If you're familiar with Google Analytics, then you can perform your website analysis without any plugins, but as most bloggers, you probably want to spend most of your time by writing quality content and not by becoming a Google Analytics expert.
MonsterInsights is easy to use and powerful and the same time. Here are some of its most important features:
Universal Tracking across devices and campaigns
Google Analytics Dashboard right inside your WordPress
Real-time stats to see who's currently online and what they're reading
Enhanced tracking for WooCommerce
GDPR compliance
Page level analytics for each post, page and section of your site
Affiliate links tracking
Easy tracking integration with WPForms, AMP, Pretty Links and other services
MonsterInsights allows you to set up Google Analytics on your WordPress website without writing any code and give you useful information about your visitors, so you can see how they found you, what they're looking for and how much time they spent on each of your posts and pages.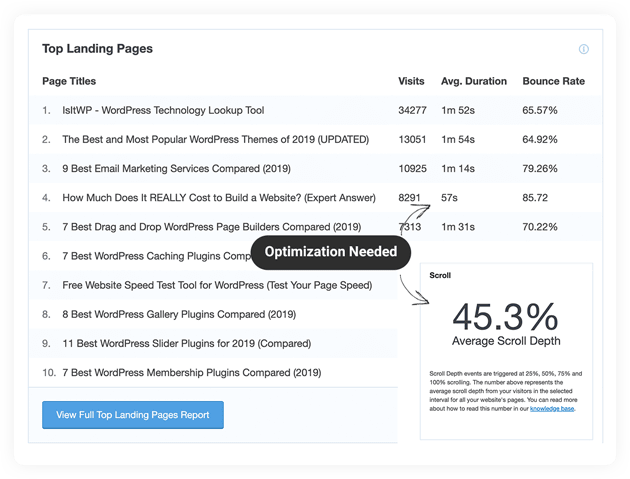 Who is MonsterInsights for?
MonsterInsights is a great tool for all publishers, store owners, business websites and developers who want to get the most of Google Analytics without spending too much time on analysis.
Bloggers are able to increase blog traffic, grow affiliate revenue and get more email subscribers. E-Commerce can benefit from reduced cart abandonment and improved conversion rate. Businesses benefit from stats that matter and from getting more subscribers. Developers can save time with analytics setup and reduce errors.
How to use MonsterInsights?
I divided the whole process into two easy-to-follow step-by-step guides:
Getting the tracking ID for your website
Getting MonsterInsights plugin for your WordPress
Getting the tracking ID for your website
Let's start with Google Analytics, a free service that allows you to track your website's visitors and see their location, type of device they used to access your website and much more information.
Step 1
Go to Google Marketing Platform and click the blue Sign in button: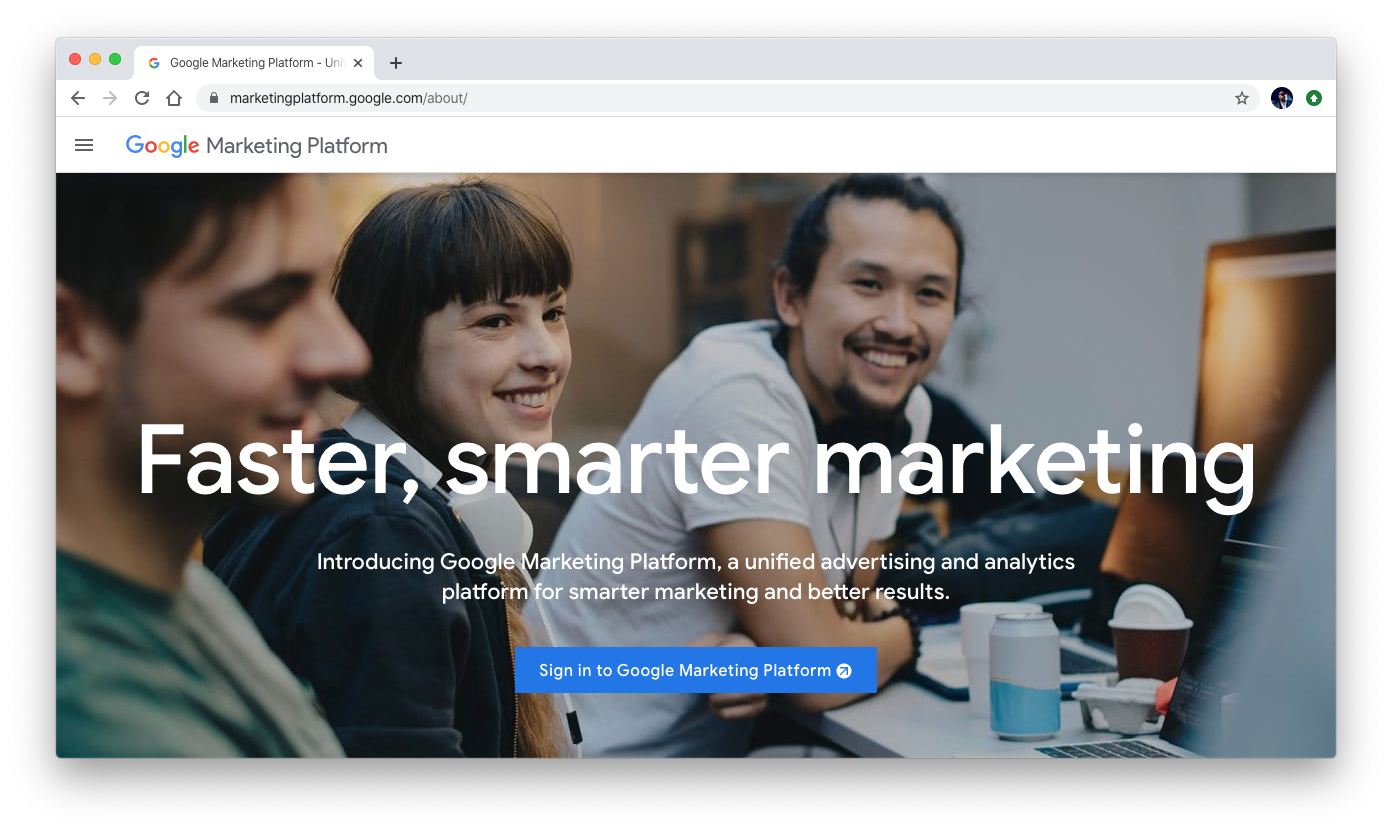 Step 2
Locate the Analytics section and click the Set up button: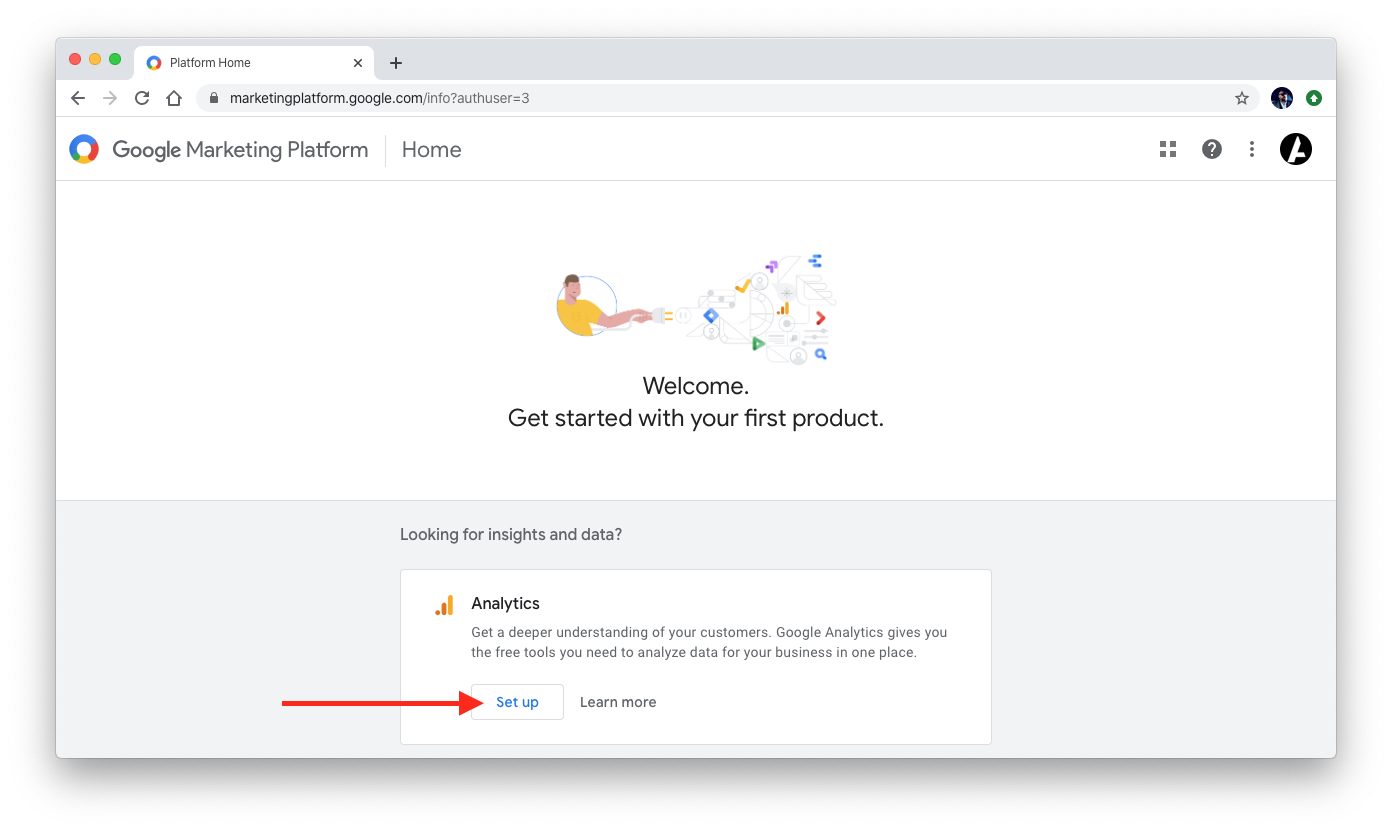 Step 3
You'll be presented with a new Welcome page where you click the blue Set up for free button: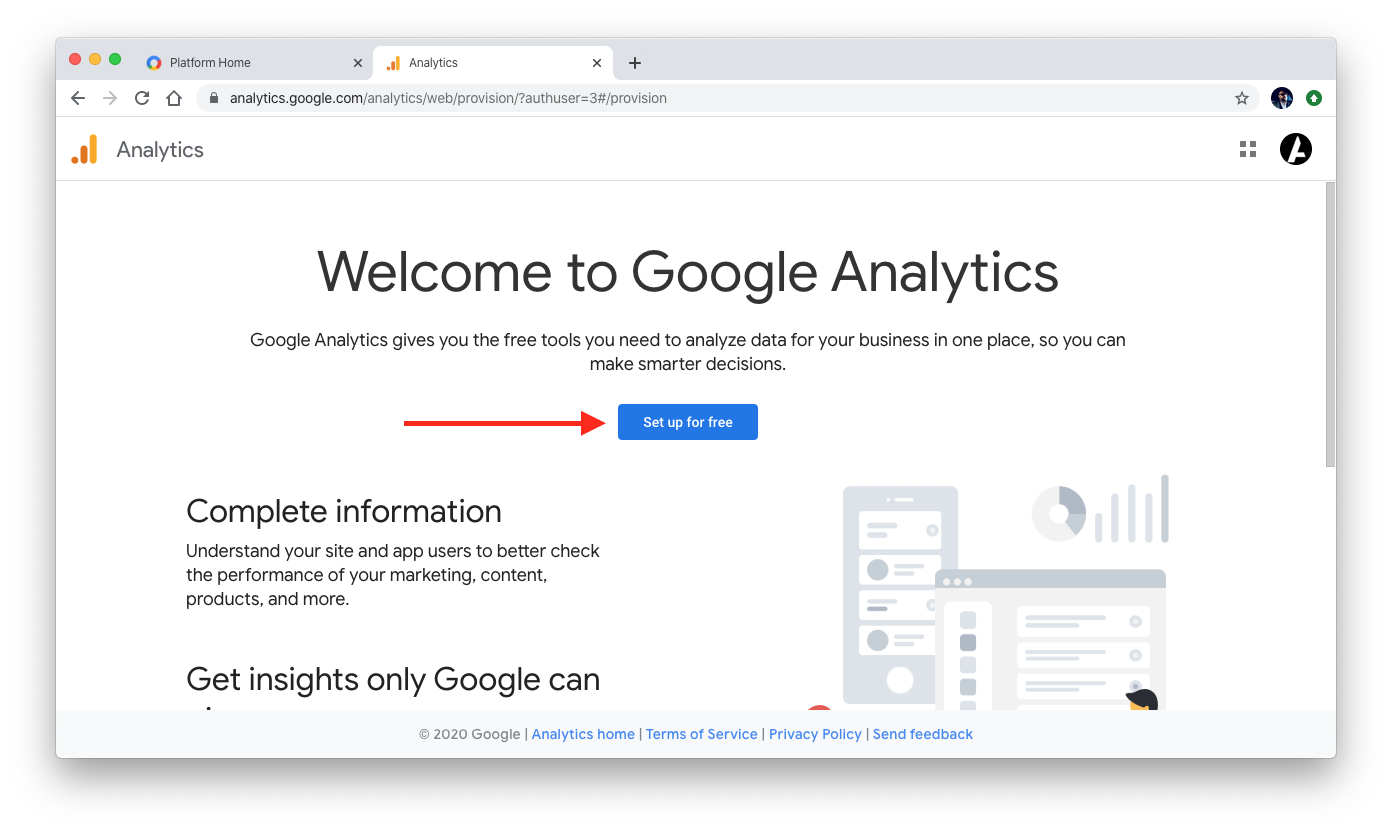 Step 4
Next, you'll need to fill out the account name: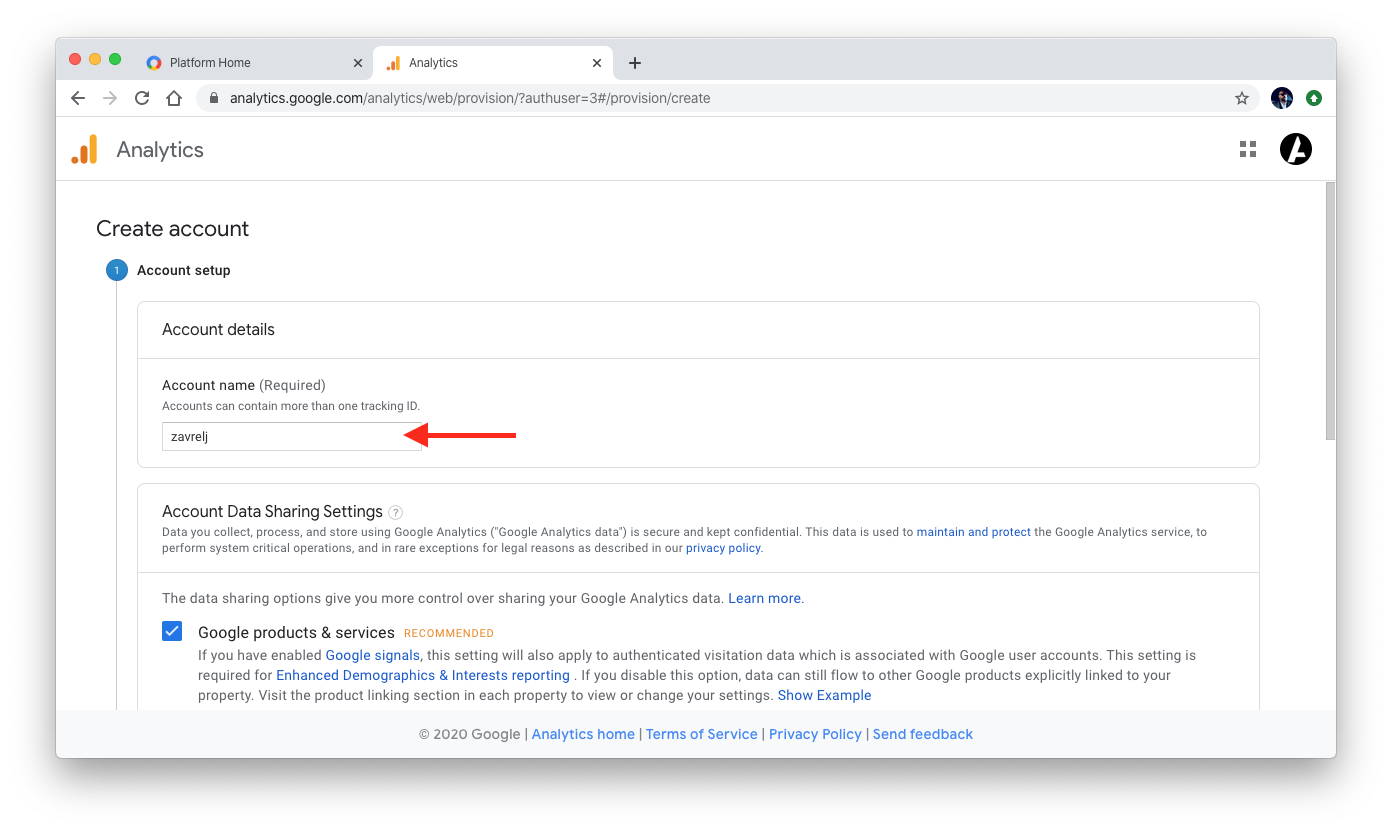 Step 5
Scroll down and click the Next button to continue with the setup: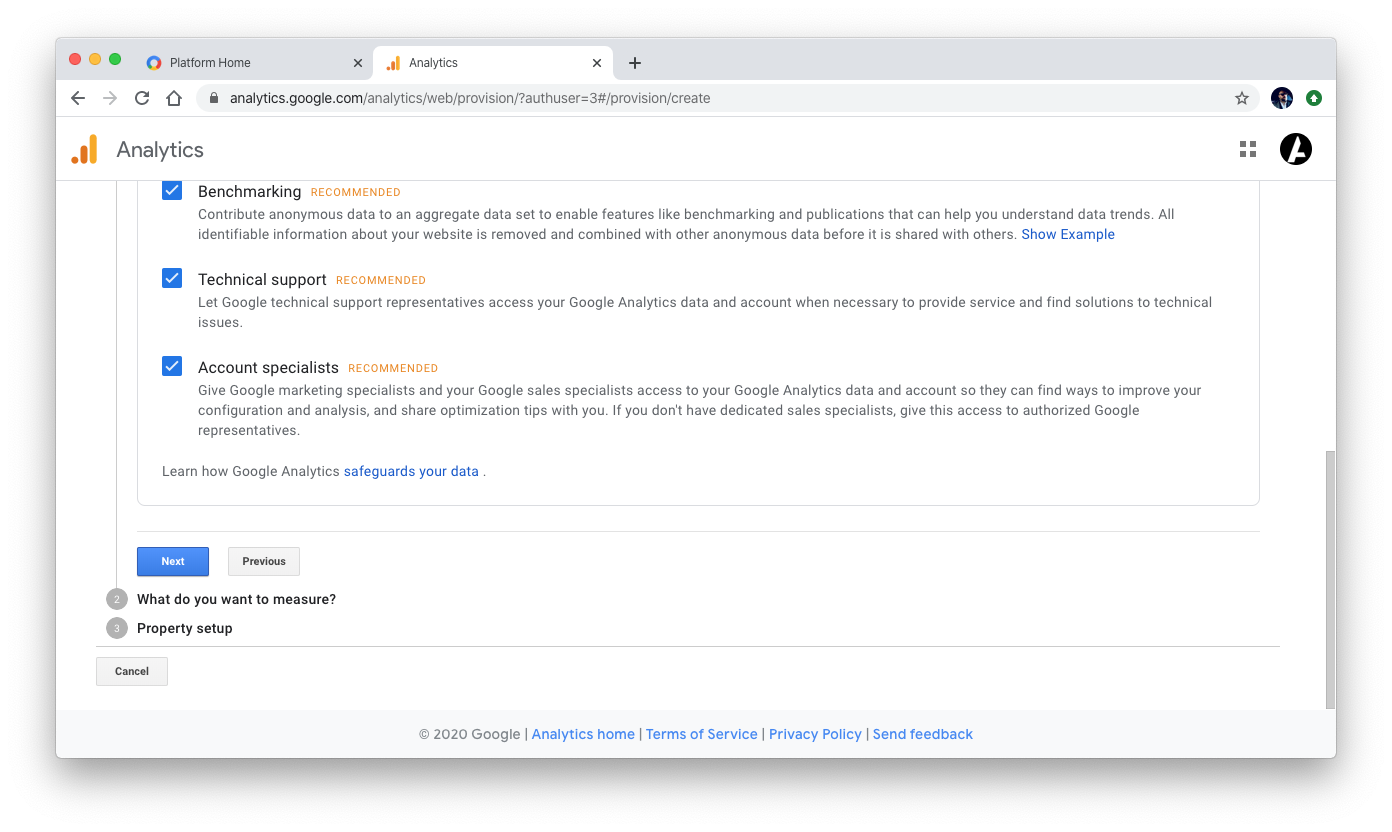 Step 6
On the next page, choose the Web from the list so Google Analytics can measure your website: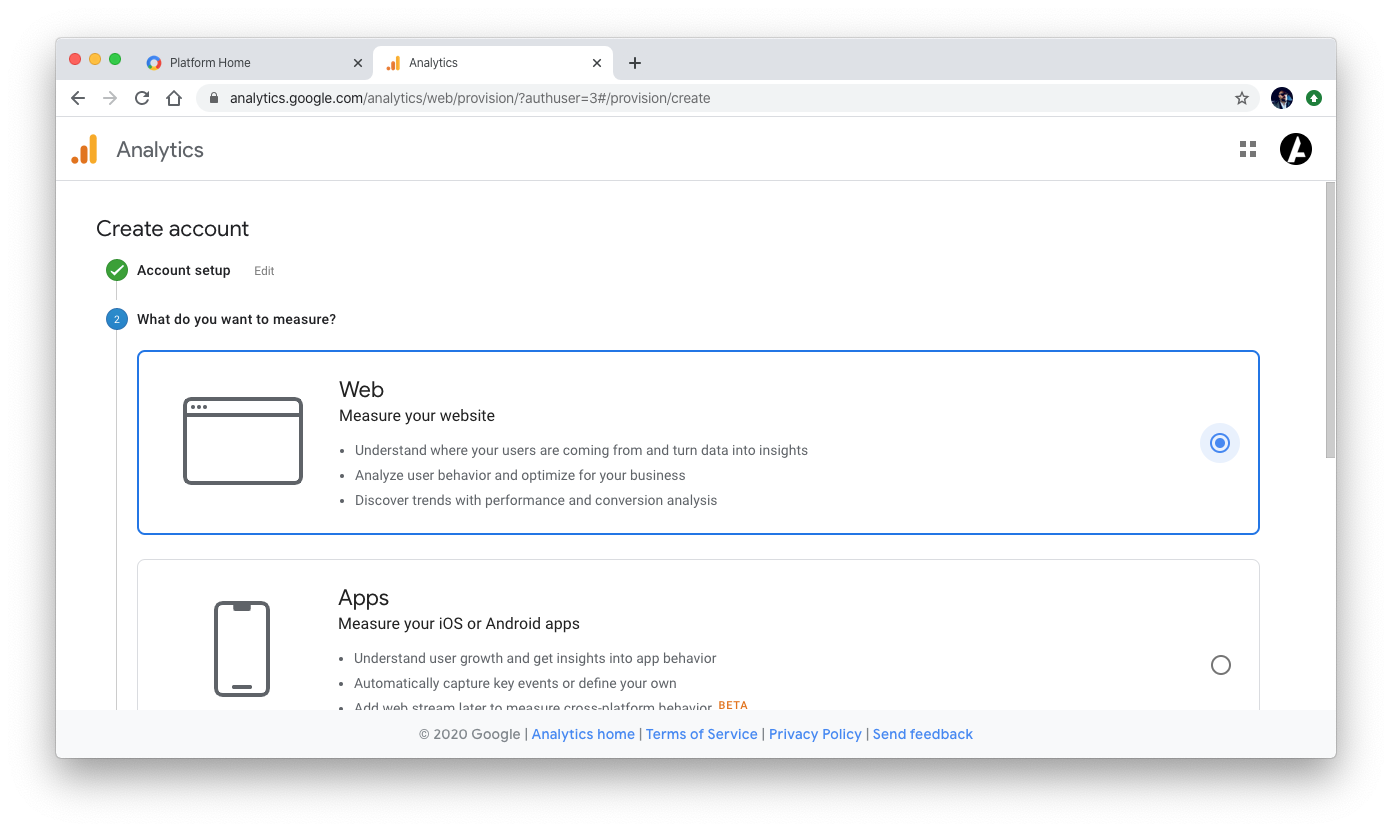 Step 7
Next, fill out your website name, its URL address and select the industry category and reporting time zone. When you're done, hit the Create button: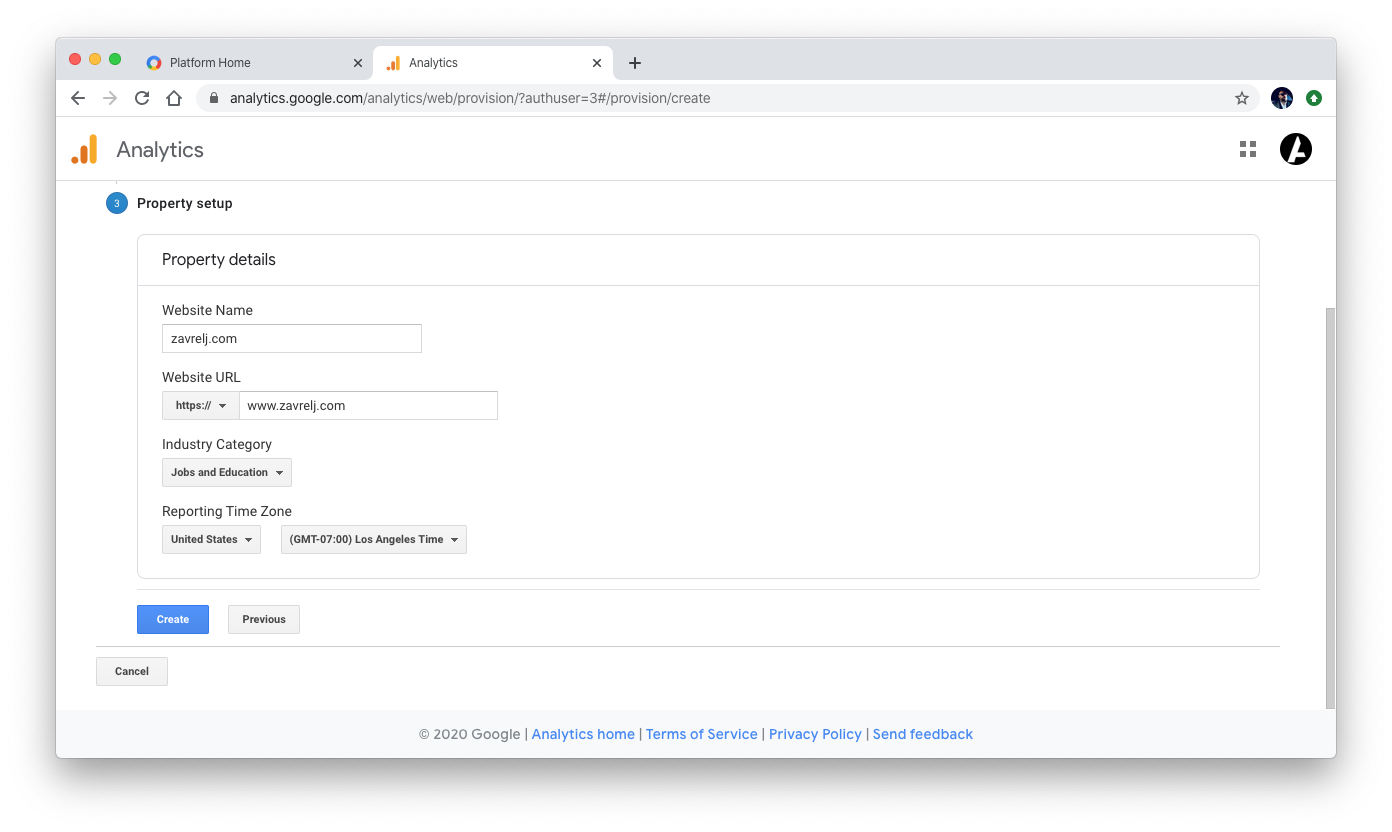 Step 8
Google will present you with your Analytics dashboard where you can see your Tracking ID in this format: UA-XXXXXXXXX. Write it down for later.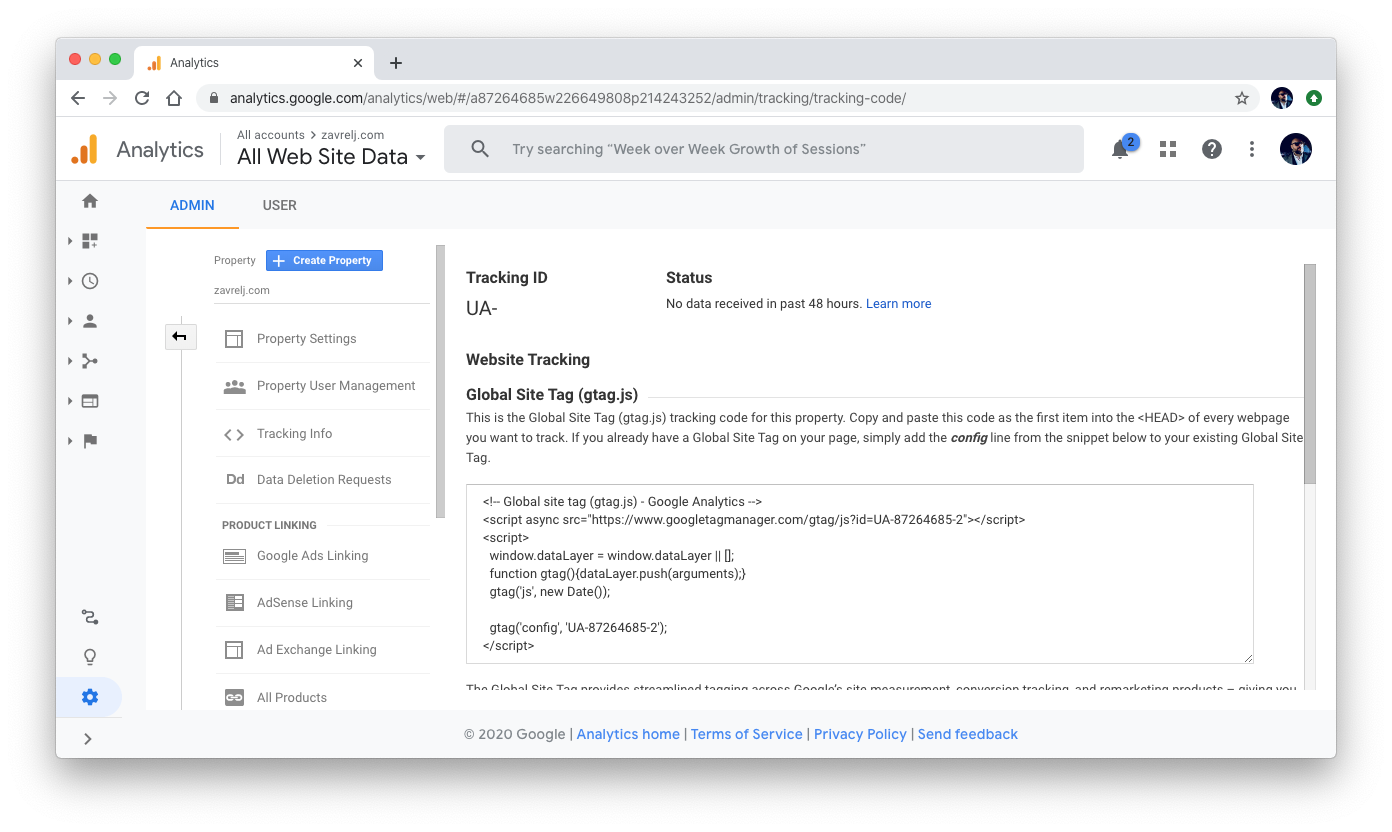 Getting MonsterInsights plugin for your WordPress
Now that you have the Tracking ID for your website, we can install and set up MonsterInsights plugin.
Step 1
Go to the dashboard of your WordPress blog and select Plugins -> Add New from the left menu: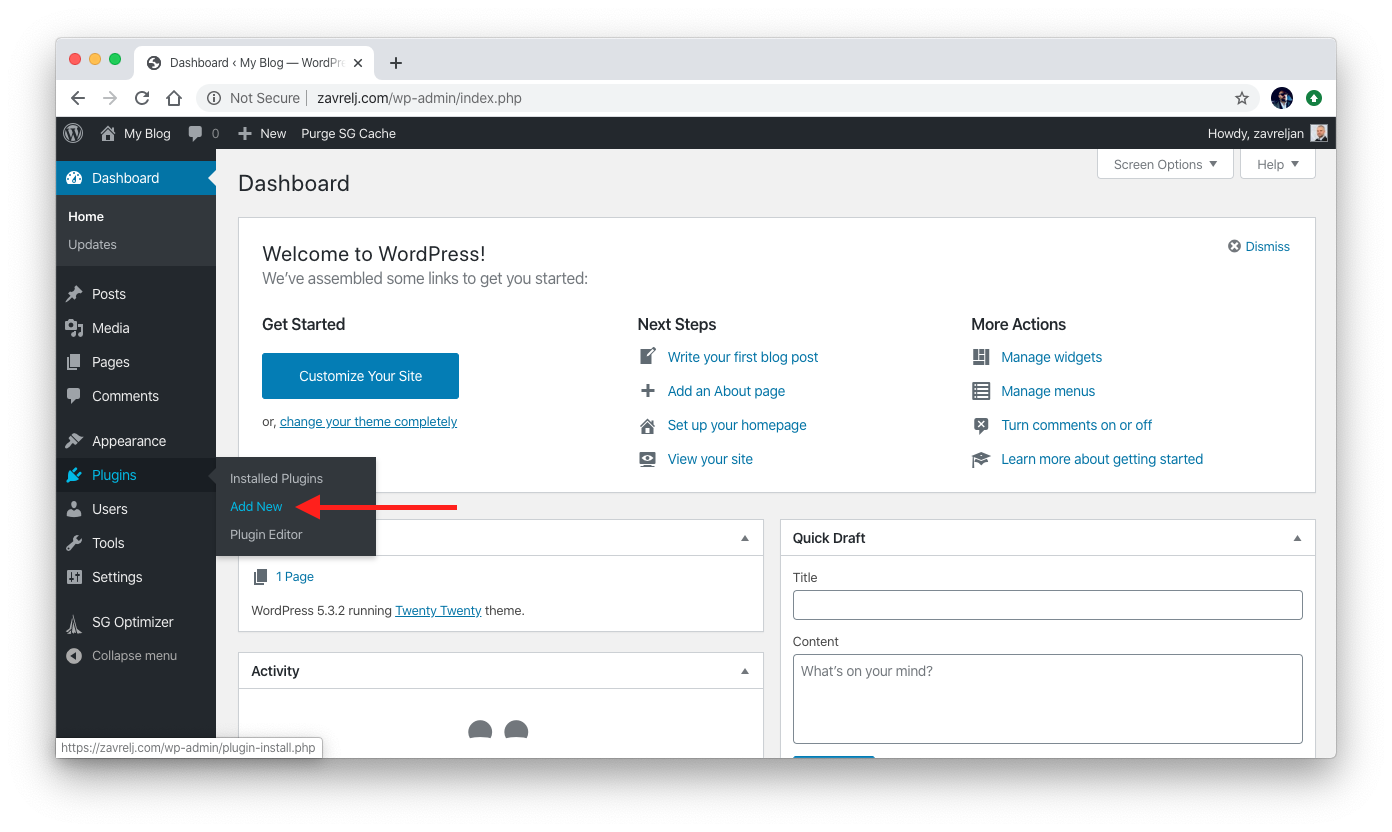 Step 2
Search for MonsterInsights plugin and hit the Install Now button: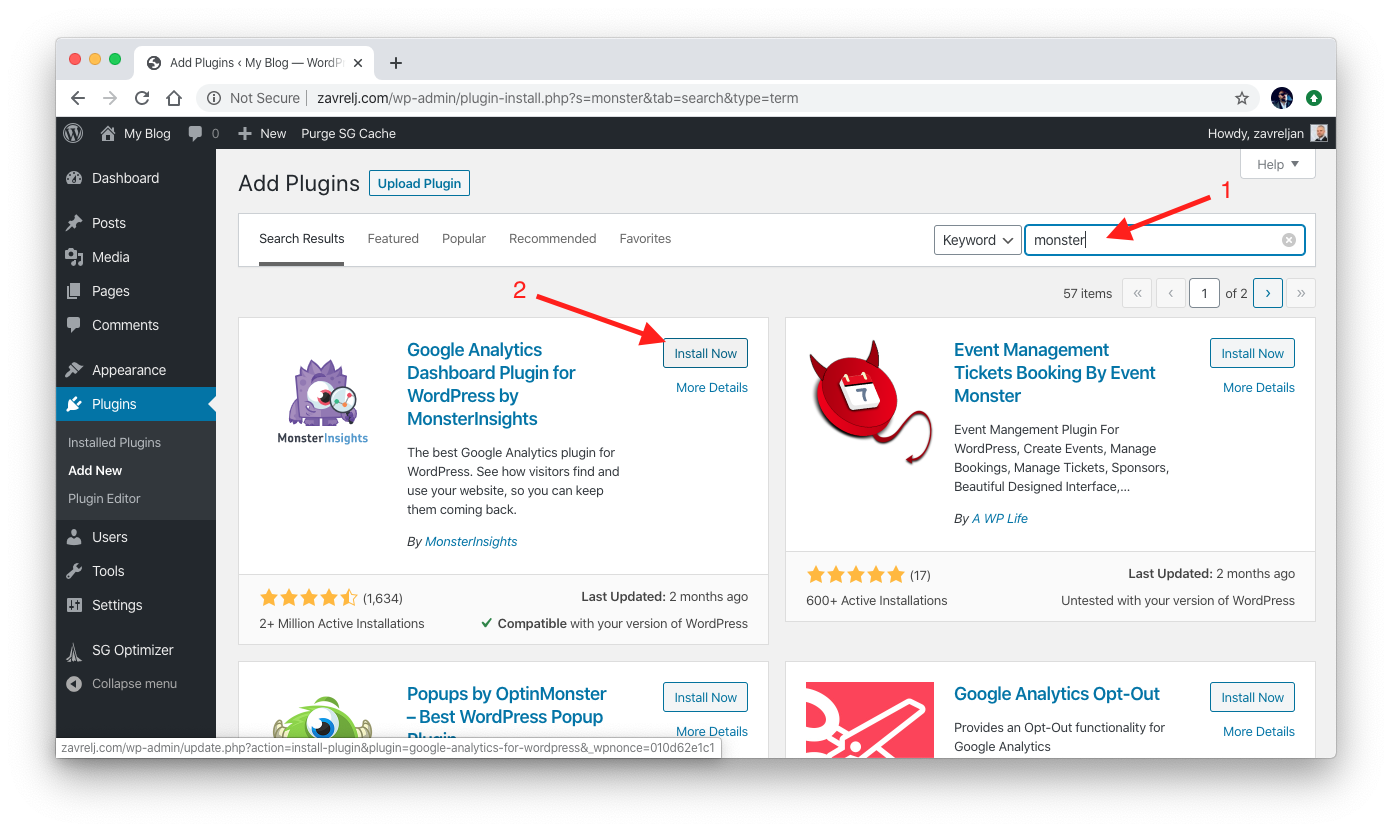 Step 3
Once the plugin is installed, you can activate it:
Step 4
After the activation, you'll be presented with a short introductory video that explains how MonsterInsights works: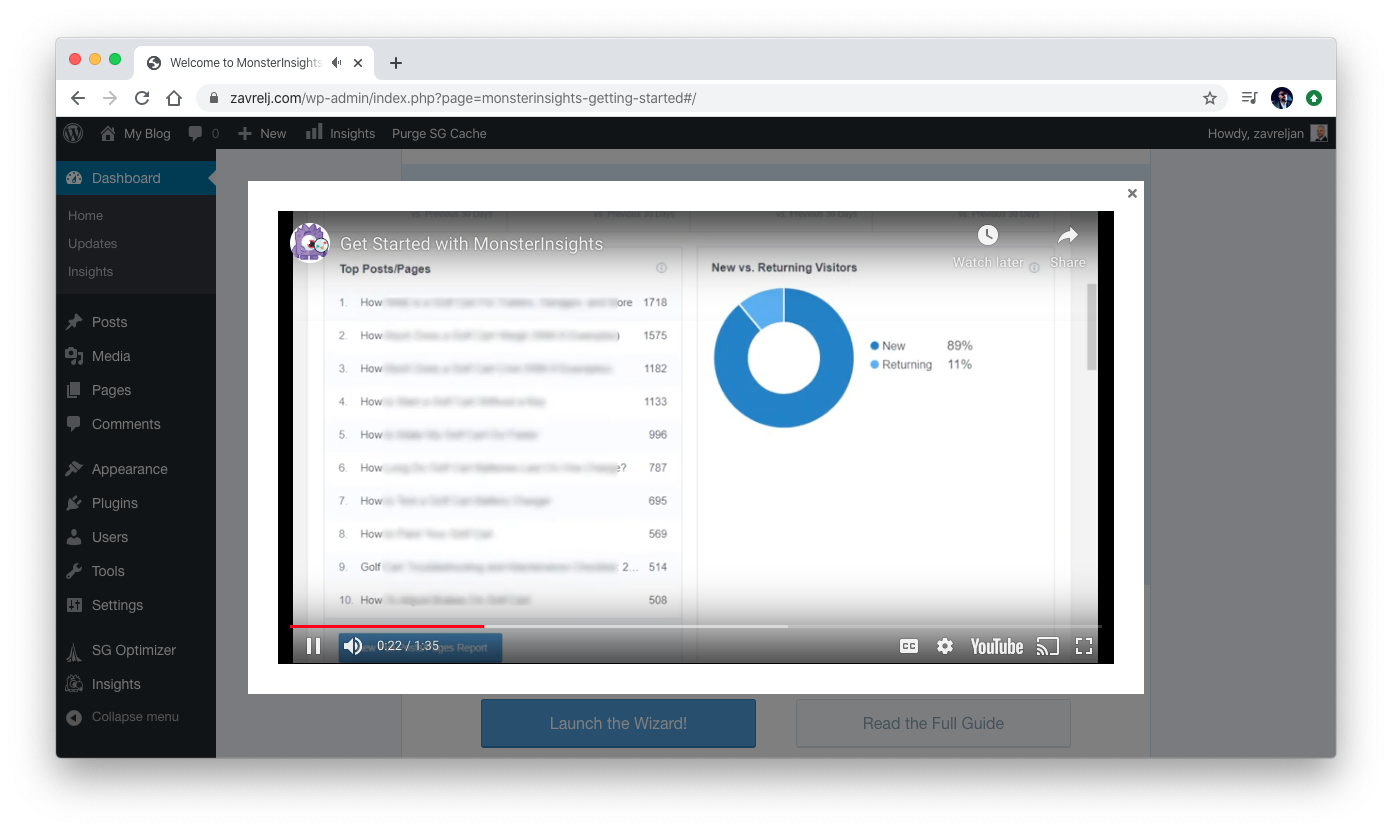 Step 5
Scroll down and click the Launch the Wizard button: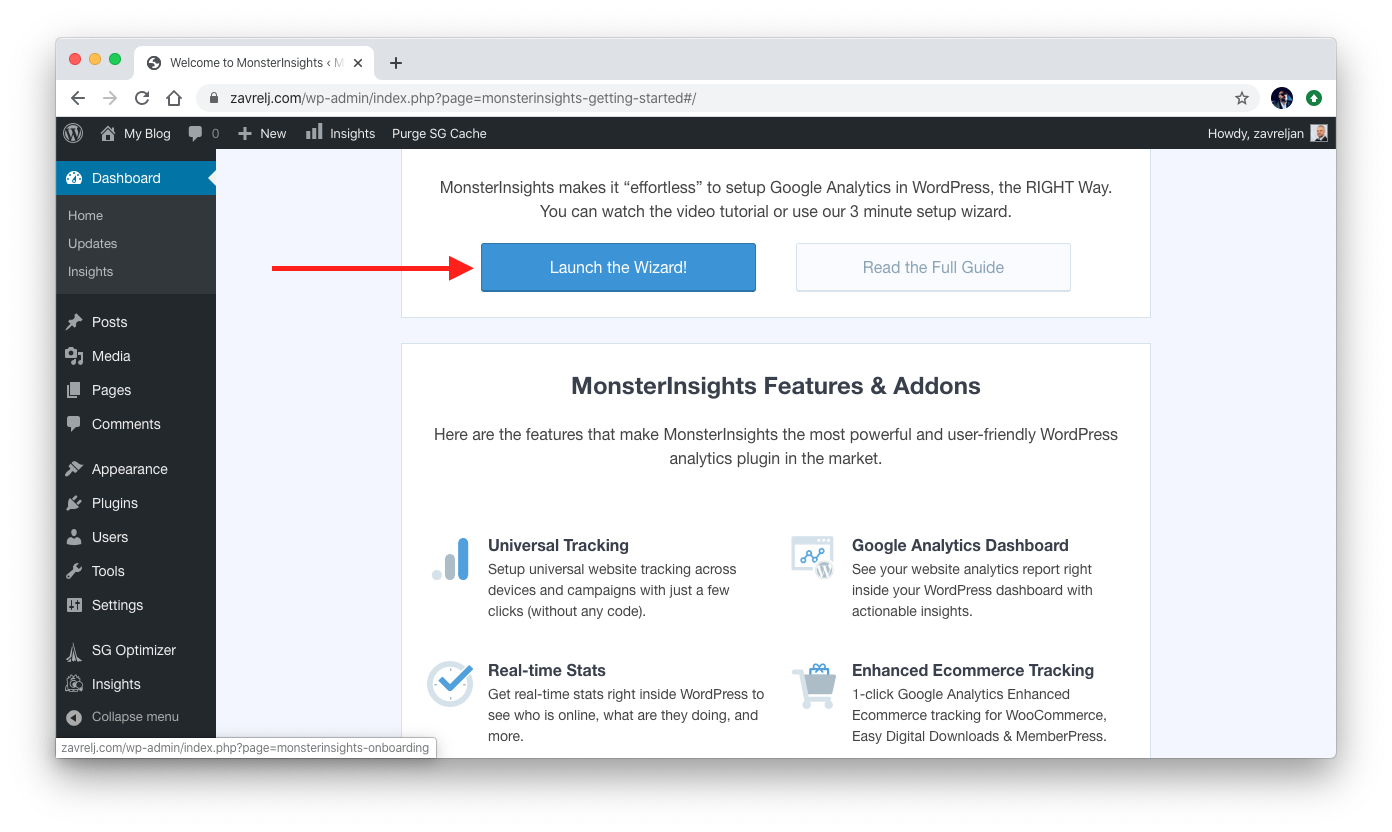 Step 6
On the next page, select the category that describes best your website so MonsterInsights can recommend you the optimal settings: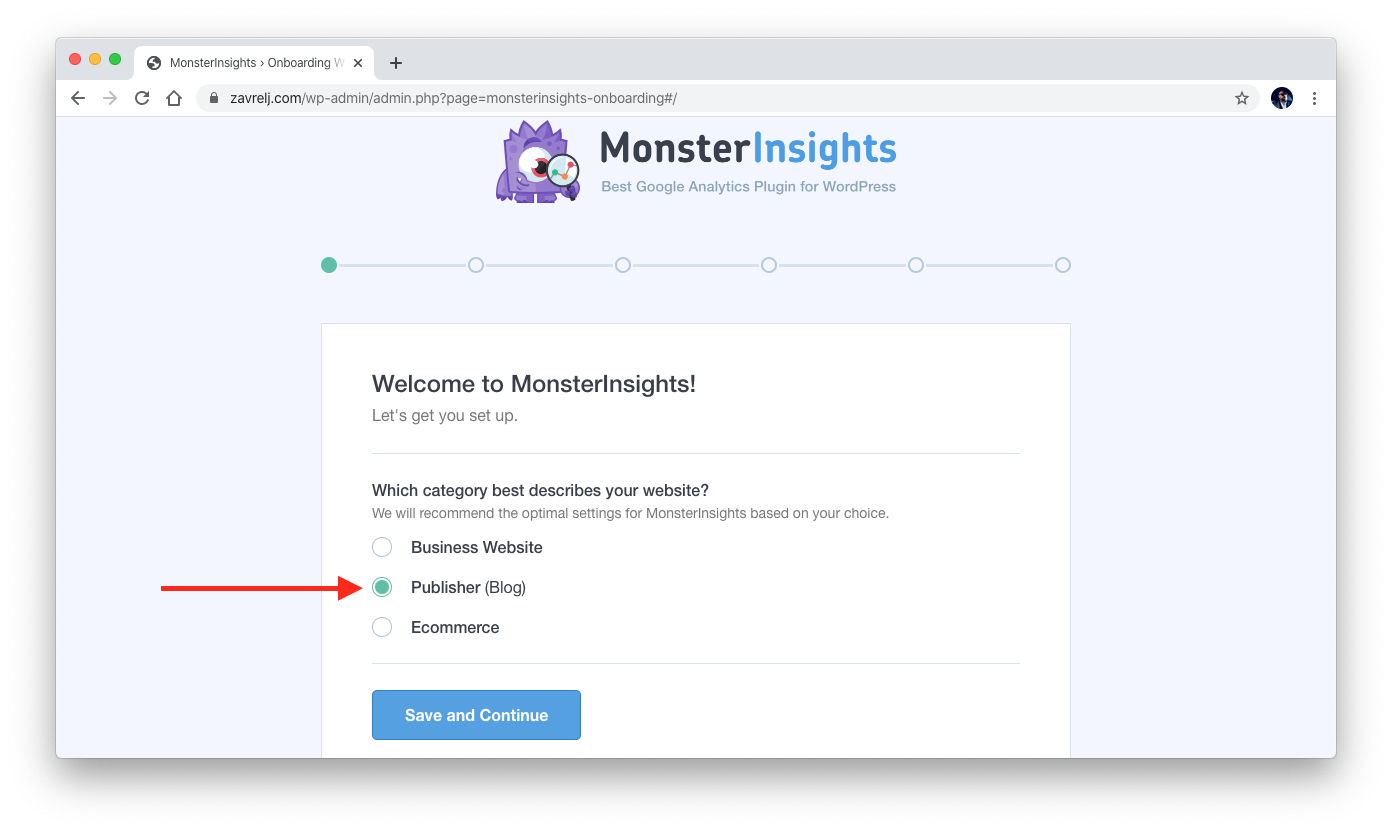 Step 7
In the next step, you can either just click the Connect MonsterInsights button or if you have a PRO license, you can unlock more features: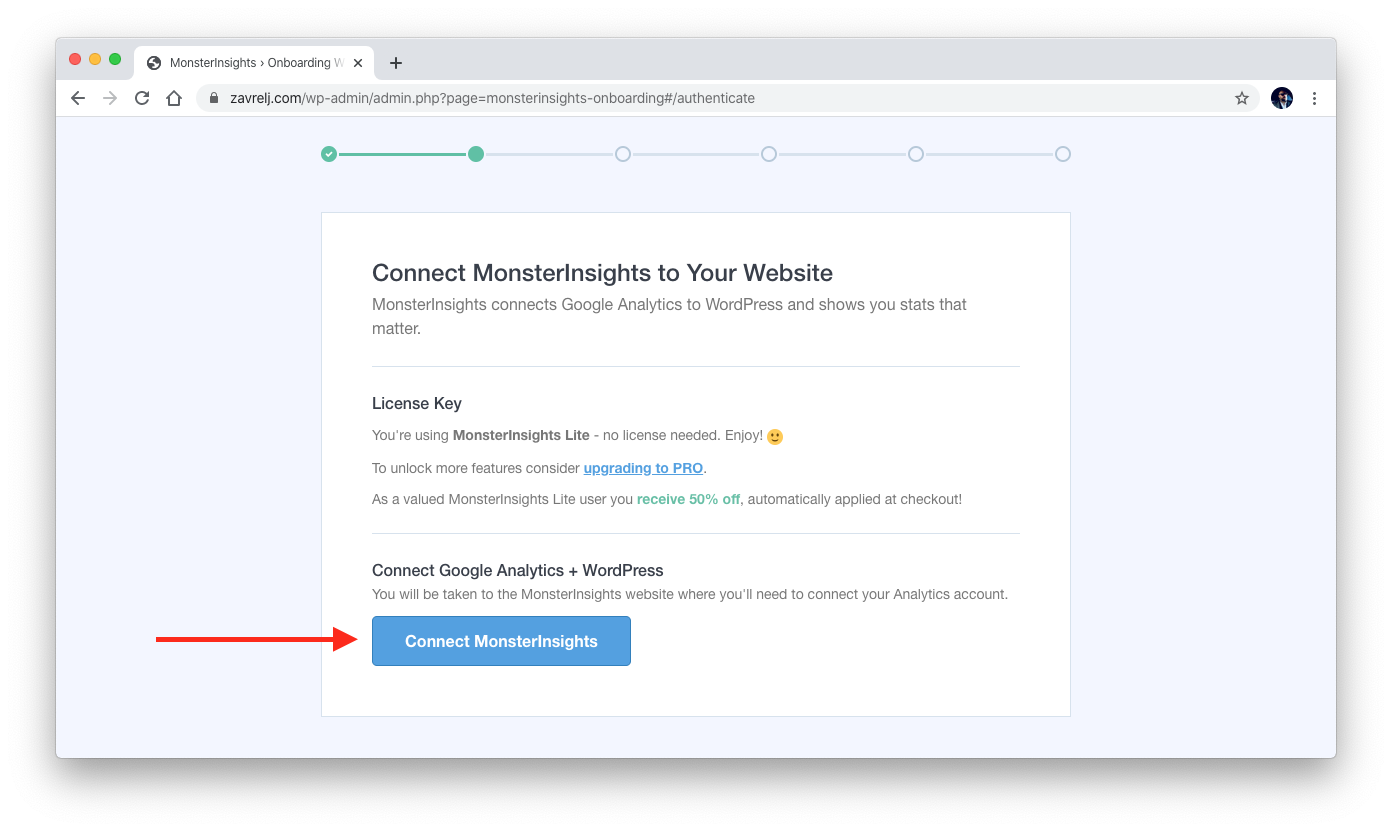 Step 8
Next, you'll be asked to sign in to your Google Analytics account and grant MonsterInsights some needed permissions. It needs to view, update, add and delete some management entities. Don't worry, this is perfectly fine, so click the Allow button: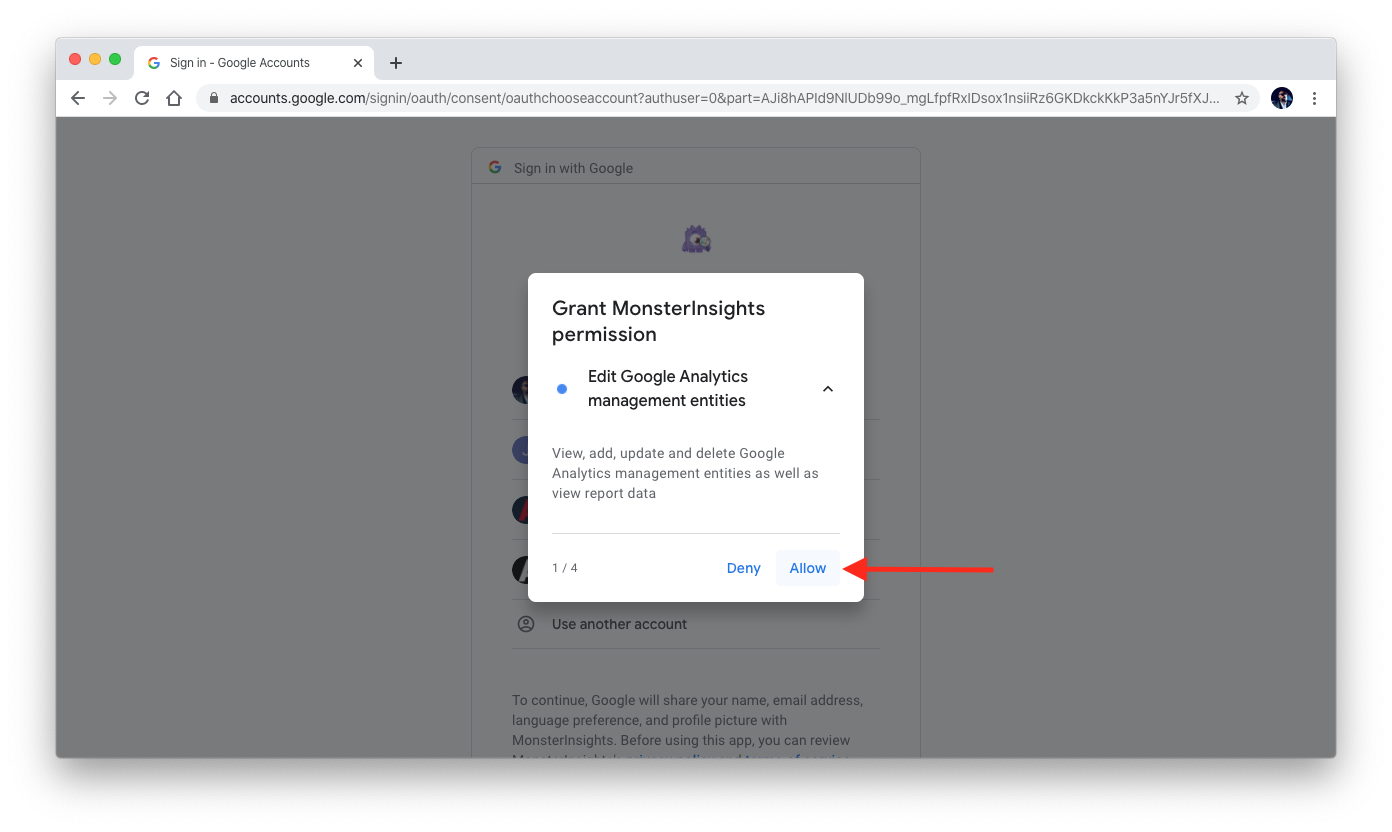 Step 9
And finally, on the next page, you need to confirm that you trust MonsterInsights with your data by click the Allow button again: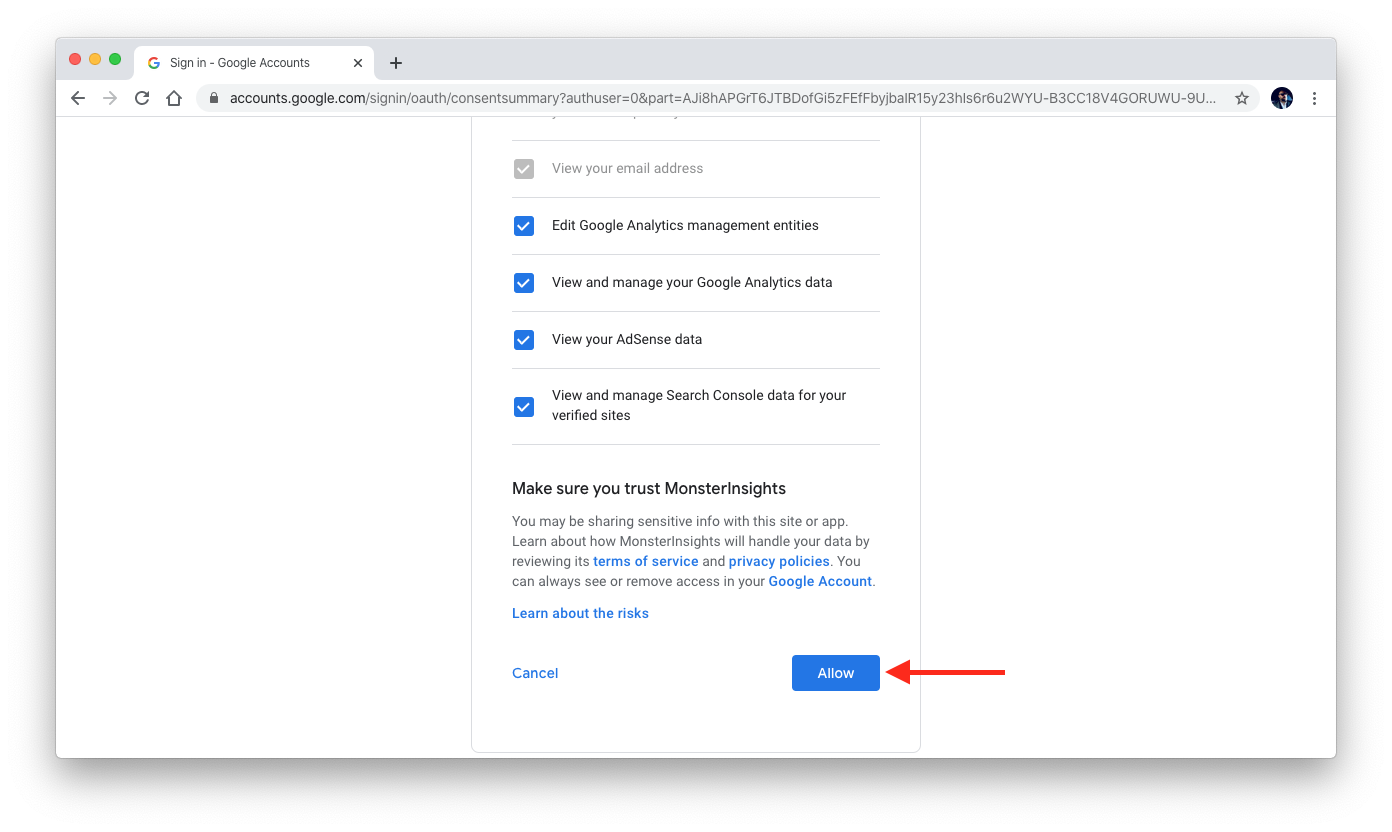 Step 10
Once you'll get back to the setup page, you'll need to select your website from the drop-down menu. In case you already use Google Analytics for multiple websites, make sure to pick the right one, otherwise, you might have just the only one available. Click the Complete Connection button to finish the setup: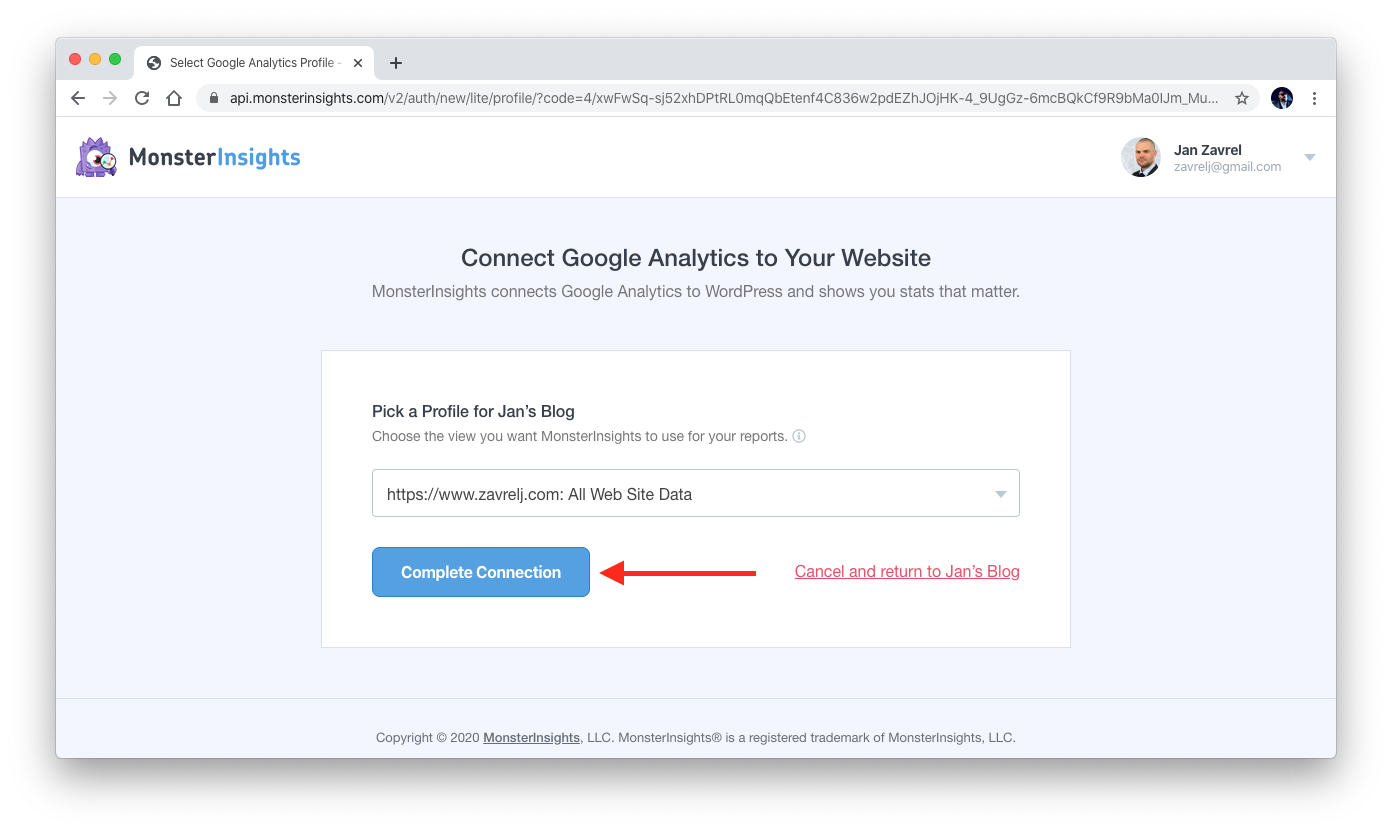 Step 11
Now you need to wait until MonsterInsights finalizes authentication. This shouldn't take much time: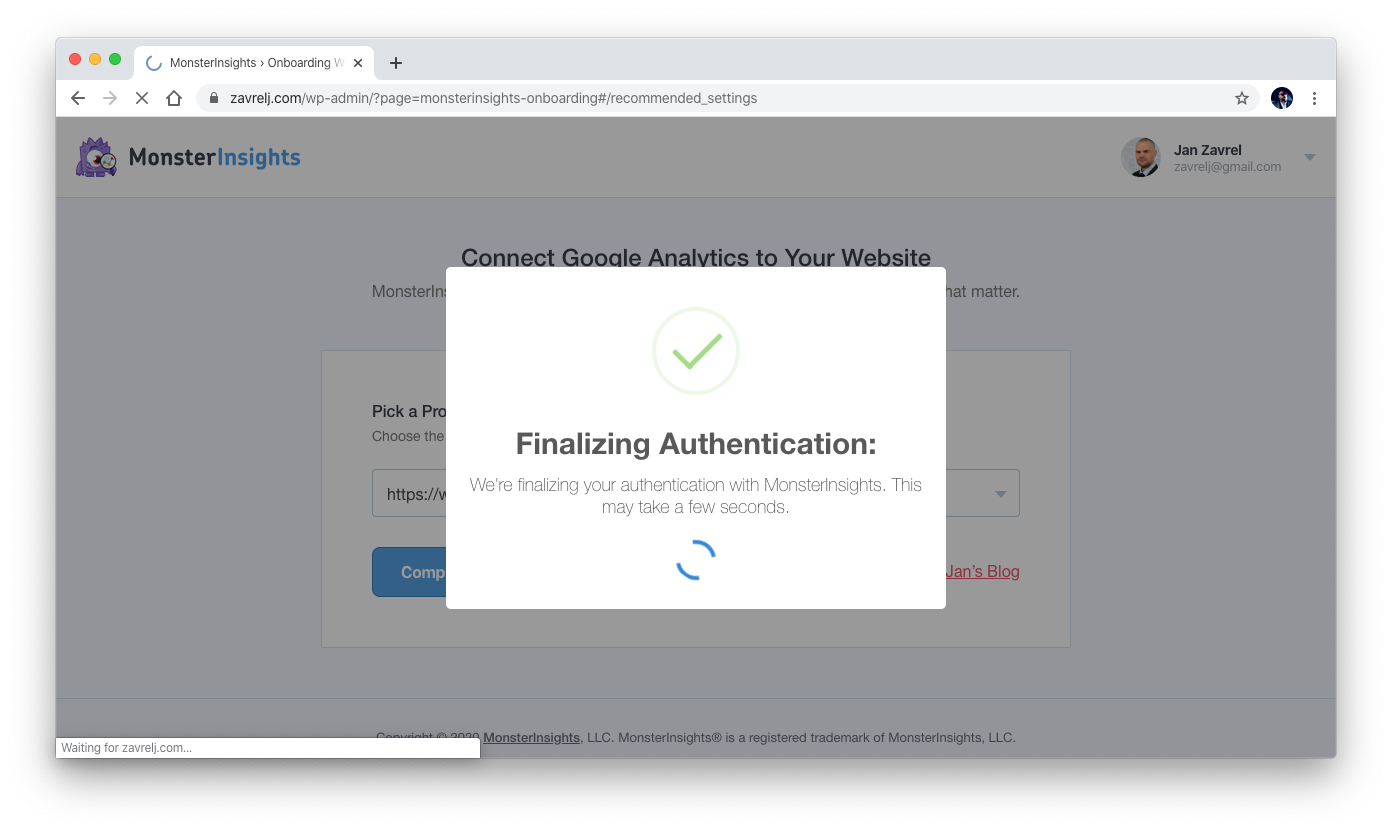 Step 12
Scroll down and locate the Affiliate Link Tracking section and make sure to have your preferred link structure set here. Read How to Properly Set Up Affiliate Links on Your WordPress Blog if you have no idea what this means, then type the /recommends/ text and delete any other rows by clicking the red button next to the form: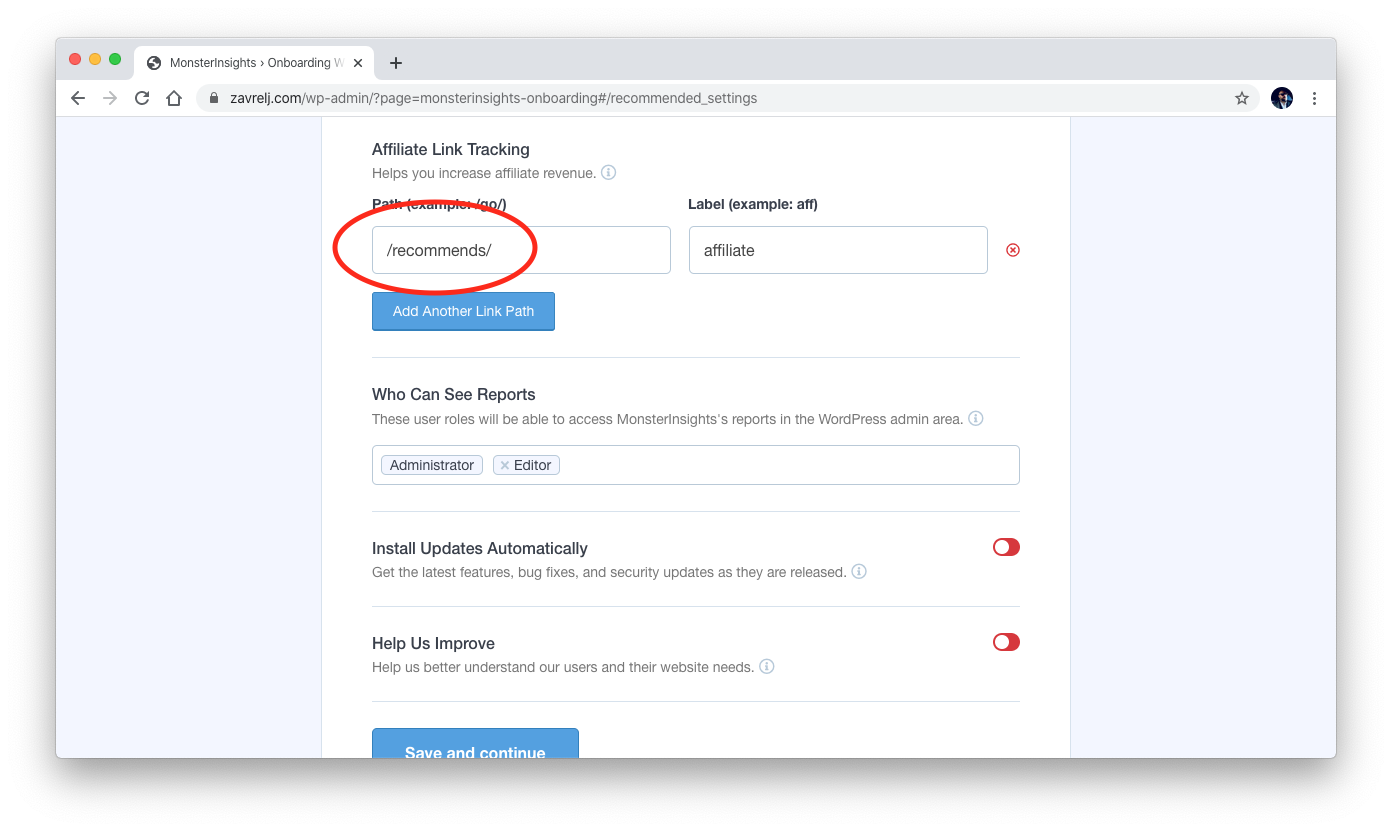 Step 13
Scroll all the way down and hit the Save and continue button: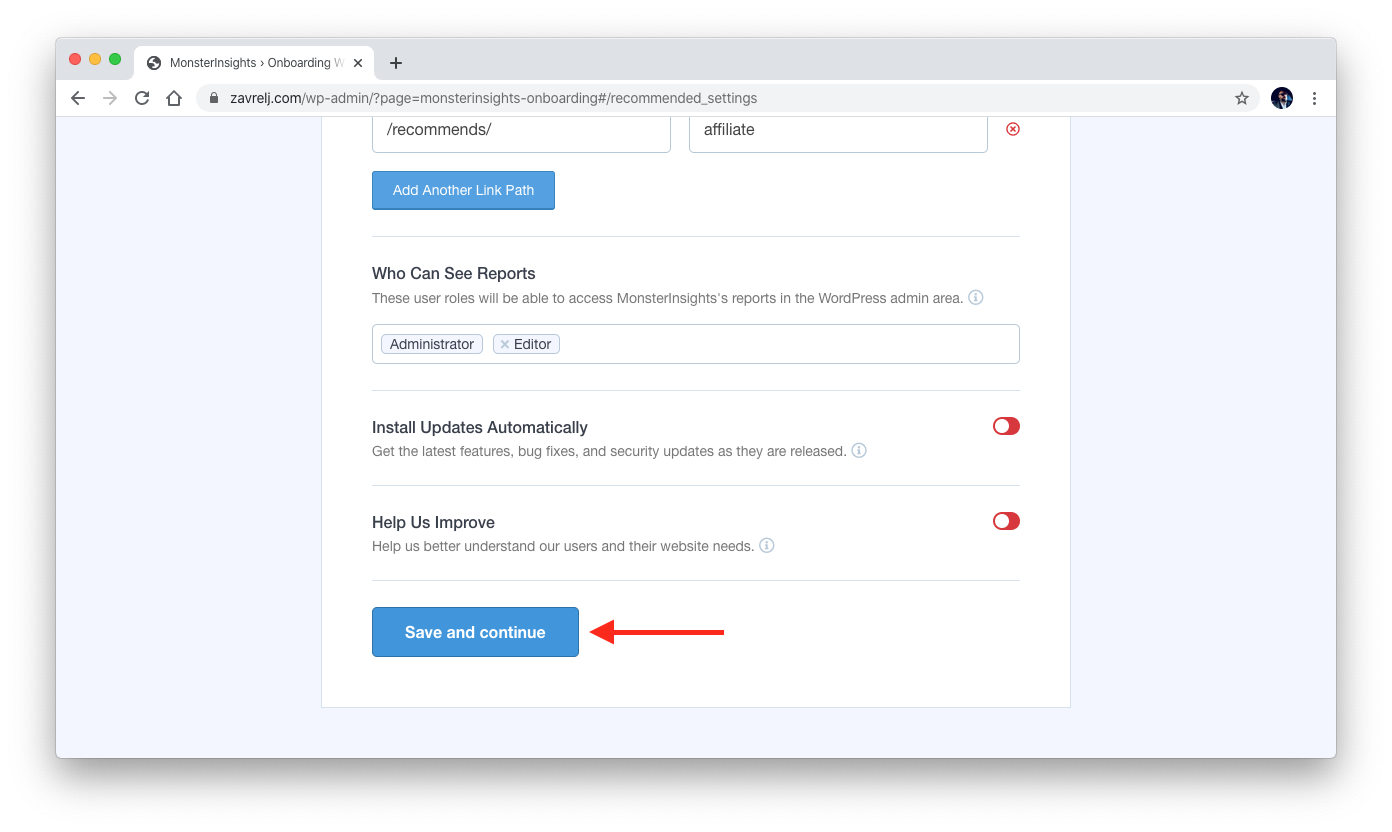 Step 14
If you're interested, you can install the WPForms plugin which is one of the easiest way to create a contact form for your WordPress. WPForms was created by the same great people behind MonsterInsights so you can be sure you'll get the top-notch quality. If you're not interested now, just click the Skip this Step link on the right: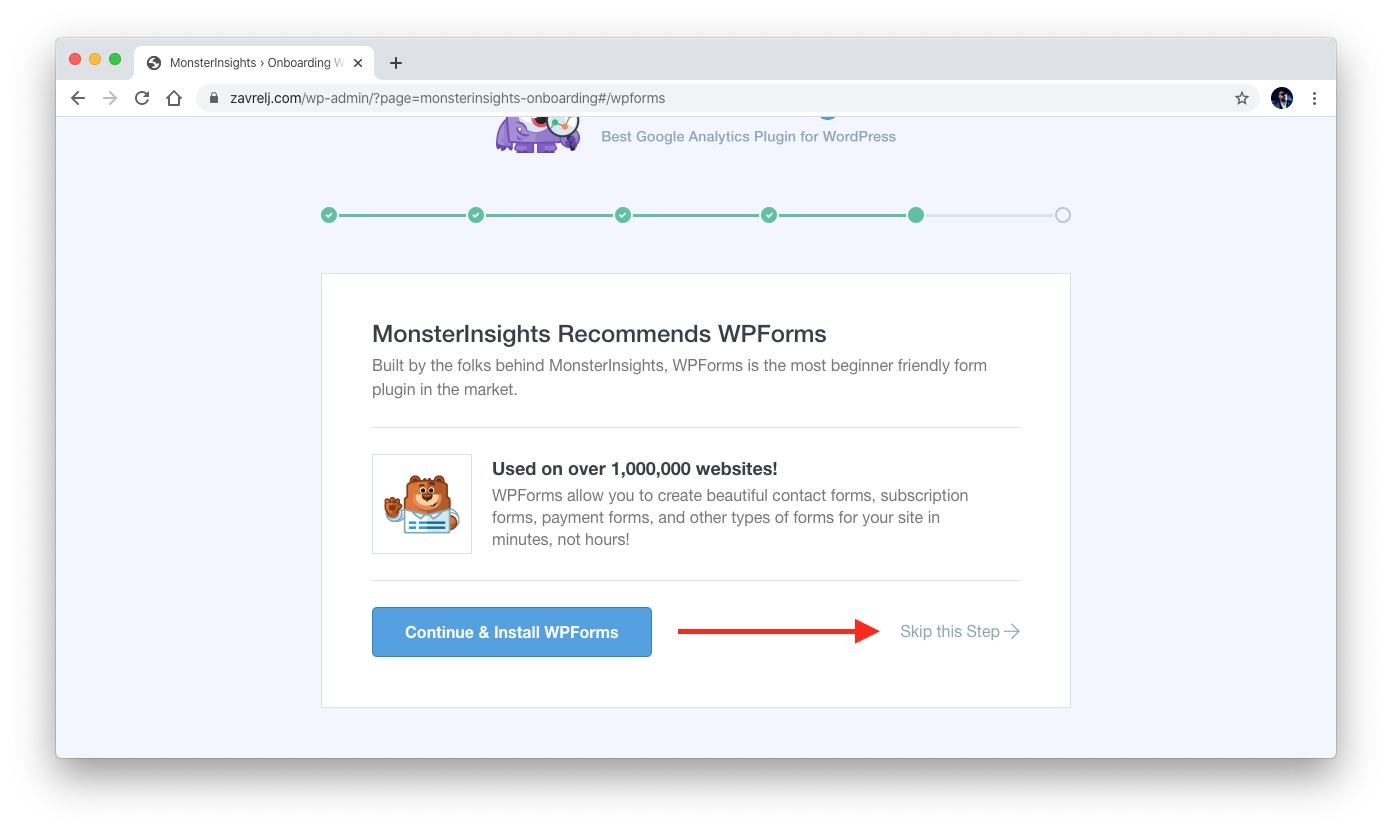 Step 15
Alright! That's all, just click the blue Finish Setup & Exit Wizard button and you're all set: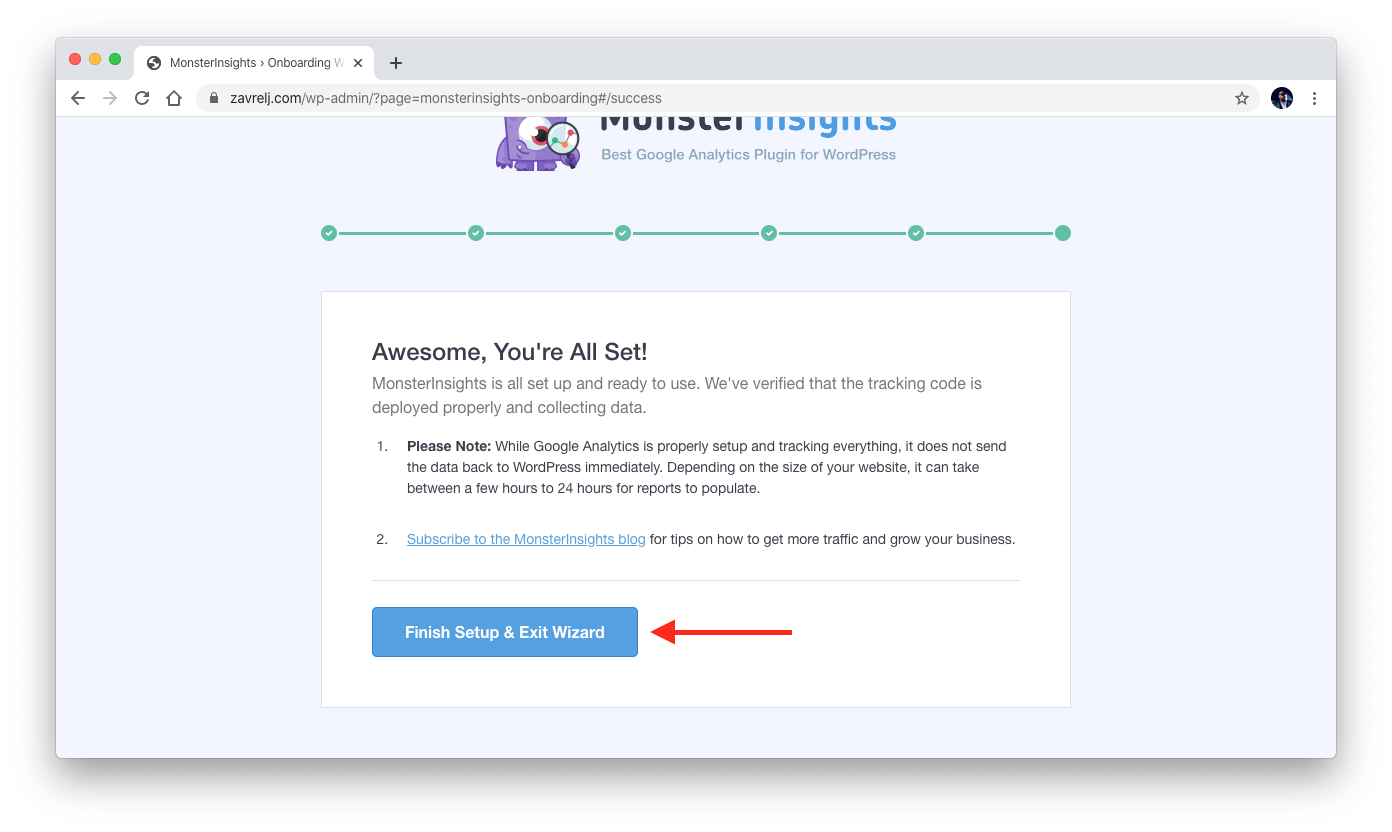 Step 16
Once you're back in your Dashboard, make sure that your Active Profile corresponds with your Google Analytics tracking ID: