Only personal experience, that's my motto here at TodayWP. I want to give you only honest reviews, not some affiliate-driven advertisement.
I've been following Flywheel for some time mainly because I like the Local, their offline solution for building WordPress that you can install for free on both Mac and Windows.
Disclosure: Please note that some of the links in this post are affiliate links for products I use and love. This means if you click on such a link and take action (like subscribe, or make a purchase), I may receive some coffee money at no extra cost to you. This helps me creating more content free of charge to you. And, as an Amazon Associate, I earn from qualifying purchases. Thanks for your support!
Flywheel is one of not so many truly managed WordPress providers. It belongs in my opinion to the same ranks as WP Engine and Kinsta. All three providers offer a platform built on Google's Cloud Computing with some great features, but compared to Kinsta and WP Engine, Flywheel seems to be a bit cheaper, so I wondered what's the reason behind this.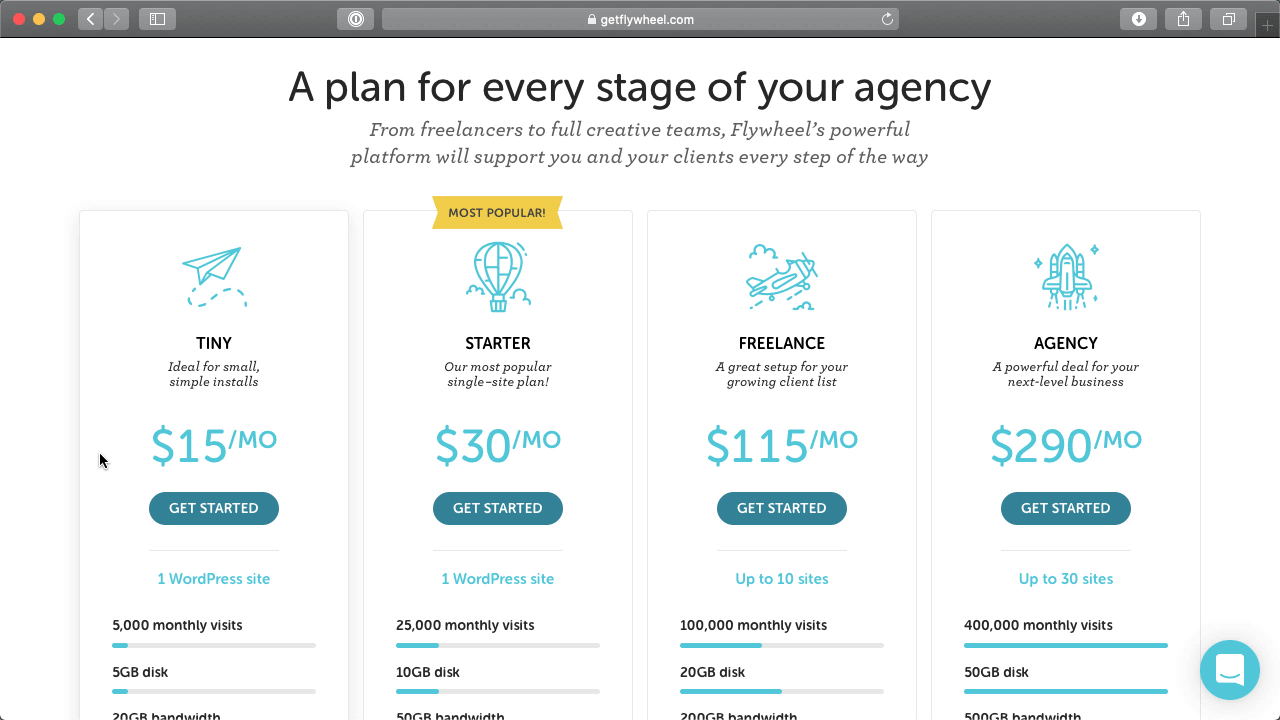 The cheapest Tiny plan is $15 per month, which is half the price of what WP Engine and Kinsta offer, so I expected that when comparing the other parameters, I will see some performance differences as well, and I was right. Basically, you'll get the half of storage and bandwidth as well and even less monthly visits.
I wanted to add another managed WordPress provider for some perspective, so I chose WPMUDEV which is also pretty respectable in this field. WPMUDEV is seemingly the best deal, but they work on different principles.
You don't pay for specific hosting plan, but for a membership that includes managed hosting. Without the membership, you would pay $30 for three websites with pretty impressive parameters, however, they don't offer this plan separately, you need to be a member.
*price valid through membership that costs $49 per month and includes three hosting plans, not available stand-alone
So, to conclude, price-wise, Flywheel offers a very affordable plan for those who want to start with managed WordPress right away without migrating later from much cheaper shared hosting, but the limitations are there and must be considered.
Creating a new site
Before you can create a new site, you obviously need to have a Flywheel account. The registration process is very simple.
You need to fill out a simple form, select the Data center you want to use based on the location of your audience and choose whether you want to pay monthly or take advantage of two months for free with yearly payment.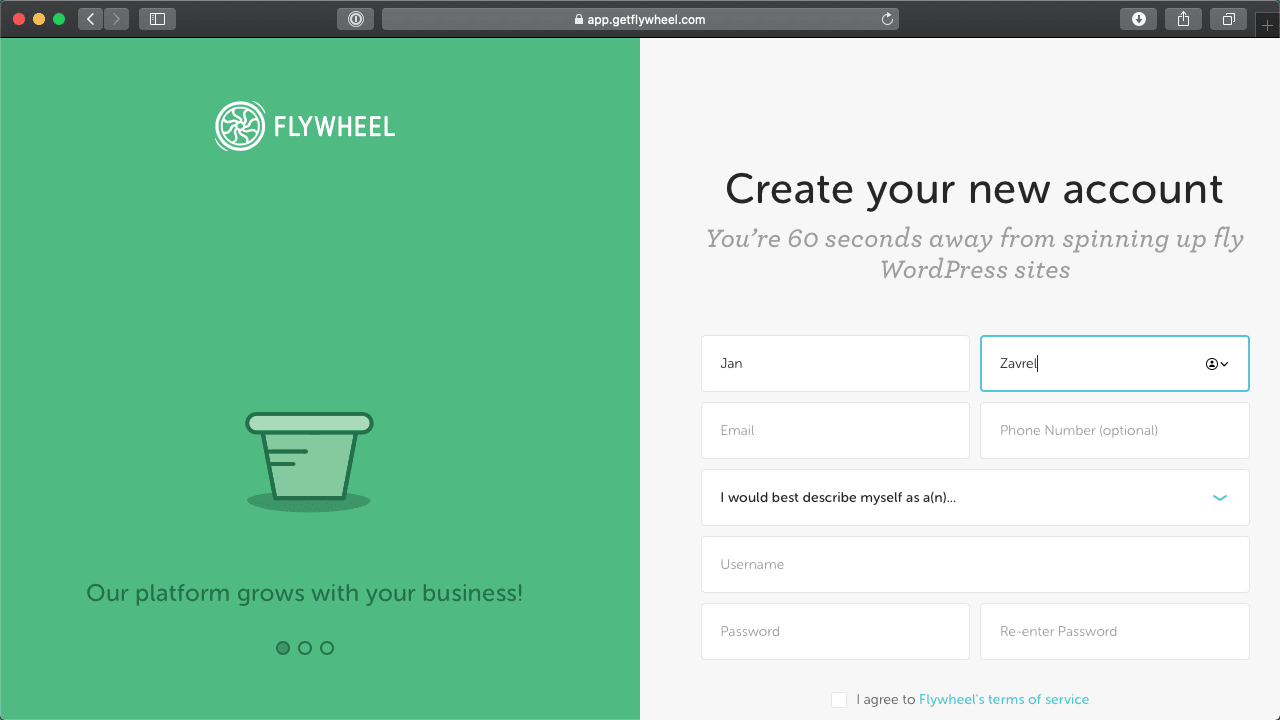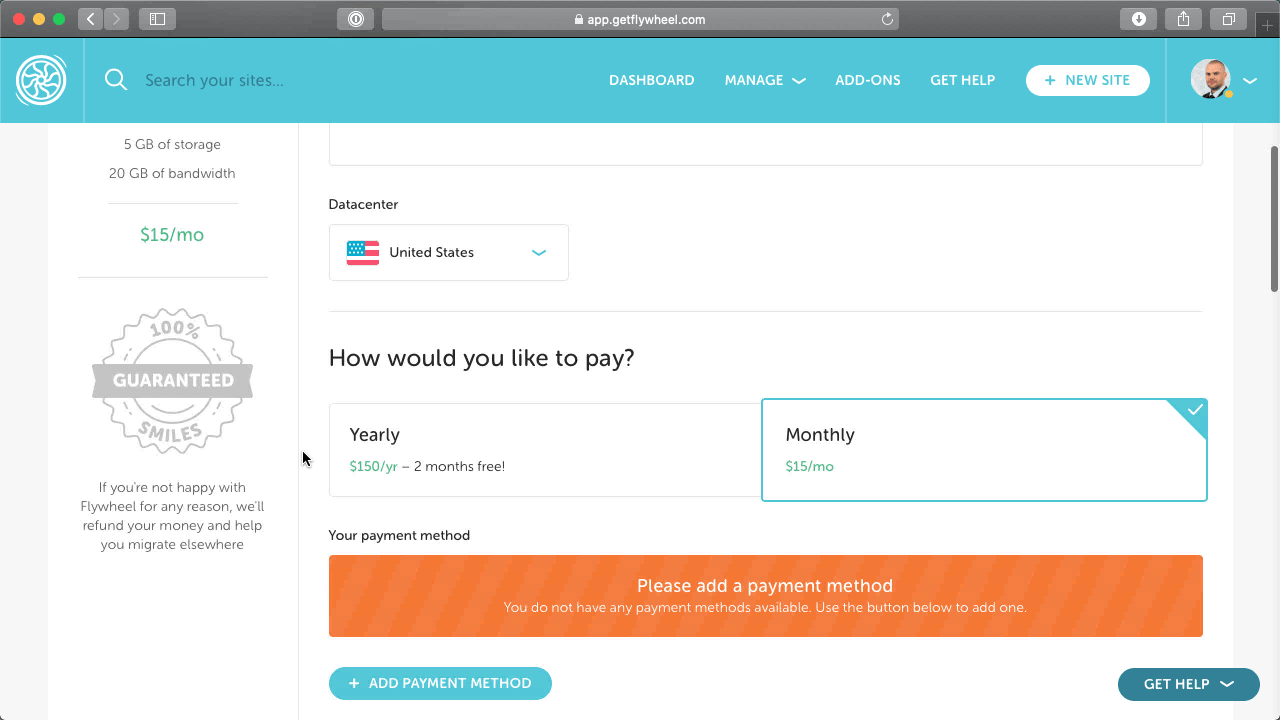 Once you add your payment method (credit card or PayPal) and fill out your billing details, you're ready to create your site.
You'll just enter your site details and create a WordPress admin user.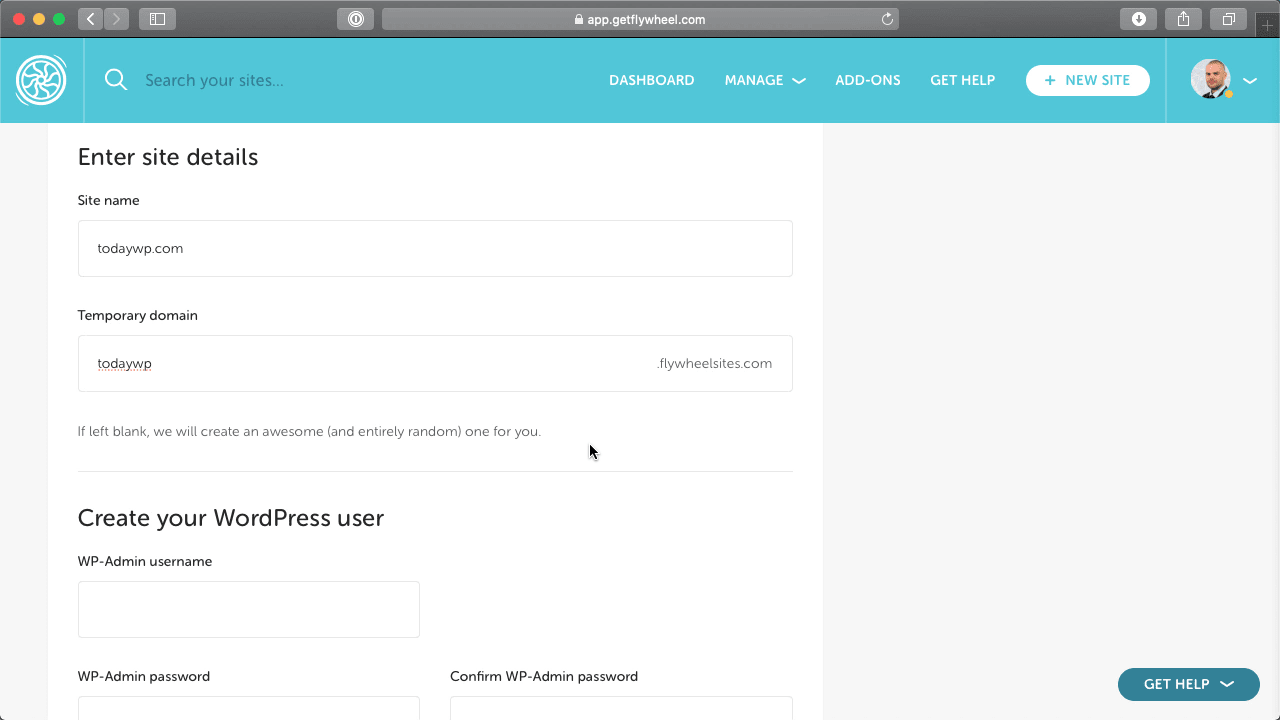 That's all you need to do. Now you'll just have to sit back for a minute or two while Flywheel is building your website.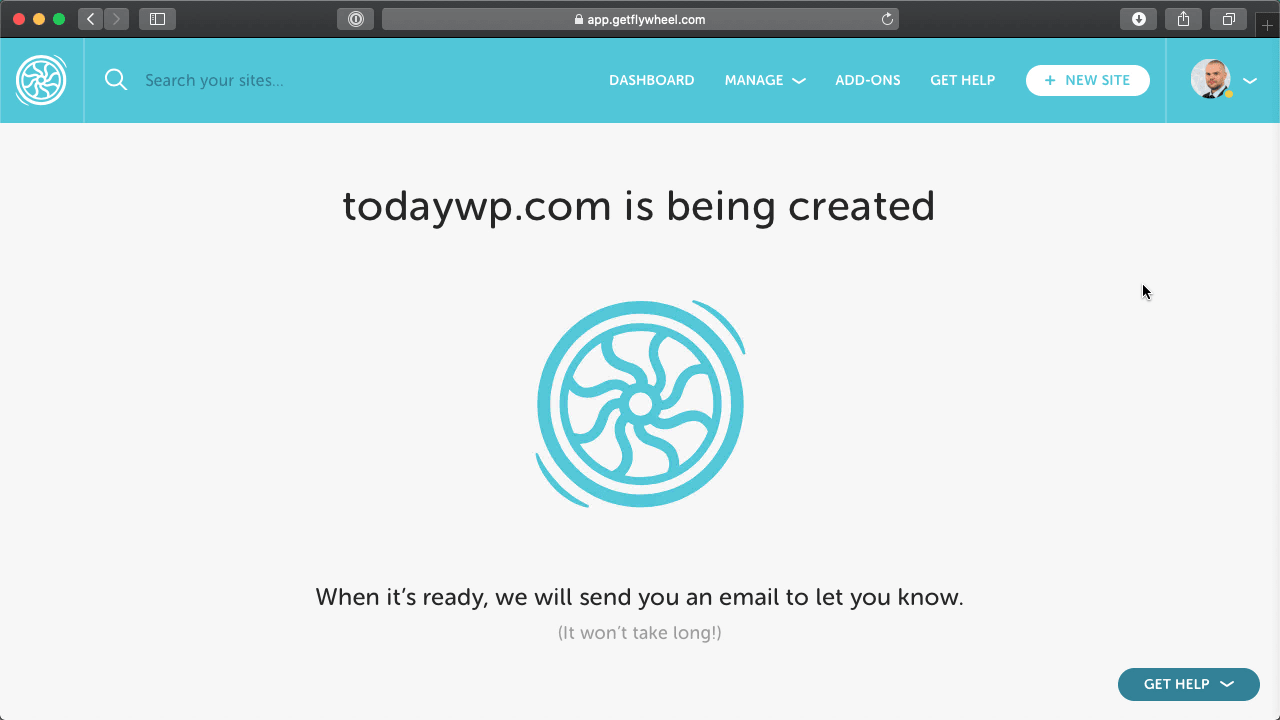 So, once my site was created, I wanted to connect it with my todaywp.com domain. This wasn't without problems as I'm using Cloudflare as my DNS management platform, but Flywheel's support was able to help very quickly.
Adding your own domain
To use your own domain name instead of the temporary domain hosted at flywheelsites.com, you need to click the + ADD ANOTHER DOMAIN link in the sidebar.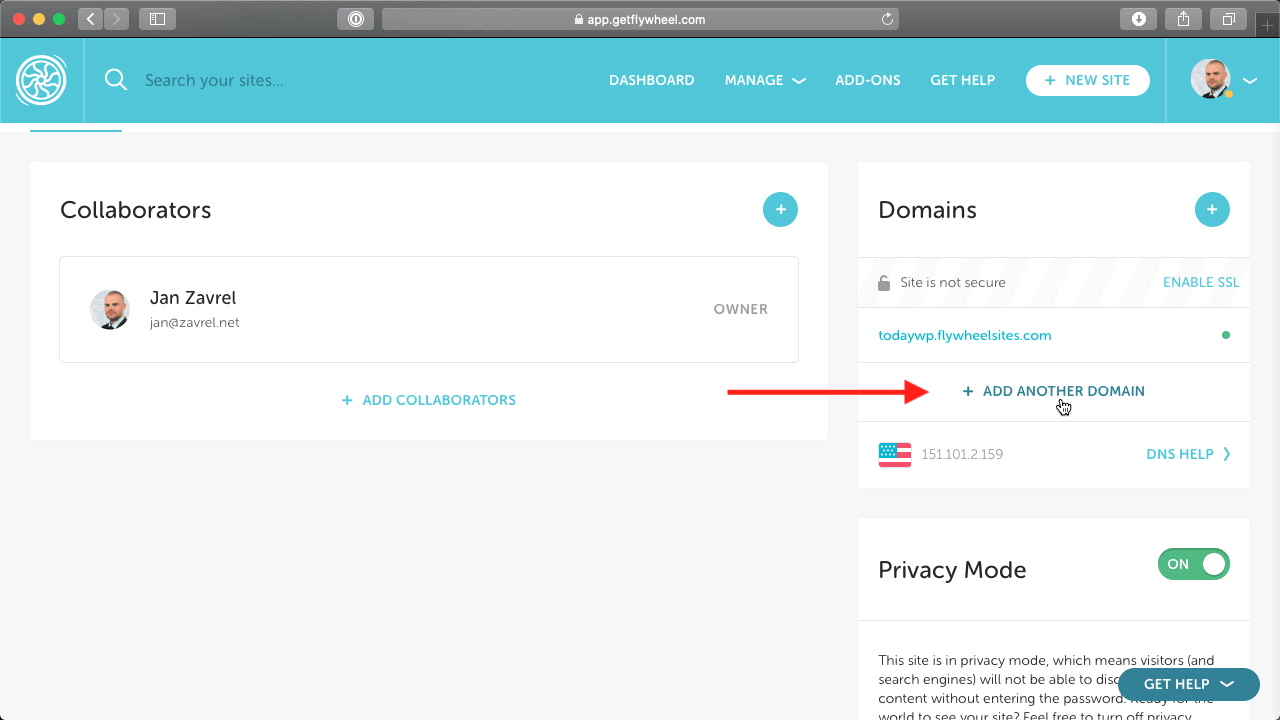 In the new window, fill out your domain name and make sure to make it primary. Also, add the "www" subdomain.
These days, we all tend to omit the "www" prefix as it's pretty much useless, but some people still like the good old www.todaywp.com address, so it's a good idea to add this option for them.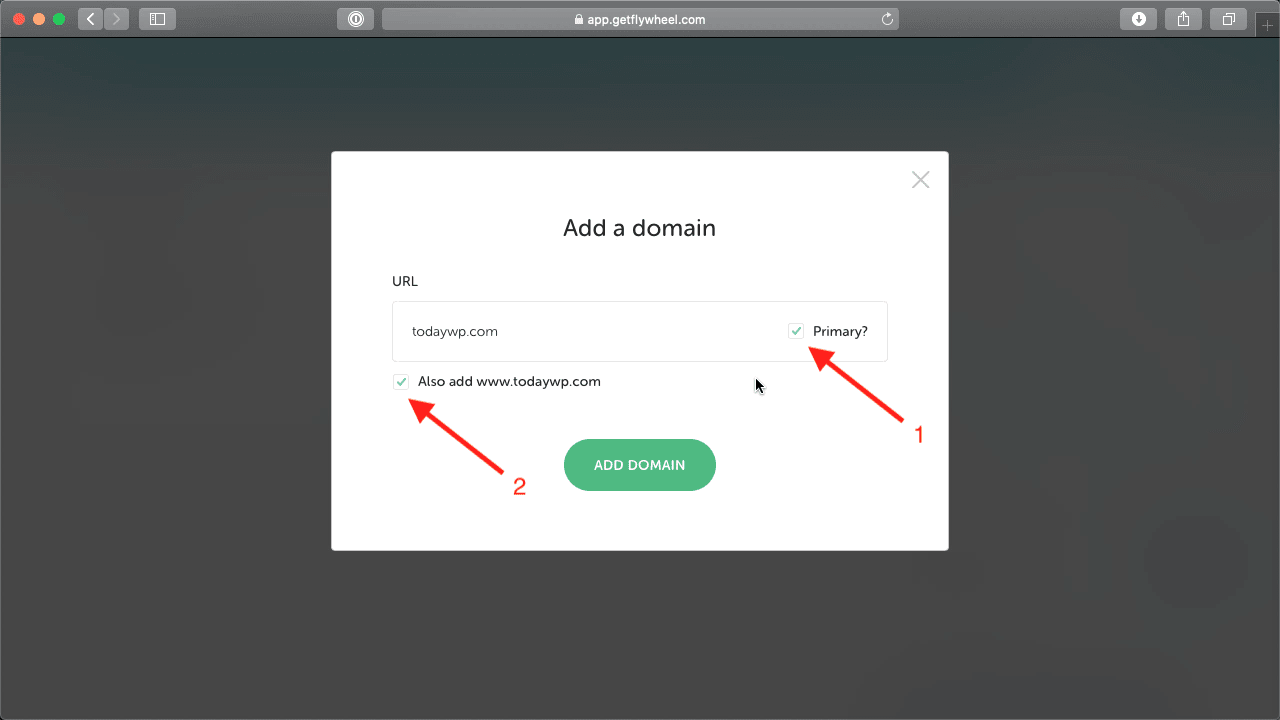 Next, you need to point your domain name to the IP address of your Flywheel WordPress installation.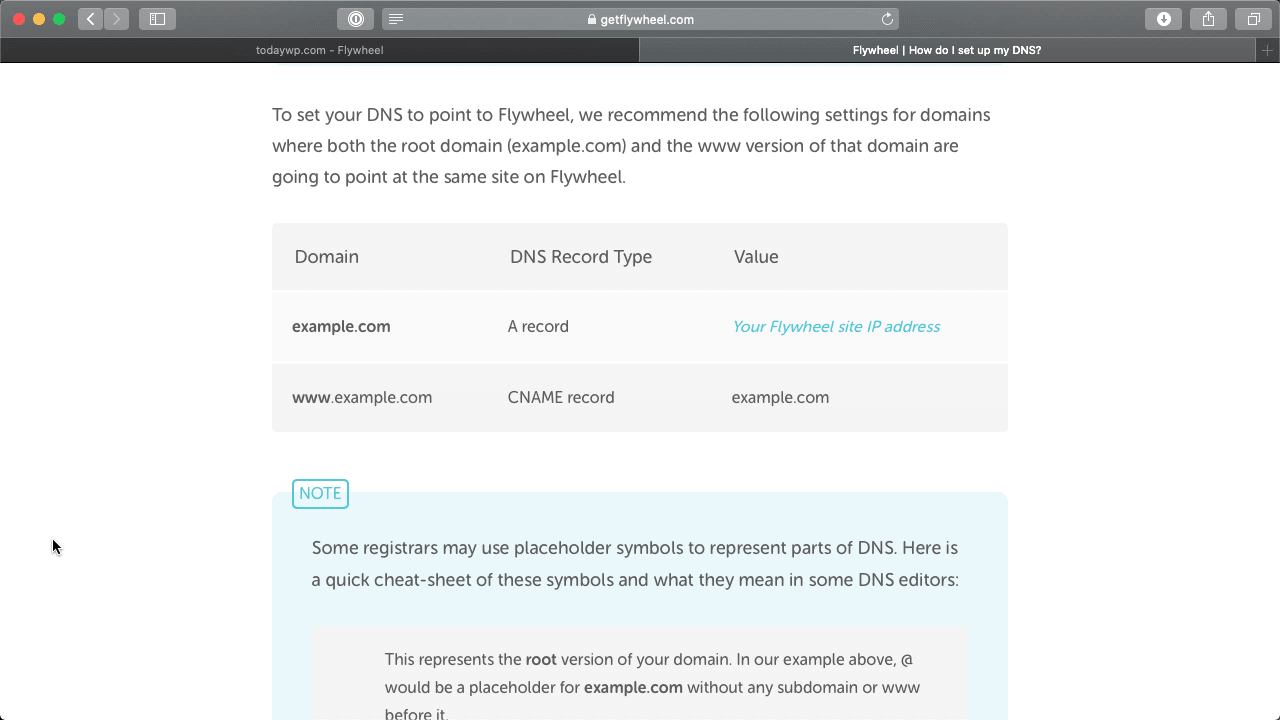 This should be fairly easy, but depending on your domain registrar, you need to navigate to a specific form where you will fill this out. It's called DNS management most of the time.
Your IP address is located right below your domains settings.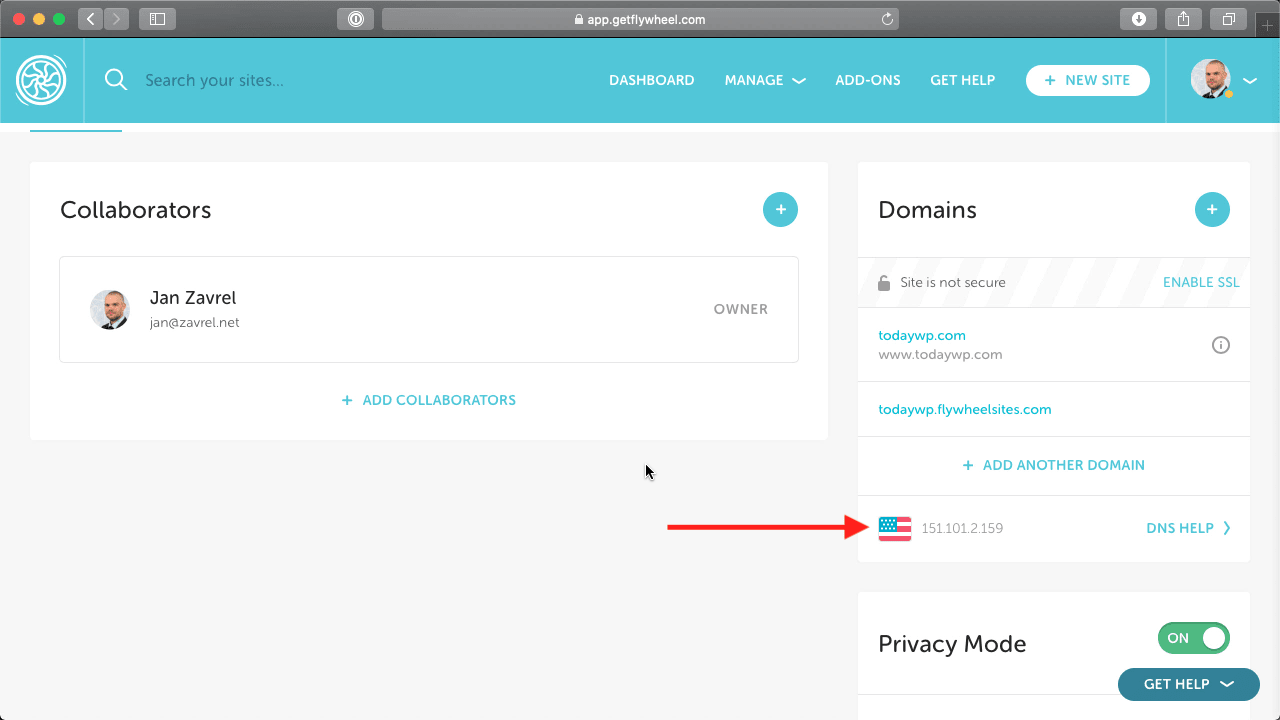 Here's my Cloudflare DNS management where I just updated the IP address of the A record.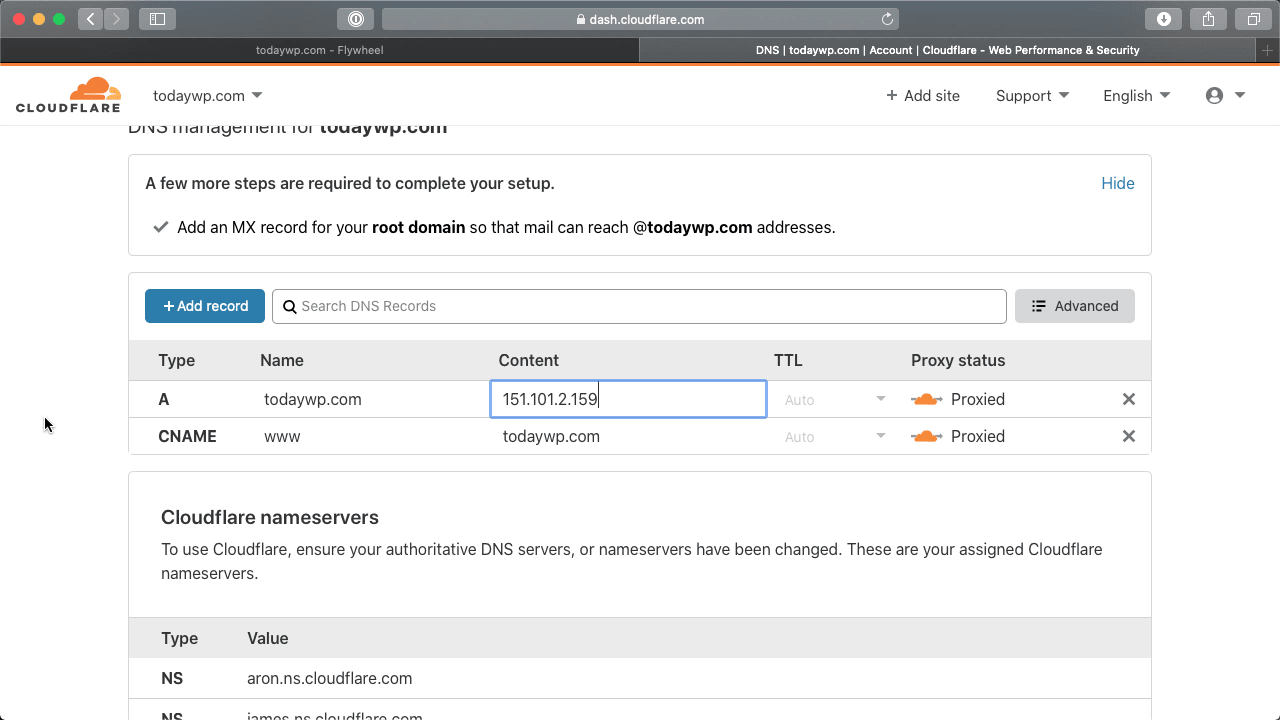 It might take a while before the changes are propagated. In the meantime, you can set your domain as primary instead of temporary domain.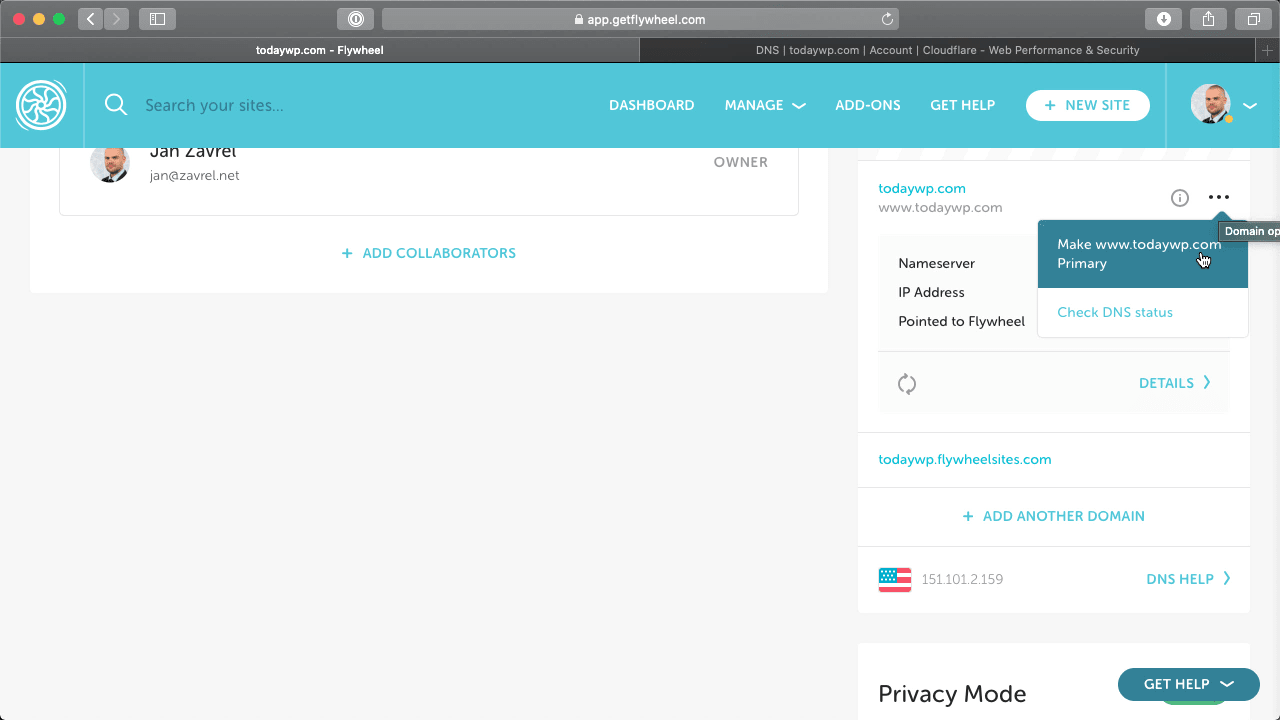 Adding SSL certificate
As any good hosting provider, even Flywheel offers a free SSL certificate which allows you to serve your website over secured HTTPS protocol.
Setting up SSL is very easy. Just click ENABLE SSL in the settings.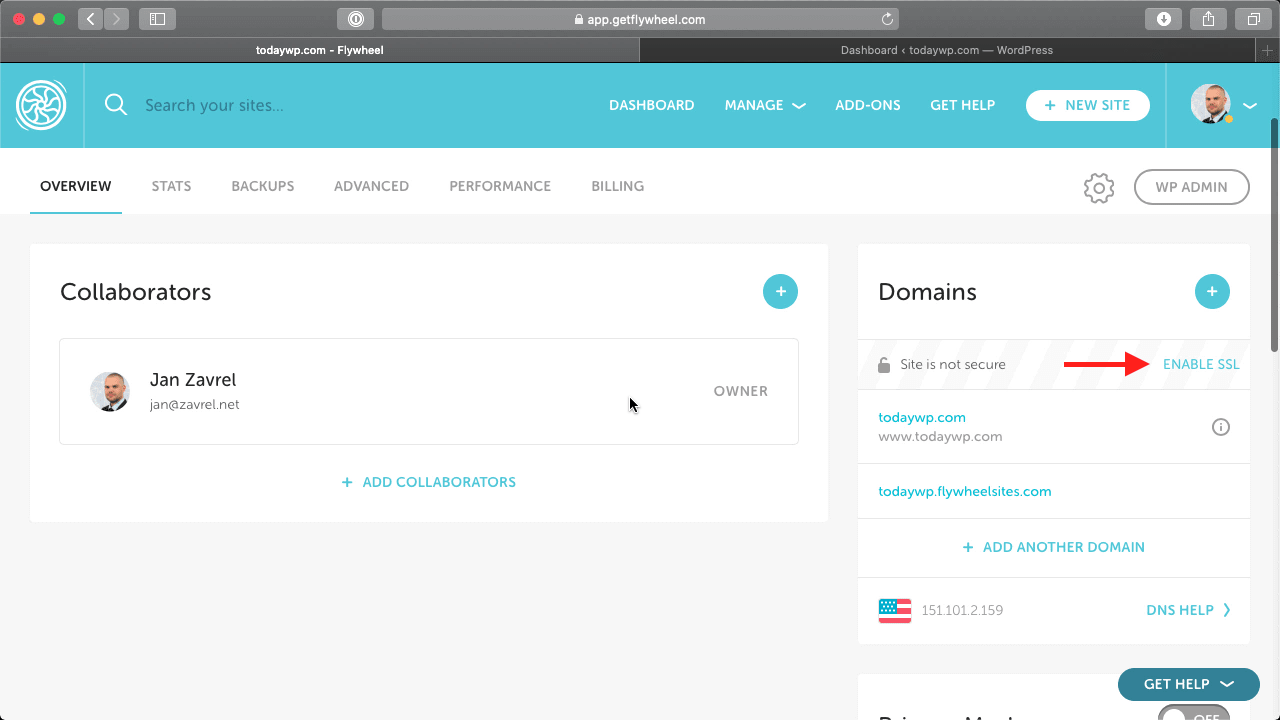 And choose the Free certificate issued by Let's Encrypt. You should select your primary domain. Flywheel will redirect all traffic from secondary domains like www to this secured primary domain.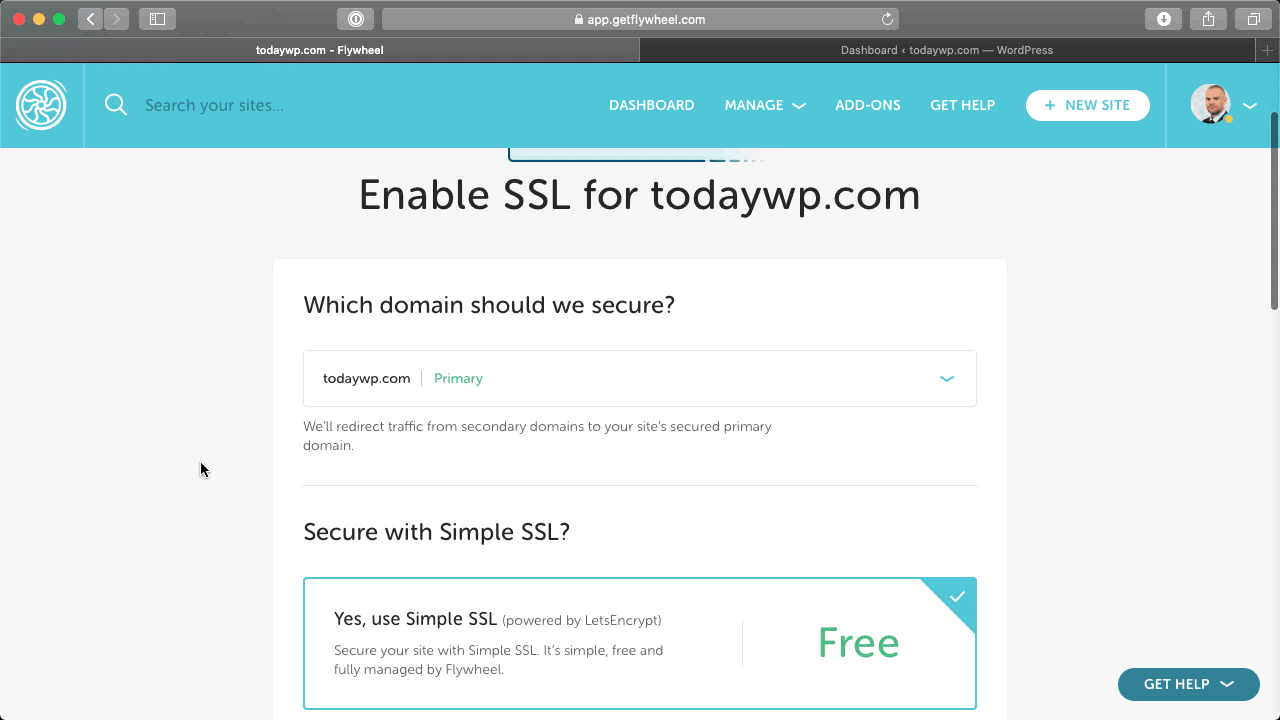 Finally, scroll down and hit the Complete SSL Setup button.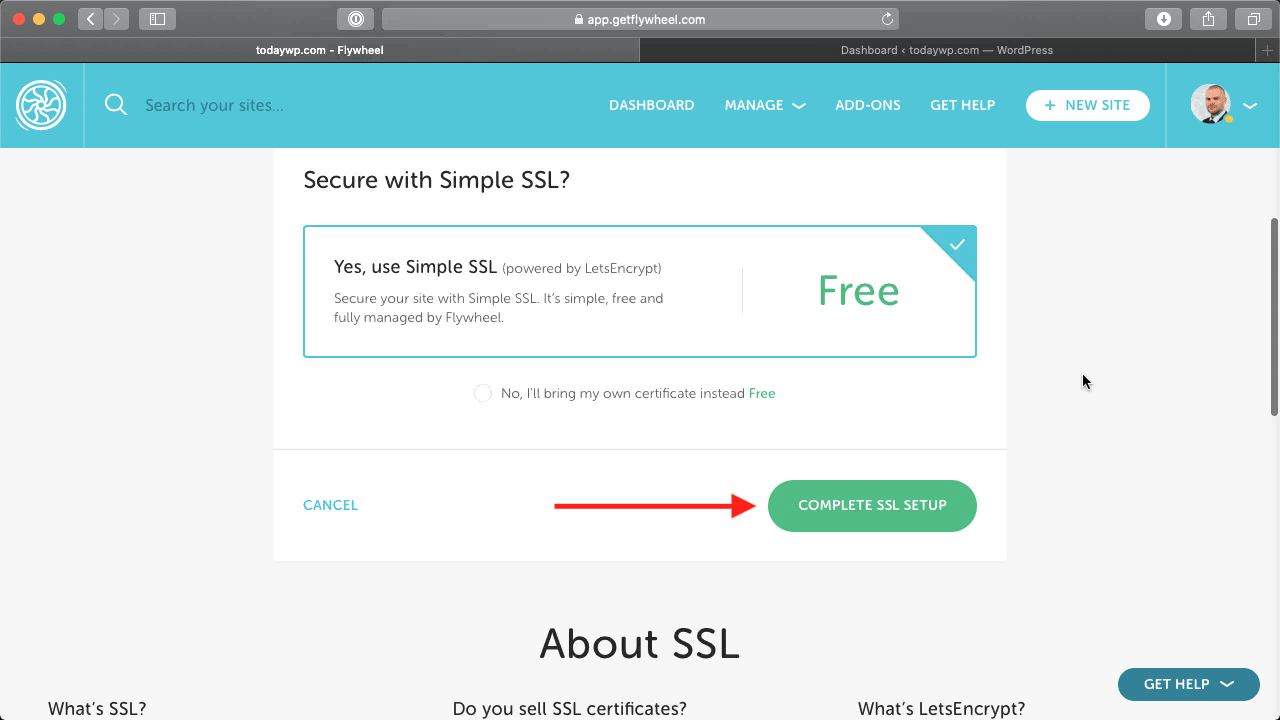 Again, it might take a while before the SSL certificate is issued and installed, but you'll be notified by email when it's complete.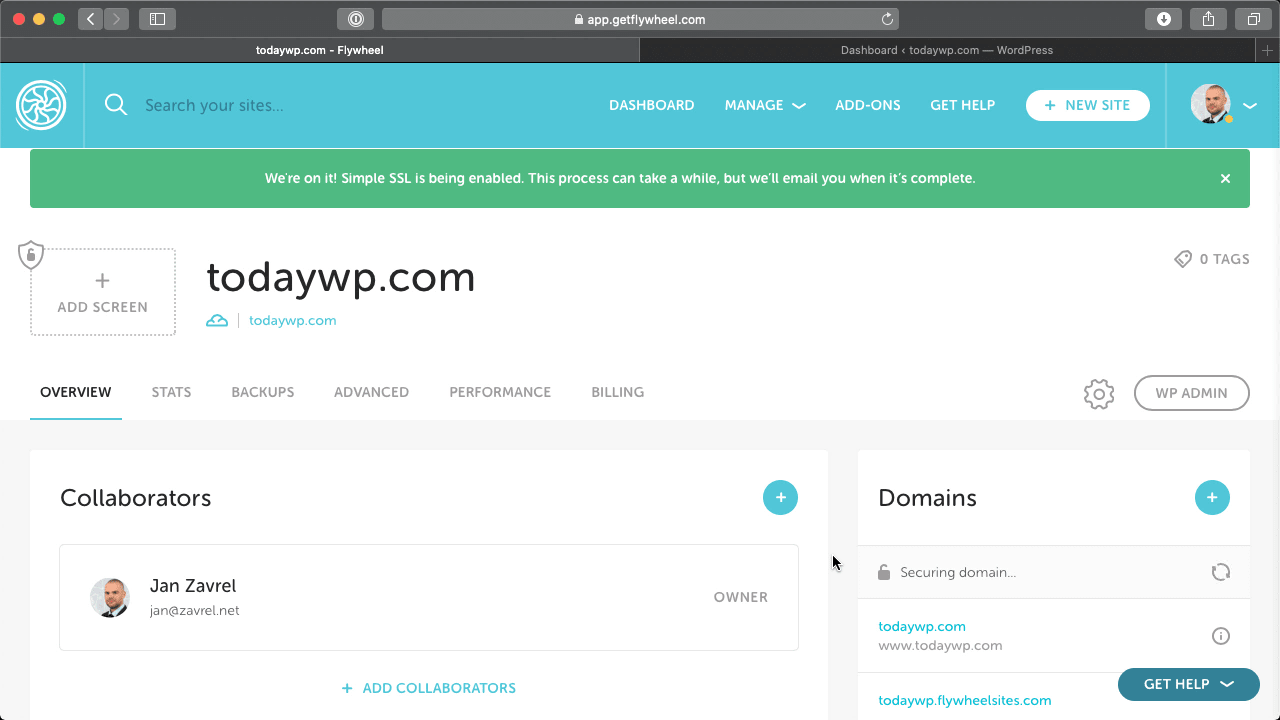 Once your SSL is active which is indicated by the green lock above your domain name, go to the ADVANCED tab, scroll down to Site Options and force HTTPS so all your content is delivered via secured connection.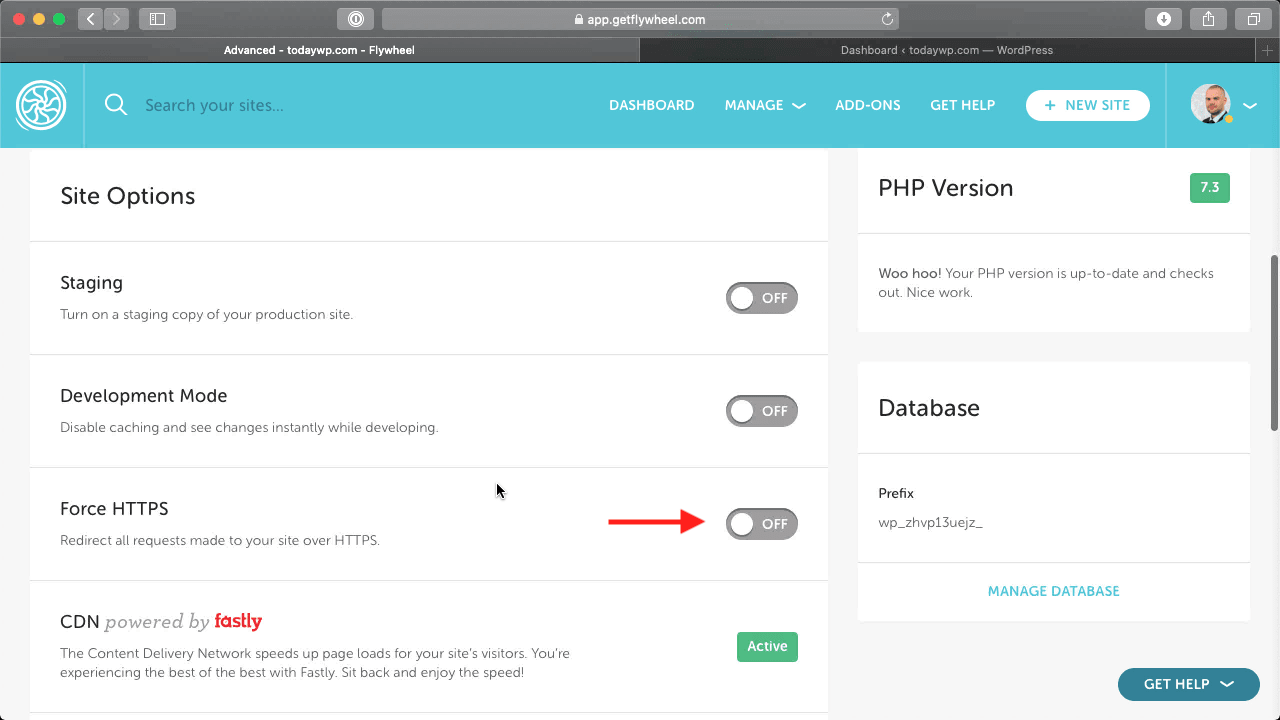 StudioPress themes
Since Flywheel has been acquired by WP Engine, it offers to its customers the same deal, which is a free access to Genesis Framework and premium themes by StudioPress.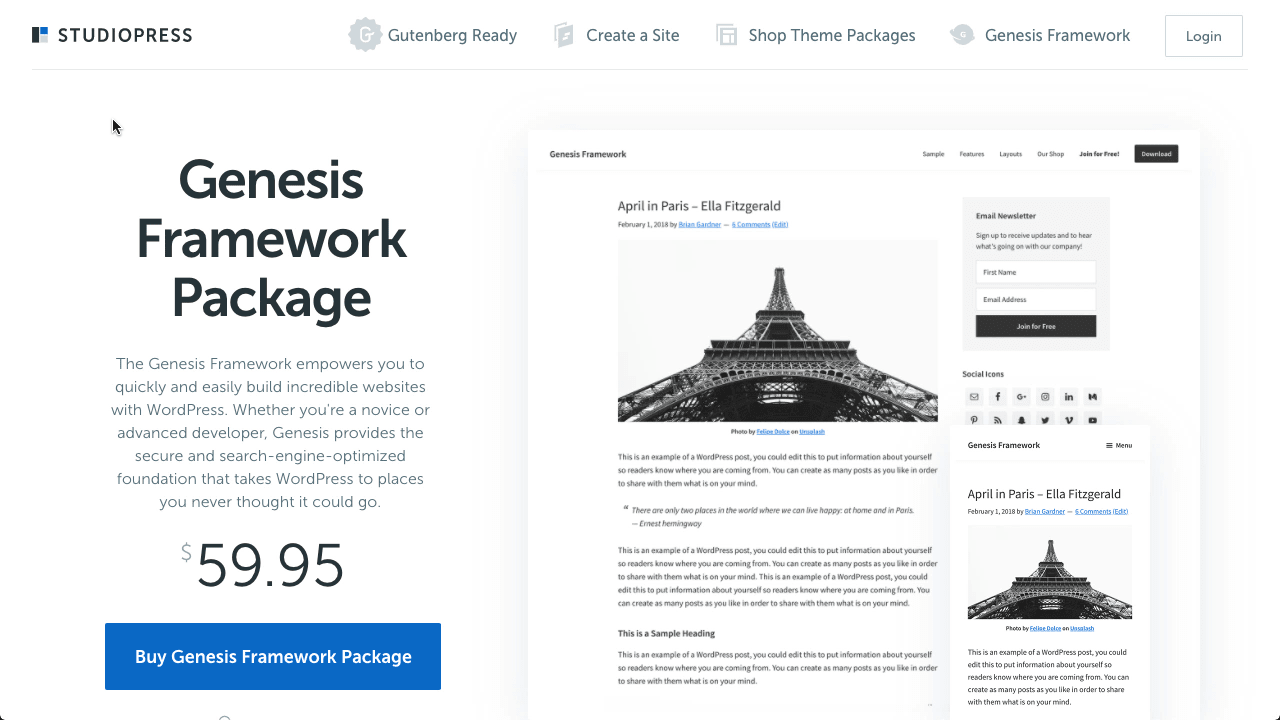 If you're not familiar with Genesis Framework, it's one of the most respected and optimized theming system for WordPress.
It's regularly updated and it supports the Gutenberg editor out of the box as well as AMP version of the website.
With Flywheel account, you'll get access not only to the framework which regularly costs $59.95, but to all of StudioPress premium themes as well.
This is sold separately for a whopping $499.95 so this is actually a very good deal.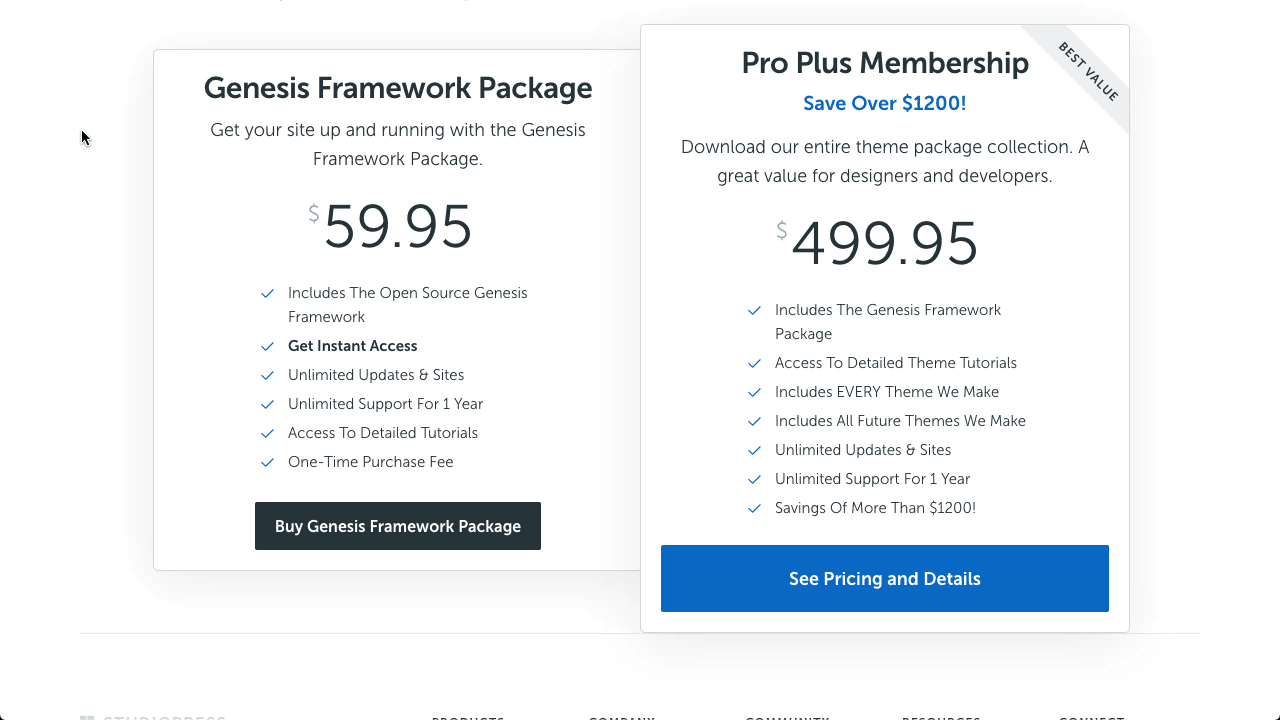 Installing StudioPress themes for your WordPress isn't that obvious, but it's very easy once you know what to do.
First, you need to scroll down to the footer and choose the Themes link from the Get started column.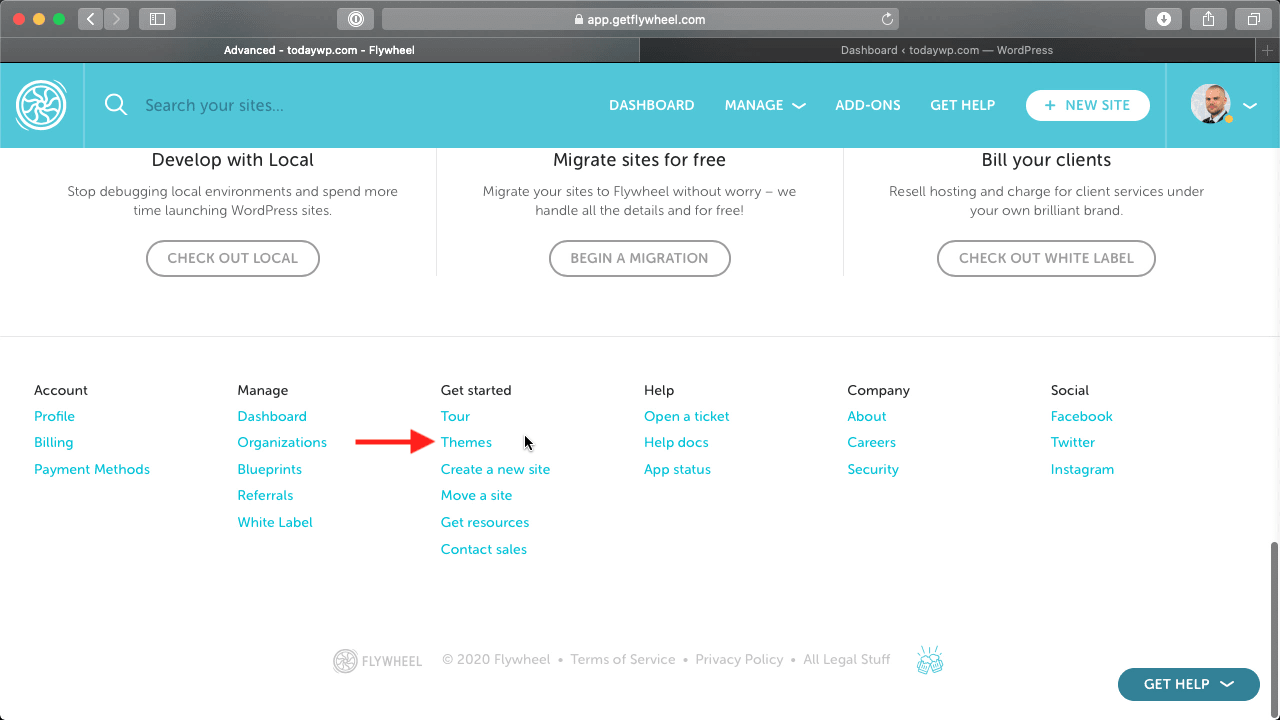 Select the theme of your choice and click the Download button.
In order to use Genesis-based theme, you need to install both the framework and the theme itself, so download both packages to your computer.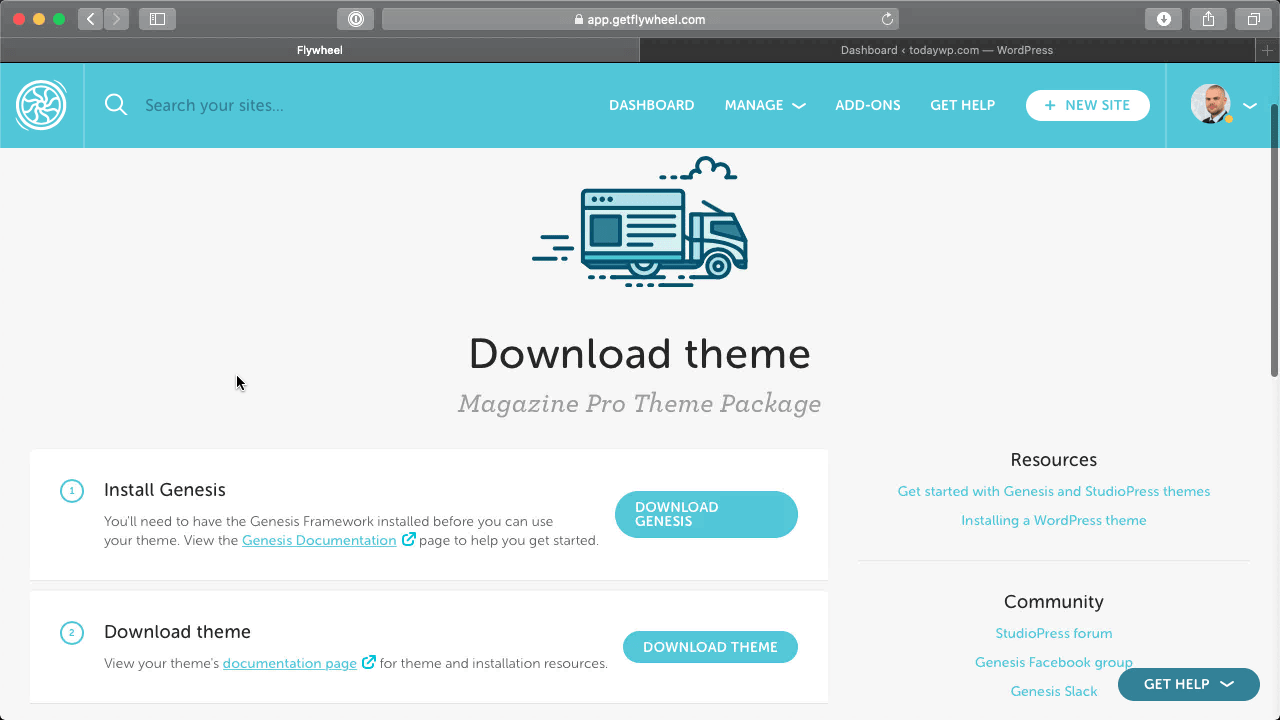 Go back to your WordPress Dashboard, select Appearance → Themes and click the Add New button at the top of the page.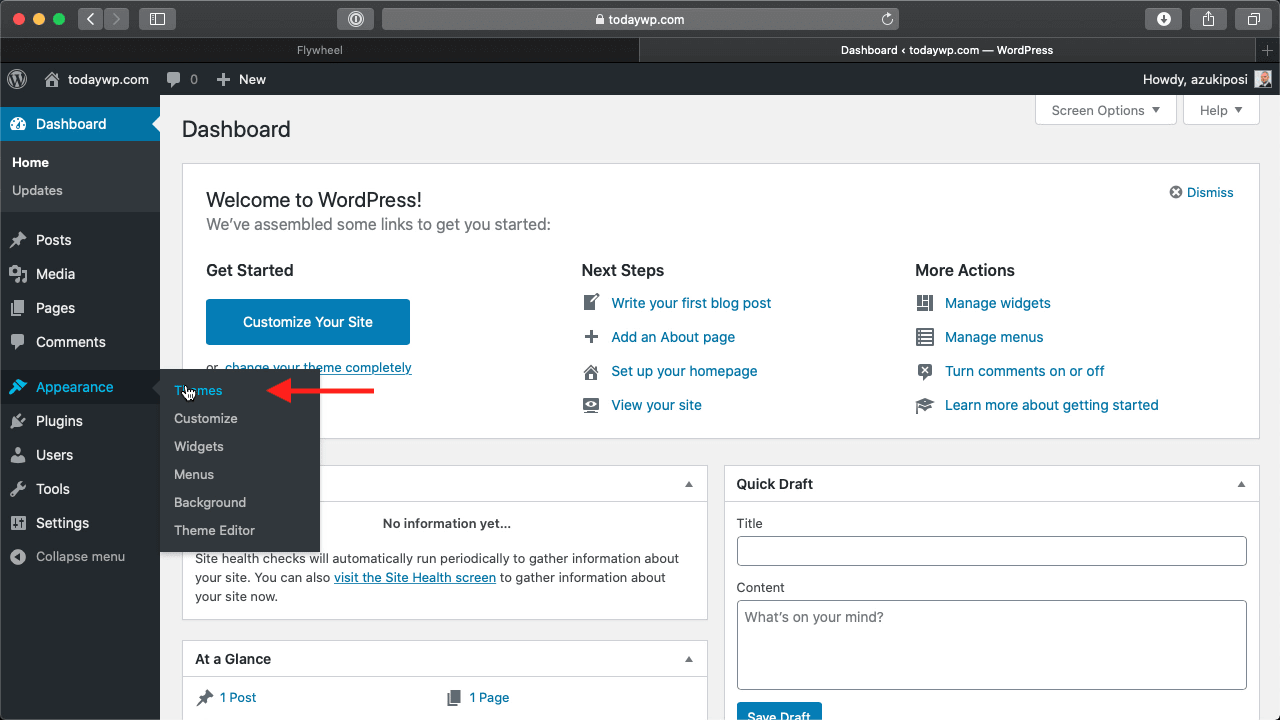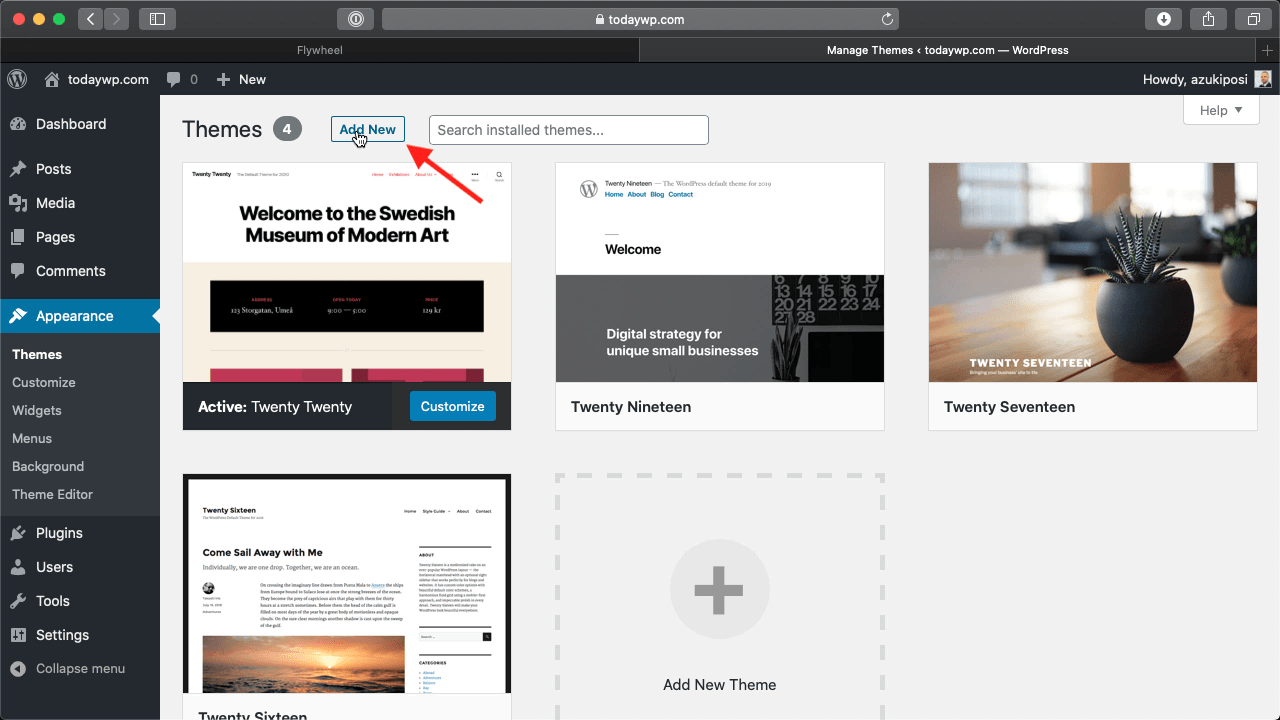 On the new page, click the Upload Theme button and select the genesis.zip package. Finally, hit the Install Now button.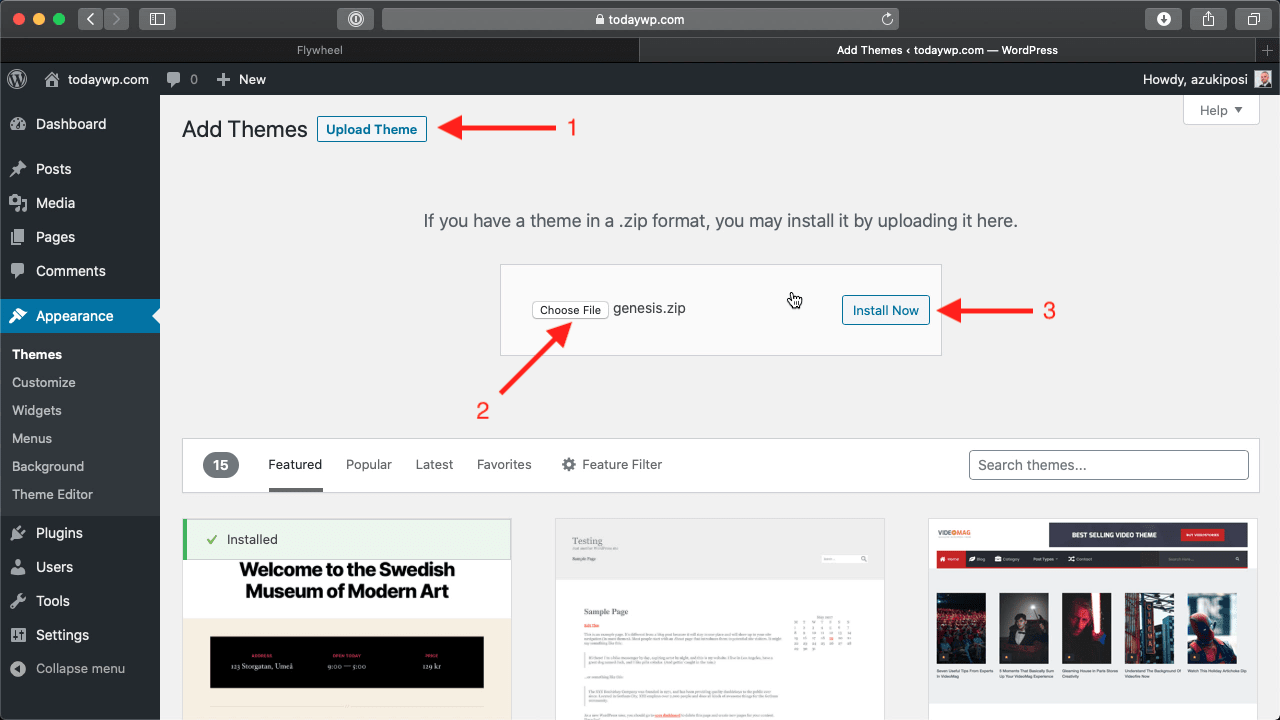 Once installed, hit the Activate link and you should see the Genesis framework in the list of themes.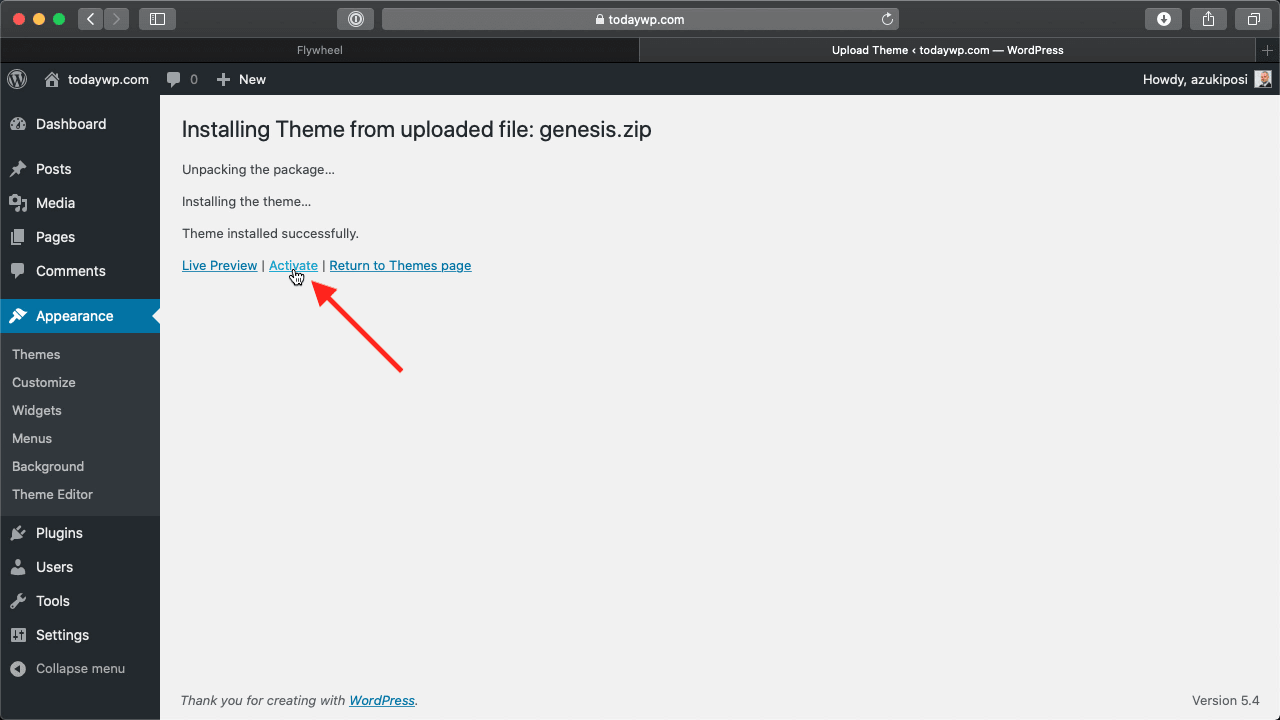 Now it's time to install the so-called Child Theme, so hit the Add New button again and upload the theme you have previously downloaded to your computer. I chose Magazine Pro.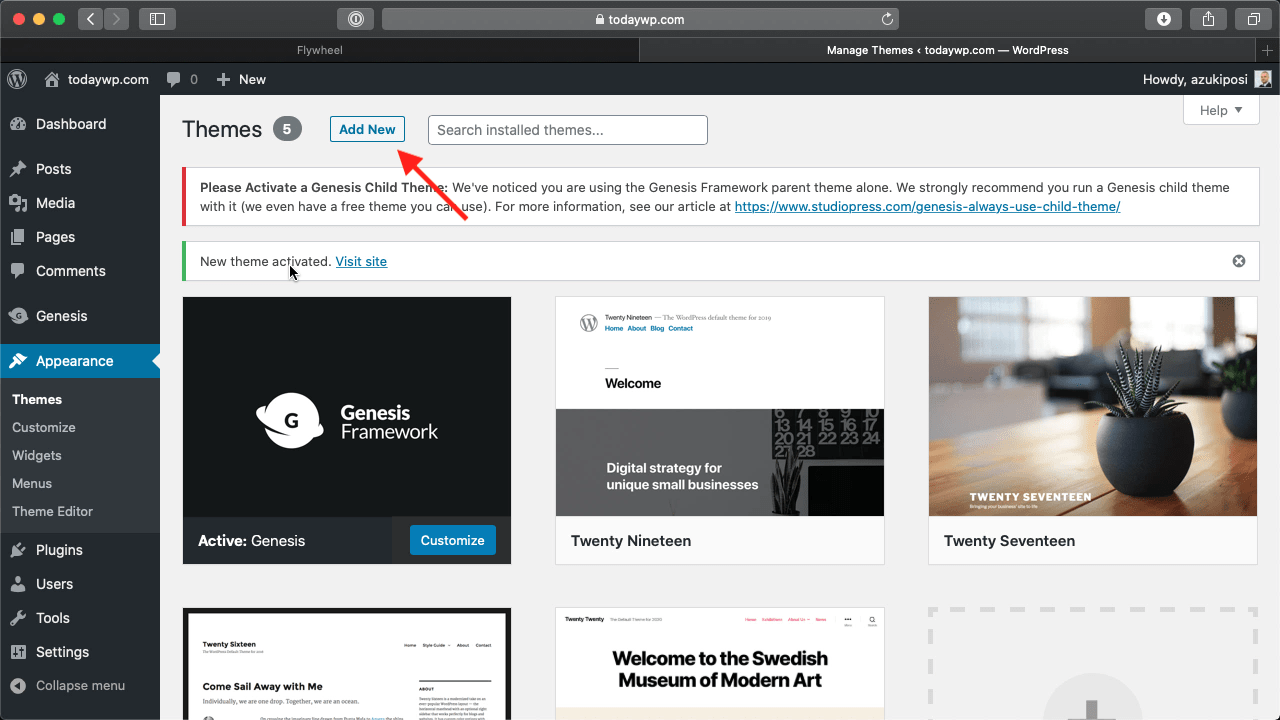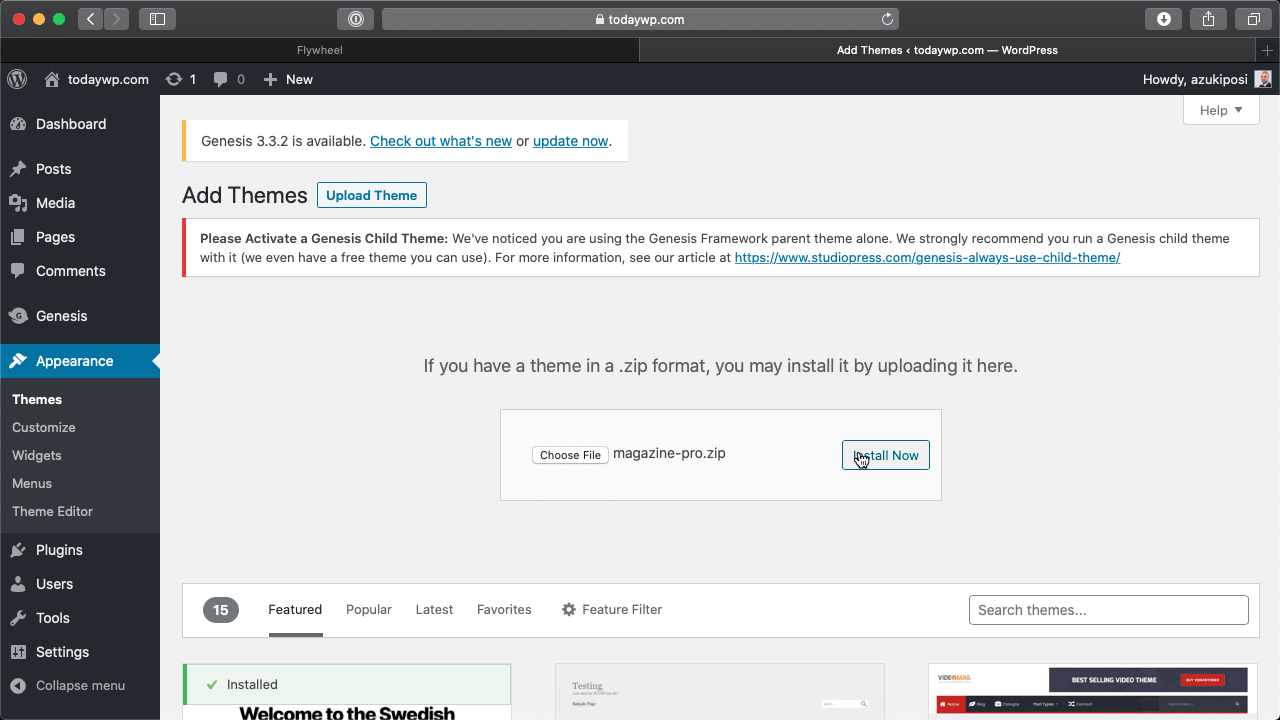 Install and activate the theme. You should see the welcome screen where you can choose which flavor of the theme you'd like to use.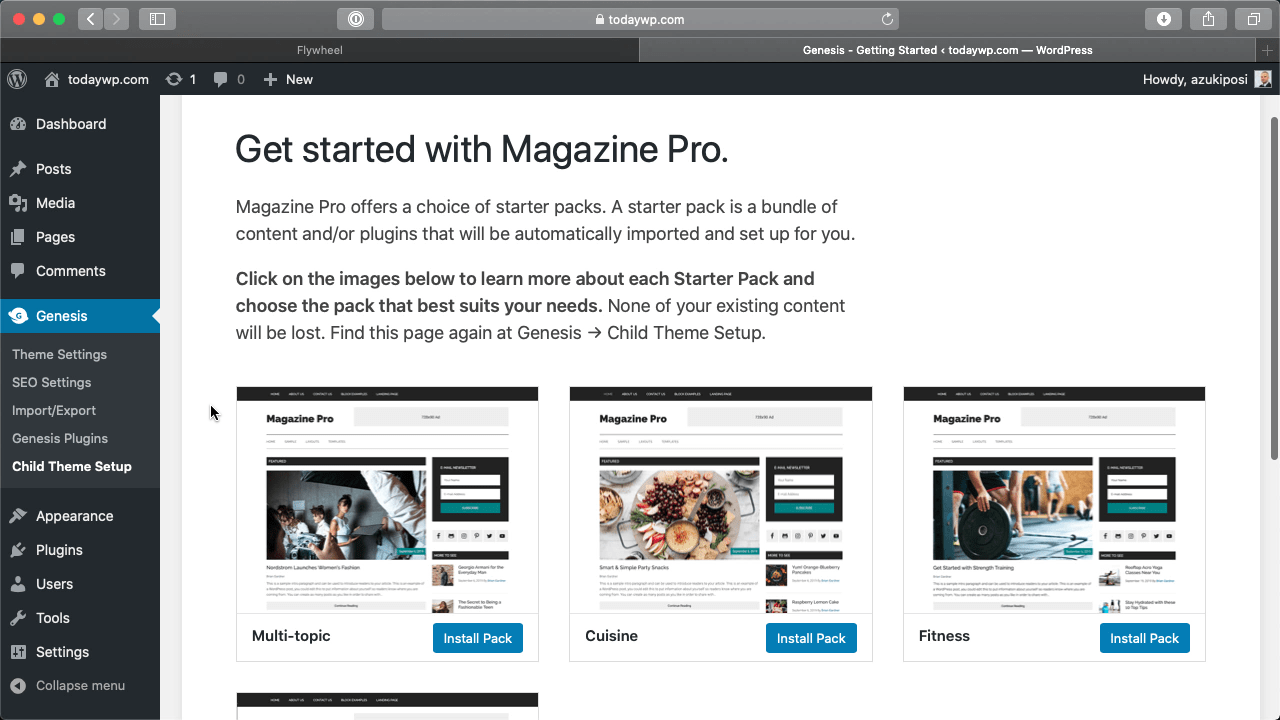 Once you're ready, click the Install Pack button to install the selected theme.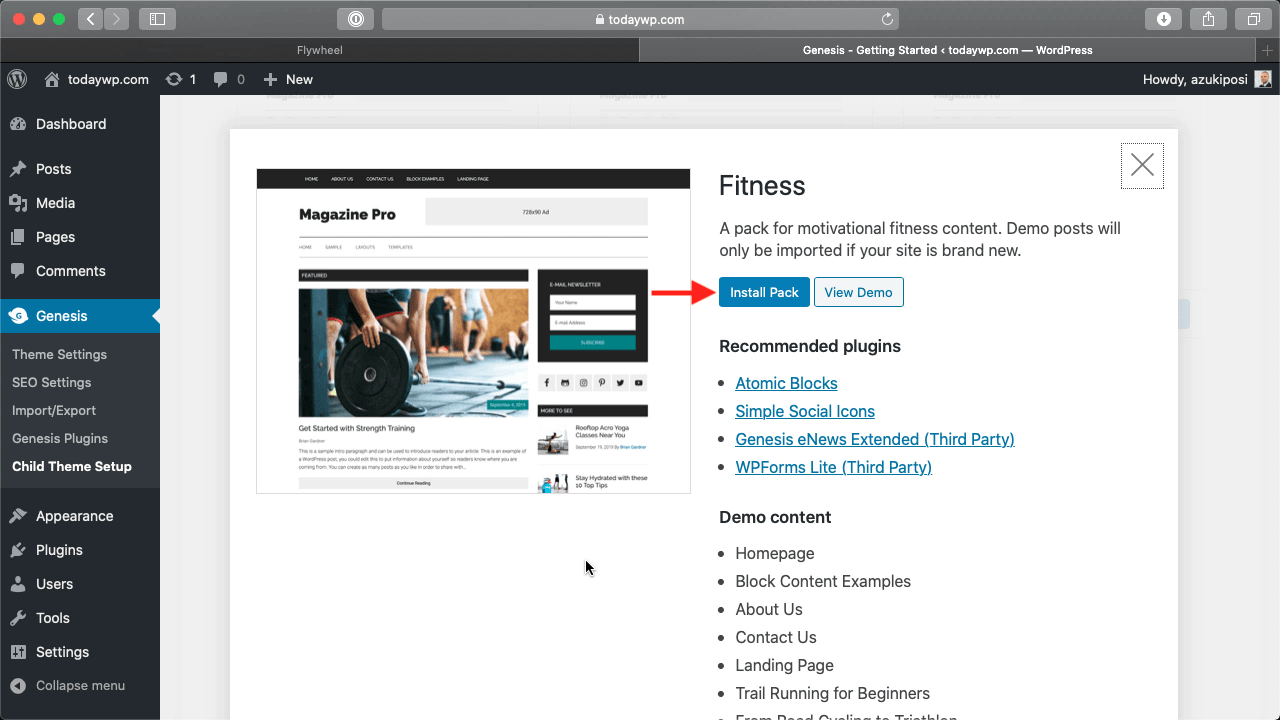 Once it's installed, you can preview your website.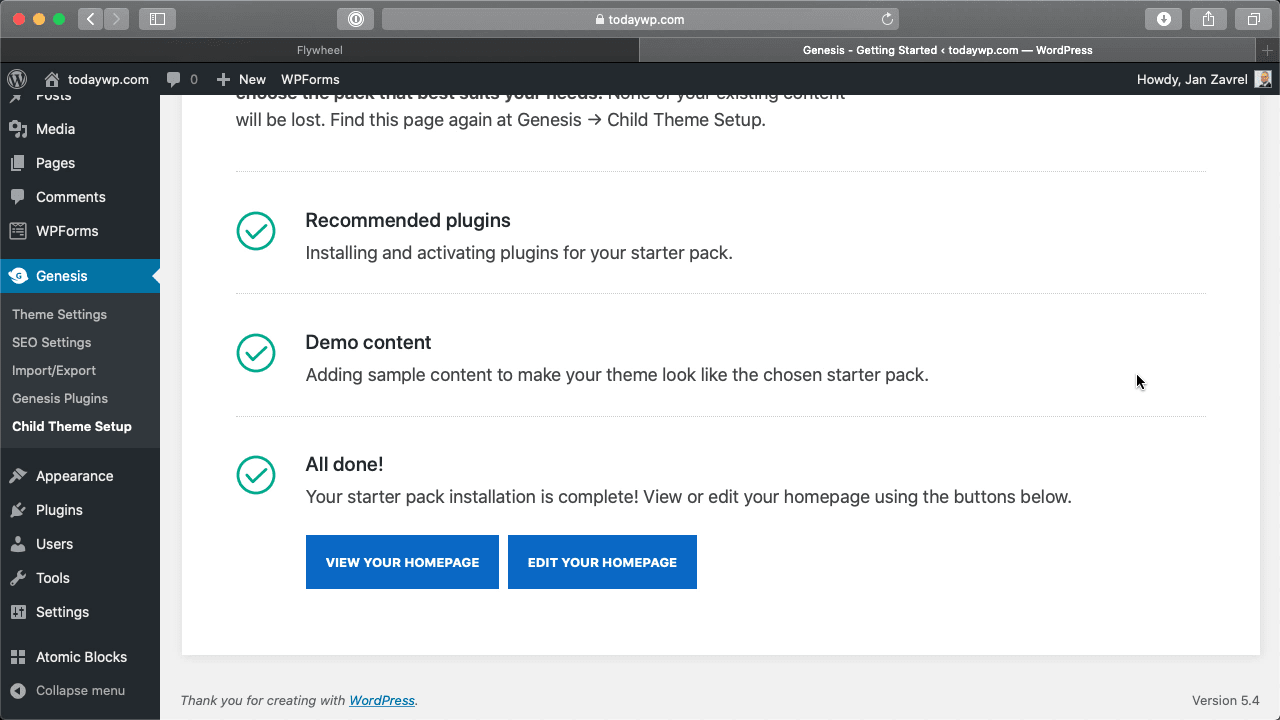 Local by Flywheel
Local is something that sets Flywheel apart from any other web hosting provider. It's a great and easy to use local development environment, hence the name, that allows you to install WordPress locally and once you're ready, push it to the cloud. The best part is that it's available for free.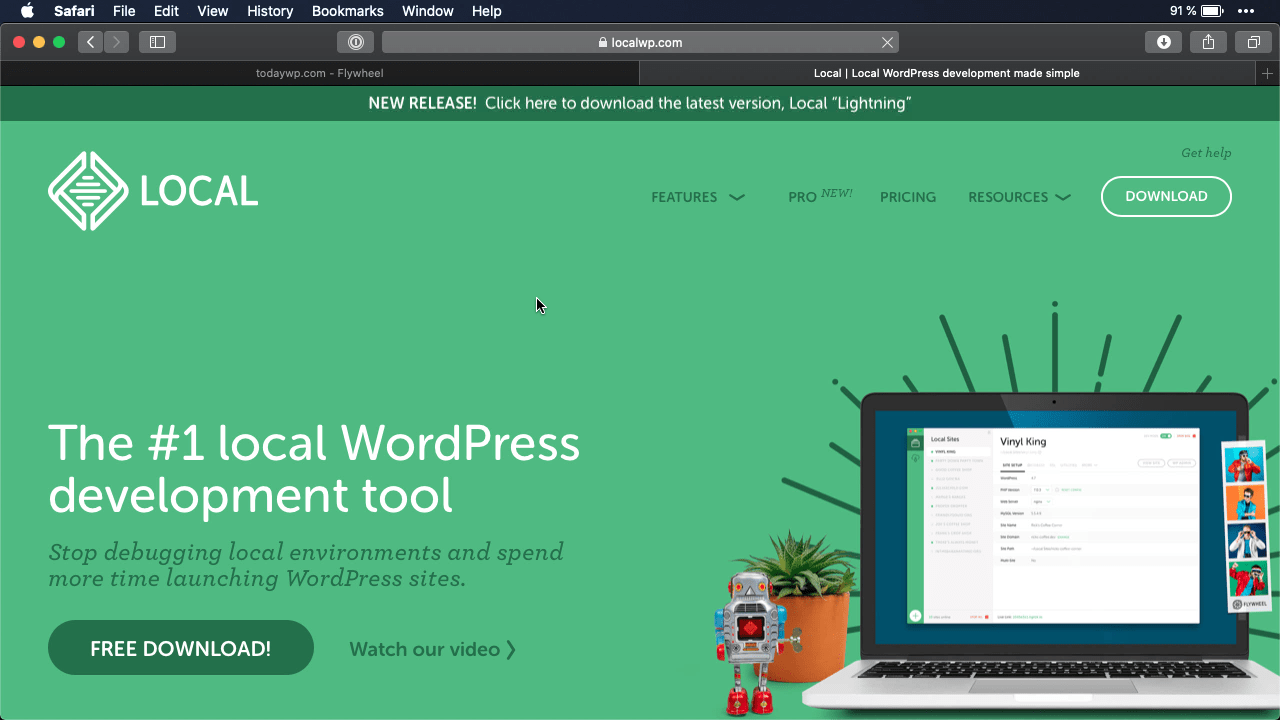 Local is available for Mac, Windows and even Linux. Before you can download it, you need to fill out a pretty simple form.
This is a basic marketing approach, so Flywheel can contact you later and offer you other products. I'm not offended by this at all, because Local is really sweet. Almost too sweet to be free, so filling the form is totally worth it.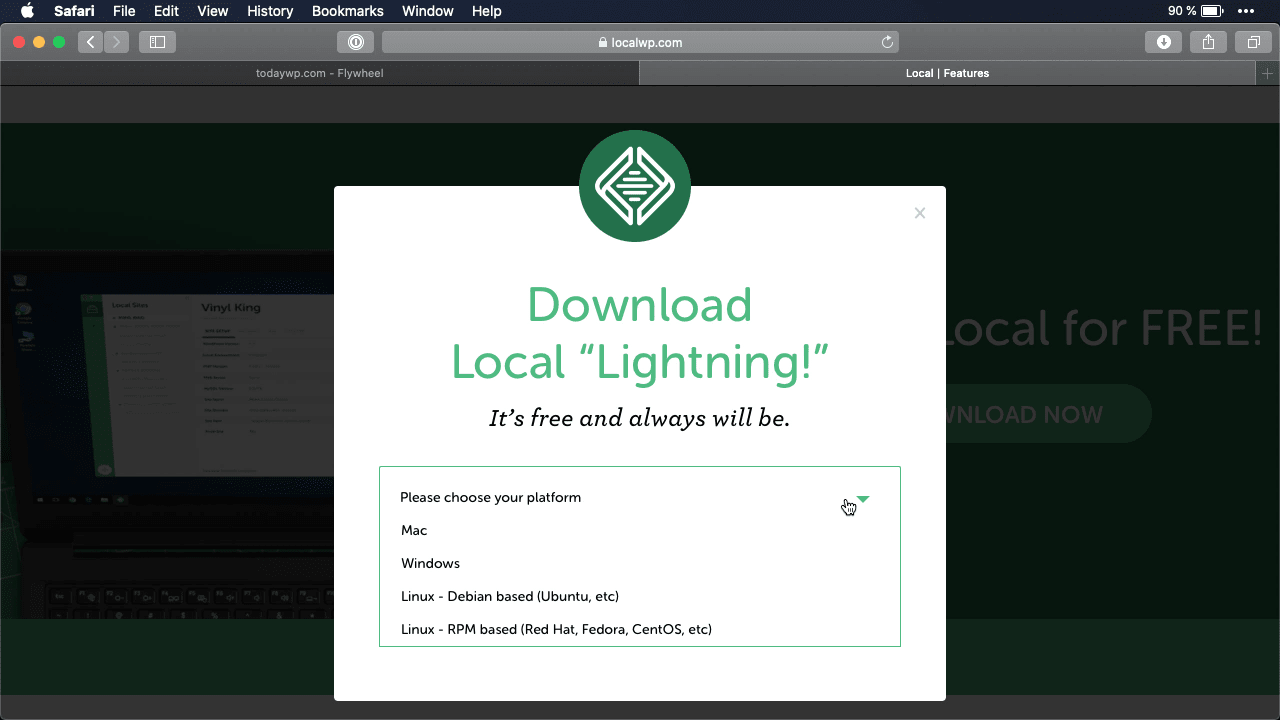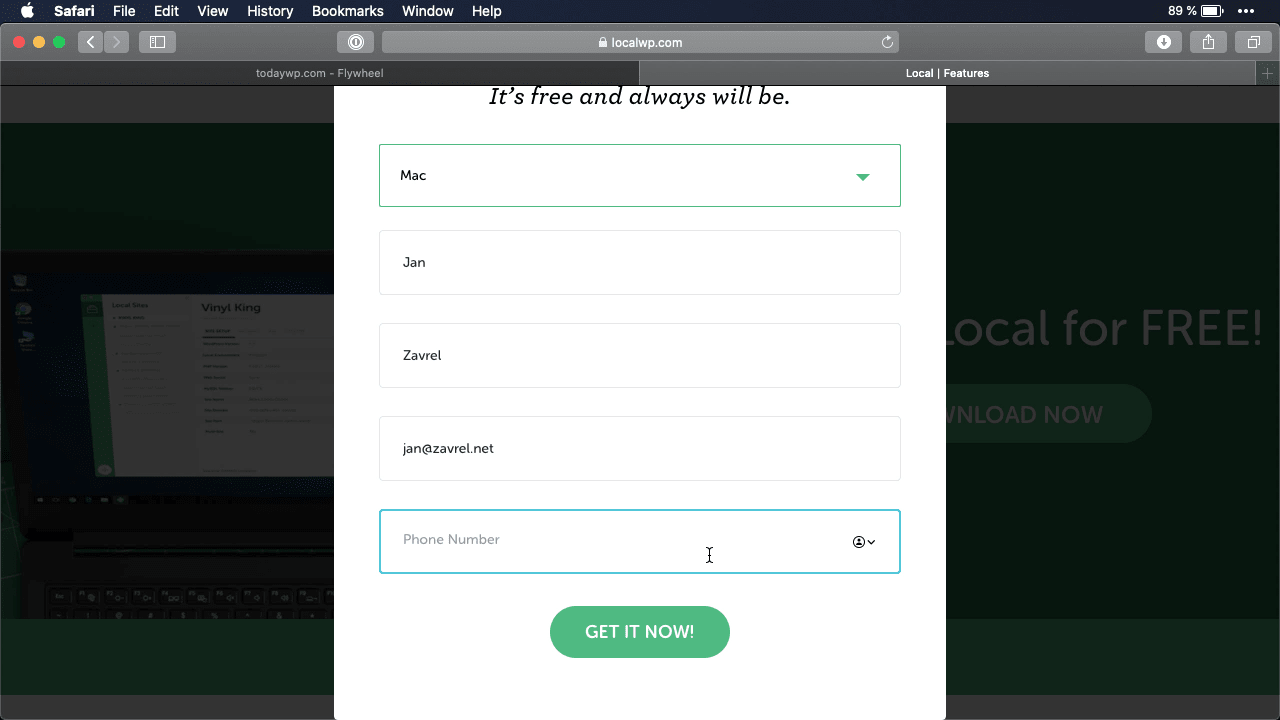 Once the installation package is downloaded, the rest is straightforward. On Mac, it's a matter of moving the app to the Applications folder, on Windows, you'll run the familiar installer.
I didn't test the Linux version, but Linux users don't usually need any tutorial regarding installation anyway 🙂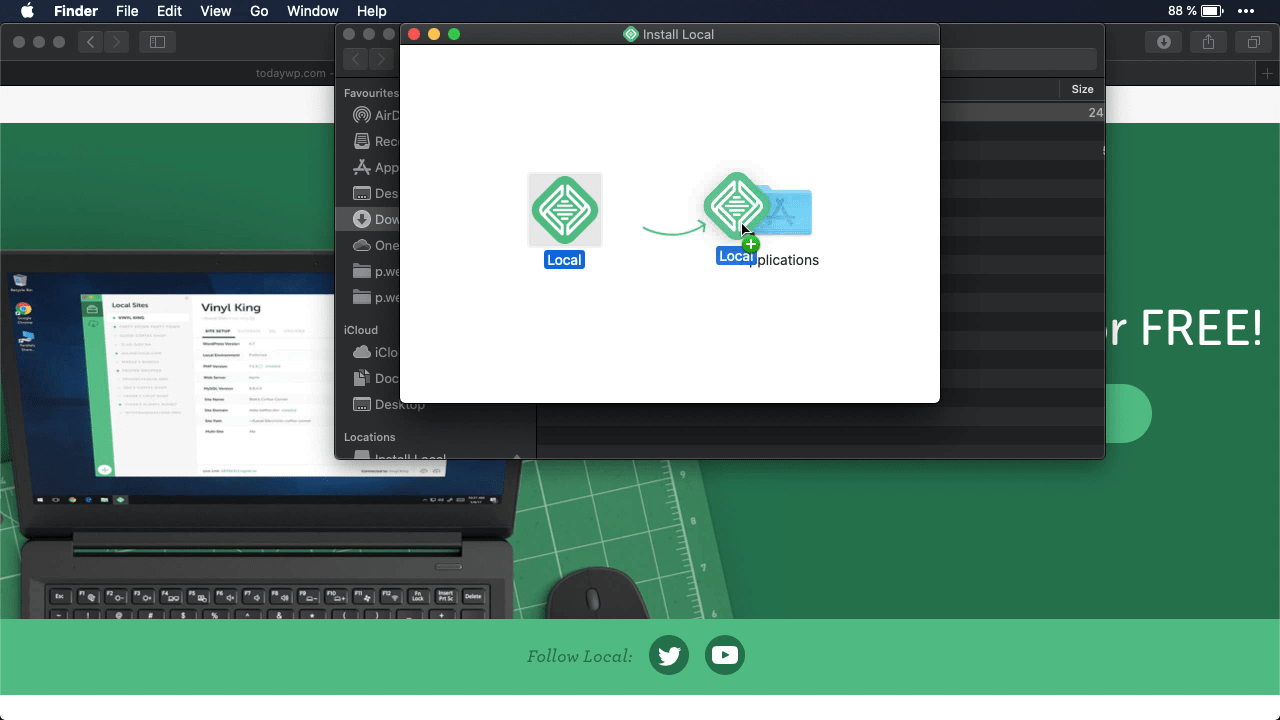 Once you run Local, you'll get a very clean and distraction-free window where you can create a new local version of WordPress website.
With Flywheel hosting account, it's much more fun, though, because you can connect your website with Local and download your whole WordPress website to your computer.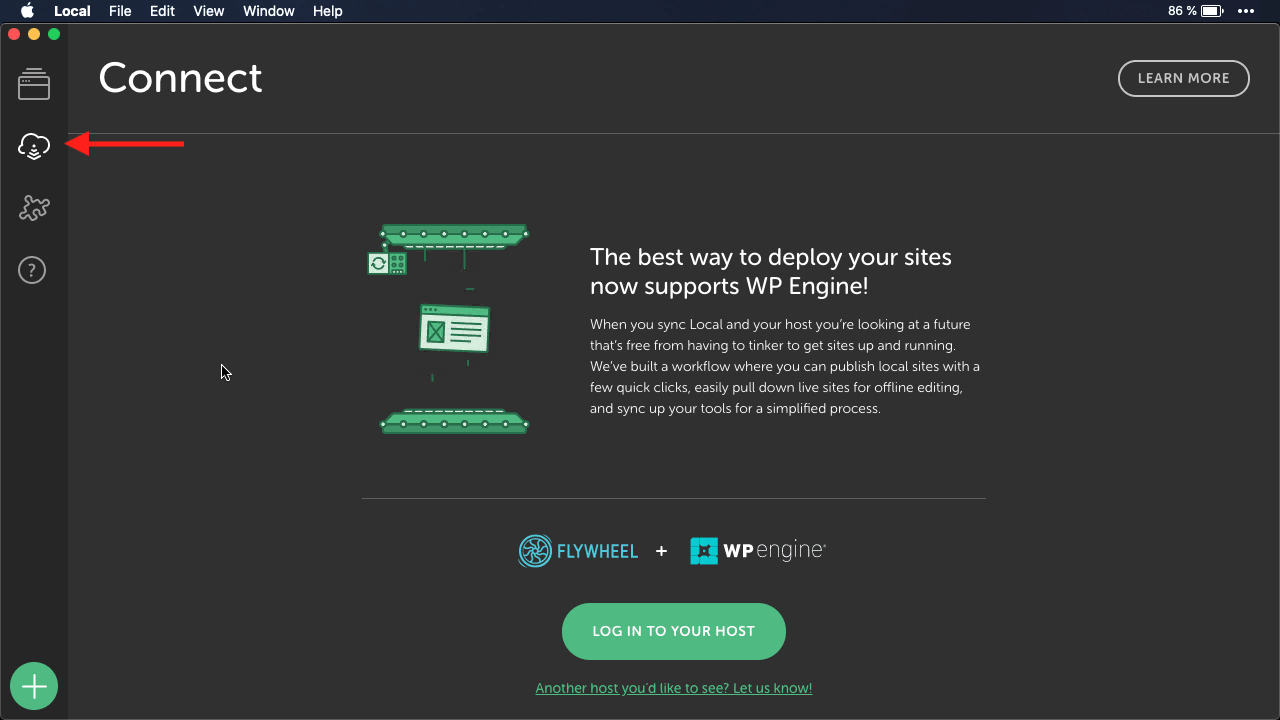 Since Flywheel is part of WP Engine product family, you'll get this feature not only with Flywheel hosting, but with WP Engine hosting as well.
Once you connect to your host, you'll be able to pull your WordPress website to Local.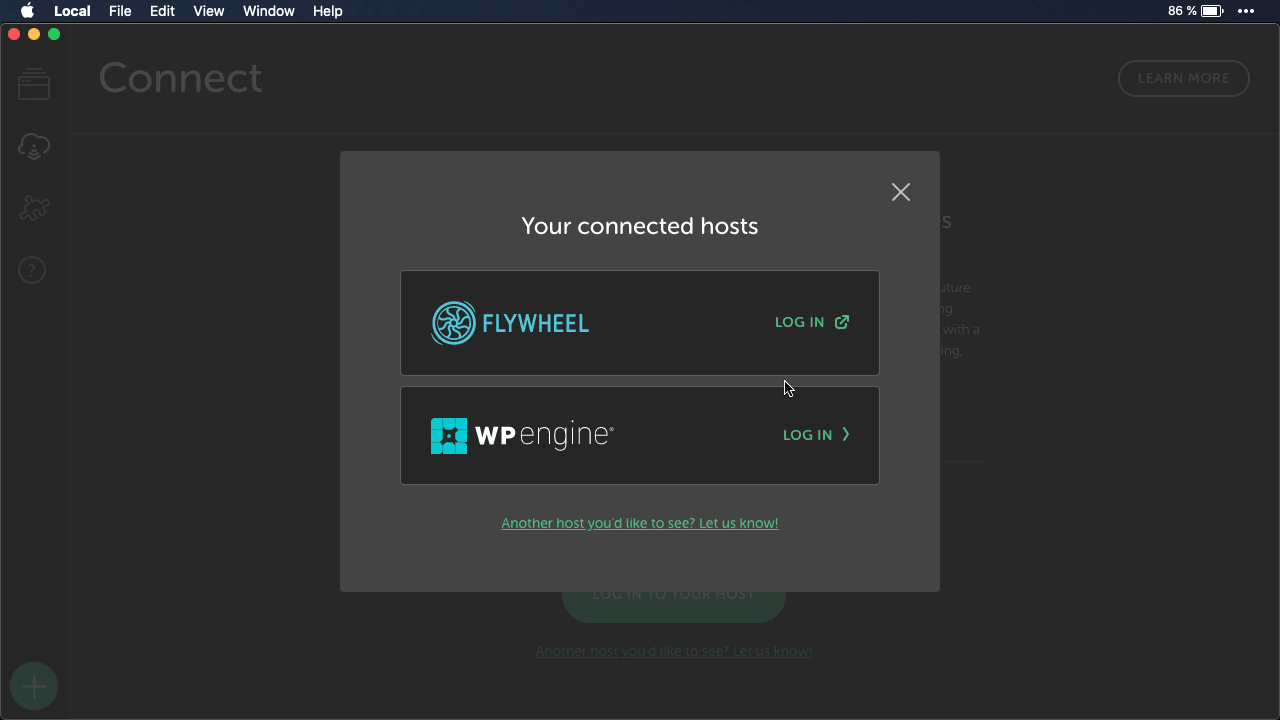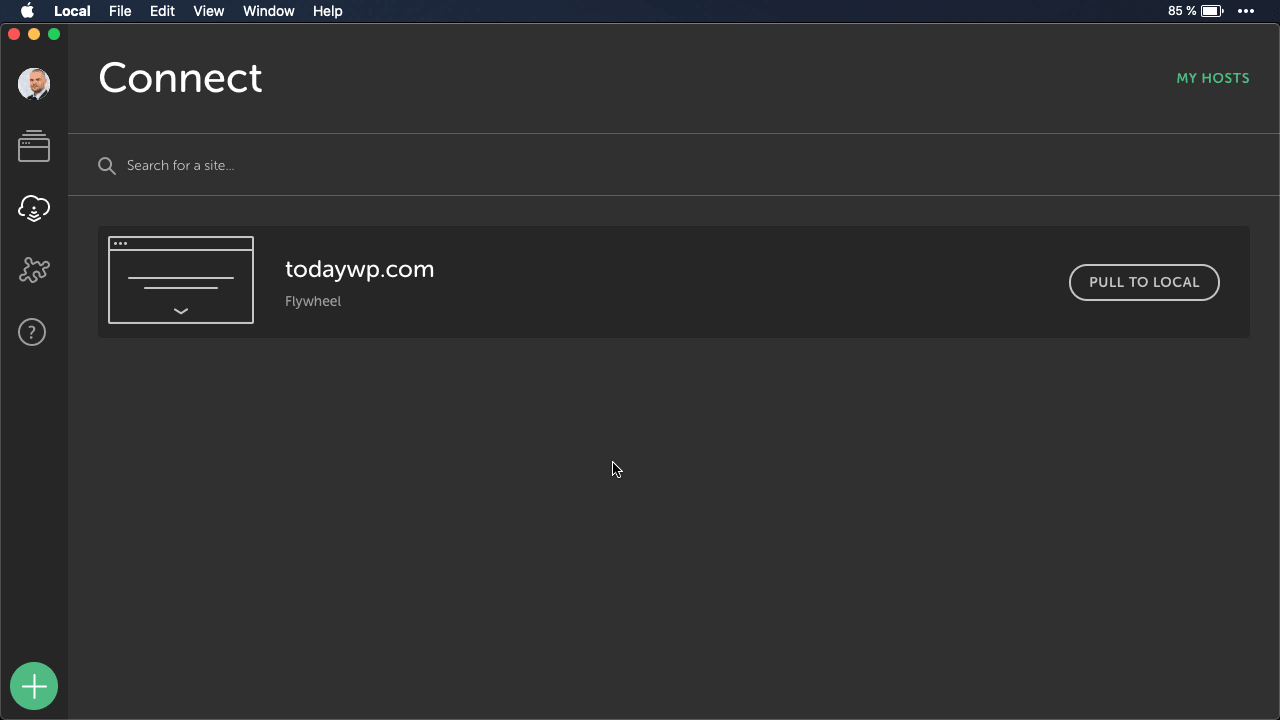 You'll be able to pull your website as a new local site or even as an existing site if you already have a local installation ready in Local. You can also choose whether you want to pull site from the production or staging version of your website.
Finally, in the Advanced options, you can change the default local site domain. Once you're done, click the Connect & Pull site button at the bottom-right corner.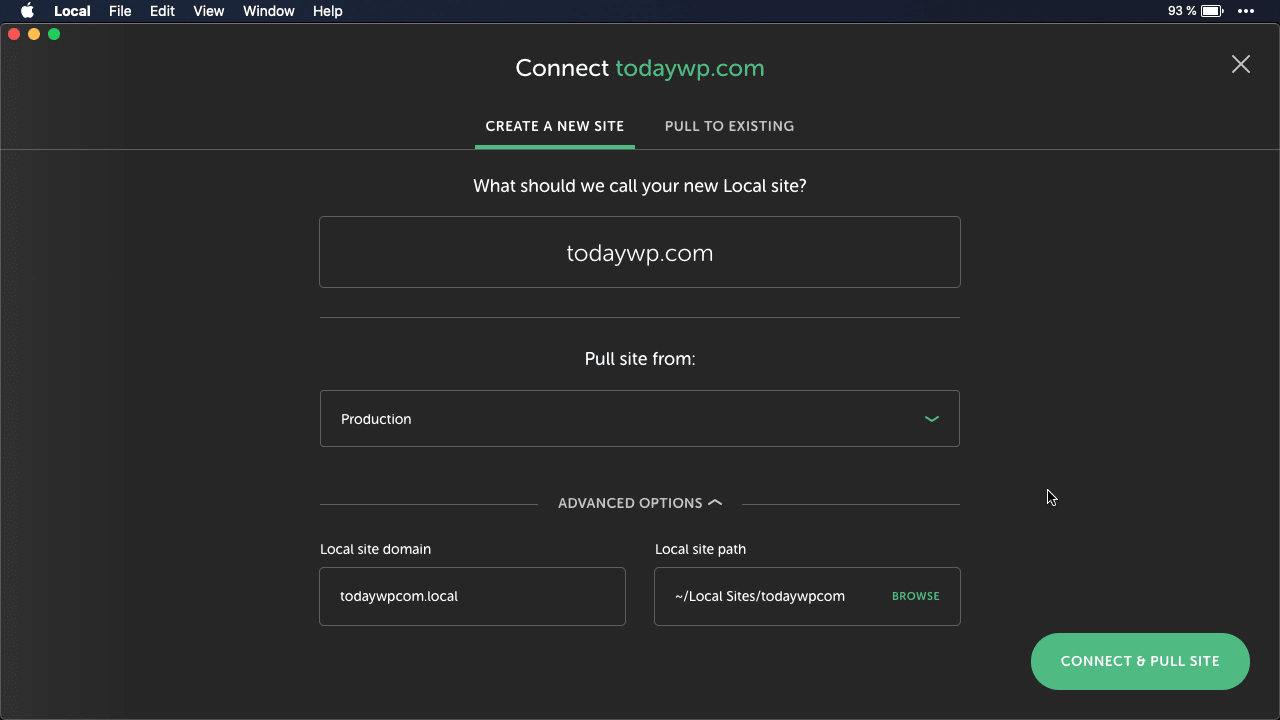 Based on the size of your website, it might take a while before it's pulled to your local machine, just sit back and wait.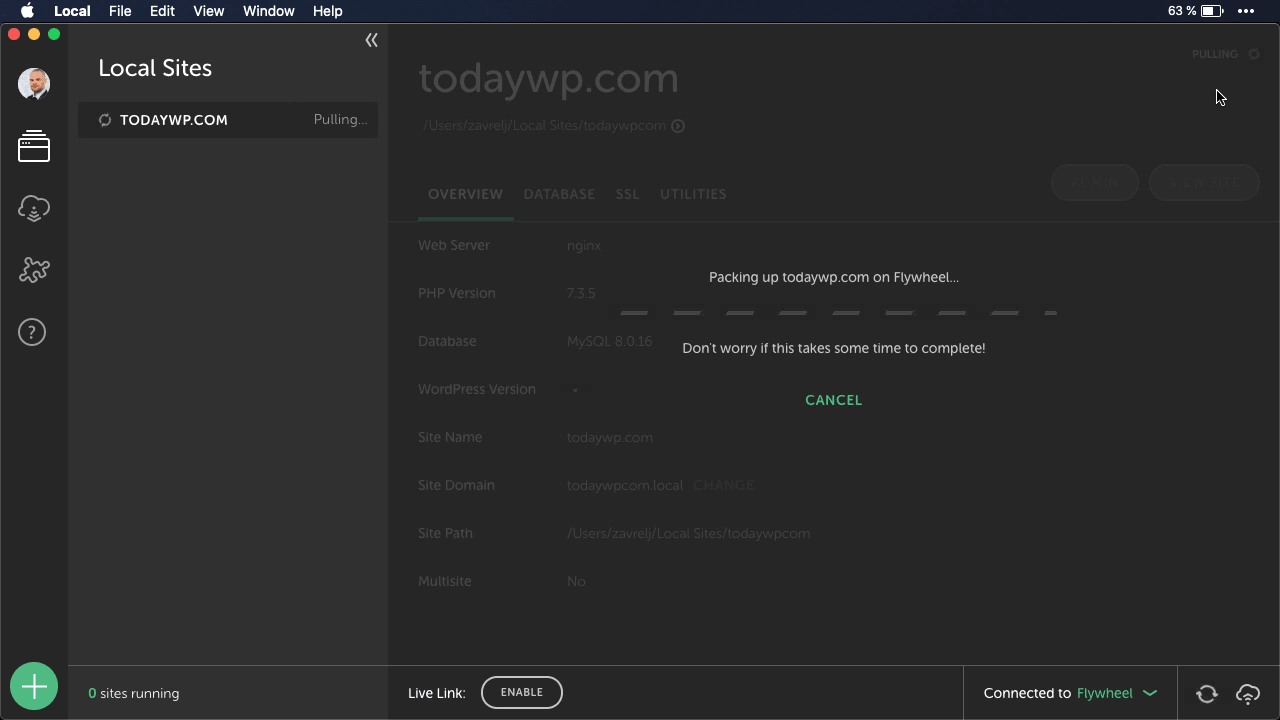 Once it's done, don't forget to Trust the Local SSL certificate so you can use your website with HTTPS protocol.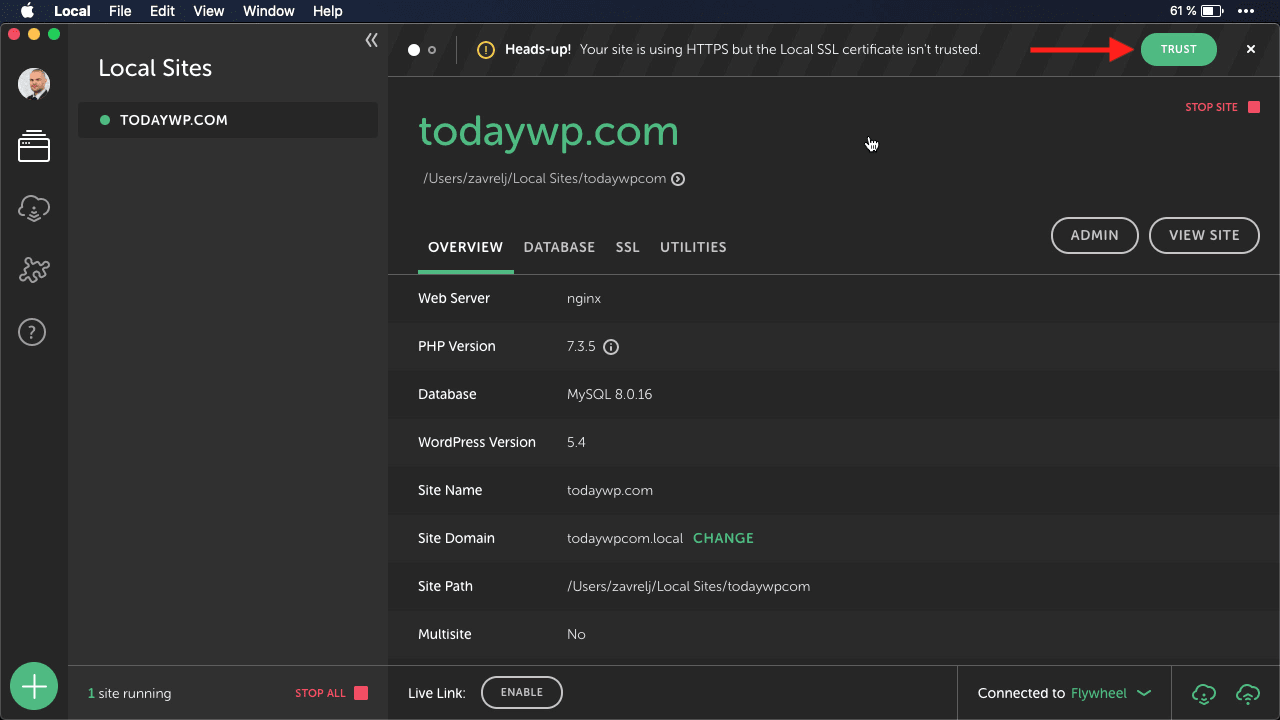 Finally, you can go directly to the Administration Dashboard and make some changes.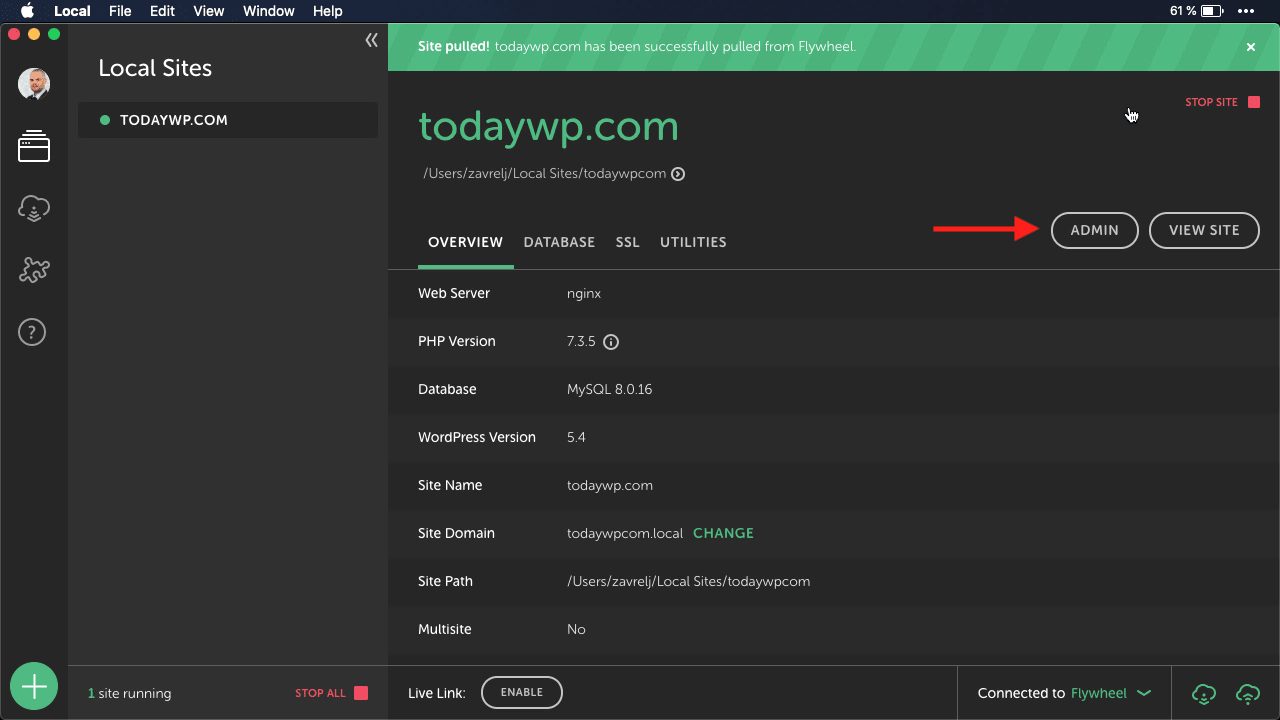 Since your local website is connected to Flywheel hosting, you can push the changes back by clicking the cloud icon at the bottom of Local.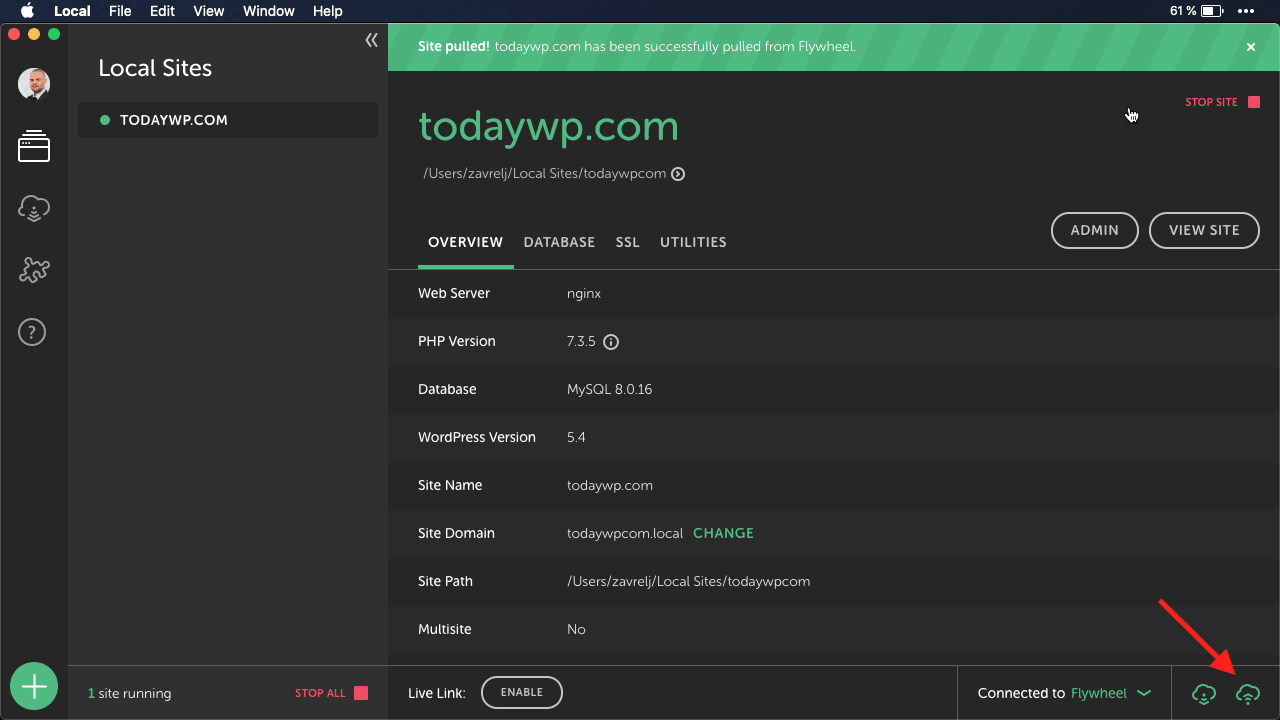 Conclusion
Flywheel is a very interesting option for those who take WordPress hosting seriously and don't want to settle with a general shared hosting solution.
Even though the Tiny Plan is somewhat limited, for $15 per month, it's a great entry opportunity to the world of managed WordPress hosting with some very attractive perks like the selection of premium StudioPress themes and the ability to make changes to your website locally before pushing them back to the Internet.