SiteGround is one of the most reliable shared hosting providers who recently adopted the strategy of offering something called Managed WordPress Hosting.
It's actually a no-brainer. WordPress is the most famous publishing platform and hosting providers try to attract new customers to their services by offering easy-to-install WordPress hosting.
Do you prefer a video?
You can say that these days, every shared hosting provider offers some flavor of WordPress hosting.
In most cases, this means that you'll get some tool that will help you with the WordPress installation process or even pre-install WordPress for you so you just enter your administration credential and you're ready to start publishing your content.
This is not a truly managed WordPress hosting by my criteria, but hey, it's a good idea to make the whole setup easy for non-technical customers, so I have absolutely nothing against it.
On the other hand, you can't make sure whether you get a managed WordPress hosting or just some scripts on top of the regular shared hosting without focusing on the price.
Disclosure: Please note that some of the links in this post are affiliate links for products I use and love. This means if you click on such a link and take action (like subscribe, or make a purchase), I may receive some coffee money at no extra cost to you. This helps me creating more content free of charge to you. And, as an Amazon Associate, I earn from qualifying purchases. Thanks for your support!
Truly managed hosting solution usually offers dedicated resources, automatic scalability, high availability, auto-healing, and other premium features that you will hardly find on shared hosting marketed as managed hosting.
If you want a real deal, you'll have to pay for it. The best managed hosting providers are:
However, you can still get decent performance with regular shared hosting providers, like:
I consider these the middle-class of hosting services. These three hosting providers are officially recommended by WordPress.org itself. Let's compare their entry plans for WordPress hosting.
| Provider | Price per month | Storage | Monthly visits | Traffic limit |
| --- | --- | --- | --- | --- |
| SiteGround | $8.95 | 10 GB | 10.000 | Unmetered |
| Bluehost | $7.30 | 50 GB | Unmetered | Unmetered |
| DreamHost | $6.99 | 50 GB | Unmetered | Unmetered |
Today, I will walk you hrough the setup process of SiteGround hosting, so let's get started.
Creating an account
Navigate to the siteground.com and select Managed WordPress Hosting from the list of products to get started.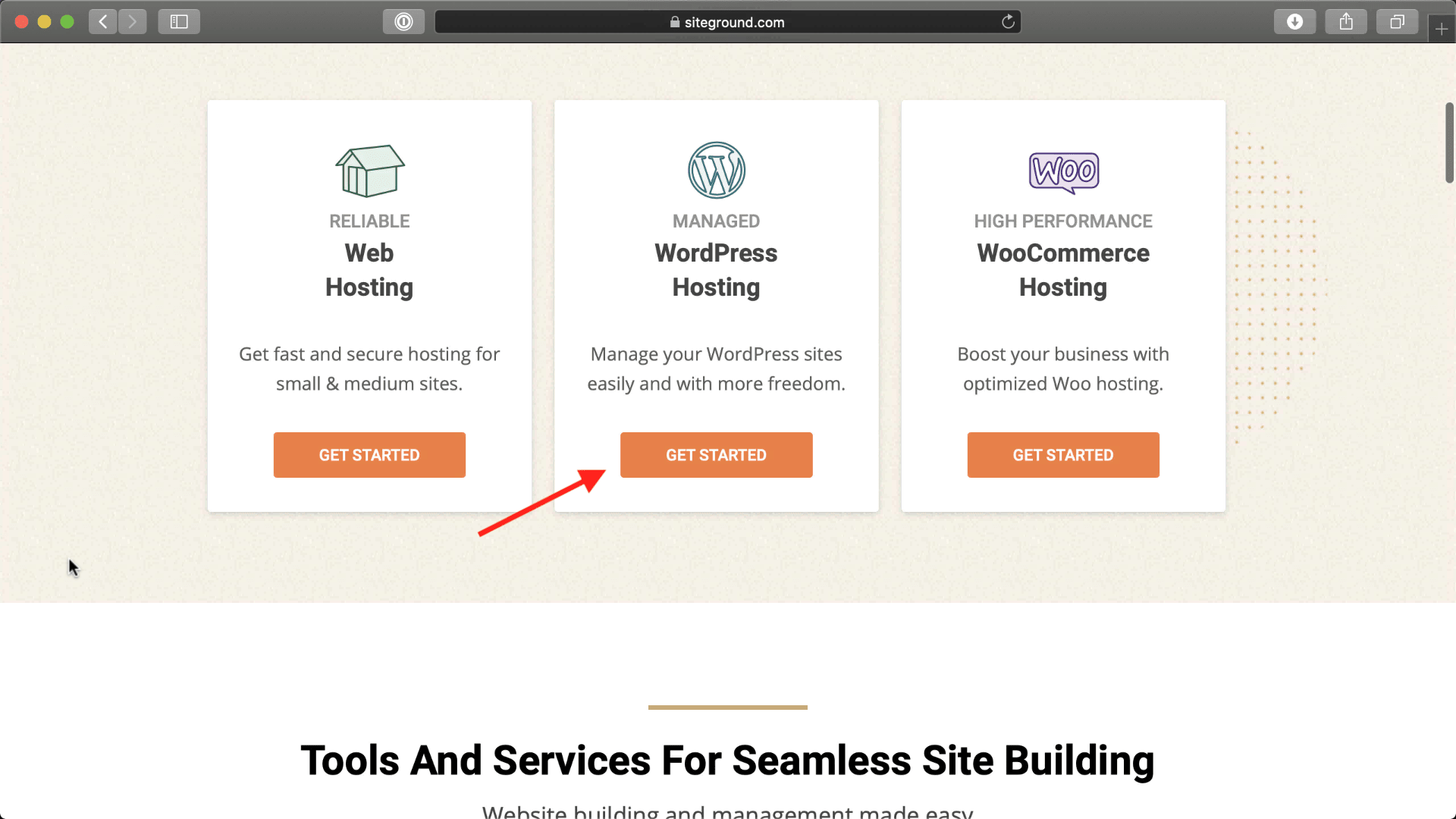 On the new page, select the cheapest StartUp plan which offers 1 website with 10 GB webspace and 10.000 monthly visits.
That should be plenty for a new website and you can always switch the plan later or migrate to another hosting provider.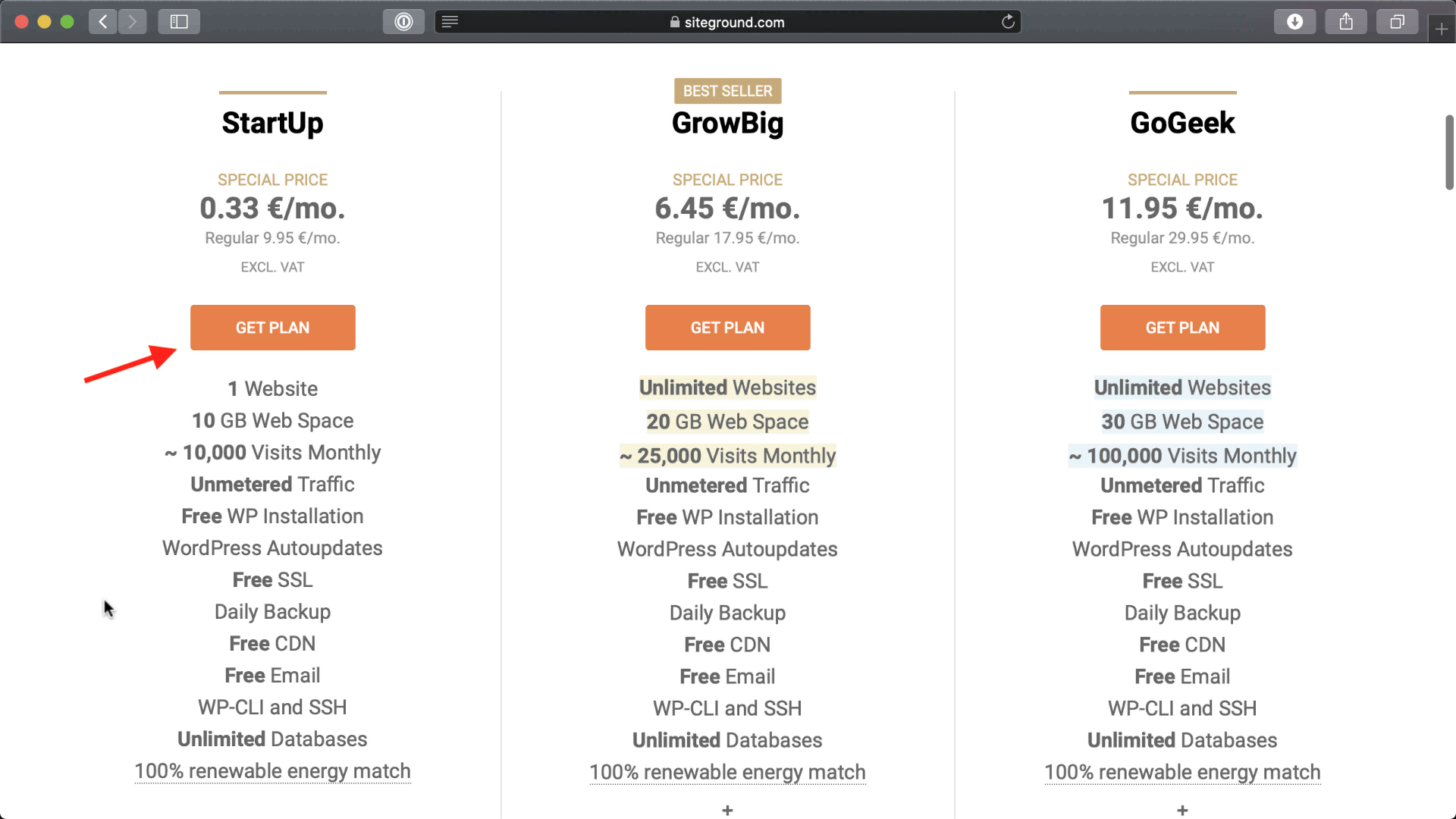 The next step is to choose your domain. Either you already have one that you can connect to your hosting or you can buy a new one.
Considering the steep price, though, I strongly recommend against it. You can get far better deal with Porkbun, including free WHOIS privacy protection, so don't waste your money here and if you don't have your domain name yet, go ahead and get one via Porkbun.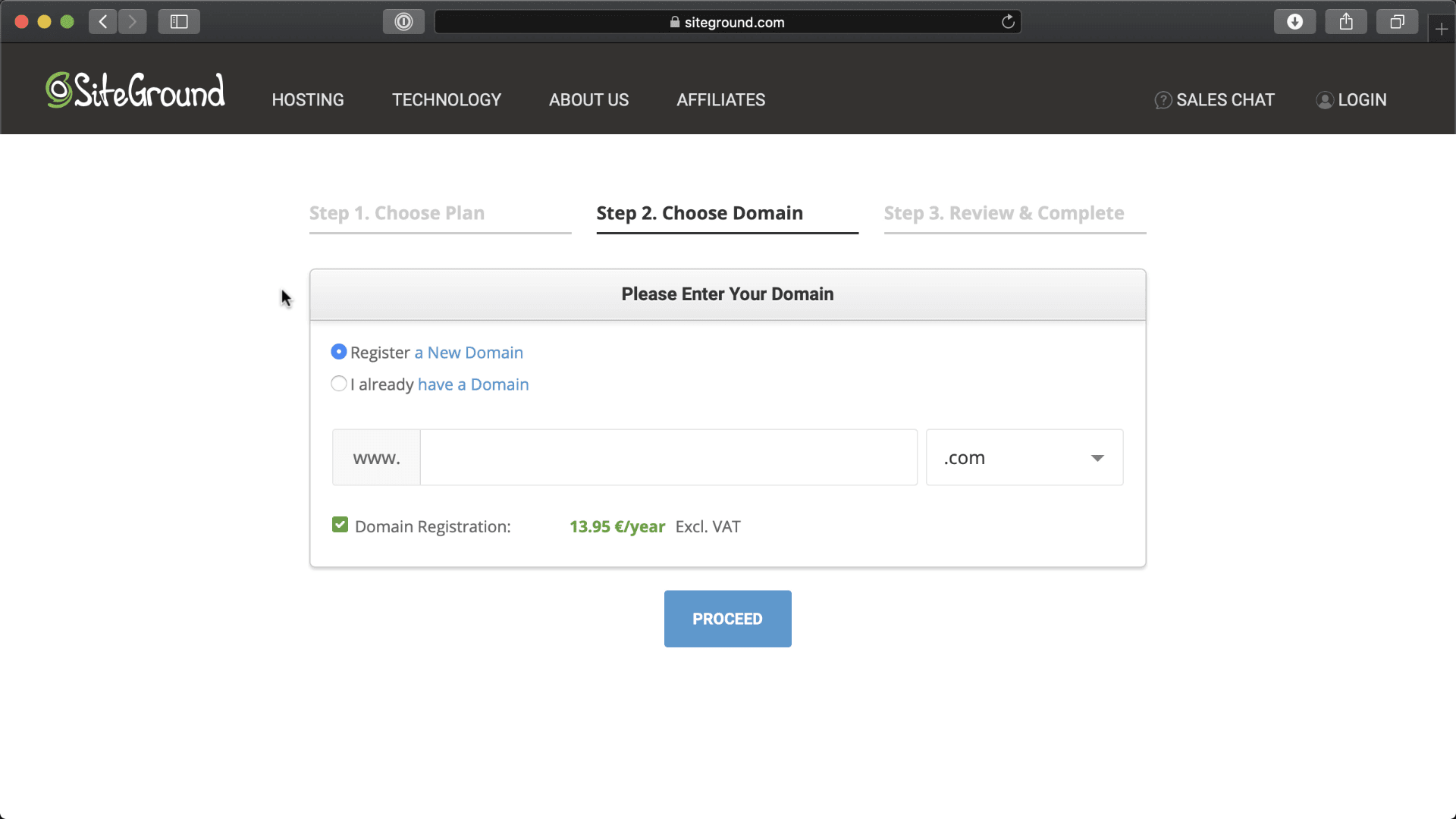 In case you already have your domain, just type its name and hit the Proceed button.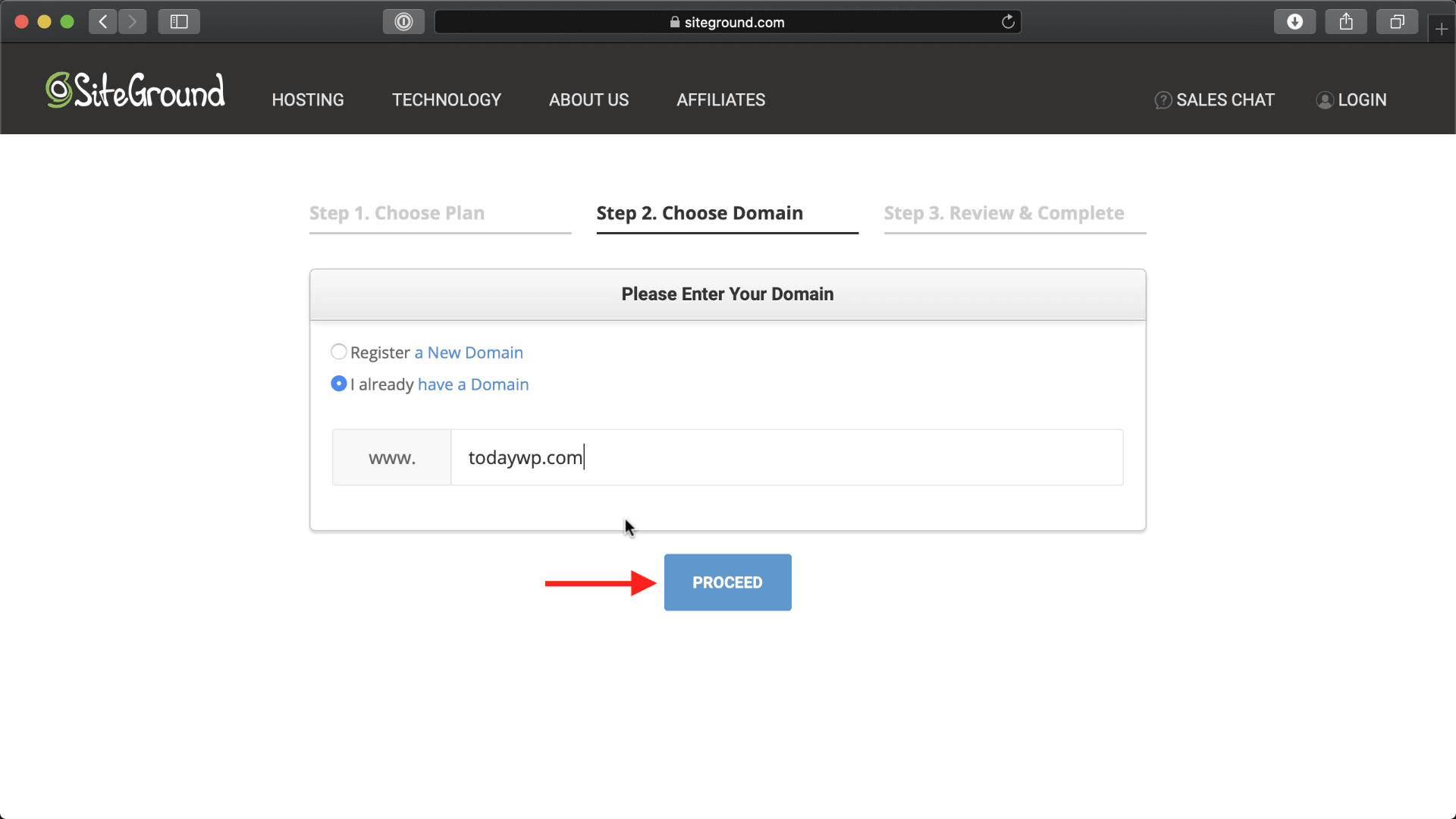 Finally, fill out the information in the Contact & Payment form and hit the Pay Now button.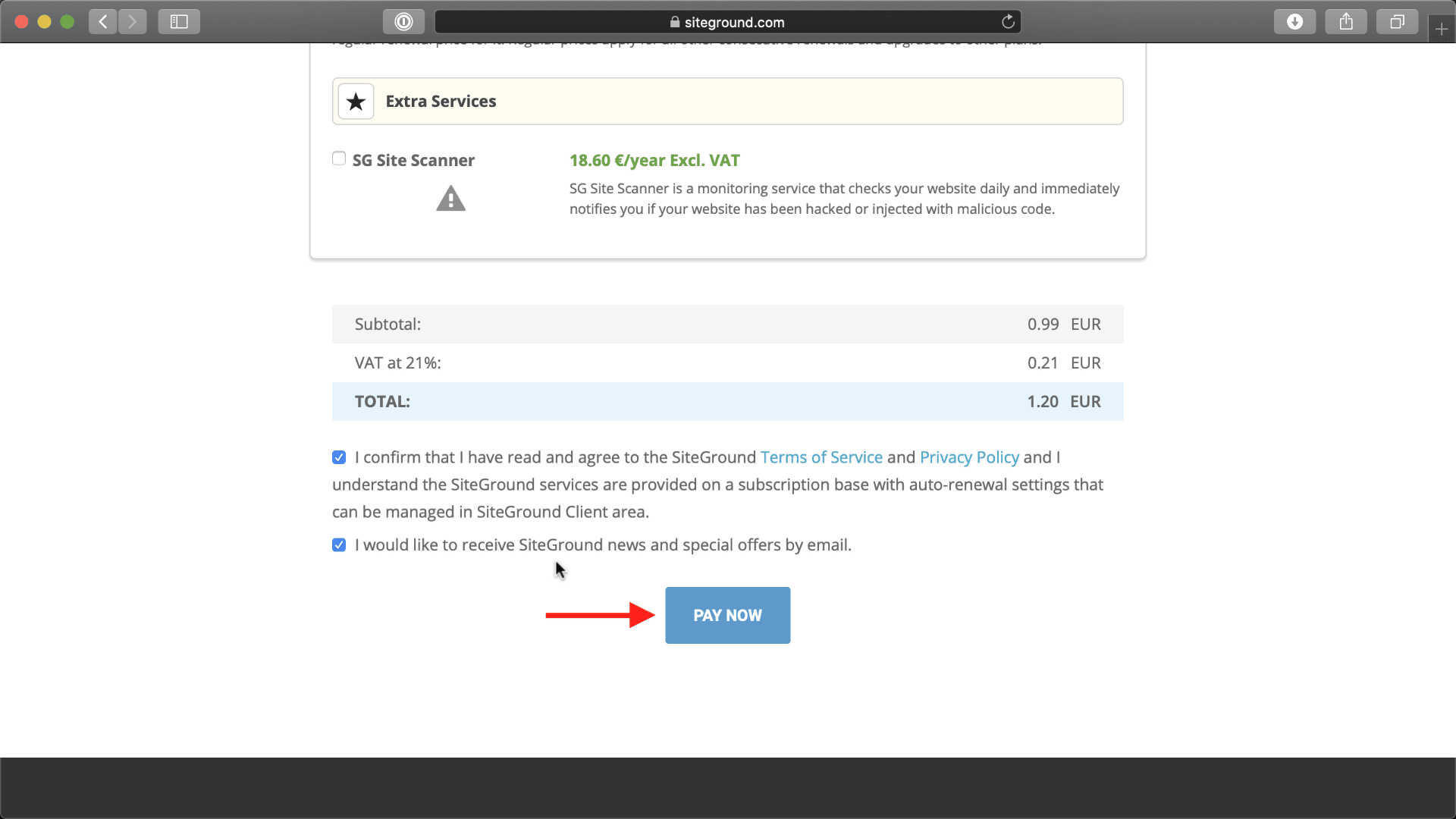 Once your account is created, you can proceed to the Customer Area.
Setting up website
In the next page, you can set up your WordPress by either creating a brand-new site or by migrating the existing one to SiteGround. Hit the Set Up Site button to begin.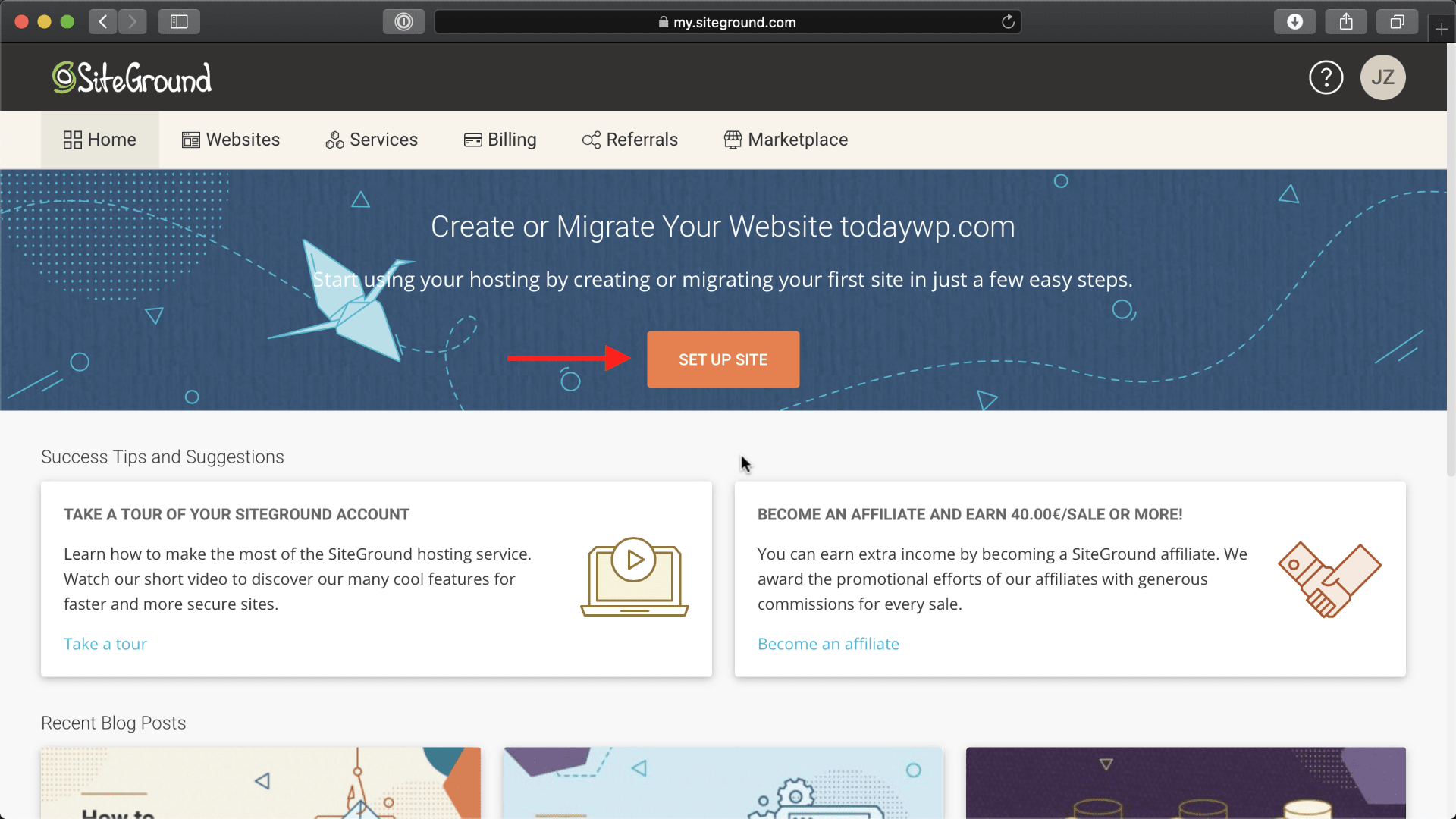 Next, select the Start New Website option, and select WordPress app. As you can see, you're not limited to WordPress here. You can choose WordPress with WooCommerce, create a unique website with Weebly Sitebuilder or pick something wholly different.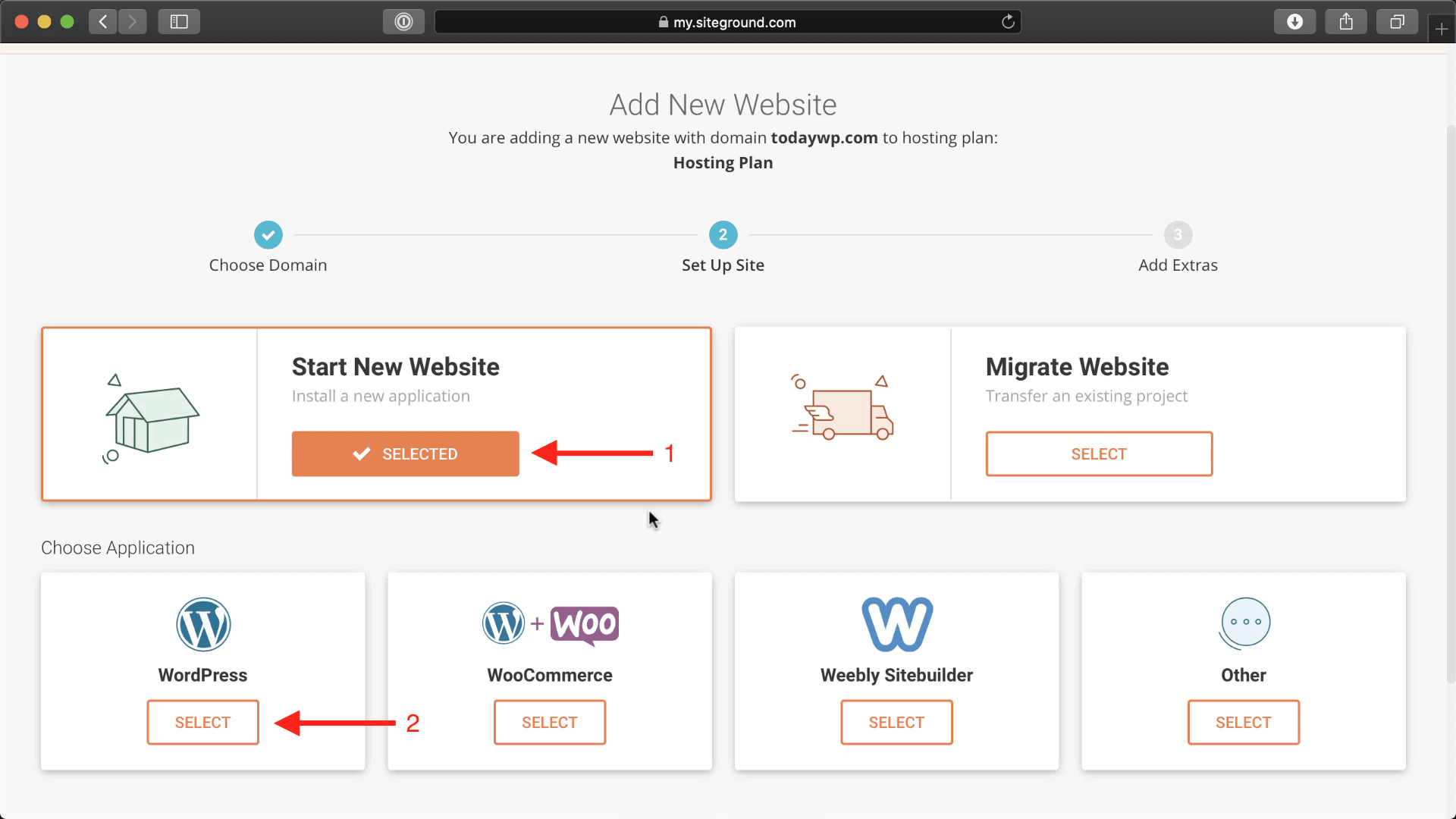 Finally, scroll down and create the admin account to access your Dashboard. SiteGround forces you to use your email address, and for a good reason, because using the default admin username is a bad idea.
Also, you should pick some hard-to-guess password, but to make your WordPress more secure, definitely read How to Secure Your WordPress Website with Cloudflare & Jetpack once you finish the setup. Once you're done, click the Continue button.
Don't buy the SG Site Scanner, it's not worth your money, and a real managed WordPress hosting should have this feature included automatically anyway.
These upselling tactics are very popular with cheap shared hosting plans and even though SiteGround is not the worst offender in this field, they apparently couldn't resist here. Simply hit the Finish button instead.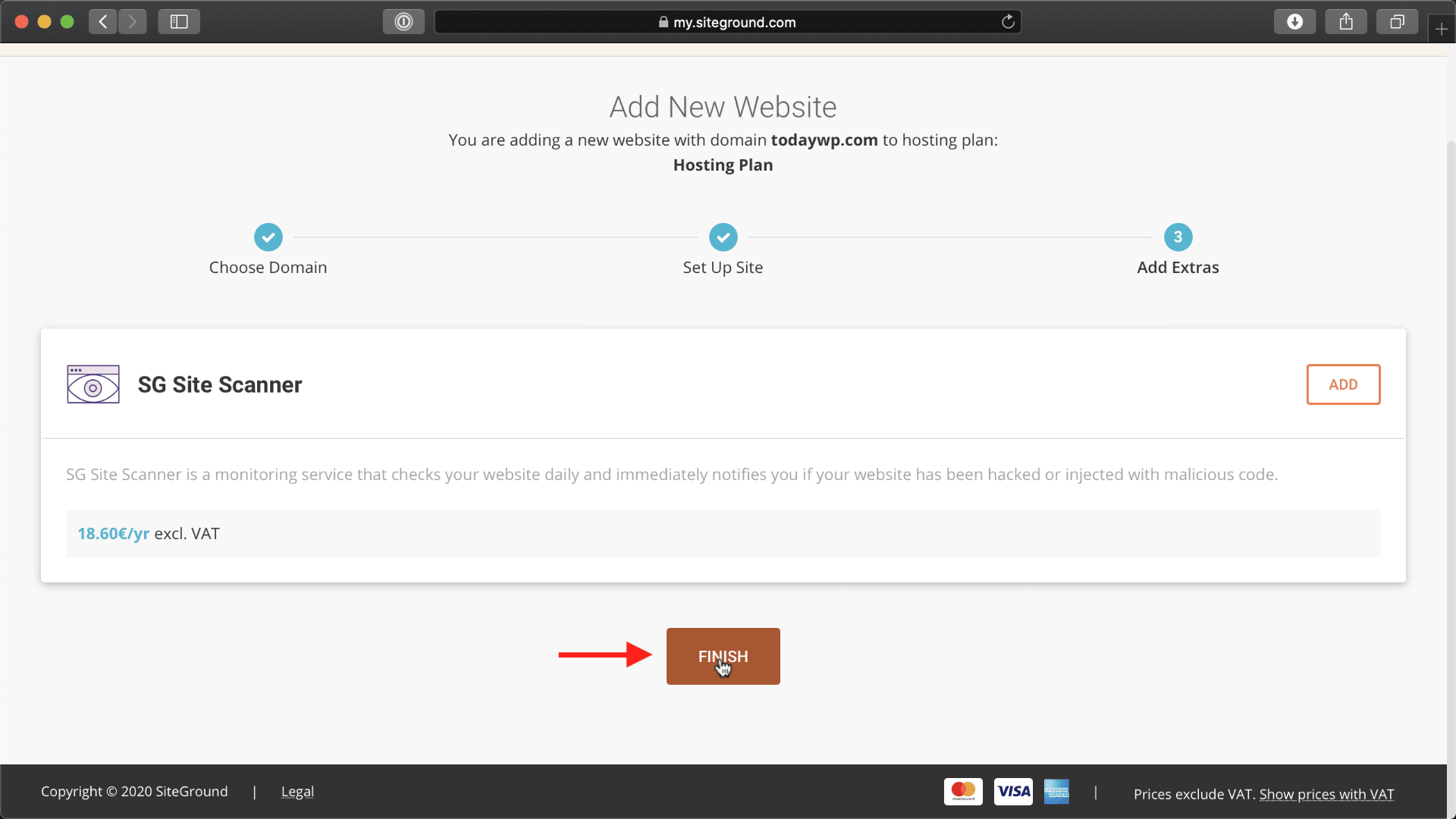 Now, you'll need to wait while your new website is being created. They say it takes less than 2 minutes, and it was done in 40 seconds in my case, so thumbs up here.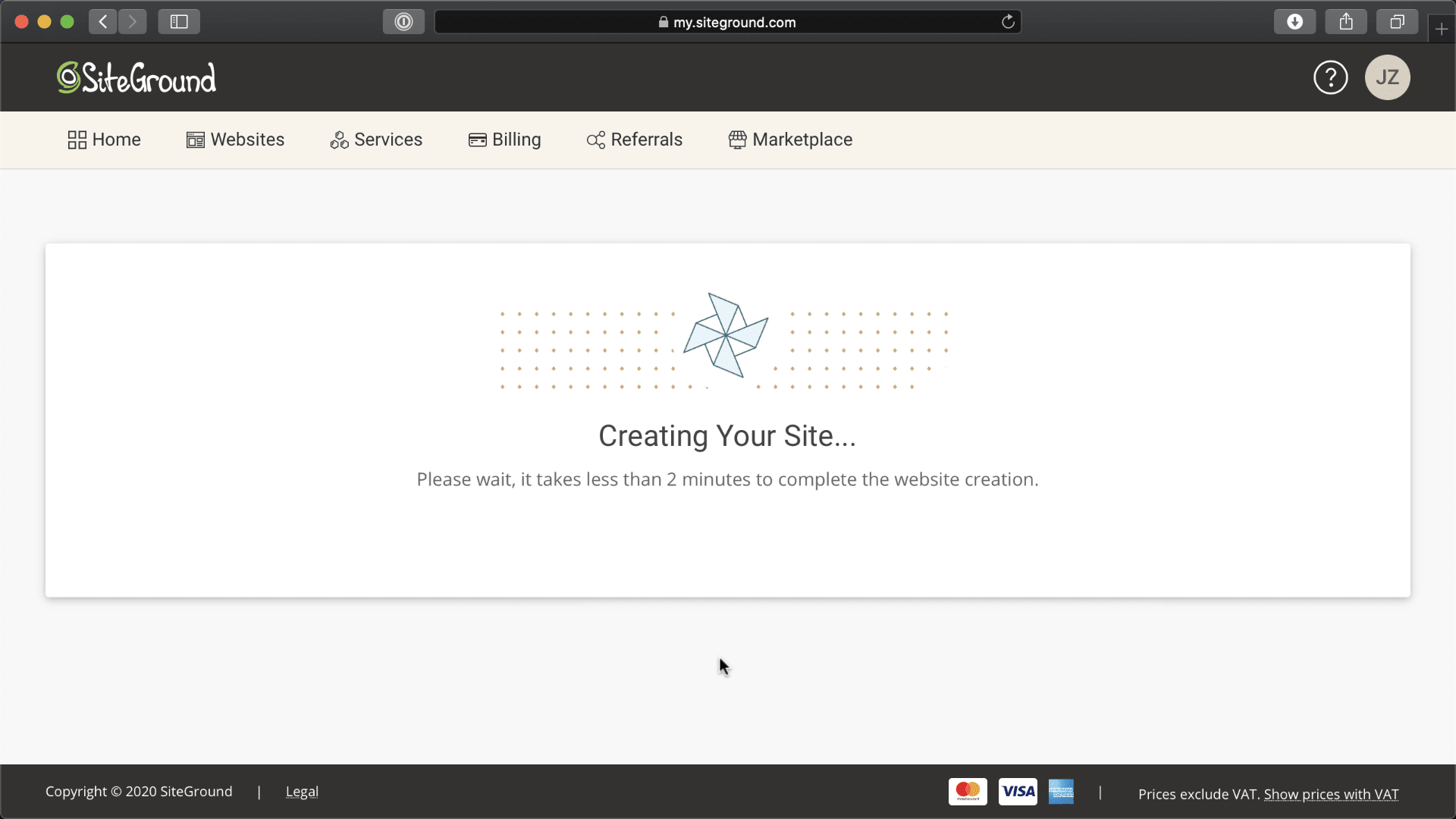 Once it's done, it's a good idea to start with pointing your domain to your newly created website. You just need to place those two nameserver addresses to your domain settings. Depending on your registrar, this process can be quite different.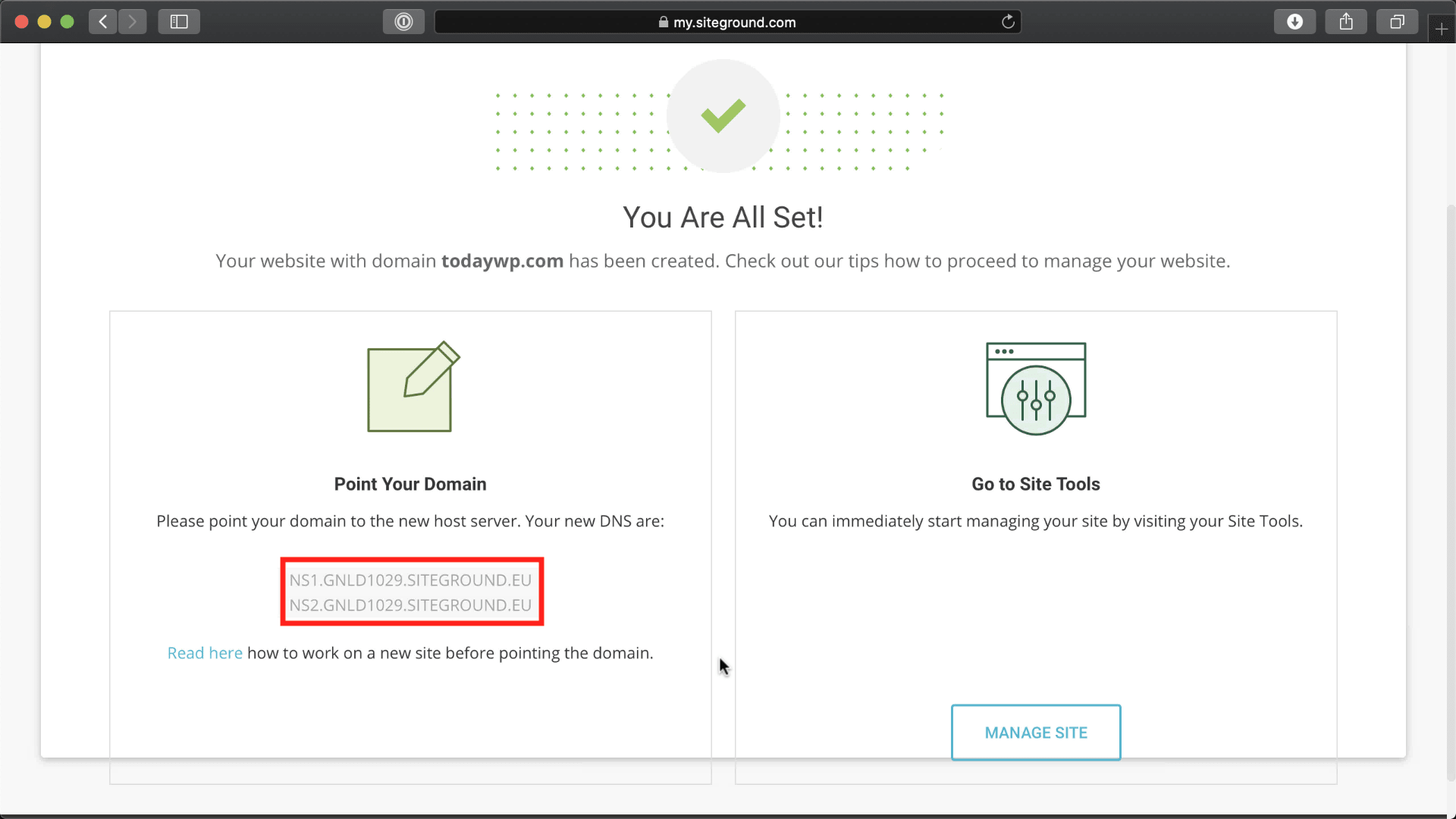 In case you're using the Porkbun registrar, which I recommend, the whole process is very easy. Just hit the Details button next to your domain name and Edit Authoritative nameservers.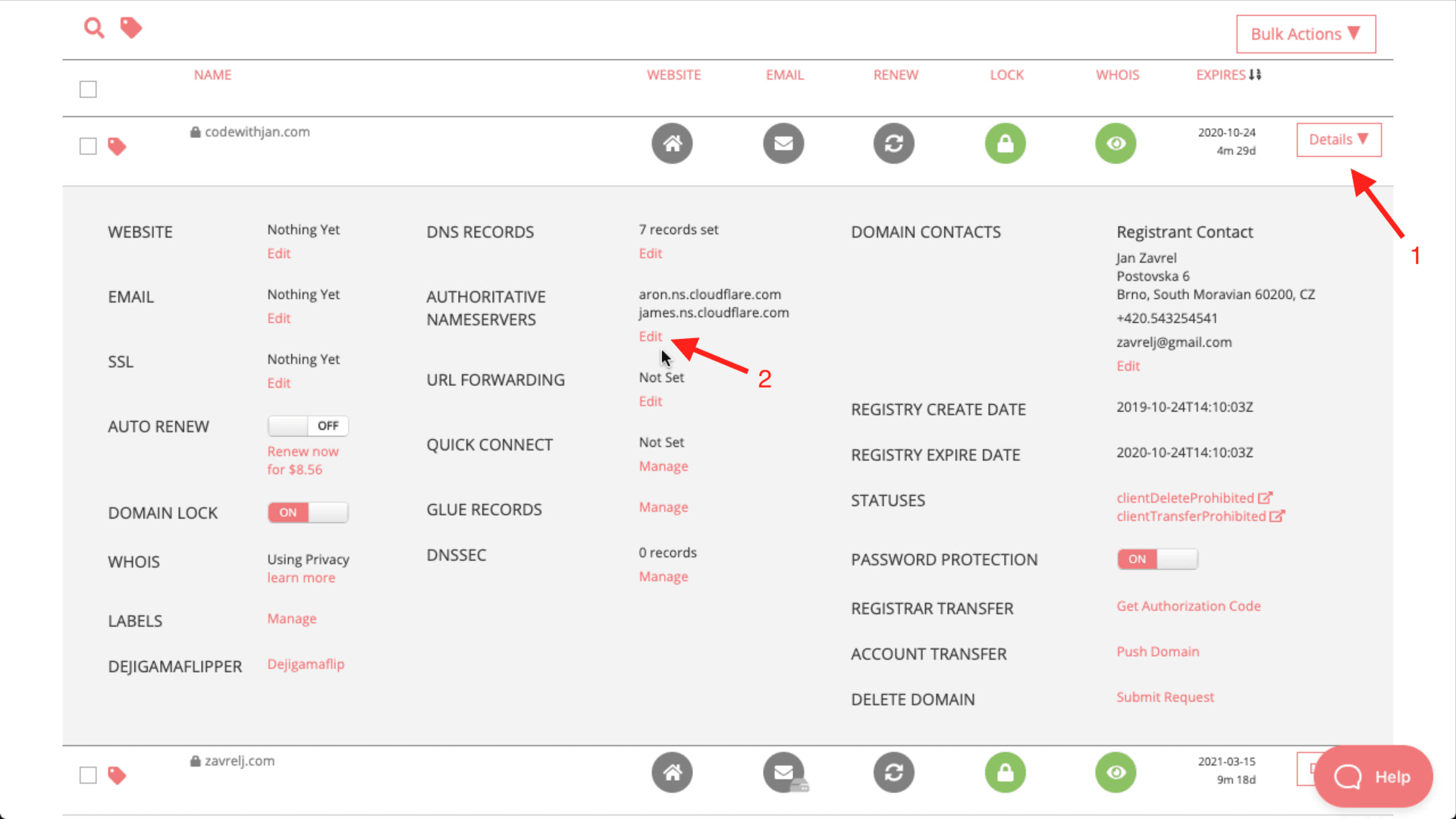 In the new window, copy & paste the nameservers from your SiteGround setup page and hit the Submit button.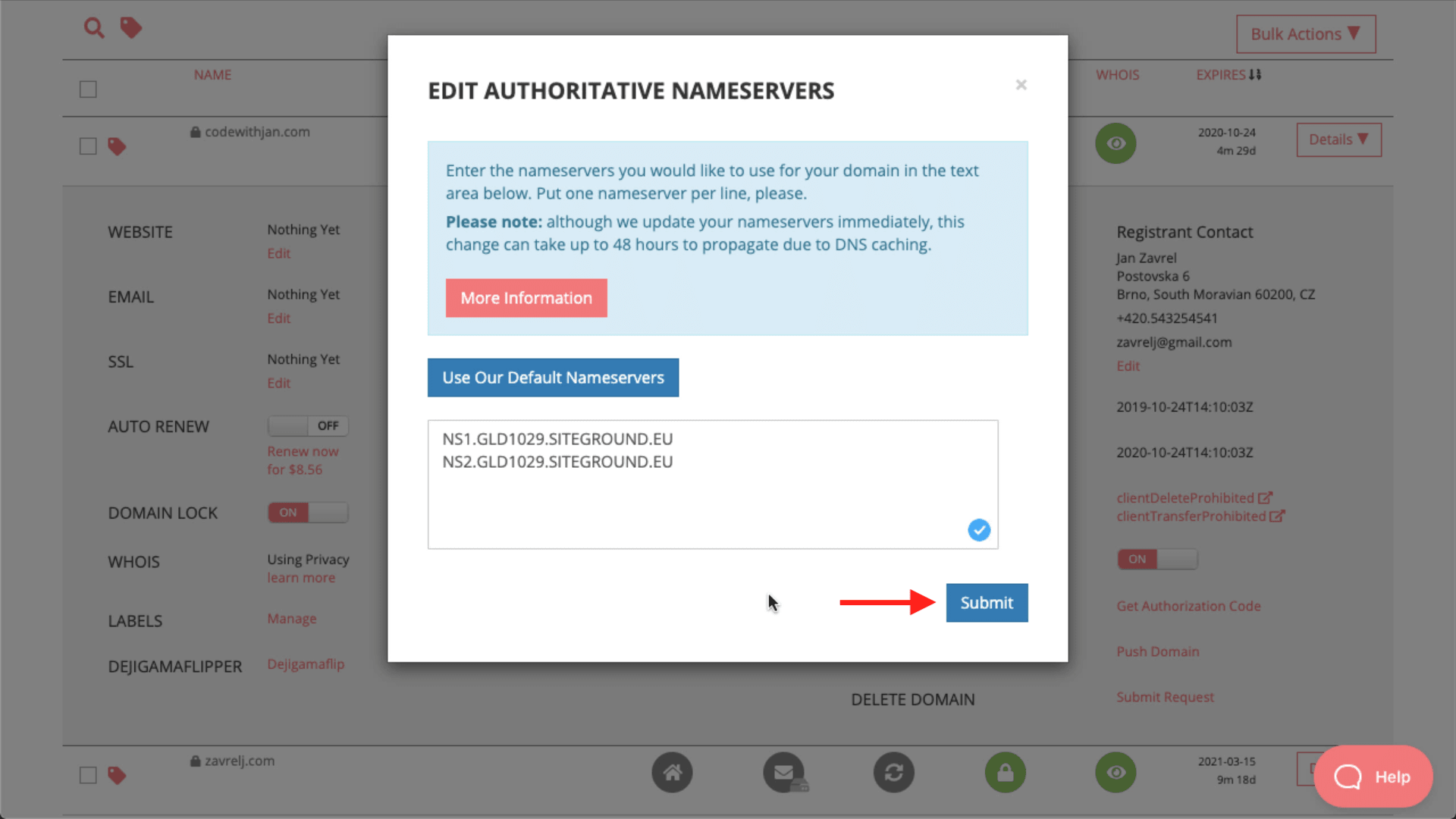 It might take up to 48 hours before these changes got propagated through the Internet, but it should be much faster, like an hour or two.
Once it's done, navigate to Websites in your SiteGround dashboard and select Site Tools to access your WordPress installation.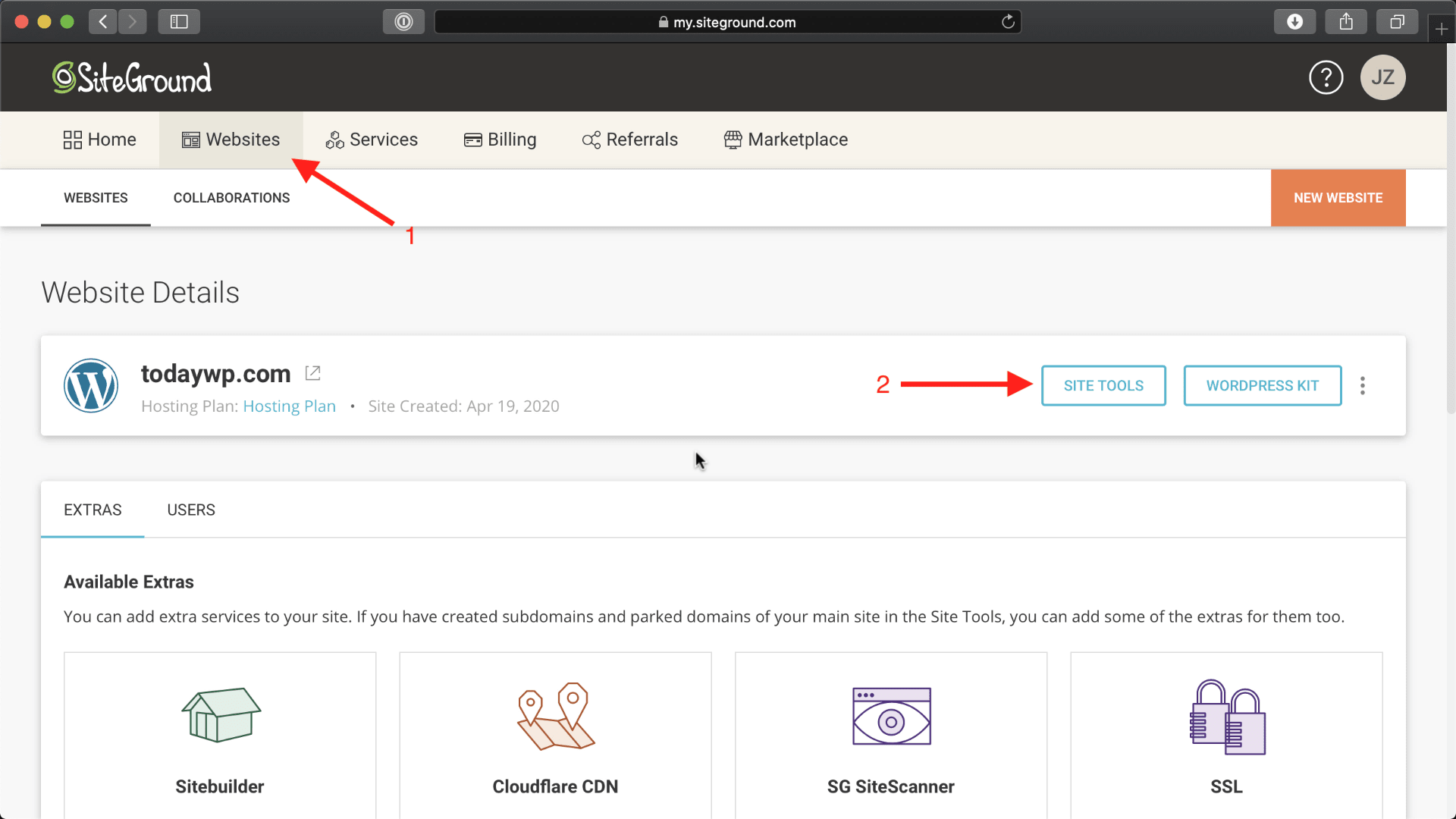 Go to the WordPress section, click the Install & Manage link, scroll down and click the icon at the right to log in to the Admin Panel.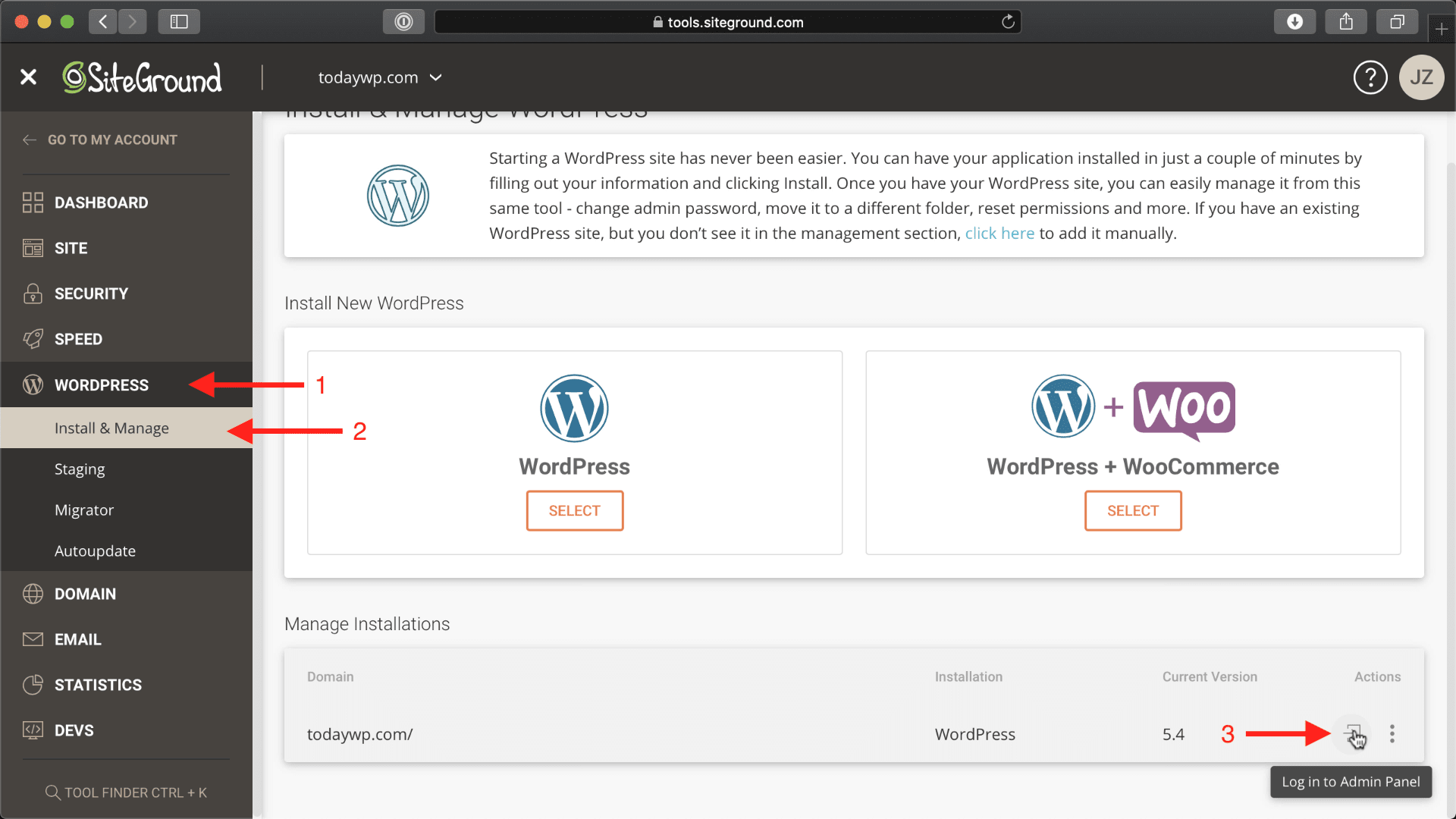 WordPress Starter
Unlike with regular WordPress installation, SiteGround's flavor of WordPress offers an easy onboarding called WordPress Starter which will help you select design and plugins. Let's see what it does by hitting the Start Now button.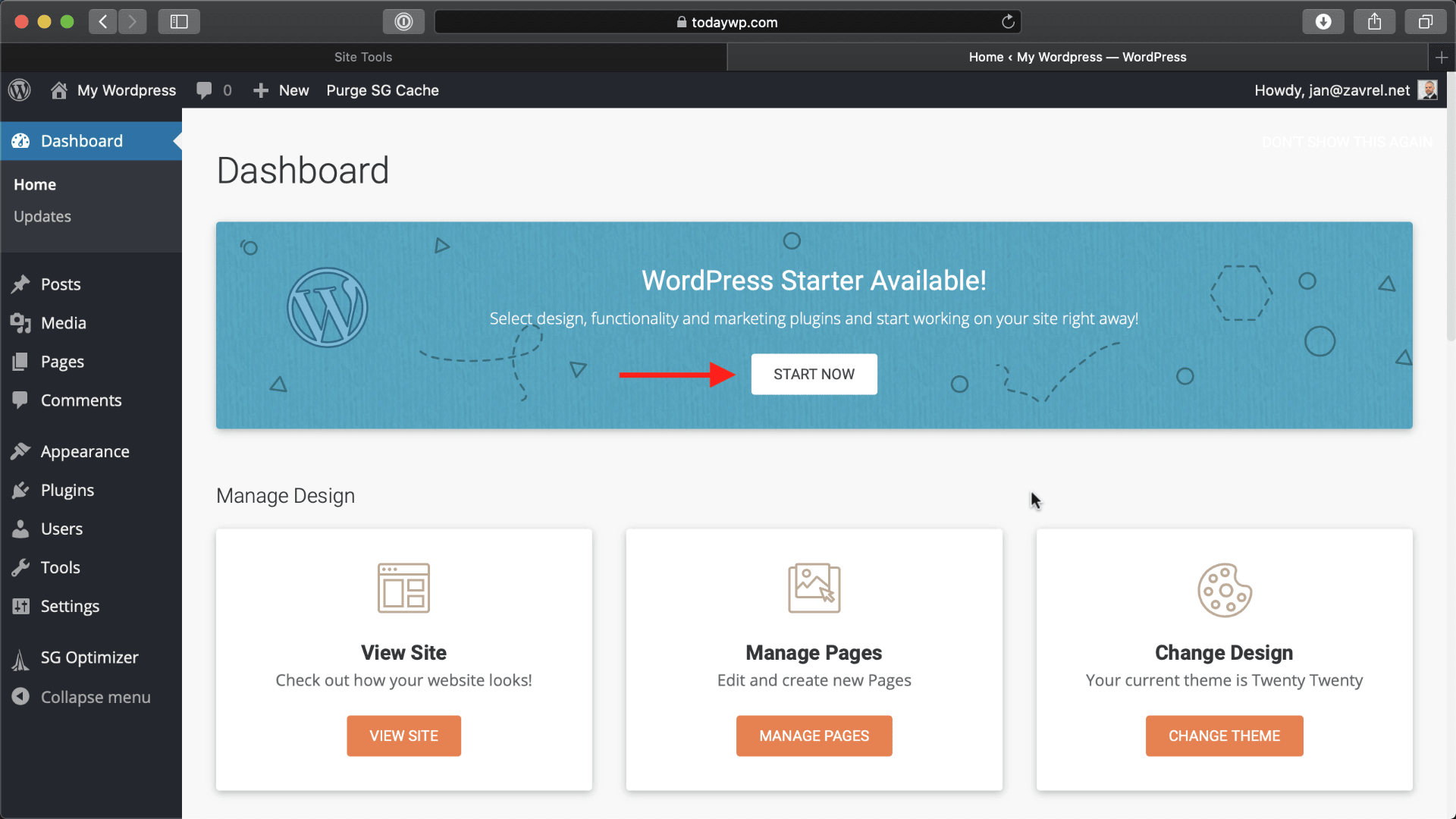 On the next page, hit the Start Now button again. If you ask me, this page is totally meaningless because you don't get any new information from it.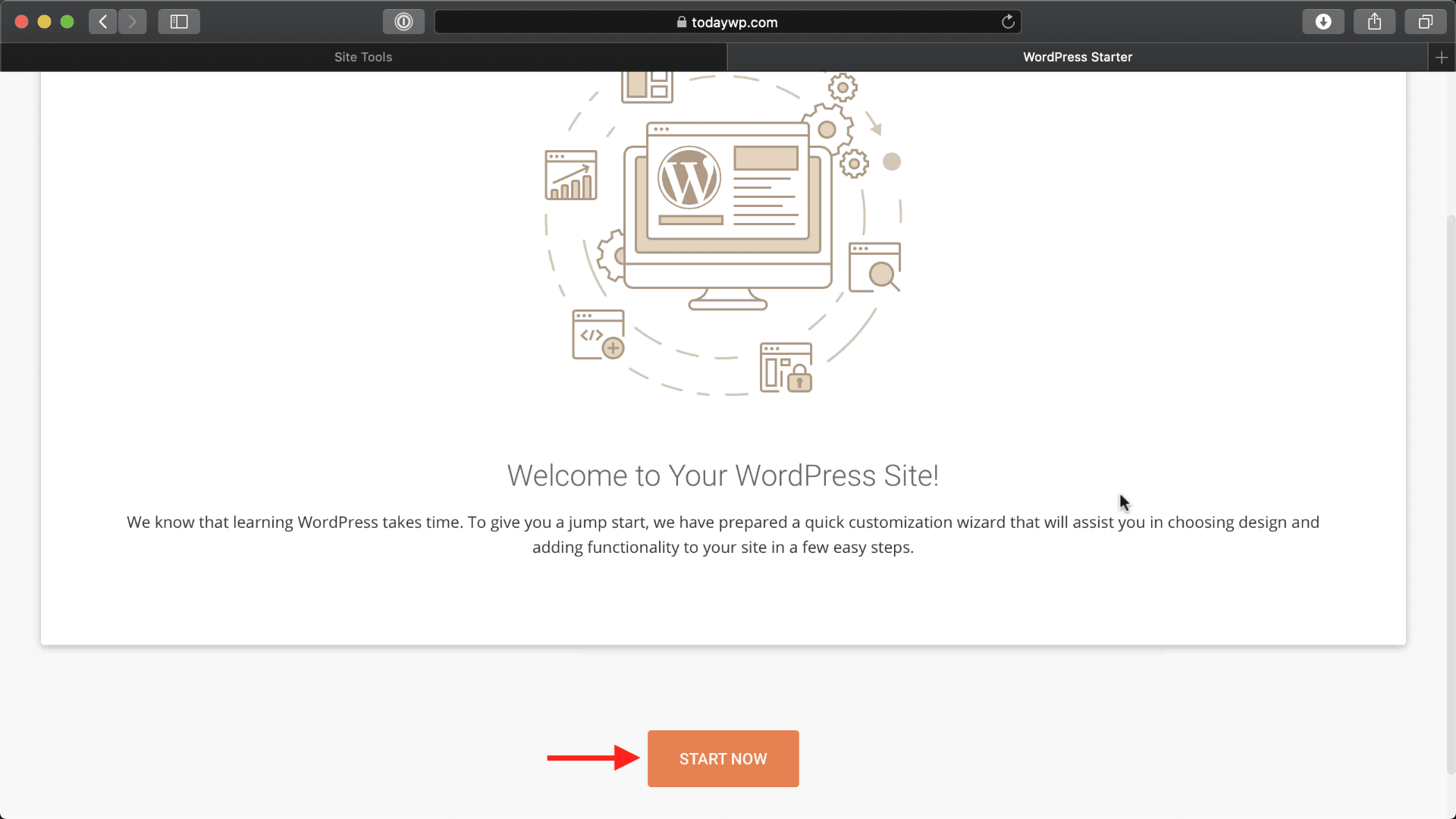 First thing you get to choose is a theme. I don't really see any usefulness here, because changing appearance isn't exactly that complicated to create this wizard feature.
Anyway, I'll stick with the default theme for now because the selection of themes is rather poor. No premium stuff here.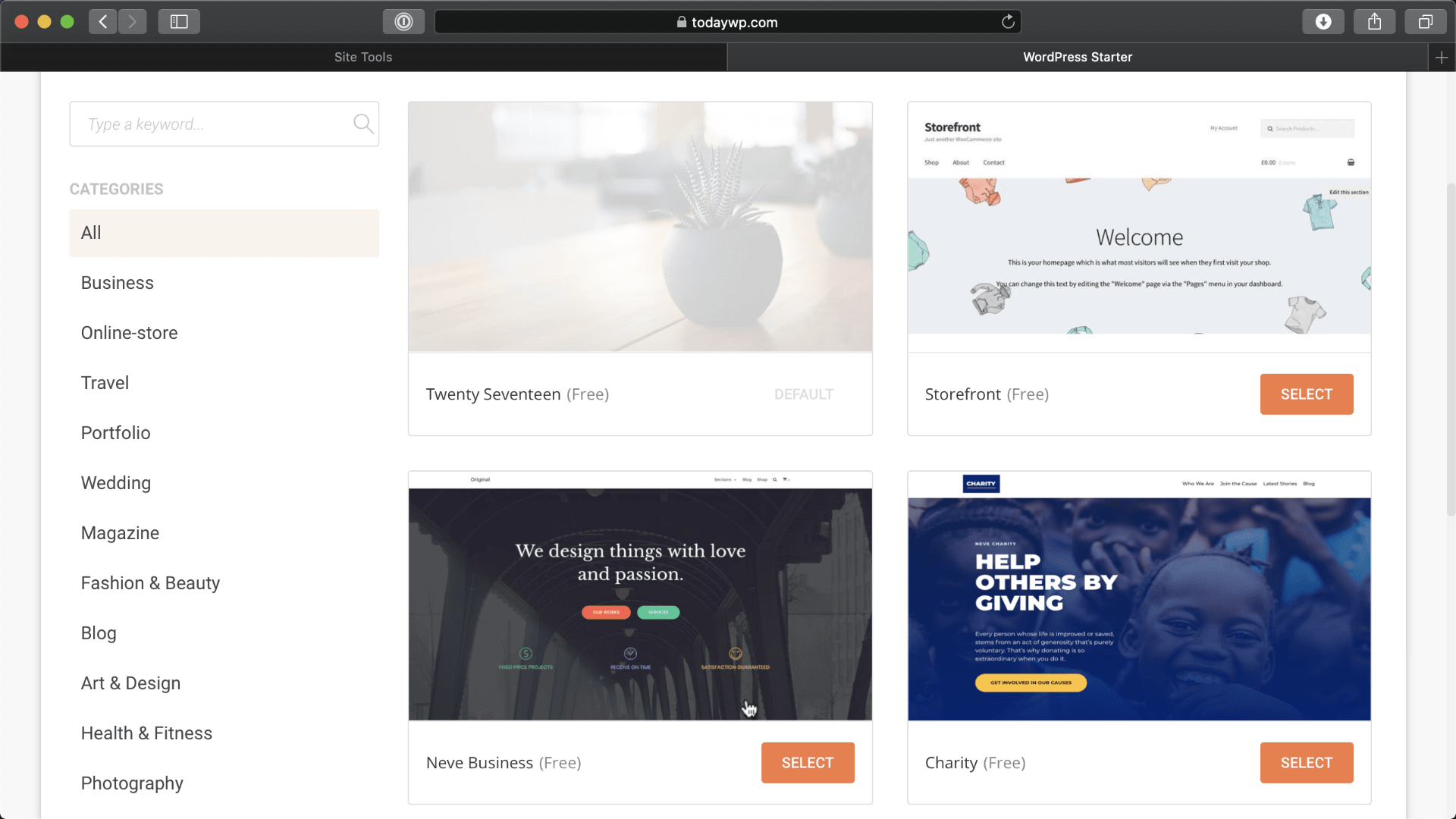 Next, you can install some recommended plugins like JetPack or FooGallery. Again, this seems rather redundant as you can easily install plugins right from the default WordPress Dashboard.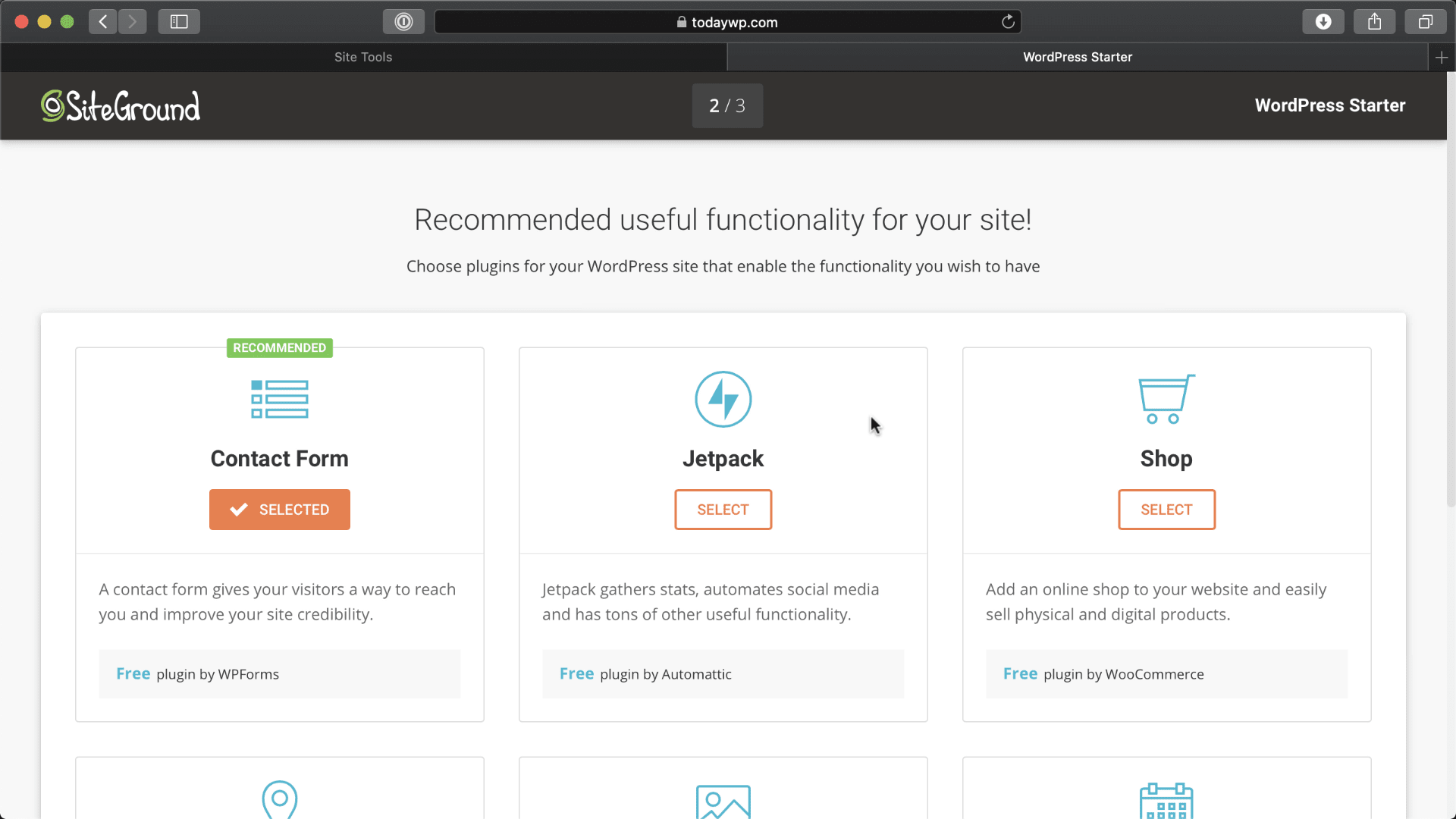 And finally, you'll get a selection of some marketing plugins like MonsterInsights or YoastSEO. These are actually pretty good, so let's select them both and hit the Complete button.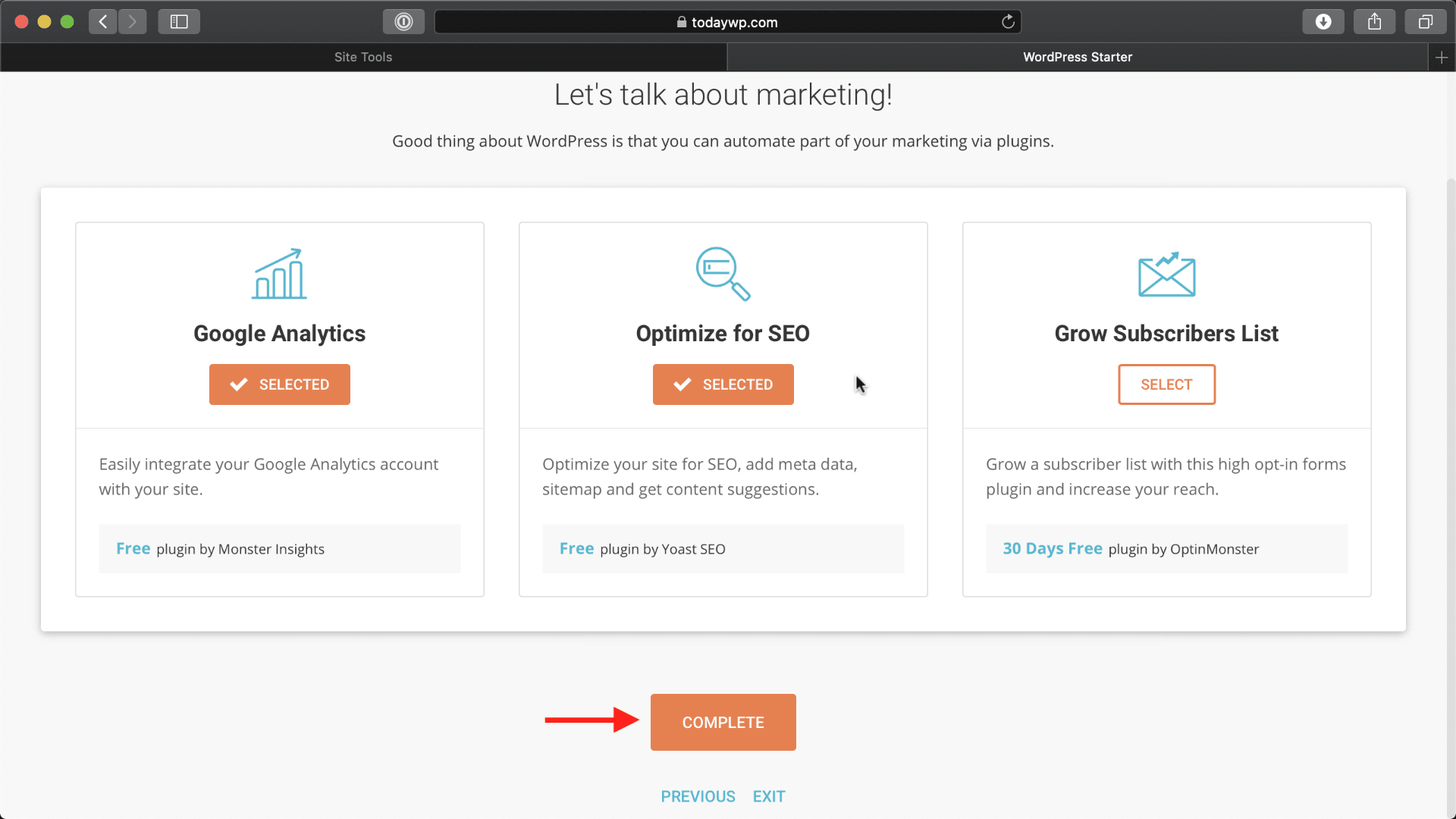 Once you do that, SiteGround will start the script that will install all your selected plugins along with the theme you chose and add some sample data as well.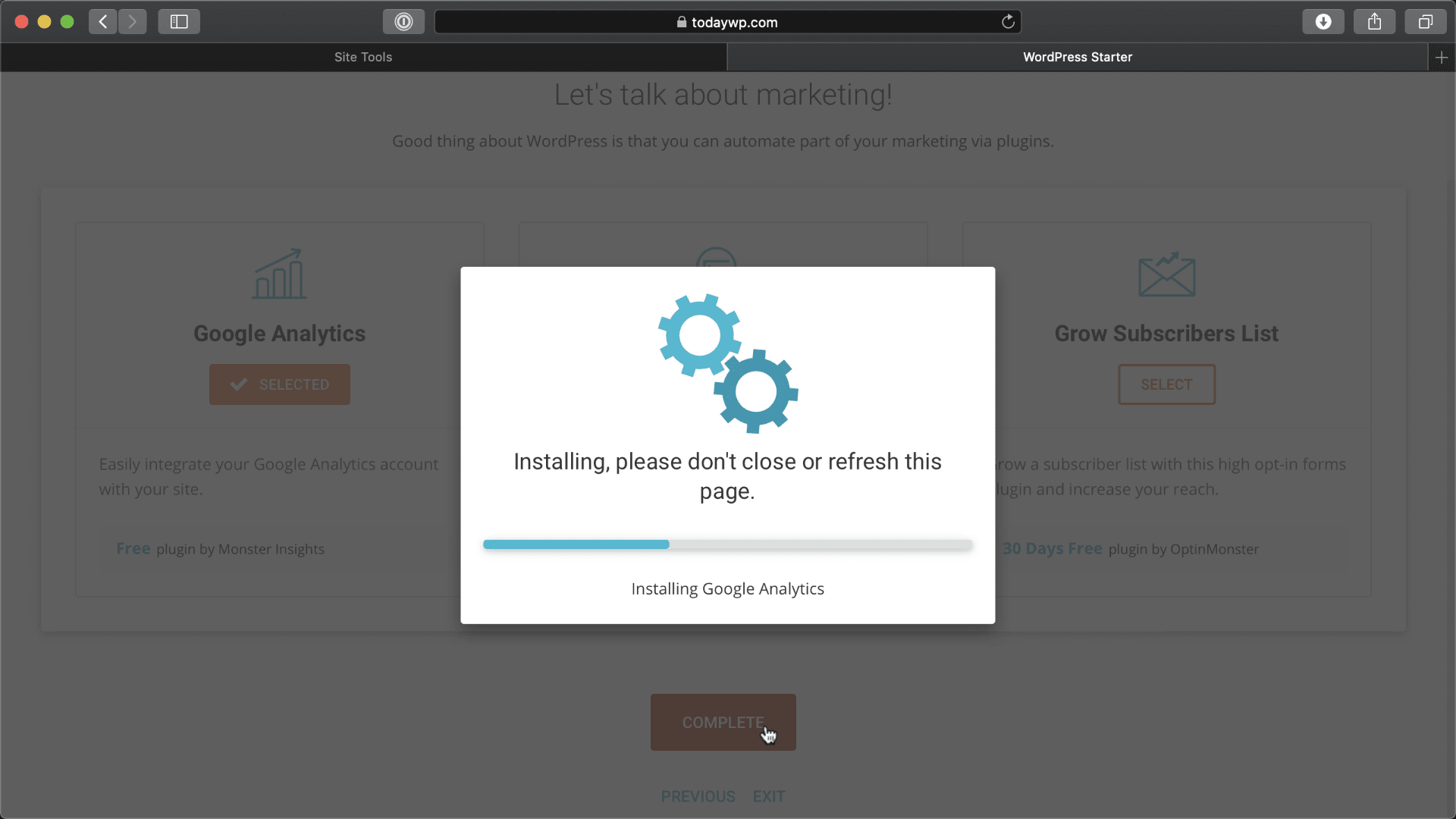 When everything is done, you can finally visit your website or go to the Admin Dashboard.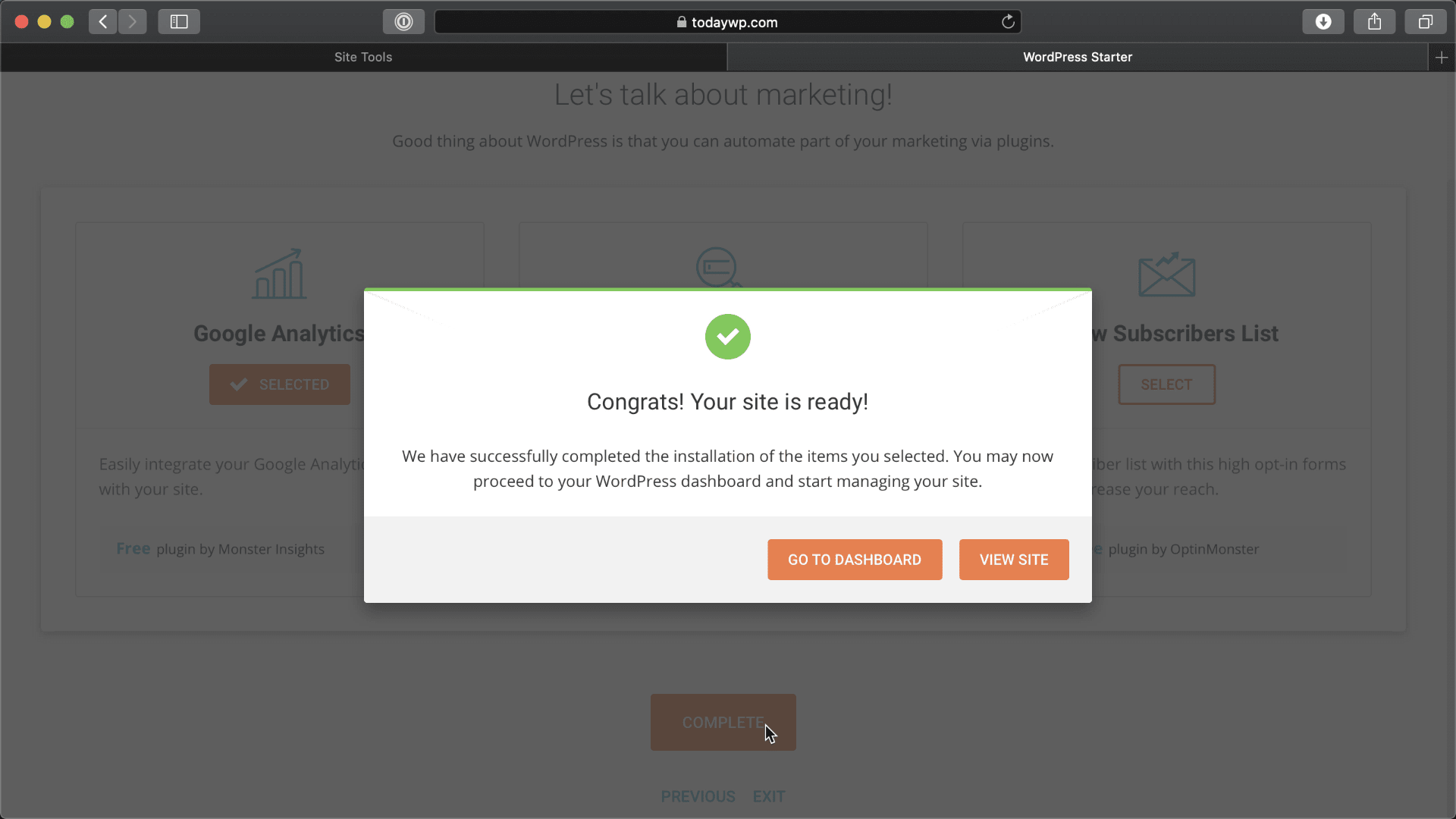 The whole setup process is fairly easy, but I think that this WordPress Starter is a gimmick to give you an impression that things are managed for you. Putting together a simple script that lets you select and install plugins in a bulk is a nice idea.
This is not what managed hosting means, though. Managed hosting is about seamless experience with WordPress publishing platform without worrying about underlying technical stuff.
SiteGround tries hard, but it's still just a shared hosting platform with some nice additions, but that's all.
Performance
When it comes to performance, I was quite happy with the PageSpeed Insight's results. The mobile version of the default theme with some SiteGround sample data scored 98 out of 100 which is very good, but testing vanilla WordPress is very different from full-blown website.
Even the cheap Hostinger plan scored very well as you can see in How to Set Up WordPress with Hostinger.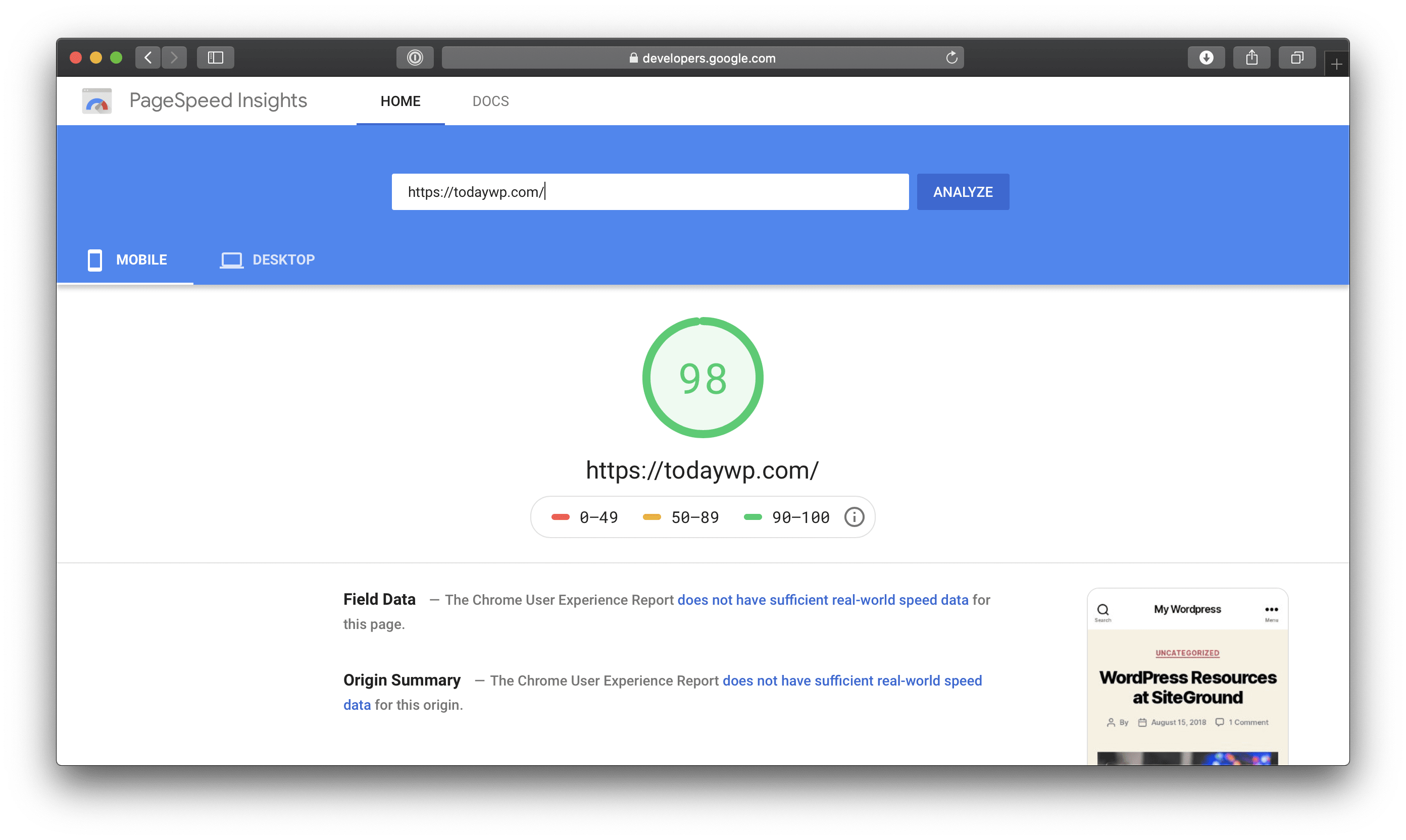 SiteGround uses its own performance plugin called SG Optimizer which handles caching, environment and media optimization and even minification of HTML, CSS and JavaScript files.
As it's designed specifically for this hosting platform, it should deliver better results than general-purpose plugins like WP Rocket, Total Cache or WP Super Cache.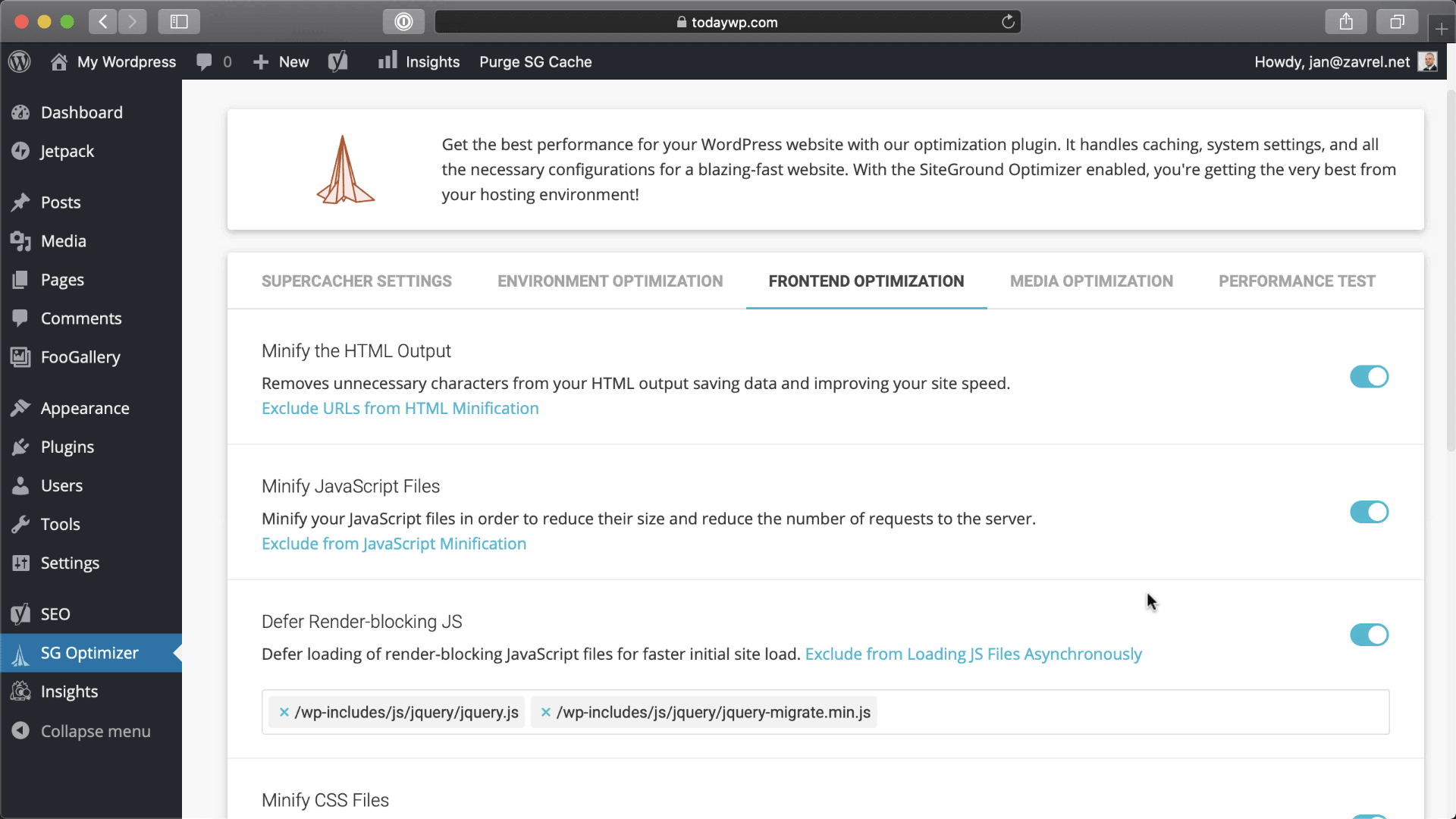 Conclusion
SiteGround is one of the shared hosting provider endorsed by WordPress.org as "the best and brightest of the hosting world".
For almost $9 per month, you'll get a solid hosting plan with a room to grow, but the price is dangerously near to the cheapest Flywheel plan, which I consider to be a truly managed hosting as you can read in Managed WordPress by Flywheel Reviewed.
If you can't afford Flywheel or if you're not interested in premium StudioPress themes you'll get with Flywheel for free, go ahead and opt for SiteGround, you won't be disappointed.